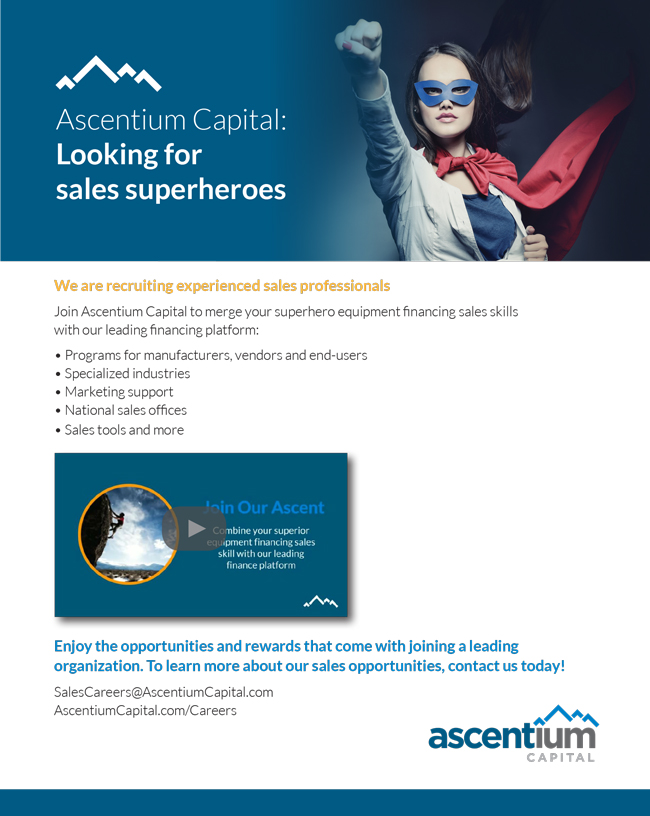 Tuesday, March 14, 2017


Today's Equipment Leasing Headlines

Position Wanted – Credit
Work Remotely or Relocate for Right Opportunity
Top Stories: March 6 - March 10
(Opened Most by Readers)
LendIt 2017 Conference Report – 5,800 in Attendance
By Patricia M. Voorhees, The Alta Group
10 Sales Tips for Attending Trade Shows
Sales Makes It Happen by Jim Acee
Leasing Industry Ads---Help Wanted
Enhance Your Career
"Being Fired after Giving Notice"
Career Crossroad---By Emily Fitzpatrick/RII
Failed Minority Chicago Bank Seaway Gets New Owner
State Bank of Texas Sells to Self-Help Federal Credit Union
Saluting Leasing News Advisor
Hugh Swandel
Add me to mailing list
Subscription is Free
9 p.m. Placard
Observation
New TV Series Review-"Feud"
– Joan Crawford/Bette Davis- Review by Fernando Croce
Australian Cattle Dog
Murray, Utah Adopt-a-Dog
Wireless Network Protection
www.netlingo.com
News Briefs---
U.S. Subprime Auto Loan Losses Reach Highest Level
Since the Financial Crisis
Boeing reports order for 30 737 MAX jets
from Chinese leasing firm
FMF Leasing: A New Alternative
For Foreign Military Sales
FinTech Pressure on Equipment Finance Companies
Serving SMB Market by B. Boehm/P. Voorhees
Amazon invests in Costa Rica as tiny nation
carves out profitable niche in world economy
MBTA could cut weekend commuter rail service
in Boston, Massachusetts
Broker/Funder/Industry Lists | Features (writer's columns)
Top Ten Stories Chosen by Readers | Top Stories last six months
www.leasingcomplaints.com (Be Careful of Doing Business)
www.evergreenleasingnews.org
Leasing News Icon for Android Mobile Device
You May have Missed---
The best cars of 2017, according to Consumer Reports
Winter Poem
Sports Brief----
California Nuts Brief---
"Gimme that Wine"
This Day in American History
SuDoku
Daily Puzzle
GasBuddy
Weather, USA or specific area
Traffic Live----
######## surrounding the article denotes it is a "press release" and was not written by Leasing News nor information verified, but from the source noted. When an article is signed by the writer, it is considered a "by line." It reflects the opinion and research of the writer.


Please send a colleague and ask them to subscribe. We are free.
Email kitmenkin@leasingnews.org and in subject line: subscribe

[headlines]
--------------------------------------------------------------
Position Wanted – Credit
Work Remotely or Relocate for Right Opportunity
Each Week Leasing News is pleased, as a service to its readership, to offer completely free ads placed by candidates for jobs in the industry. These ads also can be accessed directly on the website at:
http://www.leasingnews.org/Classified/Jwanted/Jwanted.htm
Each ad is limited to (100) words and ads repeat for up to 6 months unless the candidate tells us to stop. Your submissions should be received here by the end of each week.

Please encourage friends and colleagues to take advantage of this service, including recent graduates and others interested in leasing and related careers.
Credit
Will relocate for the right opportunity and can work remotely. I have (25+) years in making credit decisions, as well as helping sales team and third party originators close more transactions via understanding their applicant's financial abilities. I can create alternative or additional opportunities (and income) by knowing which type of loan is best for the borrower
aaacorrespondent@gmail.com


Chicago, Illinois
Seasoned Risk and Portfolio Management professional with strong Credit Management background, Portfolio Management, Underwriting, Process Improvement, Collections and Workouts. Deep expertise in risk management and portfolio management within a regulated and compliance-driven banking environment. Partners with senior leadership to identify business risks and determine business strategy based on market and industry trends. Leads initiatives to improve efficiency and mitigate risk. Leverages business acumen and expertise gained through experience across multiple industries, including industrial, consumer and financial services, to develop and implement solutions, improve profits and reduce losses. Significant large-scale project management experience.
Demonstrated ability to analyze and articulate complex issues and implement process improvements. Excels in evaluating and mitigating customer credit risk, profit improvement, management reporting, loss mitigation and business intelligence.
wgriffith61@yahoo.com
Resume


Orlando, Florida
As a Commercial Credit Analyst/Underwriter, I have evaluated transactions from sole proprietorships to listed companies, across a broad spectrum of industries, embracing a multitude of asset types. Sound understanding of balance sheet, income statement and cash flow dynamics which impact credit decisions. Strong appreciation for credit/asset risk.
rpsteiner21@aol.com


407 430-3917


Work Remotely from Portland, Oregon
Experienced commercial banker and former commercial equipment leasing industry professional seeking full-time or part-time work out of my home in Portland, Oregon. Over twenty years' experience in credit analysis, underwriting, sales and collections. Known for creative problem solving and strong quantitative & qualitative analytical skills. Demonstrated ability to gather information, evaluate and make informed strategic business decisions to maximize profit and mitigate risk. Well known for ability to develop strong business relationships with Clients and large list of national equipment leasing Brokers. Please see attached resume and contact me below if interested.
Resume
JFrank@BL-Solutions.com

[headlines]
--------------------------------------------------------------
Top Stories: March 6 - March 10
(Opened Most by Readers)
(1) New Legislation Seeks to
Amend SB197 to Remove Licensing of Broker
By Tom McCurnin, Leasing News Legal Editor
http://leasingnews.org/archives/Mar2017/03_08.htm#california
(2) Continental Bank Sued by Broker
for Theft of Trade Secrets
by Tom McCurnin, Leasing News Legal Editor
http://leasingnews.org/archives/Mar2017/03_06.htm#continental
(3) Four Possible Car Sales Killers Coming in Mid-March
by Chuck Parker, Automotive Digest
http://leasingnews.org/archives/Mar2017/03_08.htm#four
(4) New Hires---Promotions in the Leasing Business
and Related Industries
http://leasingnews.org/archives/Mar2017/03_10.htm#hires
(5) Correction: SB 197 Story
Legislation
http://leasingnews.org/archives/Mar2017/03_10.htm#correction
(6) Banks become equipment finance powerhouse
equipment finance still attractive to banks, pressuring nonbanks
http://www.bankingexchange.com/news-feed/item/6737-banks-become-equipment-finance-powerhouse?Itemid=101
(7) Time to Review Equipment Finance Agreements
(8) Funders Looking for New Broker Business
Updated
http://leasingnews.org/archives/Mar2017/03_10.htm#looking
(9) Community Bank President Gets 4 Years for Bank Fraud
by Bob Coleman, Coleman Reports http://leasingnews.org/archives/Mar2017/03_06.htm#community
(Tie)
(10) California Finance Lenders Law
2016 Annual Report Due March 15
http://leasingnews.org/archives/Mar2017/03_10.htm#california
(Tie)
(10) Many Employees at Small Bank Closed on Friday
2016: 11 Full time Employees; 2011: 344 Full time Employees
http://leasingnews.org/archives/Mar2017/03_06.htm#bank_beat
[headlines]
--------------------------------------------------------------
LendIt 2017 Conference Report – 5,800 in Attendance
By Patricia M. Voorhees, The Alta Group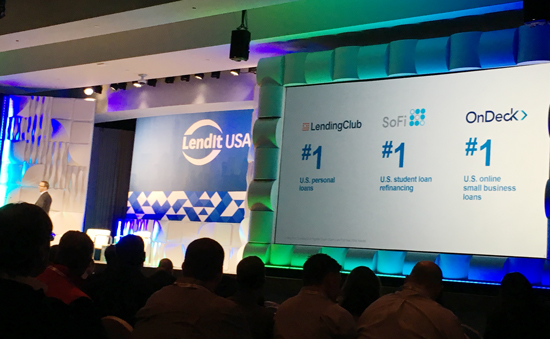 Alex Tapscott, author of Blockchain Revolution, speaking at LendIT
The fifth annual LendIt Conference. focusing on all things Fintech, was held last week at The Javits Convention Center in New York with more than 5,800 attendees – up from 3,600 at last year's San Francisco conference. The international attendee roster hailing from more than 40 countries was comprised of 29% FinTechs, 26% investors, 18% banks, 25% service providers and 2% media, education and government.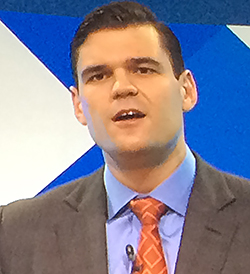 Scott Sanburn, CEO of Lending Club, kicked off the keynotes by enthusiastically sharing the company's focus on investing in the future while acknowledging the events last May that led to his predecessor's departure and dramatic reductions in valuations, confidence, and investment in the online lending sector. Sanborn conveyed a sentiment echoed by many other CEOs throughout the conference: the online lending market is a little more mature and eyes wide open after the events of 2016 and bullish about the future of Fintech.

Noah Breslow, CEO of OnDeck, noted the following five critical steps that online lenders must take to be "built to last."
Move from transactions to lifetime relationships with customers
Manage both credit and operations risks in the business
Get to scale, then emphasize profitability versus pure growth
Diversify and lock in longer term funding sources
Engage with policy makers to develop a sound regulatory framework.
Of note was the large number of Chinese FinTechs in attendance, which, given that China is far and away the world's biggest market for digital payments (as reported by The Economist), was no surprise. Dianrong, a leading Chinese Fintech, announced the completion of a joint proof-of-concept project with Foxconn, the electronics components contractor, on using blockchain to improve supply chain speed of payments and sub-contractor verification process. The benchmarked processes should result in significant cost savings and improved delivery reliability in Foxconn's large supplier network.
Other notable keynotes included Alex Tapscott, the author of Blockchain Revolution: How the Technology Behind Bitcoin Is Changing Money, Business, and the World. Tapscott discussed the burgeoning Blockchain technology – itself the subject of many conference break-out sessions – and reviewed the potential impact in financial services and other sectors such as the music industry. Thomas Curry, comptroller of the currency for the US Department of Treasury, participated in a Q&A session about the proposed national Fintech bank charter. He said that his office is currently accepting comments and will convey more specifics about the potential charter when this process is complete.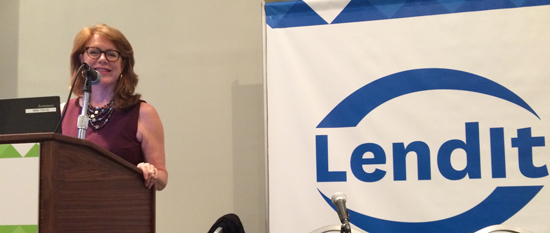 Patricia Voorhees
The track on asset-based financing for equipment and autos included my presentation about key trends in equipment leasing as well as panel discussions on asset finance and auto finance. My presentation emphasized the strength of the equipment leasing asset class versus others discussed at the conference, noting that the only asset that has performed better than equipment leasing over the last 20 years is US Treasuries due largely to the secured, essential use nature of equipment leasing assets. The cost of-funds advantage that lessors of scale with demonstrated performance and use of securitization enjoy over Fintech SMB loan providers is over 300 basis points. Comparing the reported third quarter 2016 OnDeck blended cost of funds of 5.8%, to medium-to large-independents with an average cost of funds in the 2.5% range highlights this fact. I further noted the growing trend toward financing decisions being made at point of sale and increasingly on mobile devices. The presentation can be downloaded from the following link:
http://thealtagroup.com/fintech-services/
The "How to Apply Tech to Asset Based Lending" panel was moderated by Bob Trojan, previous CFA chairman, and included Charles Anderson, CEO of Currency, Paul DeDomenico, CEO of InterNex Capital, Miles Herman, president and COO of Leaf Commercial Capital, and Jeffrey Rogers, CEO of Liftforward. A common theme throughout the discussion was the commodity nature of capital and the need to focus on a technology enabled, differentiated customer experience while not compromising sound underwriting and portfolio management.
A panel reviewing existing partnerships between banks and FinTechs discussed the Santandar Innoventures/Kabbage relationship as well at the FifthThird equity investment in ApplePie Capital and the JP Morgan Chase/OnDeck alliance. The focus of the discussion was the delicate balance between completing bank level vendor diligence with the limited resources FinTechs have while preserving their differentiated offering in a compliant manner.
For the first time, the conference included Women in Fintech Luncheon hosted by Paula DeLaurentus, LendIt CMO. The invitation was sent to all attendees to secure seats for the first 75 RSVPs. Within a few hours, they received 500 RSVPs and 100 of us were lucky enough to attend. The fact that women were in the clear minority at the conference was discussed (my observation is that it was well under 20%). The luncheon featured insights from a panel of LendIt Women-of-the-Year award winners: Olympia De Castro, partner, Strategy & Investments Community Investment Management; Andrea Gellert, CMO, OnDeck; Jilliene Helman, CEO, RealtyMogul; Krista Morgan, CEO & founder, P2Binvestor; Kathryn Petralia, co-founder & head of operations, Kabbage; Denise Thomas, CEO & co-founder, ApplePie Capital; and Eva Wong, co-founder & COO, Borrowell.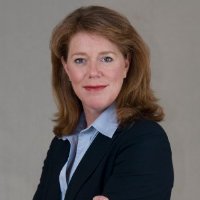 Patricia M. Voorhees is a director with The Alta Group who is active in the consultancy's M&A and Management Consulting Practices. She is a frequent speaker and writer about the intersection of Fintech and equipment leasing and finance. Her email is pvoorhees@thealtagroup.com, and she is on Twitter@pmvoorhees.
[headlines]
--------------------------------------------------------------
Leasing Industry Ads---Help Wanted
Join a Company Utilizing Latest Advantages of Financial Technology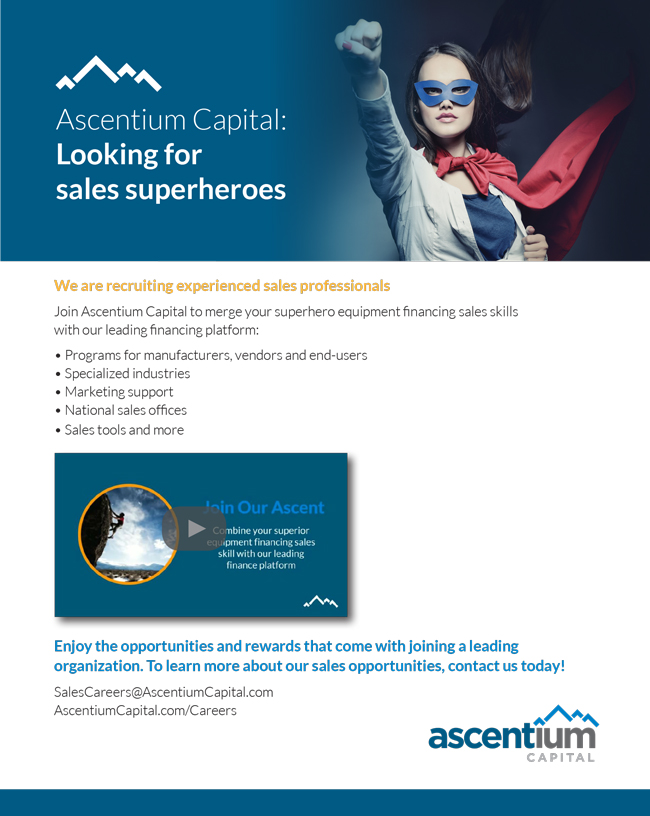 --------------------------------------------------------------
10 Sales Tips for Attending Trade Shows
Sales Makes It Happen by Jim Acee
1. Be part of your Vendors Team
If you have vendors attending a trade show, ask to be part of their show team. This is especially important if it is a buying show. It's a great way to write new business and add value for your vendor. (You can also save your company money by asking the vendor to put your name in for one of their show badges. They are typically allotted more badges that personnel attending the show).
2. Advertise a monthly payment/show special
Ask your vendor if they are running any show pricing specials. Pitch in by offering leasing specials such as a reduced rate or 90 day skip payments
3. Have the ability to submit deals into credit at show
If your company has a website where deals can be submitted online, take your laptop (you can always hotspot off of your phone if there is no internet coverage at the show) and complete the credit apps before their customer leaves the booth. You should also ask your credit manager to expedite deals that come from you during the show. There is no better way to impress a vendor than to have deals quickly approved during the show.
4. Make appointments to meet dealers/vendor
Utilize your time to the fullest by making appointments with out of town dealers while they are at the show. Many leasing companies send sales reps to trades shows with the explicit intent of meeting with current dealers while they are at the show. It's a great way to save on your travel budget by not having to visit the dealers individually.
5. Use lunches and dinners to meet with dealers
As part of #4 above, use lunches and dinners to maximize your time at the show by entertaining your dealers and vendors. As I have outlined in other articles, use lunches and dinners to get to know your dealers on a more personal basis. Many times, your vendor partner may have a dealer meeting, group dinner or awards banquet, especially if it is the big annual industry show for them. Don't be afraid to ask if you can attend (many leasing companies will pick up the cocktail hour). It's a great way to show dealers, especially those not using your leasing, that you are part of the vendor's team.
6. The Last day of the show is always the best time to prospect
The last day of most trade shows is usually half a day and is always dead. This is a much better time to prospect than the first couple of days of the show when it is packed with attendees. The vendors will not be busy and are eager to speak to anyone willing to stop in their booth.
7. Work the show to maximize time and minimize effort
Most shows have hundreds, if not thousands of exhibitors, most of which have no application to leasing. I always grab a show guide before entering the show floor and circle all the manufacturers I want to visit. It saves me a lot of time instead of just wandering up and down isles aimlessly looking for prospects.
8. Don't interrupt
If you are just walking the show to find potential vendors and you find a vendor you want to talk to, do not interrupt them if they are talking to a prospective customer. Look around the booth for someone that is just standing around and talk to them or just walk away and come back later if everyone is engaged.
9. Get the decision makers name and business card
I do not try to sell prospective vendors on using my leasing services at the show. I find out who the decision maker is from others in the booth. If that individual is at the show, the most I do is to qualify them with a couple of questions and then find out the best time to contact them after the show when they are back in the office. As a general rule, most decision makers are intent on selling their products at the show and do not want to be sold on someone else's product.
10. Look for signs of leasing (literally)
The best indicators of a good prospect are signs advertising leasing specials at the show. These are always the best prospects. It's easy to find out who the leasing company is, and all about the show specials they are running just by standing next to a piece of equipment with the leasing advertisement. It will be only a matter of seconds before someone working the booth approaches you (chances are they may have a leasing rep in the booth). As discussed in other articles, you are much better off stealing vendors from competitors than teaching vendors how to lease.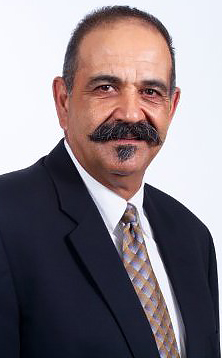 Jim Acee
(m) 484-883-9618
jjacee@verizon.net
He has a rich background, serving as
DLL Country Sales Manager;
Vice President, Syndication Buy Desk;
Vice President, Field Sales, Wells Fargo Capital Finance;
Managing Director, Vendor Leasing, US Bank;
Director of Sales, US Bancorp (formerly BCL). https://www.linkedin.com/in/jim-acee-578a03b
Previous Jim Acee columns plus Sales Makes it Happen
http://www.leasingnews.org/Legacy/index.html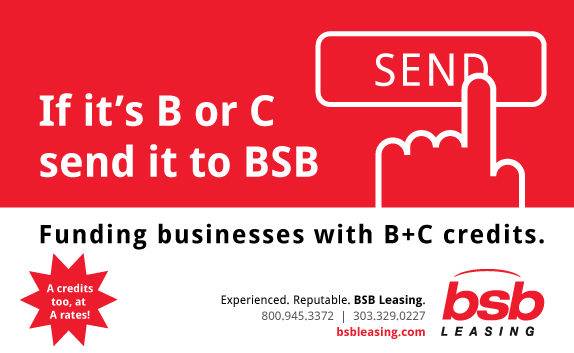 [headlines]
--------------------------------------------------------------
"Being Fired after Giving Notice"
Career Crossroad---By Emily Fitzpatrick/RII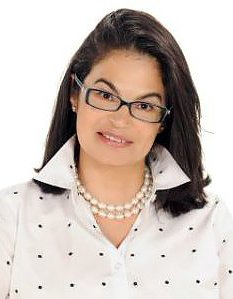 This topic that may require the advice of an attorney, RII does not claim to offer legal advice; these are just our suggestions.
It is widely accepted as proper business etiquette when resigning to provide a formal two-week notice (executives, a 30-day notice). However, the employer can terminate you at any time. Most employment is considered "at-will" which means the company may terminate you at any stage for no reason (and stop paying you).
Occasionally, companies will respond by letting you know you are no longer needed after the date when you submit your resignation. Typically, they will pay for the time when you would have been working, but they are not obligated to. Make sure to review your company handbook (policies/procedures) and see how they have historically handled the situation (you may even want to consult with an attorney).
The most important part is that you leave with your reputation intact. Handle the situation in the most professional manner possible. If you are in an executive-level role, you may want to include a clause in your employment agreement (have an attorney review for you).
Accepting the Notice
Some companies do not want to antagonize the departing employees nor cause burden to their existing staff
If you are in a hard to fill position/role, most employers will retain you through the given time and may even request you remain until they find a replacement and temporarily transition your workload
Should You Not Give Notice
ALWAYS give proper notice to ensure a good relationship with the employer. There are other schools of thought in this, but we firmly recommend following professional protocol before you give notice.
Remember if you are in a sales type role you will most likely be asked to leave immediately (95%), be prepared:
There is a possibility that you will be escorted out of the building without a stop back at your desk.
Remove any personal email or documents from your work computer before resigning.
Keep copies of any materials which you might include in your portfolio or, which might be useful for future jobs.
Make sure you have contact information for any co-workers or clients you want to keep in touch with.
Emily Fitzpatrick
Sr. Recruiter
Recruiters International, Inc.
Phone: 954-885-9241
Cell: 954-612-0567
emily@riirecruit.com
www.riicareer.com
Invite me to Connect on LinkedIn
www.linkedin.com/pub/emily-fitzpatrick/4/671/76
Also follow us on Twitter #RIIINFO
https://www.pinterest.com/recruitersinter/rii-career-services/
[headlines]
--------------------------------------------------------------
Failed Minority Chicago Bank Seaway Gets New Owner
State Bank of Texas Sells to Self-Help Federal Credit Union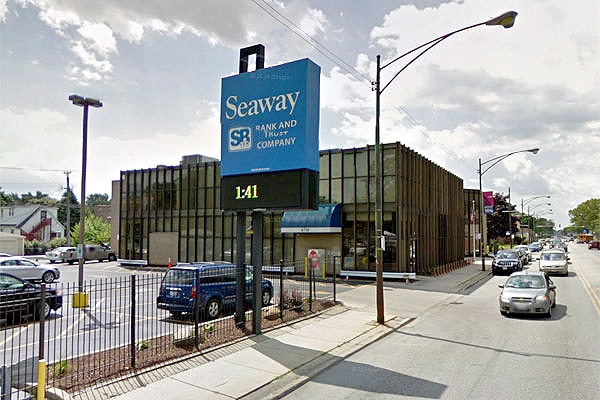 The ten branches of Seaway Bank and Trust Company, Chicago, Illinois, reportedly the largest black-owned bank in the Midwest, with 294 full time employees, were closed in January, 2017. State Bank of Dallas, Texas, assumed all of the deposits. Reportedly, the Texas Bank is now selling the Seaway branches and deposits to Greensboro, NC-based Self-Help Federal Credit Union. The bank already has branches in Chicago focused on Hispanics and specializes in lending to low-income and minority businesses and customers. The bank advertises on their website: "We do this by providing responsible financial services; lending to individuals, small businesses and nonprofits; developing real estate; and promoting fair financial practices..."

"State Bank of Texas was founded in 1987 by Chan Patel," according to a company press release, "and continues to be owned and operated by the Patel family. As the largest Indian-American-owned bank in the United States, SBT focuses heavily on lending within the hospitality industry. (Mainly motels. Editor)." In 2014, his bank purchased the largest bank failure in 2014, fourth Indian-American Bank to fail in Chicago.
http://leasingnews.org/archives/Oct2014/10_28.htm#bank_beat

Self-Help Federal Credit Union has 24 branches in California, Chicago and Florida.
It is reported Bank of Texas will continue to hold and manage Seaway's existing loans and will operate the foreign-exchange concessions at O'Hare and Midway Airports.
Facebook: https://www.facebook.com/shfcu/

(Leasing News provides this ad as a trade for appraisals
and equipment valuations provided by Ed Castagna)
[headlines]
--------------------------------------------------------------
Leasing News Advisor
Hugh Swandel


Hugh Swandel
Senior Managing Director - Canada
www.thealtagroup.com
204.477.0703 direct
204.996.4844 mobile
hswandel@thealtagroup.com
Hugh Swandel is the senior managing director of The Alta Group in Canada. The Alta Group is a global consultancy practice specializing in the asset based finance industry. Mr. Swandel is well known to the industry and a frequent speaker at industry events and a current member of the Canadian Finance and Leasing Association board of directors. During recent years Hugh Swandel has assisted many top Canadian industry firms on a variety of projects including market entry studies, acquisitions, due diligence, funding and strategic planning.
With extensive North American contacts in the equipment finance and leasing industry, Hugh has a strong reputation as an effective negotiator of win/win agreements involving mergers and acquisitions, business development, market entry, operations and analysis, securitization and other matters of importance to lessors.
Hugh is on the boards of directors of the Canadian Finance and Leasing Association (CFLA) and is a past President of the National Equipment Financing Association (NEFA, USA). He also is a member of the Equipment Leasing and Finance Association of America (ELFA).
In 2006 and again in 2010, Hugh received the Canadian leasing industry's highest honor when he was named "CFLA Member of the Year." In 2010 Mr. Swandel was also named President and a member of the Executive Committee of the National Equipment and Finance Association in 2011. He is a frequent speaker at industry conferences and has had several articles published in leading industry magazines.
During the Global Credit Crisis Hugh was retained by the Canadian Finance and Leasing Industry to prepare materials and provide insight into the impact of the credit crisis on Canadian independent finance companies. Mr. Swandel presented to the advisory committee to the Minister of Finance and was later asked to provide commentary to the CD Howe Institute at policy development discussion with government and industry representatives. Mr. Swandel has also been a presenter at industry conference, published in numerous industry magazines and co-authored a research document for the Equipment Leasing and Finance Foundation on the Canadian Market.
Prior to founding his consulting firm, Swandel and Associates, in 2001, Hugh served as president and chief operation officer of Electronic Financial Group (EFG). EFG was a Canadian company that launched a multi lending web based credit system. Earlier, Hugh spent 10 years with National Leasing Group in a variety of senior positions. National Leasing Group is Canadian lessor that has won numerous awards for excellence in management and innovation.
[headlines]
--------------------------------------------------------------
Add me to mailing list
Subscription is Free
Any comments or suggestions are appreciated. Any news leads or tips are also appreciated. We will keep all "leads" in the strictest of confidence.
To subscribe: e-mail kitmenkin@leasingnews.org
Thank you,
Leasing News Editorial
[headlines]
--------------------------------------------------------------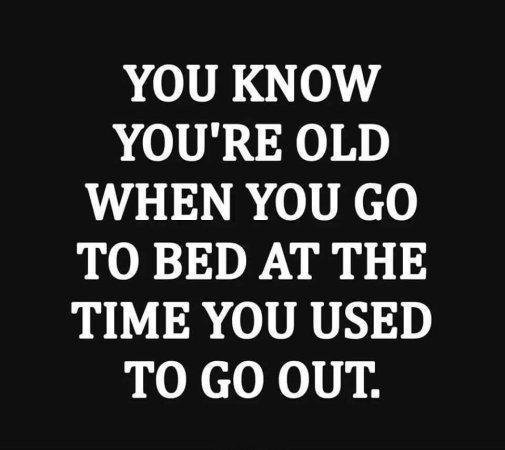 [headlines]
--------------------------------------------------------------
New TV Series Review-"Feud"
– Joan Crawford/Bette Davis- Review by Fernando Croce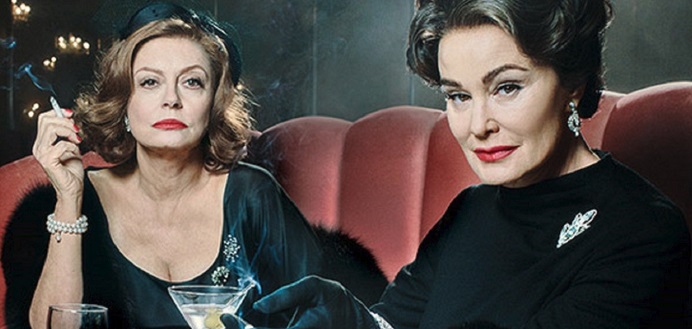 Though equally deserving of their status as classic Hollywood icons, Joan Crawford and Bette Davis were as contrasting as ice and fire, or Tom and Jerry. Crawford embodied unshakable old-school glamour, while Davis was the consummate actress unafraid to get down and dirty. It's not surprising that the two divas didn't much care for each other in real life, and even less surprising that their long-running animosity—a rivalry that launched a thousand tabloid articles—would be turned into juicy television drama. That's the premise of FX's new series "Feud," which chronicles the rather eventful behind-the-scenes turbulence of "Whatever Happened to Baby Jane?," the lurid 1962 chiller which brought the two actresses together. Cast a pair of Oscar-winning actresses in the lead, and this new series from Ryan Murphy ("American Horror Story") makes for irresistible viewing for camp followers.
Their "feud of Biblical proportions," as somebody puts it, found its ideal outlet in this headline-grabbing production. Both Crawford (played by Jessica Lange) and Davis (Susan Sarandon) were at a particularly vulnerable time in their careers, when their fierce talents bumped against studios more interested in younger box-office draws. Enter studio boss Jack Warner (Stanley Tucci), who's looking for a big hit and finds it in the gothic drama "Whatever Happened to Baby Jane?" A perfect vehicle, since the picture itself is about the antagonism between two middle-aged sisters in a decaying mansion. Directed by maverick filmmaker Robert Aldrich (Alfred Molina), the film had a macabre quality that fed itself off the off-screen drama between its two actresses. Even before the project's cameras are ready to roll, the dueling icons are already warming up to their battle of wits.
As in Murphy's "Horror" series, "Feud" exists in an atmosphere of continuous unease and hidden madness. Its view of Tinseltown is filled with gargoyles, ranging from withered starlets to bloodthirsty gossips, where comedy and horror are often leaking into each other. (No less than "Baby Jane," the show's other palpable influence is Billy Wilder's classic "Sunset Blvd.") It's a delicate balancing act to maintain, one that can easily veer into grotesque parody if done wrongly. Thankfully, the series has the luxury of not one but two extraordinary performances at its center. As Crawford, Lange (a veteran of Murphy's previous hit) captures the woman's hard-won sense of self, as well as the fragility behind the steely poise. And Sarandon zeroes right into Davis' fearlessness, replicating the volcanic fury that was her specialty. Lavish and snippy, "Feud" has the potential to bring TV aficionados and movie buffs together.
Trailer: on FX at 10pm, most cities
[headlines]
--------------------------------------------------------------
Australian Cattle Dog
Murray, Utah Adopt-a-Dog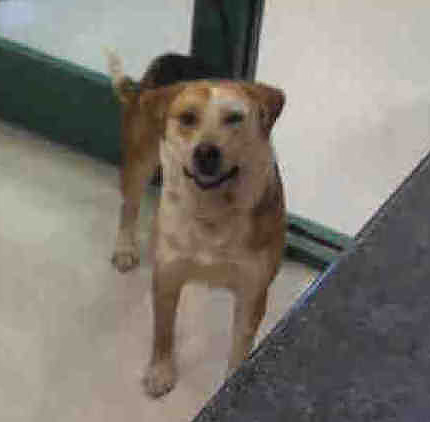 Diva
ID 110056
Female
Two Years Old
Color: Tricolor
Kennel No: DU11
Looking for an energetic partner to explore the world with? Not only do I have mounds of energy, but I'm also pretty cute too! I'll need adopters who can give me a daily routine, mental stimulation, & have knowledge of my breed! If you can provide all of this & more consider meeting me today!
Adoption Fee: $88
Humane Society of Utah
4242 South 300 West
Murray, Utah 84107
Monday - Saturday 10:00 AM – 7:00 PM
Sunday 12 Noon – 5:00 PM

Adopt a Pet
http://www.adoptapet.com/
[headlines]
--------------------------------------------------------------
Wireless Network Protection
www.netlingo.com
Wireless Network Protection
www.netlingo.com
A network that transmits information over public airwaves (the same used by television, radio, and cell phones). The signal transmissions actually occur through air rather than through copper or fiber-optic cables. It's hard to conceive at times, but much of our information is traveling via satellites. These networks are supposed to be protected by a built-in security feature (WEP), but it is a known fact that wireless networks can be easily accessed and monitored by outsiders. (They are crackable.)
Tips On How-To Secure Your Wireless Network:
• Enable WPA (Wireless Protected Access) Encryption
In order to use WPA encryption, your network adapter and router must support it. Most newer ones do, and some have made WPA updates available for older equipment. If you have older devices that you can't update, it is time to replace them.
• Give your Wireless Network a Unique SSID (Security Set Identifier)
Use a combination of letters and numbers (alphanumeric), such as y0ut00b.
• Change your Router's Default SSID and Password
Your router also has an SSID and hackers use sniffer programs based on the usual defaults to find wireless networks because they know many users don't change them.
• Disable SSID broadcasting
This feature is enabled by default, which allows it to accept any SSID it encounters from any computer. By turning OFF this feature, the connecting computer's SSID must be the same as the SSID of the router.
•Turn Off Simple File Sharing
This keeps you safe from spoofing, a practice where hackers use fake access points to trick you into exposing your system to them. After you turn this off, you can still access files and folders on your other computers by configuring individual permissions.
• Turn Off Automatic Connections
This keeps your computer from automatically connecting to any wireless network it detects, including a malicious or spoofed access point.
• Relocate Your Router
If your router is located near a window or door, it sends a stronger signal outside, making it easier for bad guys to find your Wi-Fi network.
• Restrict Unnecessary Traffic with a Firewall
If you frequently use public hotspots, make sure a program such as Windows Firewall is enabled and the exceptions feature is temporarily disabled for communication programs like Windows Messenger. This prevents virus attacks from computers used by less savvy people at the hotspot.
(Leasing News provides this ad as a trade for investigative
reporting provided by John Kenny)
[headlines]
--------------------------------------------------------------

News Briefs---
U.S. Subprime Auto Loan Losses Reach Highest Level
Since the Financial Crisis
https://www.bloomberg.com/news/articles/2017-03-10/u-s-subprime-auto-loan-losses-reach-highest-level-since-crisis
Boeing reports order for 30 737 MAX jets
from Chinese leasing firm
http://www.seattletimes.com/business/boeing-aerospace/boeing-reports-order-for-30-737-max-jets-from-chinese-leasing-firm/
FMF Leasing: A New Alternative
For Foreign Military Sales
http://www.mondaq.com/un+A+New+Alternative
FinTech Pressure on Equipment Finance Companies
Serving SMB Market by B. Boehm/P.Voorhees
http://www.tbfgroup.com/pdfs/081031702%20TBF.PDF
Amazon invests in Costa Rica as tiny nation
carves out profitable niche in world economy
http://www.seattletimes.com/html/businesstechnology/
MBTA could cut weekend commuter rail service
in Boston, Massachusetts
https://www.bostonglobe.com/metro/2017/03/13/mbta-could-cut-all-weekend-commuter-rail-service-certain-trips-for-disabled-riders/xMzKjWs1XXXgKivZzTDAZP/story.html


[headlines]
--------------------------------------------------------------

You May Have Missed---
The Fed's Era of Easy Money Is Ending
Looks to be ending this week
https://www.nytimes.com/2017/03/13/upshot/the-feds-era-of-easy-money-is-ending.html
[headlines]
--------------------------------------------------------------
Winter Poem
Beware the ides of March

Men at some time are masters of their fates:
The fault, dear Brutus, is not in our stars,
But in ourselves, that we are underlings.
But, for my own part, it was Greek to me.
Think you I am no stronger than my sex,
Being so father'd and so husbanded?
These things are beyond all use,
And I do fear them.
Cowards die many times before their deaths;
The valiant never taste of death but once.
Of all the wonders that I yet have heard,
It seems to me most strange that men should fear;
Seeing that death, a necessary end,
Will come when it will come.

— Cæs. The ides of March are come.
Sooth. Ay, Cæsar; but not gone. Act iii. Sc. 1.
The Ides of March: In the Roman calendar the days of the month were not numbered sequentially. Instead, each month had three division days: kalends, nones and ides. Days were numbered from these divisions: e.g., IV Nones or III Ides. The ides occurred on the 15th of the month (or on the 13th in months that had less than 31 days). Julius Caesar was assassinated on this day in 44 BC. This system was used in Europe well into the Renaissance. When Shakespeare wrote "Beware the ides of March" in Julius Caesar his audience knew what he meant. Beware of what was to happen on March 15th
[headlines]
--------------------------------------------------------------

Sports Briefs----
March Madness predictions
https://projects.fivethirtyeight.com/2017-march-madness-predictions/?addata=espn:ncb:index
A full guide to every team in the 2017 NCAA tournament
http://www.espn.com/mens-college-basketball/story/_/id/18883919/complete-look-every-march-madness-team-2017-ncaa-tournament
Analyzing the Jets' options at QB
http://www.usatoday.com/story/sports/nfl/jets/2017/03/11/analyzing-jets-options-qb/99074826/
[headlines]
--------------------------------------------------------------


California Nuts Briefs---
Is there too much water behind Oroville Dam?
Critics say Army Corps standards unsafe
http://www.sacbee.com/news/state/california/water-and-drought/article138081313.html
[headlines]
--------------------------------------------------------------



"Gimme that Wine"

http://www.youtube.com/watch?v=EJnQoi8DSE8
Top wine events in Sonoma, Napa regions
http://www.pressdemocrat.com/lifestyle/6733141-181/top-wine-events-in-sonoma?artslide=0
Making the case for half bottles
http://www.mercurynews.com/2017/03/12/california-wine-making-the-case-for-half-bottles/
China to BecomeSecondLargest Wine Consumer by 2020
https://www.thedrinksbusiness.com/2017/03/china-to-become-second-largest-wine-consumer-by-2020/
Free Mobile Wine Program
http://leasingnews.org/archives/Feb2010/2_26.htm#mobile
Wine Prices by vintage
http://www.winezap.com
http://www.wine-searcher.com/
US/International Wine Events
http://www.localwineevents.com/
Leasing News Wine & Spirits Page
http://two.leasingnews.org/Recommendations/wnensprts.htm

[headlines]
----------------------------------------------------------------
This Day in American History
1629 - A Royal charter was granted to the Massachusetts Bay Colony.
1644 - England granted a patent for Providence Plantations (Rhode Island).
1729 - The first Catholic nun who professed her vows in the United States as Sister St. Stanislas Hachard of the Ursuline Convent, New Orleans, LA.
1743 - The City of Boston conducted the first town meeting in Faneuil Hall. It became an idea that caught on quickly throughout New England.
http://www.nps.gov/bost/Faneuil_Hall.htm
1780 - The Spanish governor of Louisiana, Galvez, captured Ft. Charlotte in the port of Mobile, the last British frontier post capable of threatening New Orleans in Spanish Louisiana.
1794 - Eli Whitney received a patent for his cotton gin, an invention that revolutionized America's cotton industry. He paid substantial royalties to Catherine T. Greene and this makes his claim to the invention suspect. In an 1883 article in "The North American Review" titled "Woman as Inventor", the early feminist and abolitionist Matilda Joslyn Gage claimed that Mrs. Greene, wife of Revolutionary war hero, Nathaneal Greene, suggested to Whitney the use of a brush-like component, which was instrumental in separating the seeds from the cotton. Gage provided no source for this claim, and to date there has been no independent verification of Catharine Greene's role in the invention of the gin. However, some believe that Eli Whitney received the patent for the gin and the sole credit in history textbooks for its invention only because social norms inhibited women from registering for patents.
1796 - African Methodist Episcopal Zion Church founded New York. The church can be traced back to the John Street Methodist Church of New York City. Following acts of overt discrimination (such as black parishioners being forced to leave worship), many black Christians left to form their own churches. The first church founded by the AME Zion Church was built in 1800 and was named Zion. These early black churches were still part of the Methodist Episcopal Church denomination, although the congregations were independent.
http://www.theamezionchurch.org/history.html
1812 – Congress authorized bonds by which to finance the War of 1812.
1833 - Lucy Beaman Hobbs (d. 1910) was born in Franklin County, NY. She was the first woman in America to receive a degree in dentistry, from the Ohio College of Dental Surgery, 1866, and to be admitted to membership in a state dental association. In 1867, she married James M. Taylor, who also became a dentist (after she instructed him in the essentials). Active women's rights advocate.
1851 - San Francisco Foreign Miners Tax, designed to discourage Chinese gold mining, was repealed.
1862 - Union General Ambrose Burnside captures North Carolina's second largest city and closes another port through which the Confederates could slip supplies. On March 13, he landed 12,000 troops along the Neuse River, 15 miles south of New Bern. Accompanied by 13 gunboats, Burnside's army marched up river to face 4,000 Confederate troops commanded by General Lawrence O. Branch. The city was protected by extensive defenses, but Branch did not have enough soldiers to properly staff them. He concentrated his men along the inner works a few miles downriver from New Bern. Early on the morning of March 14, Burnside's men attacked in a heavy fog-two of the three Yankee brigades crashed into the fortifications. General Jesse Reno's brigade struck the weakest part of the line, where an inexperienced Rebel militia unit tried to hold off the Federals. Burnside's third brigade joined Reno and the Confederate line collapsed. That afternoon, Union gunboats steamed into New Bern. Union casualties for the battle were 90 killed and 380 wounded, while the Confederates suffered 64 killed, 101 wounded, and 413 captured. The conflict produced a Confederate hero, Colonel Zebulon Vance, who rescued his regiment by using small boats to bypass a bridge set afire by his comrades. Vance was elected governor of the state later that year.
http://7-12educators.about.com/blcwphmilfed17.htm
http://www.swcivilwar.com/burnside.html
http://www.civilwarhome.com/burnbio.htm
http://www.aoc.gov/cc/art/nsh/vance.htm
http://statelibrary.dcr.state.nc.us/nc/bio/public/vance.htm
http://www.ah.dcr.state.nc.us/sections/hs/vance/vance.htm
1864 - Casey Jones was born John Luther Jones near Cacye, KY. Railroad engineer and hero of ballad who died in a railroad wreck near Vaughn, MS, April 30, 1900.
http://www.taco.com/roots/caseyjones.html
http://www.watervalley.net/users/caseyjones/home.htm
http://www.caseyjones.com/pages/new_page_1.htm
http://www.trainweb.org/caseyjones/home.html
1867 - Michigan was the first state to enact a law to support state universities via property tax; "assessed all taxable property one twentieth of a mill on each dollar of value, to be used for the use, and maintenance of the university." The funds paid to the university in 1867 totaled $15,398.
1870 - A severe snow/wind storm struck Iowa and Minnesota. During this storm, the term "blizzard" was first used to describe a severe snowstorm. The "new" word appeared in the "Easterville (Iowa) Vindicator".
1879 - Theoretical physicist Albert Einstein (d. 1955) was born in Ulm, Germany. Best known for his theory of relativity. He won the Nobel in 1921. Einstein's revolutionary theories introduced entirely new ways of thinking about time, space, and gravity, and he profoundly affected the way scientific inquiry occurred. A citizen of the world, Einstein grew up partly in Milan, studied and taught in Switzerland, returned to Germany, and fled to the United States before World War II. In Einstein's theory, the speed of light, which is the limiting speed of any body having mass, is constant in all frames of reference. In the fifth paper that year, an exploration of the mathematics of special relativity, Einstein announced that mass and energy were equivalent and could be calculated with an equation, E=mc2. In 1950, he published his unified field theory, which was quietly criticized as a failure. A unified explanation of gravitation, subatomic phenomena, and electromagnetism remains elusive today. An avid pacifist, he nevertheless put into motion the invention of the hydrogen and atomic bombs with a letter to President Roosevelt, urging him to beware the possibility of Germany's building an atom bomb. Decades later, the specter of a nuclear attack capable of knocking out communications across the country was one of the factors leading to the development of the Internet.
1883 - In a Northwestern League meeting, Peoria moved to ban black players in order to prevent Toledo from playing star catcher Moses Fleetwood Walker. After an "exciting discussion" the motion was withdrawn and Walker was allowed to play. Walker signed with the Toledo Blue Stockings of the Northwestern League in 1883. Walker had his first encounter with Cap Anson that year, when Toledo played an exhibition game against the Chicago White Stockings. Anson refused to play with Walker on the field. However, Anson did not know that on that day Walker was slated to have a rest day. Manager Charlie Morton played Walker, and told Anson the White Stockings would forfeit the gate receipts if they refused to play. Anson then agreed to play. In the off-season, the International League modified its ban on black players, and Walker signed with the Syracuse Stars for 1888. In September, 1888, Walker had his second incident with Anson. When Chicago was at Syracuse for an exhibition game, Anson refused to start the game when he saw Walker's name on the scorecard as catcher. "Big Anson at once refused to play the game with Walker behind the bat on account of the Star catcher's color", according to the Syracuse Herald. Syracuse relented and someone else did the catching. Shortly thereafter, the American Association and the National League both unofficially banned African-American players, making the adoption of Jim Crow in baseball complete. Baseball would remain segregated until 1946 when Jackie Robinson played in the Montreal franchise of the Brooklyn Dodgers.
1887 - Sylvia Beach (d. 1962) was born Nancy Woodbridge Beach in Baltimore. Owner of the Paris-based bookstore Shakespeare and Co., she moved to Paris at the age of 14, when her father, a Presbyterian minister, was sent to France. She fell in love with the city. In 1919, she opened her bookstore, Shakespeare and Co., which became a gathering place for American writers in Paris in the 1920s, including F. Scott Fitzgerald and Ernest Hemingway. Beach was a strong supporter of writer James Joyce, who lived in Paris from 1920 to 1940. The Irish writer had achieved fame with his 1915 novel, "A Portrait of the Artist as a Young Man," and had started publishing his masterwork "Ulysses" in serial form in an American magazine called the "Little Review." However, the serialization was halted in December, 1920 after the U.S. Post Office brought a charge of obscenity against Joyce's work. Beach published the book herself in July, 1922. It wasn't until 1933 that a U.S. judge permitted "Ulysses" to be distributed in the U.S.
http://www.mala.bc.ca/~lanes/english/hemngway/beach.htm
http://www.search.eb.com/women/articles/Beach_Sylvia_Woodbridge.html
http://www.amazon.com/exec/obidos/ASIN/0253323347/inktomi-bkasin-20/
102-1682336-8966565
http://libweb.princeton.edu/libraries/firestone/rbsc/aids/beach.html
1896 - The Sutro Baths were a large, privately owned public saltwater swimming pool complex in western San Francisco, built as the world's largest indoor swimming pool establishment. It was located near the Cliff House, Seal Rock and Sutro Heights Park on the Pacific Ocean. The facility burned down in 1967, and is now in ruins. The site is within the Golden Gate National recreation Area. http://memory.loc.gov/ammem/today/mar14.html
1900 - The Gold Standard Act was ratified, placing US currency on the gold standard. It established gold as the only standard for redeeming paper money, stopping bimetalism (which had allowed silver in exchange for gold). On April 25, 1933, the United States and Canada dropped the gold standard.
1908 - Southwestern Baptist Theological Seminary was chartered in Waco, Texas. It grew out of the Baylor University theological department, which was established in 1901. The school campus relocated in 1910 to Fort Worth.
http://www.swbts.edu/about/history.shtm
1912 - Bandleader Les Brown (d. 2001) was born in Reinerton, PA. He led a top dance band for 40 years, beginning in 1938. Les Brown and his Band of Renown had hit records in 1941 with "Joltin' Joe DiMaggio," in 1944 with "Sentimental Journey," featuring a vocal by Doris Day, and in 1948 with "I've Got My Love to Keep Me Warm." In 1947, Brown began his long association with Bob Hope, working with him on radio and TV and on overseas tours. Brown and his orchestra reappeared on the jazz charts in 1987 with the album "Digital Swing."
http://www.bandsofrenown.com/
1913 - Kansas was the first state to set up a "small claims court" to deal with cases involving not more than $20. The first court was at Topeka, KS, with W.H. Kemper as judge. The complainant could not be represented by counsel, but had to present his own case. Strict rules of evidence and procedure were waived. The judgment rendered had the same force and effect, and was as binding as a judgment rendered in any court of record.
1919 - Max Brand (1892-1944) publishes his first novel, "The Untamed." Perhaps the most prolific writer of western stories, using over 21 pen names, his actual name was Frederick Faust. Unlike many western authors, Faust made no pretense to historical accuracy in his works. His novels concerned a mythic West of his imagination, and he rarely provided any identifiable geographical details or demonstrated any mastery of the minutiae of western life. His strength was his ability to tell a compelling story, and he had a keen sense of style. In "The Untamed," Faust created the hugely popular Dan Barry, a peaceable man who avoided trouble whenever possible. However, when Barry or those he cares about were attacked, he was transformed and was capable of wreaking violent vengeance on wrongdoers. Faust continued Barry's story in two best-selling sequels. Besides gaining fame and fortune as the author of Max Brand westerns, Faust also created the character of Dr. Kildare for his medical thrillers. Faust died in 1944, having written an estimated 30 million words, including more than 500 western serials or short stories.
1918 - The first seagoing ship made of concrete was launched at Redwood City, CA, near San Francisco. The ship was named "Faith" and those who launched her had plenty of that. They had faith that the vessel wouldn't sink. It didn't. "Faith" cost $750,000 to build.
1922 - Orchestra leader Les Baxter (d. 1996) was born in Mexia, Texas. In the 1950's, he was signed by Capitol Records as an arranger and recording artist. Baxter featured Latin American and jungle drum themes, as well as standard popular tunes. He had hits with "The High and the Mighty," "Unchained Melody" and "The Poor People of Paris," which went to number one in 1956.
http://www.lesbaxter.com/
http://www.spaceagepop.com/baxter.htm
1923 - U.S. President Warren G. Harding became the first Chief Executive to pay taxes and account for his income. Harding's tax bill amounted to nearly $18,000.
1925 - Trumpet player George "Sonny" Cohn (d. 2006) born Chicago, IL.
1928 - Jack Teagarden cuts first solo "She's a Great, Great Girl! (Vi 1326)
1928 – Astronaut Frank Borman was born in Gary, IN. Best remembered as the Commander of Apollo 8, the first mission to fly around the Moon, making him, along with crew mates Jim Lovell and Bill Ayers, the first of only 24 to do so. Before flying on Apollo, he set a fourteen-day spaceflight endurance record on Gemini 7, and also served on the NASA review board which investigated the Apollo 1 fire. After leaving NASA, he was the CEO of Eastern Air Lines from 1975 to 1986. Borman is a recipient of the Congressional Space Medal of Honor.
1931 - The first movie theater specifically designed and built to show movies that were rear-project was the Trans-Lux Theater in Manhattan.
http://americanhistory.si.edu/presidency/4a3.html
1932 - Singer Mark Murphy (d. 2015) born Syracuse, NY.
http://www.markmurphy.com/
1933 - Birthday of Quincy Jones, Jr., Chicago. American jazz composer, trumpeter, band leader and pianist. He composed film scores, TV show themes; record producer; arranger; 25 Grammys, Grammys Trustees Award in 1989, Grammys Legends Award in 1990; Musical Director for Mercury Records, then VP; established Qwest Records.
http://www.kennedy-center.org/programs/specialevents/honors/history/honoree/jones.html
http://www.wbr.com/quincyjones/index_links.html
http://www.qjluf.org/
1934 - Jazz organist Shirley Scott (d. 2002) born Philadelphia, PA. Recorded many records with husband, tenor sax player Stanley Turentine. She was known as "Queen of the Organ".
http://www.dougpayne.com/shirley.htm
1935 - 6-year-old actress Shirley Temple presses her hands in cement outside Grauman's Chinese Theater in Los Angeles. Since first winning attention with a song and dance in the 1934 movie "Get Up and Cheer," Temple beat out Clark Gable, Fred Astaire, and Ginger Rogers to become America's biggest box office draw.
1937 - Fred Allen and Jack Benny met on radio in one of the biggest publicity gags ever. It was called "The Battle of the Century." The two comedians locked horns in the ballroom of the Hotel Pierre, exchanging torrid insults that were heard by the second largest audience in the history of radio. The 'feud', incidentally, lasted for the next 12 years! This was probably the longest-running publicity stunt in history, too!
1937 - The first birth control clinic run by a state government was opened in Raleigh, NC when the North Carolina State Board of Health officially introduced a program setting up contraceptive clinics for poor married women in local maternity and child health services.
1937 - The first blood bank to preserve blood by refrigeration for future use in transfusions was established by the Cook County Hospital, Chicago, IL.
1937 - Lou Gehrig signs with the Yankees for $38,000 and $750 signing bonus.
1941 - Before Desi Arnaz sang "Babalu" on the "I Love Lucy" show, Xavier Cugat and his orchestra recorded the song with vocals by Miguelito Valdes, on Columbia Records.
1942 – Orvan Hess and John Bumstead became the first in the United States successfully to treat a patient, Anne Miller, using penicillin.
1945 - Top Hits
"Accentuate the Positive" - Johnny Mercer
"Saturday Night" - Frank Sinatra
"A Little on the Lonely Side" - The Guy Lombardo Orchestra
(vocal: Jimmy Brown)
"I'm Losing My Mind Over You" - Al Dexter
1945 - MICHAEL, HARRY J., Medal of Honor
Rank and organization: Second Lieutenant, U.S. Army, Company L, 318th Infantry, 80th Infantry Division. Place and date: Near Neiderzerf, Germany, 14 March 1945. Entered service at: Milford, Ind. Birth: Milford, Ind. G.O. No.: 18, 13 February 1946. Citation: He was serving as a rifle platoon leader when his company began an assault on a wooded ridge northeast of the village of Neiderzerf, Germany, early on 13 March 1945. A short distance up the side of the hill, 2d Lt. Michael, at the head of his platoon, heard the click of an enemy machinegun bolt. Quietly halting the company, he silently moved off into the woods and discovered 2 enemy machineguns and crews. Executing a sudden charge, he completely surprised the enemy and captured the guns and crews. At daybreak, enemy voices were heard in the thick woods ahead. Leading his platoon in a flanking movement, they charged the enemy with hand grenades and, after a bitter fight, captured 25 members of an SS mountain division, 3 artillery pieces, and 20 horses. While his company was establishing its position, 2d Lt. Michael made 2 personal reconnaissance missions of the wood on his left flank. On his first mission he killed 2, wounded 4, and captured 6 enemy soldiers single-handedly. On the second mission he captured 7 prisoners. During the afternoon he led his platoon on a frontal assault of a line of enemy pillboxes, successfully capturing the objective, killing 10 and capturing 30 prisoners. The following morning the company was subjected to sniper fire and 2d Lt. Michael, in an attempt to find the hidden sniper, was shot and killed. The inspiring leadership and heroic aggressiveness displayed by 2d Lt. Michael upheld the highest traditions of the military service.
1945 - PHILLIPS, GEORGE, Medal of Honor
Rank and organization: Private, U.S. Marine Corps Reserve. Born 14 July 1926, Rich Hill, Mo. Entered service at: Labadie, Mo. Citation. For conspicuous gallantry and intrepidity at the risk of his life above and beyond the call of duty while serving with the 2d Battalion, 28th Marines, 5th Marine Division, in action against enemy Japanese forces during the seizure of Iwo Jima in the Volcano Islands, on 14 March 1945. Standing the foxhole watch while other members of his squad rested after a night of bitter hand grenade fighting against infiltrating Japanese troops, Pvt. Phillips was the only member of his unit alerted when an enemy hand grenade was tossed into their midst. Instantly shouting a warning, he unhesitatingly threw himself on the deadly missile, absorbing the shattering violence of the exploding charge in his own body and protecting his comrades from serious injury. Stouthearted and indomitable, Pvt. Phillips willingly yielded his own life that his fellow marines might carry on the relentless battle against a fanatic enemy. His superb valor and unfaltering spirit of self-sacrifice in the face of certain death reflect the highest credit upon himself and upon the U.S. Naval Service. He gallantly gave his life for his country.
1947 - The first African-American to be commissioned as a Navy officer was Ensign John W. Lee of Indianapolis, IN, who was assigned to the U.S.S. Kearsearge.
1947 – Comedian, actor, producer Billy Crystal was born in Long Beach, Long Island.
1949 - No. 1 Billboard Pop Hit: "Cruising Down the River," Blue Barron Orchestra.
1950 - "10 Most Wanted" List debuted. The Federal Bureau of Investigation instituted the "10 Most Wanted Fugitives" list in an effort to publicize particularly dangerous criminals who were at large. From 1950 to 1998, 454 fugitives appeared on the list; 130 were captured. Generally, the only way to get off the list is to die or be captured. The FBI cooperates with the producers of TV's "America's Most Wanted" to further publicize these fugitives.
1951 - Seoul, Korea, which had fallen to Chinese forces in January 1951, was retaken by United Nations troops during the Korean War.
1953 - Top Hits
"Till I Waltz Again with You" - Teresa Brewer
"Don't Let the Stars Get in Your Eyes" - Perry Como
"Doggie in the Window" - Patti Page
"Kaw-Liga" - Hank Williams
1953 – St. Louis Mayor Joseph Darst vowed to fight losing the hometown Browns to Baltimore. They moved anyway.
1954 – Henry Aaron made his first spring training start for the Milwaukee Braves against the Red Sox. Aaron, taking advantage of an injury suffered by starting outfielder Bobby Thomson, rapped out three hits, including a home run. The noise of the contact was so loud that Ted Williams ran out of the Boston clubhouse to see who can make that sound with a bat. Aaron started for the Braves on Opening Day and hit a respectable .280 with 13 home runs and 58 RBI in his rookie season.
1954 - A blizzard raged from eastern Wyoming into the Black Hills of western South Dakota while a severe ice storm was in progress from northeastern Nebraska to central Iowa. The ice storm isolated 153 towns in Iowa. Dust from the Great Plains caused brown snow, while hail and muddy rain fell over parts of Wisconsin and Michigan.
1955 - The first Four Freshman album "Voices in Modern" was released on Capitol.
http://www.fourfreshmen.com/index.htm.
1955 - Singer Jimmy Dean interviews Elvis Presley on his Washington, DC television show.
1957 - The first four-time National Women's Figure Skating champion was Carol Elizabeth Heiss of Ozone Park, Queens, New York City. She won the first title today at Berkeley, CA; her second and third in 1958 and 1959; and her fourth consecutive title on January 29, 1960 at Seattle.
1958 - The Recording Industry Association of America (RIAA) certified the first gold record. It was Perry Como's "Catch a Falling Star" on RCA Victor Records. The tune became the first to win million-seller certification. The next three gold records were the 45 rpm recordings of "He's Got the Whole World in His Hands" by Laurie London, "Patricia", an instrumental by the 'Mambo King', Perez Prado and "Hard Headed Woman" by Elvis Presley. The first gold album certification went to the soundtrack of the motion picture, "Oklahoma!" featuring Gordon MacRae.
http://www.riaa.org/About-Who.cfm
1958 - No. 1 Billboard Pop Hit: "Tequila," The Champs. Glen Campbell, Jim Seals and Dash Crofts all join the group after "Tequila" hits No. 1.
1959 - Elvis Presley made the album charts, with "For LP Fans Only", the first LP ever issued without the artist's name anywhere on the cover. However, it has his face over most of the front cover.
http://www.itselvistime.nl/fansonly.html
1960 - Sam Cooke kicks off his first tour of the West Indies with a concert in Montego Bay, Jamaica. In the next two weeks, Cooke will set attendance records everywhere he appears.
1961 - Top Hits
"Pony Time" - Chubby Checker
"Surrender" - Elvis Presley
"Where the Boys Are" - Connie Francis
"Don't Worry" - Marty Robbins
1961 - Baseball Hall of Fame outfielder Kirby Puckett (d. 2006) birthday, Chicago, IL. Over a 12-year career, Puckett hit .318, helping the Minnesota Twins to two World Series titles. He was elected to the Hall of Fame in 2001.
1962 - Wilt Chamberlain of the Philadelphia Warriors completed a stretch of 47 consecutive games during which he played every minute. The streak, begun January 5 against the Syracuse Nationals and concluded against the Chicago Packers, stands as an NBA record.
1962 - Right wing Gordie Howe of the Detroit Red Wings became the second player in NHL history to reach the 500-goal mark when he scored in a 3-2 loss to the New York Rangers. Howe wound up with 801 goals and entered the Hockey Hall of Fame in 1972.
1964 - Jack Ruby was found guilty of the murder of Lee Harvey Oswald, alleged assassin of United States President John F. Kennedy.
http://mcadams.posc.mu.edu/ruby.htm
http://members.aol.com/guptaneel1/AmStud/JackRuby.htm
http://www.jfk-online.com/rubydef.html
http://www.amazon.com/exec/obidos/ASIN/0306805642/inktomi-bkasin-20/
102-1682336-8966565
http://mcadams.posc.mu.edu/oswald.htm
1964 - Billboard reports Beatle records have claimed 60-percent of the singles market.
1967 – The body of slain President John F. Kennedy was moved to its permanent burial site at Arlington National Cemetery.
1968 – The hit TV show "Batman" came to an end after two seasons on ABC-TV. Starring Adam West and Burt Ward as Robin, the first "Batman" episode was "Hi Diddle Riddle", shown on January 12, 1966. The pilot program for "Batman" cost $300,000 -- quite expensive by 1966 standards. Through the two seasons, the 'Dynamic Duo' welcomed these stars to the cast: Art Carney (The Archer), Tallulah Bankhead (Black Widow), Eartha Kitt (Catwoman), Julie Newmar (Catwoman), Lee Meriwether (Catwoman), Liberace (Chandell), Vincent Price (Egghead), Cesar Romero (The Joker), Rudy Vallee (Lord Phogg), Milton Berle (Louie the Lilac), Shelley Winters (Ma Parker), David Wayne (The Mad Hatter), Zsa Zsa Gabor (Minerva), Van Johnson (The Minstrel), Otto Preminger (Mr. Freeze), Burgess Meredith (The Penguin), John Astin (The Riddler), Frank Gorshin (The Riddler), Cliff Robertson (Shame), Joan Collins (The Siren), Anne Baxter (Zelda the Great), Victor Buono (King Tut), Eli Wallach (Mr. Freeze II), "?" as False Face, Leslie Gore (as Cat Woman's sidekick that had a crush on Robin) and of course Nelson Riddle (of Frank Sinatra fame) doing the theme. Finally, a partial list of official Bat-Noises: Aargh!, Ba-Boom! Clash!, Crunch!, Klonk!, Pow!, Splat!, Clunk! Eee-Yow! Ooof!, Powie! Swoosh!, Biff!, Conck! Ouch!, Klunkk!, Ka-Boom! Thunk! Boff! Crash!, Uggh!, Zam!, Zap! and others. Wow! Readers may have seen these works in Leasing News headlines.
http://timstvshowcase.com/bat-back.gif
1969 - KERREY, JOSEPH R., Medal of Honor
Rank and organization: Lieutenant, Junior Grade, U.S. Naval Reserve, Sea, Air, and Land Team (SEAL). Place and date: Near Nha Trang Bay, Republic of Vietnam, 14 March 1969. Entered service at: Omaha, Nebr. Born: 27 August 1943, Lincoln, Nebr. Citation: For conspicuous gallantry and intrepidity at the risk of his life above and beyond the call of duty while serving as a SEAL team leader during action against enemy aggressor (Viet Cong) forces. Acting in response to reliable intelligence, Lt. (J.G.) Kerrey led his SEAL team on a mission to capture important members of the enemy's area political cadre known to be located on an island in the bay of Nha Trang. In order to surprise the enemy, he and his team scaled a 350-foot sheer cliff to place themselves above the ledge on which the enemy was located. Splitting his team in 2 elements and coordinating both, Lt. (J.G.) Kerrey led his men in the treacherous downward descent to the enemy's camp. Just as they neared the end of their descent, intense enemy fire was directed at them, and Lt. (J.G.) Kerrey received massive injuries from a grenade which exploded at his feet and threw him backward onto the jagged rocks. Although bleeding profusely and suffering great pain, he displayed outstanding courage and presence of mind in immediately directing his element's fire into the heart of the enemy camp. Utilizing his radioman, Lt. (J.G.) Kerrey called in the second element's fire support which caught the confused Viet Cong in a devastating crossfire. After successfully suppressing the enemy's fire, and although immobilized by his multiple wounds, he continued to maintain calm, superlative control as he ordered his team to secure and defend an extraction site. Lt. (J.G.) Kerrey resolutely directed his men, despite his near unconscious state, until he was eventually evacuated by helicopter. The havoc brought to the enemy by this very successful mission cannot be over-estimated. The enemy soldiers who were captured provided critical intelligence to the allied effort. Lt. (J.G.) Kerrey's courageous and inspiring leadership, valiant fighting spirit, and tenacious devotion to duty in the face of almost overwhelming opposition sustain and enhance the finest traditions of the U.S. Naval Service.
1969 - Top Hits
"Everyday People" - Sly & The Family Stone
"Proud Mary" - Creedence Clearwater Revival
"Dizzy" - Tommy Roe
"Only the Lonely" - Sonny James
1969 - Creedence Clearwater Revival at the Fillmore West, San Francisco @ Wolfgang's Vault
1969 - Less than one month after winning her first horse race, Barbara Jo Rubin became the first woman jockey to win at Aqueduct Race Course in New York. She rode Brave Galaxy to victory and into the winner's circle.
http://www.izix.com/stan/index.php?chapter=18&column=2
http://www.dhwebsites.com/charlestownraces_original/press/news03-07-01.htm
1972 - California Governor Ronald Reagan pardoned country star Merle Haggard, who had served nearly three years in San Quentin on a burglary charge.
1972 - Carole King won Grammys for Album of the Year for "Tapestry" and Record of the Year for "It's Too Late." Carly Simon won the Grammy for Best New Artist.
1972 - The Cincinnati Royals announced their intentions to move the National Basketball Association franchise to Kansas City, Missouri. The Kansas City Royals baseball team was already there, so the basketball team became the Kings. In 1985, they moved to Sacramento.
1976 - Jockey Bill Shoemaker won the 7,000th race of his career aboard Royal Derby II, a horse that hadn't won in three years. Shoemaker became the winningest jockey in history in 1970, when he surpassed Johnny Longden's total of 6,032. The Shoe retired in 1990 after having ridden 8,833 winners.
1977 - Top Hits
"Love Theme from 'A Star is Born' " (Evergreen) - Barbra Streisand
"Fly like an Eagle" - Steve Miller
"I Like Dreamin' " - Kenny Nolan
"She's Just an Old Love Turned Memory" - Charley Pride
1979 - No. 1 Billboard Pop Hit: "I Will Survive," Gloria Gaynor. The song is released as the B-side to the single "Substitute."
1985 - Bill Cosby won four People's Choice Awards for "The Cosby Show". The awards were earned as the results of a nationwide Gallup Poll. Barbara Mandrell announced she was pregnant as she accepted her second award on the show. She mentioned "the child here tonight in my tummy." Bob Hope won the award for All-Time Entertainer, defeating Clint Eastwood and Frank Sinatra for the honor.
1985 - Top Hits
"Can't Fight This Feeling" - REO Speedwagon
"The Heat is On" - Glenn Frey
"Material Girl" - Madonna
"My Only Love" - The Statler Brothers
1985 - The first cabinet member indicted while in office was Raymond L. Donovan, secretary of labor under President Ronald Reagan from 1981 to 1985. Facing a trial for larceny and fraud in New York. Donovan resigned this day. He was acquitted of all charges on May 25, 1987, after an eight-month trial in New York City.
1986 - Frank Zappa played a drug czar on a "Miami Vice" episode.
1986 - Microsoft goes public, closing the day at twenty-eight dollars a share, up seven dollars from the offering price. The offering, dubbed "the IPO of the year" by industry analysts, created a slew of instant tycoons as young Microsoft employees found their stock options suddenly worth something. Microsoft was founded in the mid-1970s, when high school friends and fellow computer nerds Paul Allen and Bill Gates read a Popular Electronics article about a new microcomputer called the Altair 8800. The two had been programming computers since high school, where they developed a system called Traff-o-Data for analyzing traffic data, as well as a registration system that reportedly placed the two in the classes of the most attractive girls. Allen and Gates quickly developed a version of BASIC, a computer language, and licensed it to MITS, maker of the Altair. The two formed a company called Micro-Soft (they later dropped the hyphen). For the next five years, Microsoft concentrated on developing computer languages that would run on the variety of home computers that flooded the market in the late 1970s. Microsoft's lucky break came when operating system guru Gary Kildall of Digital Research missed a meeting with IBM executives because he was out flying his plane: Instead, IBM asked Microsoft for an operating system. Gates quickly purchased the rights to Seattle Computer Products' "Quick and Dirty Operating System" (QDOS), which became MS-DOS, the operating system powering the IBM PC, introduced in 1981. Today he is the world's richest billionaire: $50 BB.
1987 - Huey Lewis and The News scored their third number one record in the US with a Brue Hornsby composition, "Jacob's Ladder", one of six singles released from the album "Fore".
1988 - Squalls in the Great Lakes Region continued to produce heavy snow in northwest Wisconsin and Upper Michigan, and produced up to 14 inches of snow in northeast Ohio. Poplar, WI reported 27 inches of snow in two days.
1989 - No. 1 Billboard Pop Hit: "Lost in Your Eyes," Debbie Gibson.
1990 - Fifty-three cities reported record high temperatures for the date as readings warmed into the 70s and 80s from the Gulf coast to the Great Lakes Region. Charleston, WV was the hot spot in the nation with a record high of 89 degrees. It was the fourth of five consecutive days with record warm temperatures for many cities in the eastern U.S. There were 283 daily record highs reported in the central and eastern U.S. during between the 11th and the 15th of March.
1992 - About 40,000 people attend Farm Aid Five in Irving, Texas. The show is hosted by Willie Nelson and features performances by John Mellencamp, Neil Young and Paul Simon.
1992 - Intense snow squalls that began back on the 12th finally came to an end over Oswego and Onondaga counties in central New York. Palermo was buried under an incredible 85 inches of snow over the 4 day period. Parish checked in with 60 inches and Fulton recorded 51 inches. Syracuse recorded 7.7 inches of "normal" snow from the big storm back on the 11-12th, but this was peanuts compared to the 24 inches the squalls deposited on the city.
1993 - The second day of the Great Blizzard which was clobbering the eastern US and produced perhaps the largest swath of heavy snow ever recorded. Heavy snow was driven to the Gulf Coast with 3 inches falling at Mobile, Alabama and up to 5 inches reported in the Florida panhandle, the greatest single snowfall in the state's history. 13 inches blanketed Birmingham, Alabama to set not only a new 24 hour snowfall record for any month, but also set a record for maximum snow depth, maximum snow for a single storm, and maximum snow for a single month. Tremendous snowfall amounts occurred in the Appalachians. Mount Leconte in Tennessee recorded an incredible 60 inches. Mount Mitchell in North Carolina was not far behind with 50 inches. Practically every official weather station in West Virginia set a new 24 hour record snowfall. Further to the north, Pittsburgh, Pennsylvania measured 25 inches, Albany, New York checked in with 27 inches, and Syracuse, New York was buried under 43 inches. The major population corridor from Washington, DC to Boston, Massachusetts was not spared this time as all the big cities got about a foot of snow before a changeover to rain. A rather large amount of thunderstorm activity accompanied the heavy snow. Winds to hurricane force in gusts were widespread. Boston recorded a gust to 81 mph, the highest wind gust at the location since hurricane Edna in 1954. Numerous cities in the south and Mid-Atlantic States recorded their lowest barometric pressure ever as the storm bottomed out at 960 milliners (28.35 inches) over Chesapeake Bay. 208 people were killed by the storm and total damage was estimated at 6 billion dollars -- the costliest extratropical storm in history. Record cold followed in the wake of the "blizzard of '93" over the eastern US with 57 daily record low temperatures broken. Birmingham, Alabama plunged to 2 degrees, by far breaking its previous march record low of 11 degrees. Orlando, Florida recorded 33 degrees to smash its old daily record low by 9 degrees. It was also the coldest temperature ever recorded for so late in the season.
1996 - United States President Bill Clinton committed $100 million for an anti-terrorism pact with Israel to track down and root out Islamic militants.
1997 - Thousands of fans in Corpus Christi mobbed the Texas premiere of "Selena," the film biography of the Tejano music star shot and killed two years earlier by the president of her fan club. Stars attending included Jennifer Lopez, who played Selena, and Edward James Olmos, who portrayed the singer's father.
1997 - Joey Mullen of the Pittsburgh Penguins became the 25th player in National Hockey League history and the first American to score 500 regular-season goals. His tally came in a 6-3 loss to the Colorado Avalanche.
1998 - Will Smith's hit single "Gettin' Jiggy Wit It' soared to Number 1, and stayed in the top position for 3 weeks.
2003 - Police arrested 80 anti-war protesters in the San Francisco financial district. They included Warren Langley, former head of the Pacific Exchange and former Lt. Col of the US Air Force for fifteen years.
2005 - The Rock and Roll Hall of Fame celebrated its twentieth anniversary with a ceremony at New York's Waldorf Astoria Hotel that saw Bruce Springsteen ushering in U2 and Rod Stewart inducting Soul singer Percy Sledge. Neil Young welcomed the Pretenders into the Hall, while Justin Timberlake introduced The O'Jays.
2014 - The U.S. announced plans to let its contract with ICANN expire next year, ending U.S. authority over the Internet. On October 1, 2009 the U.S. Department of Commerce gave up its control of ICANN, completing ICANN's transition.
-------------------------------------------------------------

SuDoku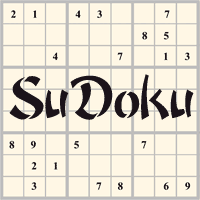 The object is to insert the numbers in the boxes to satisfy only one condition: each row, column and 3x3 box must contain the digits 1 through 9 exactly once. What could be simpler?
http://leasingnews.org/Soduku/soduko-main.htm
--------------------------------------------------------------

Daily Puzzle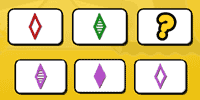 How to play:
http://www.setgame.com/set/puzzle_frame.htm
Refresh for current date:
http://www.setgame.com/set/puzzle_frame.htm
--------------------------------------------------------------


http://www.gasbuddy.com/
http://www.gasbuddy.com/GB_Map_Gas_Prices.aspx
http://www.gasbuddy.com/GB_Mobile_Instructions.aspx
--------------------------------------------------------------

Weather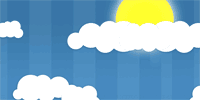 See USA map, click to specific area, no commercials
--------------------------------------------------------------

Traffic Live---
Real Time Traffic Information
You can save up to 20 different routes and check them out with one click,
or type in a new route to learn the traffic live
--------------------------------