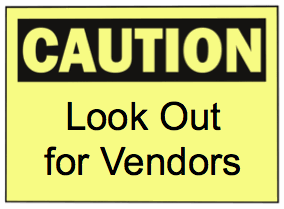 by Christopher Menkin
In up-dating the Leasing News Broker/Lessor list, there were several who said they are no longer in business as a broker, but as a vendor. It was easier for them to be set up as a seller of equipment and submit leasing applications in this manner.
This is not new---except for the admitting of this practice. For years many brokers had the ability to submit deals through their vendor contacts, mark-up the equipment or participate in vendor fees from funders, to get leases completed. There were even brokers who actually were resellers of equipment at basically their cost to get the leasing vendor referral fees, and some also made mark-up in equipment or did "sales/leasebacks" with their equipment customers. In fact, this was the case that got so out of hand it made headlines as "Operation Lease Fleece." The FBI arrested 35 leasing executives and their staff, including some vendors, indicted for breaking the law. Most of them plead guilty, but there are a few stragglers, and ironically, they are vendors, real sellers of equipment who reportedly bent the rules.
Brokers and lessors going through vendor "friends" has been going on for quite some time, as far back as 40 years when I first entered the business. Disguised sale/leasebacks or inflated equipment or equipment that never existed. With less companies accepting broker business and credit getting tighter, getting around existing requirements is getting more "sophisticated."
Most of the major fraud in recent years has been in the cahoots with vendors such as the circumstance at Allied Health Services, Brican America, E.A.R., Wildwood, to name just a few.
Tom McCurnin Barton, Klugman & Oetting, Los Angeles, California, well-known and successful top leasing trial litigator, recently concluded his article in Leasing News about the Iowa court appeals court sending the Royal Links case back to trial, another legal blow to leasing in the State of Iowa:
"If the vendor is selling something without any intrinsic value, coupled with fraudulent inducement of the equipment's attributes or revenue potential, the equipment lessor may not be able to paper over the fraud with lease terms.
"All vendors need to be scrupulously vetted, and deals need to make sense based on the residual equipment value where the equipment is suspect. In this case, selling a $1,000 trailer for $15,000 made no sense, and some courts will find a way to pass that risk onto the lender, where fraud is proven." (1)
Bernie Boettigheimer, CLP, CEO, President, Lease Police, Inc.
This was one of the main reasons Bernie Boettigheimer, CLP, came out of retirement and started LeasePolice.com. His idea was to obtain the data from banks, finance companies, leasing companies on their vendors and the problems they discovered, as well build up a list of vendors he was discovering who had uncommon write-offs for the leases they referred or were out-and-out crooks; to combine this information into a report that could be accessed over the internet at a very low cost.
His software developer created a program to his specifications to coordinate and produce results. Subscribers could get instant reports on the internet, and he also could send them "alerts" about vendor suspicions that were referred to him and he investigated to warn others.
It reached a point that he wanted to do more and came up with this idea of a "Physical Vendor Inspection." He spoke with many site inspection company executives, did research, and decided to go with Jim Merrilees of RTR Services, Salem, Oregon.
The cost could be included in a documentation fee, especially when the equipment or number of leases from a specific vendor reaches a certain number.
""I have always wanted to add to our reports to a site inspection for complete evaluation, " Bernie said. "It took us two years to develop the software for these reports, to collect data, to make it useful, and then a year tweaking it--- and now it is rich with information that no other company has on the vendor industry.
"I then realized after getting all this information, most of the creditors were relying on historical reports, and what they had was only information from serious defaults, and more importantly after they occurred."
"We developed a report based on what we learned, and to take it a step further, wanted to combine it with a current site inspection."
According to Boettigheimer, Merrilees from RTR Services caught on to the concept right away.
Vice-President, Nationwide Division of RTR Services
In an interview with Jim Merrilees, he told Leasing News he saw this as opening the door to the entire business community who is starting to do business with a new firm. The cost is substantially less than sending an employee out to vendor's location, and with Lease Police software information, is much more thorough, particularly with the questionnaire Bernie and I put together."
"A funder finds themselves with $1 million worth of paper from a vendor, but knows very little about them," Boettingheimer explained. " Here is a special format questionnaire along with a specific program for site inspectors to follow, including photographs, all designed to learn current information about the vendor, as well as their products and authorization."
"When the report is complete, it is further processed by Jim Merrilees and myself before given to the client."
Merrilees told Leasing News he knew exactly what Lease Police was after as he had a similar idea back in 1995 when he was president of then the Western Association of Equipment Leasing ((WAEL) (now the National Equipment Finance Association)) and was working with the National Association of Credit Managers. He noted they did not have the software today, and as important, the internet with its fast and inexpensive means to share information immediately.
Merrilees said the concept that NACM was working on with WAEL grew from what he was doing at as president at Colonial Pacific Leasing, Portland, Oregon: running credit on vendors who had a specific number of leases (often from various brokers) as he saw then the problems were more often with the vendor of the equipment. Often, he could not only catch them early to ward off future deals, but before the company exploded, had the opportunity to work out the existing deals on the books. He said he wanted to do more vendor verification and equipment evaluations.
The section on the Lease Police web site "products" gives more information on the new Lease Police Program: LeasePolice.com Physical Vendor Inspection:
http://www.leasepolice.com/infosite/product.html
(1) Royal Links Appeal Rules Back to Trial
by Tom McCurnin
http://leasingnews.org/archives/May2011/5_20.htm#royal_appeal

Bernie Boettigheimer, CLP
President
Lease Police, Inc.
1400 Preston Rd. #400
Plano, TX 75093
www.LeasePolice.com
bernieb@leasepolice.com
214-549-3426
972-692-8091- Fax
Jim Merrilees, Vice-President,
Inspection Services
Nationwide Division of RTR Services
877-801-6670
592-798-9870
503-267-1110
jimmerrilees@is-rtr.com
395 Market Street
Salem, Oregon 97301


Gary DiLillo, President 216-658-5618 or gary@avptc.com

Comprehensive personal property tax outsourcing services.
Click here to see what our clients say about us.
[headlines]
--------------------------------------------------------------

Bank Beat---Columbia State Bank on a roll---
(Columbia Bank has also been active with their leasing division as well as underwriting other leasing companies. At one time, they accepted independent broker business.)


Columbia State Bank, Tacoma, Washington, assumed all of the deposits of First Heritage Bank, Snohomish, Washington, when closed by the Washington State Department of Financial Institutions. The six branches opened today as Columbia State Bank, bringing thier total branches to. Last Friday Columbia took over Summit Bank, Burlington.
January, 2010 Columbia took over American Marine Bank with 12 offices and bought Columbia River Bank Oregon with 21 branches. They took over Summit with three branches May 20, 2011.

March 9, 2011 Columbia Bank opened a new branch in Everett, Washington, announcing it was the second new branch open this year, bringing branches to 85. With the recent acquired banks, the branches now number 101 branches, 75 in Washington State and 26 in Oregon, according to the FDIC.
With the arrangements with the FDIC, undertaking the operation of new branches, investors should be very pleased, particularly wit a March 31, 2011 very high Tier 1 risk-based capital ratio of 17.62%.
Bank equity year-end 2009 was $470.6 million, 2010 $571.9 million, March 31, 2011 $580.3 million. Columbia State Bank lost $2.86 million year-end 2009, made a profit of $30.8 million year-end 2010 and March 31, 2011, $6.2 million. Non-current loans in 2009 were $110.4 million, $218.2 million year-2010 and $154.4 million.

Charges offs 2009, $52.7 million, 2010 $33.7 and $5.67 million March 31, 2011.
The 2009 charges offs were $37.8 million construction and land development, $5.3 million commercial and industrial loans, $2.5 million loans secured by 1-4 family residential properties, $1.2 million in consumer loans, $2.9 million in "other loans," a group of others including $18,000 in lease financing receivables.
2010 charge offs has $13.5 million in construction and land development, $10.1 million in loans secured by nonfarm nonresidential properties, $3.8 million in loans secured by 1-4 family residential properties $2.3 million in commercial and industrial loans, $2.8 million "other loans,"$885,000 "other consumer loans, and $62,000 in lease receivables.
March 31, 2011 charge offs were "other loans" $2.1 million,$1 million loans secured by nonfarm nonresidential properties, $810,000 construction and land development, $854,000 commercial and industrial loans, and recovered lease financing receivables, adding $9,000 back to the bank.

As of March 31, 2011, First Heritage Bank had approximately $173.5 million in total assets and $163.3 million in total deposits. Columbia State Bank will pay the FDIC a premium of 0.75 percent to assume all of the deposits of First Heritage Bank.
First Heritage has received a FDIC Consent and Decease order April of last year citing ""unsafe or unsound banking practices relating to management, capital, asset quality, loans, liquidity, and brokered deposits." The bank was unsuccessful in raising new capital as when a bank fails, the investors lose everything.
The bank was established January 8, 1982 and had 57 full time employees in offices at Arlington, Everett, Marysville, Monroe, Snohomish, and Woodinville. Bank equity was $14.3 million year-end 2009, $4.27 million year-end, 2010 and $3.77 million March 31, 2011. The bank had lost $729,000 year-end 2009, $435,000 year-end 2010, and March 31, 2011. $435,000. Non-performing loans at year-end were $16.9 million, climbing from the previous year $14.5 million. Major charge offs were $1.5 million in loans secured by 1-4 family residential properties. March 31, 2011 there were charge offs of $1 million first liens, $539,000 junior liens, $103,000 by multifamily proprieties, $17,000 in 1-4 family residential construction, $321,000 land development construction loans, as well as $239,000 secured by nonfarm nonresidential property. Tier 1 risk-based capital ration was 2.97%.
The FDIC and Columbia State Bank entered into a loss-share transaction on $142.2 million of First Heritage Bank's assets.
The FDIC estimates that the cost to the Deposit Insurance Fund (DIF) will be $34.9 million.
Tracking Bank Failures Map:
http://graphicsweb.wsj.com/documents/Failed-US-Banks.html
List of Bank Failures:
http://www.fdic.gov/bank/individual/failed/banklist.html
Bank Beat:
http://www.leasingnews.org/Conscious-Top%20Stories/Bank_Beat.htm

[headlines]
--------------------------------------------------------------

Rhonda Polk of Pacific Premier Bank Nominated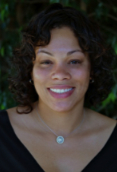 Rhonda Nicole Polk, Pacific Premier Bank, Costa Mesa, California has been nominated for the Orange County Business Journal Women in Business Awards. Her friends are congratulating here for her charitable works and membership on many community groups.
She notes she is "The only female Business Banker at Pacific Premier Bank, my approach is to focus on customer service and relationship management. I work with small and mid-sized companies throughout Southern California.
"The bank is aggressively lending as we have $1.2B in assets currently under management and very low bad debt portfolio. Additionally, we have some of the highest earning credits and lowest fee structures for operating accounts in the state. We practice non-matrix underwriting, meaning we look at the loan requests and the companies as individuals, not just another number. We make human decisions – if it makes sense, we'll do it. All of this has made my job easier than several of my counterparts at other institutions. "
rpolk@ppbi.com
Leasing Industry Help Wanted


Sr. Contract Adminstrator
Irvine, California
or Los Angeles, California

5+ years leasing & contract admin. required
7+ years lending/leasing exper. required
Click here for more information

--- About CityNationalBank---


For information on placing a help wanted ad, please click here:
http://www.leasingnews.org/Classified/Hwanted/Hwanted-post.htm

Please see our Job Wanted section for possible new employees.

[headlines]
--------------------------------------------------------------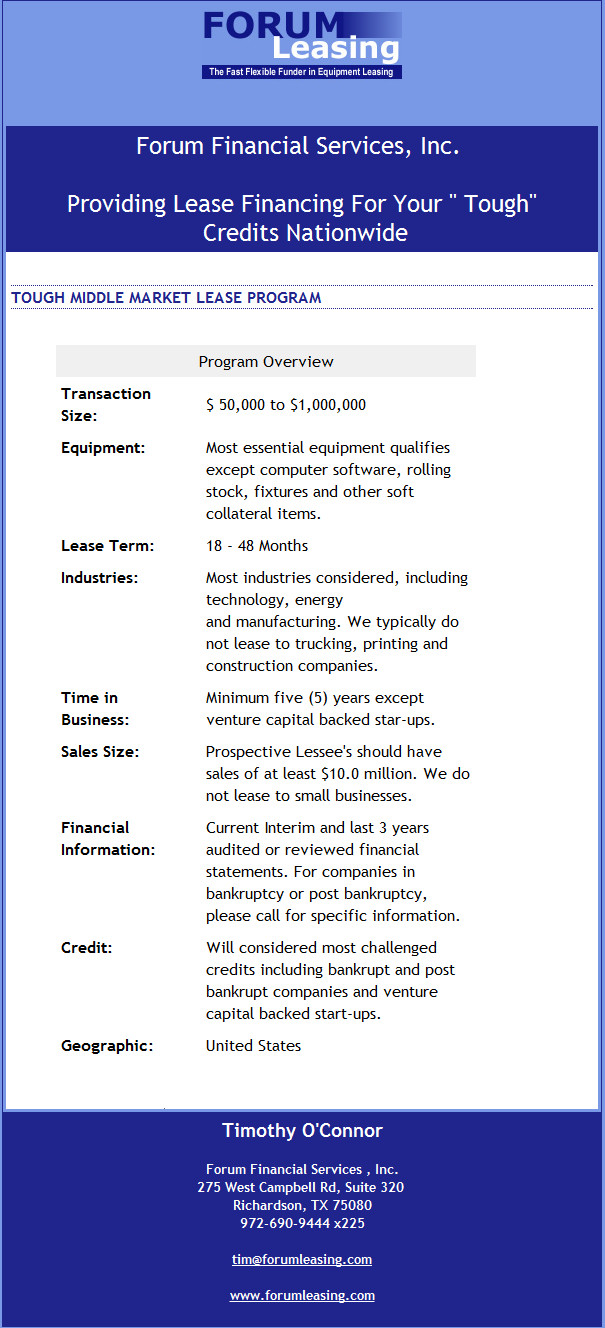 [headlines]
--------------------------------------------------------------

Leasing 102
by Mr. Terry Winders, CLP
Are you Sales Tax Compliant?

I spoke recently to a sales tax auditor that had just completed an audit of a bank leasing company. He discovered that the sales tax had been paid to the state, as required, on the payments received by the bank, however the state had not received the tax from the payments received and retained by the broker/packager. The state tax auditor said because the payment had not been received, they were going to place a sales tax lien on the leasing company and the owner (or the one who signs the check) that originated the transaction. The lien would be cleared when the tax and penalties were paid.
One of the problems of retaining lease payments and having the funding source purchase the remaining payment stream is sales tax compliance on the retained payments. There are some states that have "one time" sales tax forms in order to remit the taxes timely. If they don't have a specific form, brokers/packagers have been instructed to either write "One Time Filing" on the top of their regular sales tax forms or they should prepare a letter submitting the tax and letting the jurisdiction know that this is a onetime event. By doing this, the sales tax is remitted timely and there is no need to register to do business in each jurisdiction.
Even thought the sales tax has been collected and remitted for the last payment, if the lease terminates early and the lessee purchases the equipment there will be a sales tax on the purchase price (early termination amount). The prepaid sales tax on the last payment is just gone forever.
It is common practice for brokers/packagers to ignore the sales tax compliance under the assumption that the amount is too small and the State to far away to worry about it. So they just pocket the money and wait to get caught which in the past hardly ever happen. I am concerned that those days are numbered, not only due to the software available, the sharing of information, but the need for the state's to find "lost money." I strongly recommend it is time to start complying with the procedures outlined above and not think you will be overlooked.
There are also many states that want the sales tax paid up front. It is collected by the vendor and this eliminates the problem for the Lessor. However, it opens the door for the State to add a new use tax on the lease payments. This double tax was eliminated years ago thanks to the effort of the then ELA. But I fear they may bring it back. Also you have those States like Texas that wants the sales tax on the rent stream paid up front if the purchase option is less than 10%.
If you are accepting invoices without the sales tax on them as the vendor states the law in their state does not apply to their equipment or out of state sales, best to obtain a signed "re-sale card" that puts the burden on them (if they are still in business when the state finds out that sales tax does indeed apply.)
I would also suggest you add a discussion about sales tax compliance and the possibility that over the lease term the sales tax may increase and that it will be the responsibility of the lessee to pay it. Add it to your closing procedures and inform the lessee verbally, or in writing, of the sales tax requirements. I would add this to the long list of things you define when closing a lease or in the cover letter you include with the copy of the lease when you send it to them.
With the current economic environment many states are on the hunt for revenue. Sales tax audits are becoming more frequent so you need to make sure you are in compliance with each States requirements. Failure to do so will result in fines and penalties.
I also suggest you belong to one of our lease trade associations because they are the ones who are the watchdogs that fight to keep things like the double sales tax requirements from being established that will have a devastating impact on our business. Think of the association dues like life insurance or the greedy tax system will get you in the end.
Mr. Terry Winders, CLP, has been a teacher, consultant, expert witness for the leasing industry for thirty-five years and can be reached at leaseconsulting@msn.com or 502-649-0448
He invites your questions and queries.

Previous #102 Columns:
http://www.leasingnews.org/Conscious-Top%20Stories/Leasing_102/Index.htm
(This ad is a "trade" for the writing of this column. Opinions
contained in the column are those of Mr. Terry Winders, CLP)

[headlines]
--------------------------------------------------------------

47 Charlie Chan Movies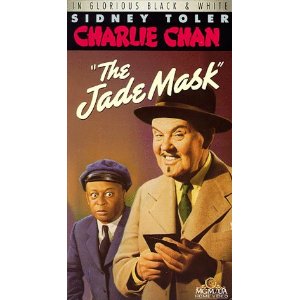 1944--"The Jade Mask."
The last three who played the Honolulu detective were Swedish Caucasian Warner Oland (1931 - 1938), American Caucasian Sidney Toler (1938 - 1947), American Caucasian Roland Winters (1947 - 1949). While I liked them all, Sidney Toler looked the most Chinese and was more believable to me. The series was also on radio and popular on 1949-1953 early TV in New York (before TV went "network.")
In the "Jade Mask," the famous detective is assisted by his expensively educated, pseudo-intellectual #4 Son Eddie (Edwin Luke) and panicky partner Chauffeur Birmingham Brown (Mantan Moreland), who both seemed to go everywhere with him.
Edwin Luke only played in this one movie. He was born in Washington. He was the brother of Keye Luke, who played Lee Chan, #1 son in all the other movies with the first popular Chan: Warner Oland. He was born June 18, 1904, Guangzhou, formerly Canton, China. He was the only real Chinese in the Chan movies; a graduate of the University of Southern California. For film buffs, it was Victor Sen Yung (born San Francisco October 18, 1915), who starred in the rest of Toler's moves as Charlie Chan's #2 Son.
The Black Chauffeur was played by a very popular comedian Mantan Moreland, who became popular in other Hollywood movies and also continued his stage performance popularity. In the fifties Hollywood changes its attitude toward subservient characters played by such actors as Willie Best, Stepin Fetchit and Moreland.
Moreland returned to the stage full-time, but did appear in two all-black variety films in 1955, with Nipsey Russell standing in for Ben Carter as his straight man. He was briefly considered as a possible addition to the Three Stooges when Shemp Howard died in 1955 as he was a great comedian, but it was determined working with two white guys was different than working with one disguised as Chinese. In the late 1960s he managed a modest resurgence on TV and in commercials and occasional films, allowing him to work again with such comic heavyweights as Bill Cosby, Godfrey Cambridge and director Carl Reiner.
http://en.wikipedia.org/wiki/Mantan_Moreland
Please submit your favorite sayings that would be worthy of Charlie Chan to speak---
to kitmenkin@leasingnews.org

Charlie Chan Sayings that have appeared in Leasing News:
http://leasingnews.org/Placards/chan_index.html


John Kenny Receivables Management
www.jrkrmdirect.com
• End of Lease Negotiations & Enforcement
• Fraud Investigation
• Credit Investigations
• Asset Searches
• Skip-tracing
• Third-party Commercial Collections
The Solution to Your Credit & Accounts Receivable Needs
John Kenny
315-866-1167 | John@jkrmdirect.com
(Leasing News provides this ad as a trade for investigations
and background information provided by John Kenny)
[headlines]
--------------------------------------------------------------

Top Stories---May 23 - May 27
Here are the top ten stories opened by readers:

(1) Correction--- Another Misrepresentation from LEAF?
http://leasingnews.org/archives/May2011/5_23.htm#correction_leaf
(2) ACC Capital, Midvale, Utah---and NAELB
http://leasingnews.org/archives/May2011/5_25.htm#acc_capital
(3) John Boettigheimer-The North Open Men's Soccer Championship
http://leasingnews.org/archives/May2011/5_27.htm#soccer
(4) Direct Capital Releases FinanceQuote App to SimplifyVendor Finance
http://leasingnews.org/archives/May2011/5_27.htm#direct
(5) "On Deck" Business Loans---aggressive in the marketplace
http://leasingnews.org/archives/May2011/5_25.htm#on_deck
(6) Telephone call to Jeffrey Taylor in Hospital
http://leasingnews.org/archives/May2011/5_23.htm#taylor_call
(7) Allegiant Partners announces Portfolio Purchase/LineIncrease
http://leasingnews.org/archives/May2011/5_25.htm#allegiant
(8) Jeffrey Taylor May Go Home Next Week
http://leasingnews.org/archives/May2011/5_27.htm#taylor
(9) Brican America evicted in bankruptcy
http://leasingnews.org/archives/May2011/5_25.htm#brican
(10) Leasing 102 by Mr. Terry Winders, CLP
"What good is Lease Education for the back office?"
http://leasingnews.org/archives/May2011/5_23.htm#education

[headlines]
--------------------------------------------------------------

********Announcement************************************

Allan Levine to Cover Annual Crab Feast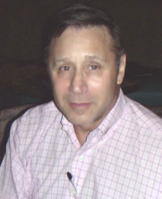 Leasing News top photographer, ace reporter, advisory board director, Allan Levine, Chief Operating Officer, Madison Capital, Owings Mills, Maryland will be covering for leasing News the June 9th, 2011 Annual Crab Feast at Obrycki's, Baltimore, Maryland, sponsored by the National Equipment Finance Association, but open to all leasing association members.
Make sure any comments you make to Mr. Levine are either "on the record" or "off the record." He'll be looking for a scoop.
Thursday, June 9th
Registration: 4:30 p.m. - 5:00 p.m.
Crab Feast: 5:00 p.m. - 8:00 p.m.
Member or Non-Member: $65 per person

Registration Form:
https://m360.nefassociation.org/ViewForm.aspx?id=21287
Fairfield Inn & Suites Reservation ($169.00 special rate)
http://www.greenfairfieldinn.com/

******Announcement************************************


[headlines]
--------------------------------------------------------------

Tacoma, Washington-- Adopt-a-Dog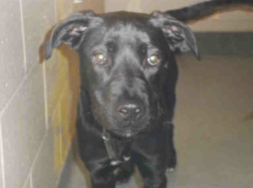 SMOKEY - ID#A448086
"I am a neutered male, black and white Labrador Retriever mix.
"The shelter staff think I am about 7 months old.
"I have been at the shelter since May 16, 2011."
For more information about this animal, call:
Humane Society for Tacoma and Pierce County at (253) 383-2733
Ask for information about animal ID number A448086
http://thehumanesociety.org/about.php



Adopt-a-Pet by Leasing Co. State/City
http://www.leasingnews.org/Conscious-Top%20Stories/Adopt_Pet.htm

Adopt a Pet
http://www.adoptapet.com/


--- News Briefs
FDIC Issues 76 Enforcement Actions In April Against Problem Banks
http://problembanklist.com/fdic-issues-enforcement-actions-in-april-against-problem-banks-0356/
Housing Index Is Expected to Show a New Low in Prices
http://www.nytimes.com/2011/05/31/business/31housing.html?_r=1&hp
Ted Nugget: Ramifications of divorce tactics
Ted Nugget, news anchor at American Network Television (ANT), explores the potential ramifications of the divorce tactic used by Argentina's First Couple
www.antelevision.com


You May Have Missed--

More than 500 cities see more homes become rentals
http://www.usatoday.com/money/economy/housing/2011-05-30-renters-owners-census_n.htm?loc=interstitialskip

Sports Briefs----

Compounding mistakes cost Tressel his job
http://rivals.yahoo.com/ncaaf/news?slug=dw-wetzel_compounding_mistakes_cost_tressel_job_053011


"Gimme that Wine"

Wine Sales Rise By Nearly 5 Percent In Latest Symphony IRI Data
http://www.shankennewsdaily.com/index.php/2011/05/26/649/wine-sales-rise-by-nearly-5-percent-in-latest-symphonyiri-data/
Wine industry aims to attract more Latinos
http://www.contracostatimes.com/california/ci_18153288?nclick_check=1
U.S. consumer direct wine sales hit record $3.4 billion in 2010
http://westernfarmpress.com/grapes/us-consumer-direct-wine-sales-hit-record-34-billion-2010
Free Mobile Wine Program
http://leasingnews.org/archives/Feb2010/2_26.htm#mobile
Wine Prices by vintage
http://www.winezap.com
http://www.wine-searcher.com/
US/International Wine Events
http://www.localwineevents.com/
Winery Atlas
http://www.carterhouse.com/atlas/\
Leasing News Wine & Spirits Page
http://two.leasingnews.org/Recommendations/wnensprts.htm
[headlines]
----------------------------------------------------------------
Please send to a colleague---Leasing News is Free
This Day in American History
1638 ---Colonial clergyman Thomas Hooker, 51, first arrived at the site of New Haven, CT, having migrated there with his church members who repudiated the autocratic rule of Puritanism in Boston. Hooker (the founder of Connecticut) believed Boston had become corrupt, and that church authority should rest in the people's consent. School books present that many Europeans came to the US to escape religious prosecution, when in fact, while this is basically true, it was to foster their own religious views and were quite prejudice about anyone else's beliefs.
1790- President George Washington signed the first US Copyright law. It gave protection for 14 years to books written by US Citizens. In 1891, the law was extended to cover books written by foreign authors as well.
1819-birthday of Walt Whitman, poet and journalist, born at West Hills, Long Island, NY Whitman's best known work, "Leaves of Grass", 1855,is a classic of American Poetry. His poems celebrated all of modern life, including subjects that were considered taboo at the time. Died March 26, 1892, at Camden,NJ. Whitman wrote about the Civil War, living in a tent with other soldiers, and perhaps not as well know were his keen interest in baseball, of which he said, " I see great things in baseball. It's our game, the American game." My favorite is "Oh, Captain, My Captain," written about Abraham Lincoln and not knowing the Civil War had been won.
http://www.bartleby.com/142/193.html
http://jefferson.village.virginia.edu/whitman/
http://memory.loc.gov/ammem/today/may31.html
1821--The first Catholic cathedral in the U.S. " The Cathedral of the Assumption of the Blessed Mary" was dedicated in Baltimore.
1830 - a tornado with a 400 yard wide track swept through Shelbyville, Kentucky. The tornado, which killed many people, was described in the "American Journal of Science".
1862- the Confederates lead by General Joseph E. Johnston defeated McClellan's Army of the Potomac at the Battle of Seven Pines (Fair Oaks, Virginia –the Battle called by Historians as Seven Pines and Fair Oaks). Although winning the battle and seeing General George B. McClellan's forces run, it turned out not to be a true victory, but became a stalling tactic by the Union. This was not McClellan's aim, (war historians consider him an idiot) but it did change the course of the fighting, plus opened the way for the Union to go after the prestige of the Confederate Capital of Richmond. This was the bloodiest battle of the war to date with 5,000 Federal casualties, and 6,000 Confederate casualties, plus with General Johnson seriously wounded at Fair Oaks, there was no one to take command, a dispute on who should become the new general, solved the next day by Jefferson Davis who surprised other general by appointing Robert E. Lee as commander of the Army of Northern Virginia on June 1. General Johnson was a more experienced commander and was reportedly going to change the tactics.
http://ourworld.compuserve.com/homepages/HMore/battleof.htm
http://home.att.net/~al_6th_inf/history_7_pines.htm
http://home.att.net/~al_6th_inf/letters_doc.htm
http://www.peninsulacampaign.org/7pines.shtml
http://www.fireandfury.co.uk/sevenpinesUS.htm
http://www.tennessee-scv.org/camp28/johnstonbio.html
1862—Birthday of Cynthia May Westover (Alden) - U.S. founder of an international society to aid the blind. While working as secretary to the N.Y. city commissioner of street cleaning she invented and patented an improved combination street cleaner's handcart and a self-cleaning dump cart. She began a custom of sending Christmas cards to shut-ins, then began to send gifts. Through publicizing the need in her newspaper columns, the Sunshine Society was organized. At her death the society that she headed for 31 years, had 500 local chapters in 38 states and 8 foreign nations and operated hospitals and homes for the blind and orphans, summer camps, lodges, facilities for working women, and other services.
1889- Johnstown Flood, heavy rains caused the Connemaugh River Dam to burst. At nearby Johnstown, PA, the resulting flood, hit the city with a 75 foot wall high of water and a half a mile wide. The flood caused 2,205 deaths and destroyed the homes of thousands more, over $10 million at the time. Nearly 800 unidentified drowning victims were buried in a common grave at Johnstown's Grandview Cemetery. So devastating was the flood and so widespread the sorrow for its victims that "Johnstown Flood' entered the language as a phrase to describe a disastrous event. The dame had held back the waters of Connemaugh Lake, which was about 2.5 miles long and 1.5 miles wide, with an average depth of 50 feet. The valley city of Johnstown, in the Allegheny Mountains, has been damaged repeatedly by floods. Floods in 1936 (25 deaths) and 1977 (85 deaths) were the next most destructive.
http://www.jaha.org/flood/
1898-birthday of Norma Vincent Peal, American religious leader born at Bowersville, OH. He is best known for his book, " The Power of Positive Thinking.",1952, which combines religion and psychiatry. He was a minister at the Marble Collegiate Church at New York, NY. He died December 24, 1993, at Pawling NY.
http://www.marblechurch.org/
http://cnview.com/on_line_resources/norman_vincent_peale_apostle_of_self_esteem.htm
1904-birthday of Otto Toby Hardwicke, born Washington, DC. Duke Ellington's alto sax player for 18 years.
http://www.centrohd.com/bio/bio21/otto.htm
http://www.musicweb.uk.net/RiseandFall/eight.htm
1908—Guitarist/composer,arranger/band leader Gene Gifford birthday Perhaps best known for his arrangements for the Glenn Gray Casa Loma band which preceded the popularity of Benny Goodman, around 1935. He also had bands with very famous musicians, such as Bunny Berrigan, and was quite well known in music circles.
http://mp3.cnet.com/Gene-Gifford/artists/149294/biography.html
http://nfo.net/.WWW/g3.html
http://nfo.net/.CAL/tt1.html
http://user.tninet.se/~npt755v/bunny29.htm
http://music.barnesandnoble.com/search/product.asp?ean=78636661520
1909—formed in March, the National Negro Committee, to become the National Association for the Advancement of Colored People holds its first conference in New York City, NY.
http://www.naacp.org
1912-President William Howard Taft completes his Latin American-wide support of U.S. business interests, planning for the invasion in Cuba on June 5. The invasions are, in part, intended to buttress Taft's support about businessmen during an election year when Teddy Roosevelt is taking votes and support away as the Bull Moose candidate. Later in the convention, June 18-22 after Taft through Elihu Root, seated his own delegates, Roosevelt was left out, so on June 22, Roosevelt announced the formation of the Progressive Party. June 25-July 2 the Democrats elected Woodrow Wilson, who was able to win the electoral votes: 435; Roosevelt, 88; Taft 8. The popular vote: Wilson 6,293,454; Roosevelt, 4,119,538; incumbent Taft, 3,484,980; socialist Eugene V. Debs, 900,672; prohibition candidate Eugene W. Chafin, 206,275.
http://www.whitehouse.gov/history/presidents/wt27.html
By the way, Taft was the only president to also serve on the US Supreme Court:
http://encarta.msn.com/index/conciseindex/0D/00DCF000.htm?z=1&pg=2&br=1
1921-The Greenwood Massacre---White mobs in Tulsa, OKA, attempted to lynch a Black teenager accused of trying to kiss a white girl and when they failed to get the teenager out of jail, they leveled the entire Black neighborhood of Tulsa. As many as 300 Blacks were killed and the remaining Black Tulsans are forced to move to a state-run internment camp.
http://rwor.org/a/v21/1040-049/1043/tulsa.htm
http://www.africana.com/DailyArticles/index_20010719.htm
1922-- Vic Willis, 1/3 of the Willis Brothers country group, was born in Schulter, Oklahoma. The brothers backed Hank Williams on his first recordings and were associated with Eddy Arnold from 1949 to 1957. In the '60s, they had several hit singles, including one that made the top 10, "Give Me 40 Acres (To Turn This Rig Around)." The Willis Brothers were the first country act to play Constitution Hall in Washington, DC, primarily a venue for classical artists. Vic Willis died in a car crash in Hohenwald, Tennessee, on January 15th, 1995.
1924-brithday of Patricia Harris, born at Matton,IL. The first African-American woman to serve in an ambassadorial post, the first African American to hold a cabinet position ( Secretary of Housing and Urban Development) and the first woman to serve as dean of a law school. Died March 23, 1985.
http://www.triadntr.net/~rdavis/harris.htm
1924—Birthday of Patricia Roberts Harris - U.S. attorney who held TWO cabinet positions, was a U.S ambassador, and was dean of a law school. She was the first black woman to hold any of those positions. In 1965 she achieved the highest diplomatic rank for a black woman when she was appointed ambassador to Luxembourg, She also became the first black woman to hold a cabinet position when she was appointed secretary of Housing and Urban Development in 1977 by Jimmy Carter and then she moved on to head the office of Health, Education, and Welfare from 1979 to 1981.
She was dean of Howard University Law School. In 1971 she became the first black woman appointed a director of a Fortune 500 company (IBM).
1927-birthday of sax player Red Holloway, Helena,AR
http://www.52ndstreet.com/reviews/mainstream/holloway_sro.html
http://www.artistdirect.com/music/artist/card/0,,445018,00.html
1930---birithday of actor/director/musician Clint Eastwood, San Francisco, Ca. He began his acting career at "Rawhide," playing "Rowdy Yates." My father Lawrence Menkin was the story editor, wrote many of the episodes, and kept giving Clint Eastwood larger roles, which the main star was not in favor. My father said the ladies loved Eastwood and he had a way of stealing the scene, even without saying a wood. Spaghetti Westerns and Dirty Harry propelled him into the position of acting, directing, producing some excellent and memorable motion pictures. Along the way he built a country club-golf course and was mayor of Carmel and has won numerous Academy Awards as actor and director.
http://www.clinteastwood.net/
1935-birthday of drummer Albert Heath, Philadelphia, PA
http://ubl.artistdirect.com/music/artist/card/0,,442622,00.html
1935-Babe Ruth of the Boston Braves grounded out in his final major league at-bat against pitcher Jim Bivin of the Philadelphia Phillies.
1937-birthday of drummer Louis Hayes, Detroit, MI
http://www.jazzcorner.com/hayes/
http://www.jazzcanadiana.on.ca/_HAYES.htm
1937-The Brooklyn Dodgers defeated pitcher Carl Hubbell and the New York Giants, 10-3, snapping Hubbell's winning streak at 24 games, a major-league record. Hubbell's previous defeat had occurred on July 13, 1936. He finished that year with 16 straight wins and won 8 more in 1937 before losing to the Dodgers.
1938- Peter Yarrow of Peter, Paul and Mary, the most popular of the early 1960's folk groups, was born in New York City. They were the first to bring commercial success to Bob Dylan, covering his "Blowin' in the Wind" and taking it to number two in 1963. Peter, Paul and Mary broke up in 1970, but reunited several times in the next two decades. Peter Yarrow served a three-month jail term in 1970 after pleading guilty to taking immoral liberties with a 14 year-old girl.
1941 -Thunderstorms over Eastern Kansas deluged the town of Burlington with 12.59 inches of rain to establish a 24 hour rainfall record for the state.
1941—birthday of singer Johnny Paycheck, Greenfield, OH.
http://www.bbc.co.uk/radio2/country/artistdb/paycheckjohnny.shtml
http://www.biography.com/cgi-bin/frameit.cgi?p=http%3A//www.biography.com/
magazine/biomag/paycheck.html
1943-birthday of Pro Football Hall of Fame quarterback, former sportscaster, actor, Joseph William "Joe" Namath, born Beaver Falls, PA.
http://ww1.sportsline.com/u/fans/celebrity/namath/index.html
1945--CRAFT, CLARENCE B. Medal of Honor
Rank and organization: Private, First Class, U.S. Army, Company G, 382d Infantry, 96th Infantry Division. Place and date: Hen Hill, Okinawa, Ryukyu Islands, 31 May 1945. Entered service at: Santa Ana, Calif. Birth: San Bernardino, Calif. G.O. No.: 97, 1 November 1945. Citation: He was a rifleman when his platoon spearheaded an attack on Hen Hill, the tactical position on which the entire Naha-Shuri-Yonaburu line of Japanese defense on Okinawa, Ryukyu Islands, was hinged. For 12 days our forces had been stalled, and repeated, heavy assaults by 1 battalion and then another had been thrown back by the enemy with serious casualties. With 5 comrades, Pfc. Craft was dispatched in advance of Company G to feel out the enemy resistance. The group had proceeded only a short distance up the slope when rifle and machinegun fire, coupled with a terrific barrage of grenades, wounded 3 and pinned down the others. Against odds that appeared suicidal, Pfc. Craft launched a remarkable 1-man attack. He stood up in full view of the enemy and began shooting with deadly marksmanship wherever he saw a hostile movement. He steadily advanced up the hill, killing Japanese soldiers with rapid fire, driving others to cover in their strongly disposed trenches, unhesitatingly facing alone the strength that had previously beaten back attacks in battalion strength. He reached the crest of the hill, where he stood silhouetted against the sky while quickly throwing grenades at extremely short range into the enemy positions. His extraordinary assault lifted the pressure from his company for the moment, allowing members of his platoon to comply with his motions to advance and pass him more grenades. With a chain of his comrades supplying him while he stood atop the hill, he furiously hurled a total of 2 cases of grenades into a main trench and other positions on the reverse slope of Hen Hill, meanwhile directing the aim of his fellow soldiers who threw grenades from the slope below him. He left his position, where grenades from both sides were passing over his head and bursting on either slope, to attack the main enemy trench as confusion and panic seized the defenders. Straddling the excavation, he pumped rifle fire into the Japanese at pointblank range, killing many and causing the others to flee down the trench. Pursuing them, he came upon a heavy machinegun which was still creating havoc in the American ranks. With rifle fire and a grenade he wiped out this position. By this time the Japanese were in complete rout and American forces were swarming over the hill. Pfc. Craft continued down the central trench to the mouth of a cave where many of the enemy had taken cover. A satchel charge was brought to him, and he tossed it into the cave. It failed to explode. With great daring, the intrepid fighter retrieved the charge from the cave, re-lighted the fuse and threw it back, sealing up the Japs in a tomb. In the local action, against tremendously superior forces heavily armed with rifles, machineguns, mortars, and grenades, Pfc. Craft killed at least 25 of the enemy; but his contribution to the campaign on Okinawa was of much more far-reaching consequence for Hen Hill was the key to the entire defense line, which rapidly crumbled after his utterly fearless and heroic attack.
1945-SMITH, FURMAN L. Medal of Honor
Rank and organization: Private, U.S. Army, 135th Infantry, 34th Infantry Division. Place and date: Near Lanuvio, Italy, 31 May 1944. Entered service at: Central, S.C. Birth: Six Miles, S.C. G.O. No.: 6, 24 January 1945. Citation: For conspicuous gallantry and intrepidity at the risk of his life above and beyond the call of duty. In its attack on a strong point, an infantry company was held up by intense enemy fire. The group to which Pvt. Smith belonged was far in the lead when attacked by a force of 80 Germans. The squad leader and 1 other man were seriously wounded and other members of the group withdrew to the company position, but Pvt. Smith refused to leave his wounded comrades. He placed them in the shelter of shell craters and then alone faced a strong enemy counterattack, temporarily checking it by his accurate rifle fire at close range, killing and wounding many of the foes. Against overwhelming odds, he stood his ground until shot down and killed, rifle in hand.
1948-- John Bonham, drummer with Led Zeppelin, was born in Redditch, England. Led Zeppelin, formed by guitarist Jimmy Page after the demise of the Yardbirds, became the world's premier heavy-metal band in the 1970's. Zeppelin songs, such as "Whole Lotta Love" and "Stairway to Heaven," are still played heavily on radio. Keith Moon, drummer with the Who, is said to have been responsible for naming the band - he said they would go over like a lead balloon. Zeppelin's first album went top-ten in 1969, and their second topped the charts within two months of its release. After that, each of their albums sold a million copies. By 1975, their album and concert ticket sales had made Led Zeppelin the most popular rock band in the world. Their final album was in 1979. A year later, John Bonham died at Jimmy Page's home in Windsor, England.
1951---Top Hits
On Top of Old Smokey - The Weavers (vocal: Terry Gilkyson)
Too Young - Nat King Cole
Mockingbird Hill -Patti Page
I Want to Be with You Always - Lefty Frizzell
1951-HERNANDEZ, RODOLFO P. Medal of Honor
Rank and organization: Corporal, U.S. Army, Company G, 187th Airborne Regimental Combat Team. Place and date: Near Wontong-ni, Korea, 31 May 1951. Entered service at: Fowler, Calif. Born: 14 April 1931, Colton, Calif. G.O. No.: 40, 21 April 1962. Citation: Cpl. Hernandez, a member of Company G, distinguished himself by conspicuous gallantry and intrepidity above and beyond the call of duty in action against the enemy. His platoon, in defensive positions on Hill 420, came under ruthless attack by a numerically superior and fanatical hostile force, accompanied by heavy artillery, mortar, and machine gun fire which inflicted numerous casualties on the platoon. His comrades were forced to withdraw due to lack of ammunition but Cpl. Hernandez, although wounded in an exchange of grenades, continued to deliver deadly fire into the ranks of the onrushing assailants until a ruptured cartridge rendered his rifle inoperative. Immediately leaving his position, Cpl. Hernandez rushed the enemy armed only with rifle and bayonet. Fearlessly engaging the foe, he killed 6 of the enemy before falling unconscious from grenade, bayonet, and bullet wounds but his heroic action momentarily halted the enemy advance and enabled his unit to counterattack and retake the lost ground. The indomitable fighting spirit, outstanding courage, and tenacious devotion to duty clearly demonstrated by Cpl. Hernandez reflect the highest credit upon himself, the infantry, and the U.S. Army.
1956-Buddy Holly sees the John Wayne movie The Searchers and gains some song writing inspiration when Wayne utters the line "that'll be the day."
1956: Elvis Presley is the featured guest on Roy Orbison and the Teen Kings' weekly KOSA-TV show in Odessa, TX.
1957 - No. 1 Billboard Pop Hit: "Love Letters in the Sand," Pat Boone.
1959---Top Hits
Kansas City - Wilbert Harrison
Dream Lover - Bobby Darin
Personality - Lloyd Price
The Battle of New Orleans - Johnny Horton
1961 - a severe freeze caused heavy crop damage in New England. Burlington, Vermont reported a low reading of 25 degrees.
1961--- Chuck Berry opened his Berry Park, an outdoor amusmement complex in Wentzville, Missouri, near St. Louis. It included a miniature golf course, rides and a children's zoo.
1962-- "Tell It To Groucho", TV Game Show; last aired on CBS.
1964-The New York Mets and the San Francisco Giants played the longest doubleheader by time in major league history, the two games consuming nine hours, 52 minutes. The Giants won the first game in ordinary fashion, Juan Marichal beating the Mets, 5-3, in nine innings. But the second game went 23 innings and lasted 7:23 ( a National League record) before the Giants emerged victorious, 8-6, on run-scoring hits by Del Crandall and Felipe Alou, 57,037 fans were on hand when the day began.
1965- The Dave Clark Five make their first appearance on CBS-TV's Ed Sullivan Show, performing "Glad All Over." Ed likes the clean-cut boys so much he has them on 18 more times over the course of the show's life, more than any other rock band.
1967---Top Hits
Groovin' - The Young Rascals
Respect - Aretha Franklin
I Got Rhythm - The Happenings
Sam's Place - Buck Owens
1969 - Stevie Wonder's "My Cherie Amour" was released by Tamla Records. The song made it to number four on the pop music charts on July 26 and stayed on the nation's radios for eleven weeks. Trivia: "My Cherie Amour" was not the original title of the song. Wonder had named the song, "Oh My Marcia", for a former girlfriend. Of course, singing it back with the original tune, one could see that "Oh My Marcia" doesn't quite fit as well as "My Cherie Amour".
1972 - No. 1 Billboard Pop Hit: "I'll Take You There," The Staple Singers.
1974 - William DeVaughn, a soul singer, songwriter and guitarist from Washington, DC, received a gold record for his only hit, "Be Thankful for What You Got". The tune made it to number four on the pop music charts (6/29/74). Ever hear the phrase, "Don't give up the day job?" This was quite applicable to DeVaughn, who was never heard musically again. His day job was working for the federal government.
1975---Top Hits
Before the Next Teardrop Falls - Freddy Fender
How Long - Ace
Sister Golden Hair - America
Thank God I'm a Country Boy - John Denver
1979-Supertramp perform at New York's Madison Square Garden, where they receive a Gold record for their million selling album "Breakfast In America".
1980-Although the Disco craze was running out of steam, a group from Minneapolis, Minnesota called Lipps, Inc., that featured Cynthia Johnson on vocals, reached the top of the US charts with a tune called "Funkytown".
1983 - Albany, New York experienced its wettest spring (March-May) in 109 years of records. 19.54 inches of precipitation was recorded.
1983—Top Hits
Flashdance...What a Feeling - Irene Cara
Overkill - Men At Work
Time (Clock of the Heart) - Culture Club
You Take Me for Granted - Merle Haggard
1985-- New Orleans Saints are sold for $70,204,000
1985 - a vicious tornado outbreak struck southern Ontario, Central and Eastern Ohio, Western and Central Pennsylvania, and Western New York. 42 tornadoes ripped through the area. 88 people were killed and total damage was over $200 million. 8 of the tornadoes were rated f4 on the fujita scale. The tornado that devastated Niles, Ohio Was Classified As F5 (Winds Above 260 Mph). A huge f4 tornado had a 69 mile path length in central Pennsylvania, mostly through Moshannon State Forest. An estimated 88,000 trees were destroyed as the tornado's path width reached 2.2 miles at one point.
1986 - The Weather Service Office in Washington, DC reported its driest spring on record with only 3.47 inches of precipitation from March 1st to May 31st.
1987 - No. 1 Billboard Pop Hit: "You Keep Me Hangin' On," Kim Wilde.
1990,-"Seinfield" premiered on television in 1990 and ended with the 1997-1998 season. While acclaimed the show was about "nothing," it really centered around the lives and exploits of its four main characters who's storyline intertwined for some very surprising plot twists over simple matters such as valet parking, annoying dogs, trip to India, where the show's sequence runs backwards ("The Betrayal"), yadda yadda yadda ,and waiting for Chinese food or buying soup. Comedian Jerry Seinfield used his stand-up routines as an introduction to the show. In the earlier days, the routines were longer and it took some time for the show to "catch on." The cast featured Seinfeld as himself; July Louis-Dreyfus as he ex-girlfriend, Elaine Benese; Jason Alexander as his best friend, George Costanaza, who worked for George Steinbrenner, owner of the New York Yankees; Wayne Knight as Newman, a fat neighbor, mailman, who always caused problems; and Michael Richards as his neighbor, Cosmo Kramer, who came in and out of rooms very fast. Most of this was based on Seinfield's real friends ( there was a Cosmo Kramer). The last episode was on May 14,1998 with the four main characters in jail after several episodes of their trail with testimony from many of the characters in earlier episodes.
http://www.cgocable.net/~dchristi/
http://www.famousfotos.com/seinfield.html
http://www.geocities.com/TelevisionCity/3583/
http://www.surveyitup.com/survey/poll_vote.asp?pollid=145
1991---Top Hits
I Don't Wanna Cry - Mariah Carey
More Than Words - Extreme
I Wanna Sex You Up - Color Me Badd
In a Different Light - Doug Stone
1991 - Norfolk, Virginia hit 100 degrees. This set a new all-time record high for the month of May.
1997- Ila Borders is unique among women. She is also unique in baseball. Her jeersey hangs in the Baseball Hall of Fame in Cooperstown, New York. honoring her as the first woman to play men's pro baseball; the only woman on the roster of a male professional baseball team.In 1993, she became the first woman to be awarded a college baseball scholarship at Southern California College of Costa Mesa.She debuted in a minor league team May 31, 1997
1999- "Star Wars: Episode I: The Phantom Menace" in its 13th day of release grossed past the $200 million mark in a record pace.
1996-The College Football Association (CFA), an organization and lobbying group that broke the NCAA's power to negotiate college football television contracts on an exclusive basis, voted itself out of existence. The CFA began in 1977 and ceased to exist on June 30, 1997.
2000-"Survivor" premiered on TV. On this strangely immensely popular "reality TV" show, 16 people were sequestered on a deserted island in Malaysia for 39 days. They competed for the right to remain on the island, with the final survivor wining $1,000,000. Hosted by Jeff Probst, the show drew a total audience of 51 million people. On January 28, 2001, another group of "Survivor" contestants began their stay in the Australian outback.
2001-- The Red Sox finally beat the Yankees in their eighth attempt, and for the first time in over a year since Pedro Martinez scoffed at the 'Curse'. The right-hander was 7-1 with a 1.44 ERA when he said, "Wake up the Bambino and let me face him -- I'll drill him in the %#$" but after the comment he managed only seven more winless starts making it first time he did not win in seven straight starts since the first seven major league appearances as a rookie with the Dodgers.
2001--- After 25 years in the organization, manager Felipe Alou, 66, is fired by the Expos, and replaced by Jeff Torborg, an old friend of owner Jeffrey Loria. The former Montreal skipper is the winningest manager in franchise history compiling a 691-717 record during his nine year tenure. November, 2002, he was named manager of the San Francisco Giants.
http://www.baseballlibrary.com/baseballlibrary/ballplayers/A/Alou_Felipe.stm
http://espn.go.com/mlb/news/2002/1113/1460334.html
2005- Strawberry Field (no s), the Liverpool orphanage which inspired the Beatles' famous song, is closed by the Salvation Army after almost seventy years.
NBA Finals Champions This Date
1983 Philadelphia 76ers
Stanley Cup Champions This Date
1987 Edmonton Oilers.
-------------------------------------------------------------

SuDoku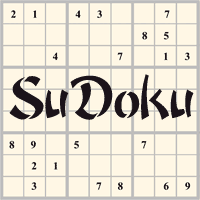 The object is to insert the numbers in the boxes to satisfy only one condition: each row, column and 3x3 box must contain the digits 1 through 9 exactly once. What could be simpler?
http://leasingnews.org/Soduku/soduko-main.htm
--------------------------------------------------------------

Daily Puzzle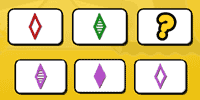 How to play:
http://www.setgame.com/set/puzzle_frame.htm
Refresh for current date:
http://www.setgame.com/set/puzzle_frame.htm
--------------------------------------------------------------


http://www.gasbuddy.com/
http://www.gasbuddy.com/GB_Map_Gas_Prices.aspx
http://www.gasbuddy.com/GB_Mobile_Instructions.aspx
--------------------------------------------------------------

Weather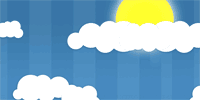 See USA map, click to specific area, no commercials
--------------------------------------------------------------

Traffic Live---
Real Time Traffic Information
You can save up to 20 different routes and check them out with one click,
or type in a new route to learn the traffic live
--------------------------------