Baltimore - Washington area
Lease Representative
M&T Bank is seeking an in-market lease representative to develop and maintain relationships with broker/lessors, equipment vendors, and direct lessees throughout Maryland and Northern Virginia. Must be knowledgeable small ticket leasing ($75K average ticket) and third-party lease/loan transactions. Please apply on-line at www.mandtbank.com and view posting #4044.
At M&T Bank, we provide and exciting and challenging work environment where performance and innovative thinking is encouraged at every level. With over 700 branches, your career can travel as far as you take it!

Wednesday, September 28, 2005
Headlines---
New Leasing News Advisory Board Member
Classified Ads---Sales
Cartoon---Sales
Sales Makes it Happen - "Fear Factor"
Odds and Ends---
Classified Ads-Help Wanted
NorVergence Legal Co-op Sept. Newsletter
News Briefs---
You May Have Missed
"Gimme that Wine"
Top Event in Today's History
This Day in American History
Baseball Poem
######## surrounding the article denotes it is a "press release"
New Leasing News Advisory Board Member
by Christopher Menkin, Publisher
It is with great pleasure that I introduce to readers: Dan Pulcrano, a new member of the Leasing News Advisory Board. He is an extra-ordinary person, good friend, and also a very talented journalist.
Dan and I go back over twenty-five years. I was one of the founding directors of his series of printed newspapers, sit on his San Jose "Metro" board, and personally involved in several of his ventures. In reality, I have been trying to get him more active in Leasing News as his greatest expertise is not only print, but the internet, where he set up the original local city web sites for news. He says he has been too busy. Fortunately, he stepped down recently as editor of Metro to focus more on other projects, so in a weak moment at a board meeting, I talked him into it.
Dan's techinical understanding of the world wide web and publication will add to the guidance of Leasing News, a trade "on line newspaper." Dan has served as publisher, editor, and also continues as a journalist, still writing an occasional column, "eye," about what is happening politically in Silicon Valley, among other "inside" stories. I can guarantee you he is very well read in our area by the "movers and shakers" in government and business here.
Here is his biography that will appear along with our other advisors.
Dan Pulcrano
Metro Newspapers
San Jose, California
Dan Pulcrano is founder, CEO and Executive Editor of Metro Newspapers, a group of locally-based weeklies that includes Metro Silicon Valley, Metro Santa Cruz and the North Bay Bohemian in California's wine country.
In 1993, Pulcrano founded an Internet company that grew into Boulevards, the world's leading network of city.com sites. Its properties include San Francisco.com, Los Angeles.com, Houston.com, Philadelphia.com and more than 200 others. In 2004, it acquired an interest in the MrMovieTimes.com network.
Pulcrano also oversaw the creation of Silicon Valley Community Newspapers, which was sold by Metro in 2001. Before Metro, he worked for the San Diego Reader and the L.A. Weekly as a writer working his way up to editor. He was editor of the Los Gatos Weekly, active in the community, and began the syndication of local newspapers before starting the Metro Newspaper Group.
He founded and served as first president of the San Jose Downtown Association, a group that has been a leader in revitalizing downtown San Jose. He has served as president of the Hakone Foundation, as a trustee of Ballet San Jose and as a volunteer with Best Buddies, which promotes innovative programs for people with intellectual disabilities.
Leasing News

Advisory Board

Bob Baker, CLP.
Wildwood Financial Group, Ellisville, Missouri
Edward Castagna
Nassau Asset Management, Westbury, NY.
Steve Crane, CLP
Bank of the West, Walnut Creek, CA.
Phil Dushay
Global Financial Services, Manhattan, NY.
Steve Gabriel

Porter Novelli-Advanced Tech Division, Campbell, CA

Ken Greene, Esq.
Larkspur, California
Theresa M. Kabot, CLP

Kabot Commercial Leasing, Seattle, WA.

Robert S. Kieve

Empire Bradcasting, San Jose, CA.

Bruce Kropschot

Kropschot Financial Services, Vero Beach, FL.

Fred St. Laurent
SFBI Recruiters, Atlanta, GA.
Andrew Lea, M.A.
McCue Systems, Inc. Burlingame, CA.
Armon L. Mills, CPA
San Diego Business Journal, San Diego, CA.
Dan Pulcrano

Metro Newspapers, San Jose, California

Steve Reid, CLP
Santa Barbara Bank & Trust, Santa Barbara, CA.
Bob Teichman, CLP
Teichman Financial Training, Sausalito, CA.
Paul B. Weiss

ICON Securities, New York, N.Y./San Francisco, CA.

Ginny Young

Brava Capital, Orange, CA.

Publisher/Editor

Christopher "Kit" Menkin
------------------------------------------------------------

Classified Ads---Sales
Sales
Sales: Arizona/Southwest
Leasing and Financial Services Professional. Over 12 yrs+ experience in commercial municipal and federal leasing. Vendor programs and direct lessor, including technology and project finance.
email: leasingrel@yahoo.com

Sales: Bakersfield, CA.
I have an extensive sales and management background in equipment leasing. My work history exhibits my major strength in small ticket equipment leasing.
Email: pangress@msn.com
Sales: Bay Area, CA
Over 20 years covering the middle market with long history of exceeding quota. Industries include manufacturing, technology, printing & medical. Direct funding source only.
Brunski3@yahoo.com

Sales: Boston, MA.
Middle market originator, construction/Trucks /
Trailers w/ 8 years in territory, looking for company / bank with competitive products
Email: mrichlease@comcast.net

Sales: Cedar Rapids, IA.
Formally trained in Credit, Collections, & Sales with regional bank. Seeking sales or sales management.
Over ten years

in SM, vendor and end user.
Email: mjrprime@yahoo.com
Sales: Central, NC.
7 yrs.equip leasing &finance; specialist in heavy construction equip for 2-top-5-specialty finance/lease companies, NC &VA territories. $10-15MM annual funding. Downsized in 2002, now independent broker with varied customer base.
Email: sunriseleasing@aol.com
Sales: Denver CO.
Experienced Equipment Leasing Broker looking for a in house leasing company. Can bring a book of business with me or develop new territory where needed.
Email: Steven@eagle2.net
Sales: Detroit MI
Motivated self-starter w/5 yrs sales exp. IT leasing. Excellent communicator w/strong negotiation/biz dev. skills. Six-sigma certified w/ Fortune 50 company/book of business.
Email: playmakers1@sbcglobal.net
Sales: East Central Florida
20+ years experience in all areas of leasing; sales, credit, operations, syndication. Currently independent seeking position with direct middle market lender in regional capacity
email: southernleasing@bellsouth.net
Sales: Fresno CA.
Account Exec/Manager. 7+ years Leasing Sales: underwriting/contract, complex transactions, hi-tech, government, direct & vendor leasing. Captive & syndicator environments. Expert deal closer. Will send resume.
Email: dsp559@pacbell.net
Resume

Sales: Grand Rapids, MI.
17 years sales/ sales management in Britain specializing in operating leasing/ Asset Management within middle ticket market. Credit/

documentation skills. Previous sales experience in Michigan.
email: pauldear1@comcast.net
Resume
Sales: Greensboro, N.C. Seeking direct & broker sales w/major finance companies in NC or southeast market. Small to mid-ticket range. Stable &family oriented. Will have series 6,63,65 license shortly.
Email: kc1492@aol.com
Sales: Kansas City, MO.
20 years Senior Sales/Management experience in small ticket/government leasing. Program Management experience, managing 12
Reps. Credit Auth to $50K. Success in soliciting and maintaining accounts.
Email: dhundley1@kc.rr.com
Sales: Los Angeles CA.
5 years experience structuring off-balance sheet finance solutions on computer and medical equipment. Perform detailed competitive analysis and market research. I uncover leads and sell.
email: barretthawk@hotmail.com
Sales: Louisville, KY
Sales: 20 yr. "go getter" machine tools/const. leasing/finance pro, establishing. vendor/mfg. programs in KY,TN,OH,IN, will travel 3/5 state area, wants stable company + salary/ com./benefits.
Email: jim_jrd@msn.com
Resume | Cover letter
Sales: Mission Viejo, CA
Account Sales Executive with 10 years of leasing experience looking for company to bring existing customer base.
Email: makelly21@hotmail.com
Sales: Montgomery, AL.
Individual with 10 years advertising sales exp. & 7 years insurance sales exp. Wants independent contractor situation in Alabama.
Work with leasing company or broker.334-281-5200
E-mail: billmcneal2003@yahoo.com
Sales: Nashua, NH.
10+ years sales experience small & mid-ticket hi-tech & telecom in a captive and vendor environment. Seeking new sales opportunity in New England.
E-mail: RPepa@aol.com
Sales: Philadelphia , PA Seeking an open opportunity to advance in the automotive, commercial leasing & finance industry......... Email: alexe362002@yahoo.com
Sales: Portland, OR.
"Exp. In direct sales and sales mgmt.
I love Portland, but decent here jobs are few. Willing to be re-located, would like to work for you.
Email: pthygeson@netscape.net "
Sales: Prairie Village, KS Have substantial deal flow and database of broker referral sources. Generated and closed over $22M LY. Seeking exclusive relationship w/direct founder.
Email: fiergl@aol.com
Sales: San Francisco Bay Area, CA
10+ yrs in middle market leasing. Seek direct lessor only. Transaction size from $500M to $10.0MM. Client base: printing, food, retail, manufacturing.
Email: edm173@sbcglobal.net
Sales: San Francisco Bay Area, CA
Rainmaker / Hunter: Currently employed Vendor Program Originator. Proficient with technology to yellow iron assets and complex program development. Extensive national Rolodex.
Email: VdrPgmBizDev@aol.com
Sales: Seattle, WA
Over 20 years experience in commercial lending, including sales, management, and credit. Seeking position with major finance company or commercial bank.
Email: lc.saxguy@gte.net
Sales: SF Bay Area, CA.
15+ yrs--mid mkt. $500M to $10.0MM. Seeking role w/ captive or global leasing firm. large book to bring with me! Debt, tax, 1st amendment, etc.
Email: lac4002@yahoo.com
Sales: Southern California
Equipment Financing Professional with strong background in Sales, Management, Marketing & Operations. Will consider relocation for Senior Sales or Management position offering dynamic growth opportunity.
Email: natsif@hotmail.com
Sales: South Central U.S.
TX, OK, KS & AR Territory.
Equipment finance and leasing professional, 20 years experience. Top producer in middle to upper middle markets. Extensive customer base.
Email: usleasingrep@yahoo.com
For a full listing of all "job wanted" ads, please go to:
http://216.66.242.252/AL/LeasingNews/JobPostings.htm
To place a free "job wanted" ad, please go to:
http://216.66.242.252/AL/LeasingNews/PostingForm.asp
------------------------------------------------------------

Cartoon---Sales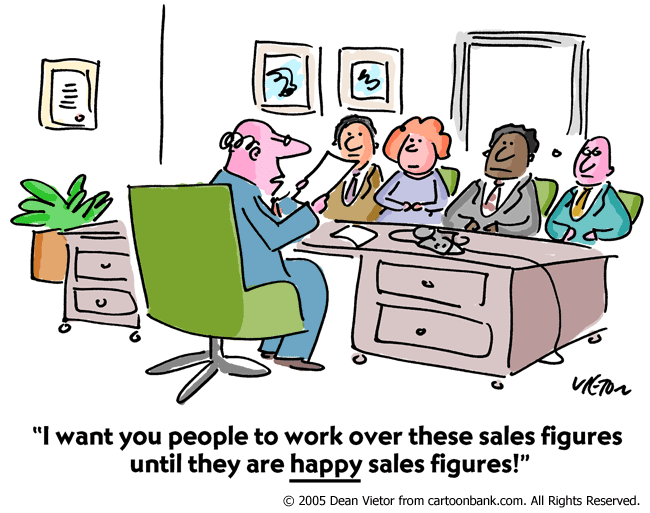 ------------------------------------------------------------

Sales Make it Happen
Fear Factor
It takes a positive attitude, persistence and determination to be a good salesperson. Understanding the role fear plays in every buying decision can take a salesperson from good to great .
Cognitive research labs worldwide have shown that humans will take a bigger gamble to avoid a sure loss than to improve on a sure gain. Further, a person's mood plummets more when imagining a loss than it rises when imagining an equivalent gain. Humans actually fear losing more than they covet gaining!
When a customer declines to make a purchase that would obviously benefit their business, it should not surprise salespeople to learn that fear has taken over the sale. It may well be that the salesperson's solution offers the greatest potential gain for the business; but it may also be true that other solutions offer less risk of failure or diminished success for the buyer.
So, what might the buyer fear? Ultimately buyers fear uncertainty. Is this financing method the best choice for the business? Can you deliver on your promises? What if things don't work out as planned? How will I be judged for making this decision?
The salesperson's challenge, then, is to cultivate an awareness of the role fear plays in all buying decisions, and to address those fears, whether real or imagined. Failing to recognize the fear factor in every sale robs the salesperson of the opportunity to address and overcome customer fears whenever possible. A positive attitude and determination are absolute essentials for successful sales, but unless salespeople recognize the role fear plays in their sales opportunities, they will lose sales and never know why.
--- from the desk of a retired, successful leasing company president.
------------------------------------------------------------
Odds and Ends---
"Due to the hurricane Rita Main Street Bank and Douglas Guardian, who were scheduled exhibitors at the recent UAEL conference in Lake Tahoe, for obvious reasons did not attend the conference. Our thoughts and prayers go out to them and all those affected.
"From a UAEL friend."
(Name with Held)
--
Bruce Lurie, Douglas Guardian
"Rita actually turned out to be kind of anti-climatic for Houston. As of Wednesday and Thursday of last week, it looked like we were going to be hit head on with a storm of catastrophic proportions. Everyone was attempting to evacuate and drives normally taking an hour or two were taking eight to twelve hours. We had employees that decided to evacuate to Dallas who had 14 hour drives or longer. People were running out of gas on the highways and there was no way to refuel so cars were simply being left behind.
"Fortunately for Houston and Douglas Guardian, the storm started moving to the East late Thursday and when landfall did occur, we went pretty much unscathed. We had some winds and some power outages, but really nothing of any major impact.
" Obviously, this is not the case to the East of us. As it relates to the leasing industry, I'm sure everyone is wondering what the status of their collateral is in the effected areas and whether insurance is in place to cover any losses due to either wind or rising water. We've had some customers ask us to check on the status of businesses in areas that they have not been able to contact.
"Along the coast, things are still pretty bad and I expect it will be many months or years before we are back to any normality. The scary thing for me is that we still have another month of hurricane season. "
Your friend in Houston - Bruce
---
The Original David Murray is back
http://www.leasingnews.org/archives/September%202005/9-23-05.htm#dave
"The truth is that Dave (he was the majority stock holder) personally buried the company with his extravagant expending and reckless life style. After he took off crying leaving 3 million in debts, Dave faked a personal bankruptcy by filing a chapter 7 then when the creditors closed their files, he dismissed his filing. I am told Bank of the West is now looking into Dave and the fraud he potentially committed. The truth is that Dave destroyed the company.
In Re MURRAY,DAVID K
UNITED STATES BANKRUPTCY COURT
CENTRAL DISTRICT OF CALIFORNIA - SANTA ANA
In Re MURRAY,DAVID K
COUNTY: ORANGE
PETITIONER: MURRAY,DAVID K
1139 GAVIOTA ST
LAGUNA BEACH, CA 92651
NUMBER: 0119926
FILED: 12/04/2001
TYPE: CHAPTER 7 FILING (NEW/REOPEN)
STATUS: Dismissed
FIRST MEETING DATE: 01/07/2002
DISCHARGE/DISMISS DATE: 01/30/2002
HEARING TIME: 09:00 A.M.
HEARING LOCATION: RONALD REAGAN FEDERAL BLDG 411 W
ATTORNEY: J SCOTT WILLIAMS
2 PK PZ #450
IRVINE, CA 92614
PHONE NO: 949-477-9070
FIRM: J SCOTT WILLIAMS ATT AT LAW
(Name with held)
(Very highly reliable source. editor)
--
Read your article on Dave Murray.
The last couple of years he has also worked for Five Point Capital who does the same "credit card" mass mailing/marketing. He may just have been an outside consultant. They will be competing with each other.
(Name with Held)
---
When you ran the story about Tom Allanson founding TaxNet after leaving Intuit and GE Colonial Pacific Leasing, the same David Murray, who was a co-founder, is the same who started Direct Capital and then Preferred Lease.
"TaxNetT was founded by Tom Allanson and David Murray. Tom is the former Head of the Tax Division of Intuit (leading TurboTax®, Pro Series® and Lacerte® tax software products) and Dave worked for this same division as the Head of Innovation...
"He founded a company called Direct Capital and developed a new model for equipment financing. A few years later he sold that company and started Preferred Capital Corporation. In just a few years he grew that company from a small one-man firm to a company with fundings of nearly $200 Million and over 250 employees. It was at Preferred Capital that David met Tom Allanson. David's company was generating lease contracts and selling them to a division of GE Capital - and Tom was the President of that division.
"After he sold Preferred Capital, David founded a company called Kord Marketing Group. This was a high tech consulting company with clients like Intuit, Ingram Micro and Insight. Later, Intuit hired him as the Head of Innovation for TurboTax."
Full biography at: http://www.leasingnews.org/Pages/David_Murray.htm
"Dave and Tom Allanson sold Taxnet to H & R block and Dave netted 2 million Dave bought a house in Tahoe. I am sure the all the Preferred creditors that got stiffed including the expense in law suits that Raeder had to fight off would be happy to learn of this.
"By the way, the real genius behind the marketing was a consultant named Tom. I worked there, I know personally."

(name with held)
--
EAEL/NAELB Conference
(Eastern Association of Equipment Lessors/National Association
of Equipment Leasing Brokers)
From: Scott A Wheeler.
Re: Fall Expo 2005
"The theme of the EAEL EXPO this year was "Take the Next Step". I am thrilled to report that 300 attendees took ONE SMALL STEP and attended the EAEL EXPO on September 19th and are now prepared to TAKE ONE GIANT LEAP into the leasing market and finish up 2005 with enthusiasm and confidence.
"George Parker of Leasing Technologies International chaired and organized one of the best EXPOS of recent memory. George and his committee succeeded in breaking several records with over 300 attendees, maximum exhibitors and electrifying enthusiasm as Bill Bradley the Key Note Speaker told many exciting sports and political stories that were informative, insightful and entertaining.
"The general expo consensus was the leasing market is strong and activity is brisk. The workshops emphasized there are plenty of leasing opportunities for the sales person, leasing company, and lease funding source that works smart, is creative and stays ahead of the competition by being well educated, well prepared and enthusiastic. The conversations at the cocktail party the night before and in the exhibit hall on Monday proved to be mutually beneficial for all of the leasing professionals attending the 2005 EXPO. The Buzz was so loud it became obvious that these leasing professionals are currently experiencing a count down and many have already begun to "BLAST OFF" into what is expected to be a boom period for the Leasing Industry.
"The Expo was a joint effort of the EAEL and NAELB. I want to extend a special thanks to Donna Cole of Business Capital Leasing and all the NAELB volunteers that helped in making this year's EXPO one of the best. EAEL is already thinking ahead and will begin the planning process shortly for EXPO 2006.
"I have attached two pictures for you."
Scott A Wheeler
Vice President - Sales
800 365 6566
Fax: 410 472 2005
53 Loveton Circle
Sparks Maryland 21152
---
re: Conrad & Associates/Bill Hanson/Ron Fischer (ex CMC officers)
"Ron Fischer told me and my ex-husband Fred Dempsey. When questioning the validity of the investment before we gave him $50,000, he told us he had been a long time investor and had much more than $50,000 invested. He assured us it was very safe and all up and up. It was probably just been a lie to entice us to give him the money, but that is what he told us
"I wanted to be clear to the public that he (Ty Hanson) is lying and covering for Bill Hanson and Ron Fischer when he said only 3 investors were affected by Conrad and Associates miss-deeds. I know Ron Fisher sold this leasing scam to at least two others (my father and my ex-husband), and he said he was also heavily invested. If there were only three investors, an organization with integrity would contact these 3 investors to discuss a resolution. He is also lying about not living in the lap of luxury. I can send you photos of Ron Fischer's Gulf Front home and his Yacht
"Ron Fischer told me and my ex-husband Fred Dempsey. When questioning the validity of the investment before we gave him $50,000, he told us he had been a long time investor and had much more than $50,000 invested. He assured us it was very safe and all up and up. It was probably just been a lie to entice us to give him the money, but that is what he told us."
View from the Condo
Janice Berner
www.Janiceberner.com
6477 Parkland Drive
Sarasota, FL 34243
Phone:(727) 244-5316
Fax: (727) 865-3643
(Leasing News did not publish all the photographs sent. Here is the story about Ty Hanson in defense of Conrad and Associates.
http://www.leasingnews.org/Conscious-Top%20Stories/CMC_Bill_hanson.htm
Complete stories on CMC and Bill Hanson, et. al.:
http://www.leasingnews.org/Conscious-Top%20Stories/CMC_stories.htm
---
Goodman likes new features
"This seems like the most information packed issue of Leasing News I've ever seen. In particular, I think a lot of people will benefit from the downloadable forms and the "Top 10" articles access is a great idea as well. Congrats on a job well done."
Regards,
Ken
Kenneth D. Goodman, CLP
Goodman & Associates
"The Equipment Leasing Experts"
Marketing - Consulting - Litigation Support
24137 Grayston Drive - Lake Forest, CA 92630
888/852-7560 - fax 949/583-7275
www.leasegood.com
ken@leasegood.com
---------------------------------------------------------------

Classified Ads-----Help Wanted
Lease Representatives

Baltimore - Washington area
Lease Representative
M&T Bank is seeking an in-market lease representative to develop and maintain relationships with broker/lessors, equipment vendors, and direct lessees throughout Maryland and Northern Virginia. Must be knowledgeable small ticket leasing ($75K average ticket) and third-party lease/loan transactions. Please apply on-line at www.mandtbank.com and view posting #4044.
At M&T Bank, we provide and exciting and challenging work environment where performance and innovative thinking is encouraged at every level. With over 700 branches, your career can travel as far as you take it!

National Program Skills

National Program Skills, San Francisco
Daily management national program accounts/support V.P. National Programs Min. 3 yrs leasing exp. understand credit/financial/tax returns w/strong follow-up, great opportunity to grow, to learn more, click here.

Salesperson

"Tired of working for a broker or discounter at inflated buy rates?"
We are a direct nationwide funder.
Decisions are made here on "application only" up to $125,000. We are fast, too, and we will keep your vendors and customers happy with our efficient staff.
Contact Jim Doster sales@abanklease.com

"We want you to make as much money as you can."

--------------------------------------------------------------

NorVergence Legal Co-op Sept. Newsletter
"Each week this newsletter features 'the big picture' interview with the senior attorneys at Weir & Partners LLP, the law firm representing over 1,500 ex-Norvergence customers who are proactively suing their Norvergence equipment leasing company to get themselves out of the Norvergence rental agreement. "
http://playaudiomessage.com/play.asp?m=220310&f=ZFPYJG&ps=14&c=FFFFFF&pm=1&h=29
The following is offered to help you know which leasing companies have settled where.
CIT - New Jersey Settlement New York Settlement Connecticut, the District of Columbia, Delaware, Georgia, Illinois, Maryland, Massachusetts, Michigan, New Jersey, Pennsylvania and Rhode Island
Court Square - Florida, New Jersey
De Lage - New York Settlement New Jersey
GECC/ABB - New Jersey Settlement New York Settlement Connecticut, the District of Columbia, Georgia, Illinois, Maryland, New Jersey, North Carolina, Pennsylvania and South Dakota.
Irwin - New York Settlement
Patriot - Florida Settlement
TCF - New York Settlement All states
US Bancorp - Florida Settlement New York Settlement Arizona, California, Colorado, Connecticut, Delaware, District of Columbia, Georgia, Illinois, Kansas, Louisiana, Maryland, Massachusetts, Michigan, New Hampshire, New Jersey, North Carolina, Ohio, Pennsylvania, Rhode Island and West Virginia
Wells Fargo - Florida Settlement New York Settlement Arizona, Colorado, Connecticut, Delaware, the District of Columbia, Georgia, Illinois, Kansas, Louisiana, Maryland, Massachusetts, Michigan, New Hampshire, New Jersey, North Carolina, Ohio, Pennsylvania, Rhode Island, South Carolina, South Dakota & Washington.
The above is from the September 26, 2005, Issue #22
The original list of all leasing companies who had purchased NorVergence leases as of June, 2004:
1ABB Equipment Leasing CT
2 Bank One IL
3 BB&T NC
4 CCL - Commerce Commercial Leasing PA
5 Celtic Bank UT
6 Cincinnati Financial Corp. OH
7 CIT Technology Financing NJ
8 CitiCapital NY
9 Court Square Leasing PA
10 Credential Leasing PA
11 Crown Bank Leasing FL
12 De Lage Landen PA
13 Dolphin Capital FL
14 Financial Pacific WA
15 First Corporation
16 First Lease
17 Firstcorp OR
18 GE Capital CT
19 IFC Credit Corp. IL
20 ILC - Information Leasing Corp. OH
21 Insight Financial Corp IL
22 Interchange Capital NJ
23 Irwin Business IN
24 Lakeland Bank NJ
25 Liberty Bank CT
26 Madison Capital IL
27 National Penn Bank PA
28 Norvergence PA
29 OFC Capital/ALFA Financial GA
30 Patriot Leasing PA
31 Penn Bank Leasing
32 PFG Commerical Finance
33 Popular Leasing MO
34 Preferred Capital, Inc. OH
35 Primary Financial Corp. PA
36 Source One Capital
37 Sterling National Bank NY
38 Studebaker - Worthington NY
39 TFC Express Leasing RI
40 Toshiba America Info Systems CA
41 US Express Leasing NJ
42 USbancorp MN
43 Wells Fargo Financial Leasing
Note: Several of these companies have resolved or settled all NorVergence leases at this date. Leasing News asked the Federal Trade Commission attorneys what the number is today, those not resolved. We were told it was confidential at this time, but was over 40.
---------------------------------------------------------------

News Briefs----
Greenspan cautions investors about the risk of rising interest rates
http://www.signonsandiego.com/news/business/20050927-1153-greenspan.html
New Home Sales Fall as Consumer Confidence Hits 2-Year Low
http://www.nytimes.com/2005/09/28/business/28econ.html?pagewanted=all
Million-dollar homes are now a dime a dozen
http://www.signonsandiego.com/news/business/20050927-1450-million-dollarhomes.html
The gap between high-income and low-income Americans is widening
http://www.sfgate.com/cgi-bin/article.cgi?f=/c/a/2005/09/28/POVERTY.TMP
Fitch Ratings cuts GM deeper into junk status
http://www.usatoday.com/money/autos/2005-09-26-gm-debt_x.htm
San Jose 'Mercury News,' owned by Knight Ridder, cutting 60 jobs
http://www.usatoday.com/money/media/2005-09-24-mercury-news_x.htm?csp=26
----------------------------------------------------------------

You May Have Missed
Is It Better to Buy or Rent?
http://www.nytimes.com/2005/09/25/realestate/25cov.html?incamp=article_popular_1
----------------------------------------------------------------


"Gimme that Wine"
One of the best kept secrets, in my home town-Mt.Eden Vineyards
http://www.nytimes.com/2005/09/28/dining/28pour.html
Wine Executives See Industry Headed for Steady Growth, Survey Finds
http://www.news.ucdavis.edu/search/news_detail.lasso?id=7478
Cool summer gives winemakers hopes, fears for late harvest
http://www.napanews.com/templates/index.cfm?template=story_full&id=
91A6D1E0-27BF-47B5-91F9-A36E96C5C7E3
With the ban lifted, let the wine flow
http://www.miami.com/mld/miamiherald/business/special_packages/
business_monday/12727037.htm
New Zealand Wine firms look at internet sale
http://www.stuff.co.nz/stuff/0,2106,3425243a7775,00.html
----------------------------------------------------------------

This Day in American History
1912-W.C.Handy's "Memphis Blues" is published, changing the course of American popular music.
http://memory.loc.gov/ammem/today/sep28.html
----------------------------------------------------------------

This Day in American History
1542- California is discovered by Portuguese navigator Juan Rodriguez Cabrillo who reached San Diego Bay. Cabrillo died at San Miguel Island, CA, Jan 3,1543. His birth date is unknown. The Cabrillo National Monument marks his landfall and Cabrillo Day is still observed in California (in some areas on the Saturday nearest Sept 28). Cabrillo left Navidad, Mexico on June 27, and landed at what is now known as Ballast Point, San Diego, CA. He continued his explorations and discovered Santa Catalina Island, San Pedro Bay, the Santa Barbara Channel, San Francisco Bay, and other West Coast landmarks. Other Europeans had encountered the Pacific Ocean previously, including Gasco Nunez de Balboa, who had laid eyes on the Pacific in 1513, and Ferdinand Magellan, who had sailed across the Pacific in 152-21 during the first circumnavigation of the world.
( lower part of: http://memory.loc.gov/ammem/today/sep28.html )
1836-- the first of 3 early snows for the year hit the northeast, Hamilton NY had 4 inches, Asby, MA had 2 inches.
1850-Brigham Young, Mormon leader, was named first governor of the territory of Utah by Pres. Fillmore.
1856-Kate Douglas Wiggin born at Philadelphia, PA. She helped organize the first free kindergarten on the West Coast in 1878 at San Francisco and in 1880 she and her sister established the California Kindergarten Training School. After moving back to the east coast she devoted herself to writing, producing a number of children's books including The Birds' Christmas Carol, Polly Oliver's Problem and Rebecca of Sunnybrook Farm. She died at Harrow, England, Aug 24, 1923.
1886-The Statue of Liberty was dedicated in New York Harbor and women were barred from the ceremony because it would be too crowded and rough for the ladies, but a group of women chartered a boat and circled the island singing and shouting women's rights messages.
1867-- Toronto becomes the capital of Ontario
http://www.lonelyplanet.com/destinations/north_america/toronto/history.htm
http://www.city.toronto.on.ca/archives/index.htm#more
http://www.blackhole.on.ca/index_history.html
1895- At a convention in Atlanta, three Baptist groups merged to form the National Baptist Convention. It is today the largest African-American denomination in America and the world.
1901- Birthday of Ed Sullivan, well-known columnist, lived in Port Chester, New York, and in his day was the "King of TV Variety," born at New York, NY. Sullivan started his media career in 1932 as a sportswriter for the Daily News in New York. His popular variety show, "The Ed Sullivan Show" ("Toast of the Town"), ran from 1948 until 1971. It included such sensational first time public appearances from such stars as Elvis Presley and the Beatles. He died at New York, NY, Oct 13,1974.
1912-W.C.Handy's "Memphis Blues" is published, changing the course of American popular music.
http://memory.loc.gov/ammem/today/sep28.html
1920- Eight members of the 1919 Chicago White Sox were indicted by a grand jury in Chicago on charges that they conspired to fix the 1919 World Series and allowed the Cincinnati Reds to win. White Sox owner Charles Comisky immediately suspended the eight. They were acquitted, but were nevertheless banned from baseball for life.
1928-~ Glen Gray's orchestra recorded Under a Blanket of Blue, with Kenny Sargeant on vocals.
1930 -- Lou Gehrig's errorless streak ends at 885 consecutive baseball games. The winning pitcher is Babe Ruth, beating the Red Sox 9-3.
1934-Birthday of French sex symbol Brigitte Bardot ( born Camille Javal), Paris, France.
http://www.triviatribute.com/brigittebardot.html
http://www.jon-aristides.com/brigitte.html
http://www.silverscreensirens.com/brigitte.htm
1935- Pianist/singer Jerry Lee Lewis Birthday
http://www.jerryleelewis.com/
1937-President Franklin D. Roosevelt dedicates Bonneville Dam on Columbia River (Oregon.)
http://www.ohwy.com/or/b/bonnedam.htm
http://www.cqs.washington.edu/crisp/hydro/bon.html
1938 -Birthday of Ben E. King (Benjamin Earl Nelson), Singer, songwriter
1941-Ted Williams of the Boston Red Sox, starting the day with a batting average of .3995, went six-for-eight in a doubleheader against the Philadelphia Athletics to finish the season with a batting average of .406. Williams rejected manager Joe Croni's suggestion to sit out the day and have his average rounded up to .400. He went four-for-five in the first game to raise his average to .4040 and got two hits in three at-bats in the nightcap.
1945- Robert Todd Duncan, a baritone of Washington, DC, became the first opera singer who was African-American to sign a white role with a white cast, appearing as Tonio in I Pagliacci, and then as Escamillo in Carmen on September 30 in the New York City Opera Company's presentation at the City Center of Music and Drama, New York City.
1954---Top Hits
Sh-Boom - The Crew Cuts
Hey There - Rosemary Clooney
Shake, Rattle and Roll - Bill Haley & His Comets
I Don't Hurt Anymore - Hank Snow
1958-"To Know Him Is To Love him" by the Teddy Bears, composed and arranged by 18 year old Phil Spector is released on Dore Records. The title is taken from the inscription on Spector's father's tombstone. The song makes it up to Number One by the end of the year.
1958--.With 7 hits in his last 11 at-bats, Red Sox outfielder Ted Williams wins his sixth and final batting becoming the first 40-year old to lead the league in hitting. The 'Splendid Splinter's' .328 batting average beats out his teammate Pete Runnels, who goes 0-for-4 today and ends up with .322.
1961- "Hazel" premiered on TV, based on a comic strip of the same name about a maid working for the Baxter family who gets into everyone's business. Hazel was played by Shirley Booth, and the Baxters were played by Don DeFore, Whitney Blake and Bobby Buntrock. "Hazel" moved from NBC to CBS after the third season and Hazel switched families from George to younger brother, Steve Baxter. These Baxters were played by Ray Fulmer, Lynn Borden and Julia Benjamin. Buntrock and Booth remained. This very successful series also featured MaIa Powers and Ann Jillian.
1961 - On NBC, Richard Chamberlain sang the top-10 hit song "Theme from Dr. Kildare (Three Stars Will Shine Tonight)", and played the part of the handsome, young doctor on NBC. Raymond Massey co-starred in the medi-drama. A year into the show's run, Chamberlain's "Theme from Dr. Kildare" became a hit. On MGM, he also sang "Love Me Tender" and "All I Have to Do is Dream" in 1962 and 1963.
1962- US Circuit Court of Appeals orders James Meredith admitted to U of Mississippi.
http://www.olemiss.edu/depts/english/ms-writers/dir/meredith_james/
1962---Top Hits
Sheila - Tommy Roe
Ramblin' Rose - Nat King Cole
Green Onions - Booker T. & The MG's
Devil Woman - Marty Robbins
1963-The legendary New York disc jockey Murray The K receives a copy of The Beatles' "She Loves You" and plays it on the radio. It is believed to be the first Beatles song ever played in the U.S,
1963-The Beach Boys' "Little Deuce Coupe" peaks at #15 on the singles chart.
1968-The Beatles' "Hey Jude" hits #1 on the singles chart, a position it will hold for 9 weeks. At 7 minutes 11 seconds, it was the longest song ever to hit the Billboard Hot 100 chart, an honor it held until Richard Harris' "MacArthur Park" in 1972 clocked in at 7:20.
1970---Top Hits
Ain't No Mountain High Enough - Diana Ross
Lookin' Out My Back Door/Long as I Can See the Light - Creedence Clearwater Revival
Julie, Do Ya Love Me - Bobby Sherman
There Must Be More to Love Than This - Jerry Lee Lewis
1974- "Rock Me Gently" by Andy Kim topped the charts and stayed there for a week.
1976 - World heavyweight boxing champion Muhammad Ali won a unanimous 15-round decision over Ken Norton at Madison Square Gardens in New York City.
1982-Poisoning of store merchandise, the first of its kind to have resulted in numerous deaths, took place in and around Chicago, Il,. In a three-day period form September 29 to October 1,1982, several people died after taking Tylenol, a brand of acetaminophen, which they had bought at local drugstores and supermarkets. A murder who was never apprehended had removed the bottles from store shelves, opened them, added cyanide to the capsules of Tylenol, and replaced them in the stores. The poisonings led to the introduction of wraps and seals on all pharmaceutical products and many other products as well.
1978---Top Hits
Boogie Oogie Oogie - A Taste of Honey
Kiss You All Over - Exile
Hopelessly Devoted to You - Olivia Newton-John
I've Always Been Crazy - Waylon Jennings
1985-Phil Collins' "Don't Lose My Number" peaks at #4 on the singles chart.
1986---Top Hits
Stuck with You - Huey Lewis & The News
Friends and Lovers - Gloria Loring & Carl Anderson
Walk This Way - Run-D.M.C.
In Love - Ronnie Milsap
1988-The first American women to ascent Mount Everest was Stacy Allison of the Northwest American Everest Expedition. Peggy Luce, was who part of the same expedition, completed her ascent two days later. Both used the South Col route.
1989-Jimmy Buffett publishes a book of short stories entitled, "Tales From Margaritaville."
1989 - Thunderstorms over northeastern Florida drenched Jacksonville with 4.28 inches of rain between midnight and 6 AM EDT. Unseasonably cool weather prevailed in the northeastern U.S. Five cities reported record low temperatures for the date, including Binghamton NY with a reading of 30 degrees. Morning lows were in the 20s in northern New England. Unseasonably mild weather prevailed in the northwestern U.S., with afternoon highs in the upper 70s and 80s. In Oregon, Astoria reported a record high of 83 degrees
1991-R.E.M.'s "Shiny Happy People" peaks at #10 on the singles chart.
1991-Dire Straits' "On Every Street" enters the LP chart.
1991- "Good Vibrations" by Marky Mark & the Funky Bunch topped the charts and stayed there for 2 weeks.
2001--- In the first home game at Wrigley since the terrorist attacks on America, Sammy Sosa, after hitting his 59th home run of the season, pulls out a small American flag and waves it as he circles the bases. After scoring and making a curtain call from the dugout, the Cub slugger continues to wave Old Glory.
2001 ---On a night he hits his 68th round tripper of the season in quest of Mark McGwire's single season home run record, Barry Bonds is walked for the 163rd time breaking 'Big Mac's' 1998 National League record for bases on balls. The major league record is 170 walks held by Babe Ruth.
2003 ---Ron Santo, the team's radio color commentator joins Hall of Famers Ernie Banks and Billy Williams becoming third player to have his number retired by the Cubs. The former third baseman, who spent 14 of his 15-year career with the Chicago (1960-73), will have his uniform #10 below Ernie Banks' on the left-field foul pole.
----------------------------------------------------------------


Baseball Poem
Ballpark Haiku
by Tim Peller
Hot wicked summer
Against the fat man's belly
Budweiser can sweats
Under the shrubbery
Down by the bullpen mound
Yellow jackets whine
Budweiser !
Budweiser! he calls
between innings, between pitches,
between breaths
from " Touching the Bases"
These come from a soft cover 128 pages
with index published by www.mcfarlandpub.com
He is a unique American poet.
He lives in Hickory, North Carolina.