Nationwide Sales Positions Available
Medical, Commercial and Industrial
Transportation, FF&E, Technology

Superior pricing - Superior Buying window
- Superior back office - Superior stability
For more info click here


Monday, August 22, 2016


Today's Equipment Leasing Headlines

Position Wanted---Risk Management
Seeking New Opportunities
Top Stories: August 15 - August 19
(Opened Most by Readers)
Long Time Tiny Community Bank Fails in Georgia
Established 1902
Leasing Industry Ads---Help Wanted
Positions Available
"Have Not Heard Anything in Two Weeks"
Career Crossroad---By Emily Fitzpatrick/RII
Holding Leases
Leasing 102 by Mr. Terry Winders, CLFP
Why I Became a CLFP
Terey Jennings, CLFP
CLFP Day August 25, 2016
CLFP Academy for Lease and Finance Professionals
Why You Should Check Your Internet Speed Connection
on Your Computer and Your Smartphone
Screen Resolutions Affects the Size You View
Your Pixel Size May Be Set Too Small
Havanese/Poodle (Miniature) Mix
Federal Way, Washington Adopt-a-Dog
Leasing News Classified
Accounting/Aircraft/Appraisals
News Briefs---
Can Technology Be More Than Automation?
By: Srividya Kalyanaraman deBanked.com
Broker/Funder/Industry Lists | Features (writer's columns)
Top Ten Stories Chosen by Readers | Top Stories last six months
www.leasingcomplaints.com (Be Careful of Doing Business)
www.evergreenleasingnews.org
Leasing News Icon for Android Mobile Device
You May have Missed---
Baseball Poem
Sports Briefs---
California Nuts Brief---
"Gimme that Wine"
This Day in American History
SuDoku
Daily Puzzle
GasBuddy
Weather, USA or specific area
Traffic Live----
######## surrounding the article denotes it is a "press release" and was not written by Leasing News nor information verified, but from the source noted. When an article is signed by the writer, it is considered a "by line." It reflects the opinion and research of the writer.
Please send a colleague and ask them to subscribe. We are free.
Email kitmenkin@leasingnews.org and in subject line: subscribe

[headlines]
--------------------------------------------------------------
Position Wanted---Risk Management
Seeking New Opportunities
Each Week Leasing News is pleased, as a service to its readership, to offer completely free ads placed by candidates for jobs in the industry. These ads also can be accessed directly on the website at:
http://www.leasingnews.org/Classified/Jwanted/Jwanted.htm

Each ad is limited to (100) words and ads repeat for up to 6 months unless the candidate tells us to stop. Your submissions should be received here by the end of each week.
Please encourage friends and colleagues to take advantage of this service, including recent graduates and others interested in leasing and related careers.
Risk Management
Chicago, Illinois
Highly knowledgeable and analytical Equipment Leasing Executive; leveraging 25 years in Portfolio Management, Operations, Credit, and Collections within Banking environment and Commercial Equipment Leasing Industry; proven track record, developing/ implementing strategies, sound operational excellence and process improvement, while maximizing revenues and positioning organizations for greater success. wgriffith61@yahoo.com
Resume

[headlines]
--------------------------------------------------------------
Top Stories: August 15 - August 19
(Opened Most by Readers)
(1) Pat Roberts of M&R Leasing
Passes Away
http://leasingnews.org/archives/Aug2016/08_19.htm#roberts
(2) Complaints Bulletin Board BBB Ratings
Leasing News
http://leasingnews.org/archives/Aug2016/08_15.htm#complaints_bbb
(3) Story Credit Lessors - Lenders List
"C" & "D" Lessees, Business Loans, Working Capital
http://leasingnews.org/archives/Aug2016/08_17.htm#story_list
(4) New Hires---Promotions in the Leasing Business
and Related Industries
http://leasingnews.org/archives/Aug2016/08_19.htm#hires
(5) Pictures from the Past--Fred Van Etten
1997
http://leasingnews.org/archives/Aug2016/08_15.htm#pictures
(6) Sale-Lease-Back Issues
Leasing 102 by Mr. Terry Winders, CLFP
http://leasingnews.org/archives/Aug2016/08_15.htm#sale_lease
(7) Archives: August 17, 2001
PinnFund boss faces 20 counts
http://leasingnews.org/archives/Aug2016/08_17.htm#archives
(8) Sales Make it Happen by Steve Chriest
Inside Salesman Wants to Control Sell Rate
http://leasingnews.org/archives/Aug2016/08_17.htm#inside
(9) Kyle Gilliam, CLFP, Appointed President
BancorpSouth Equipment Finance
http://leasingnews.org/archives/Aug2016/08_17.htm#kyle
(10) Five Biggest Small Business Loan Mistakes
Karen Sams, National Federation Independent Business
http://leasingnews.org/archives/Aug2016/08_19.htm#five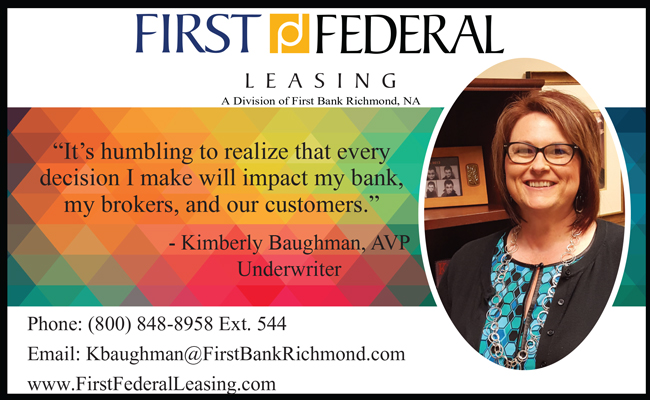 [headlines]
--------------------------------------------------------------
Leasing Industry Help Wanted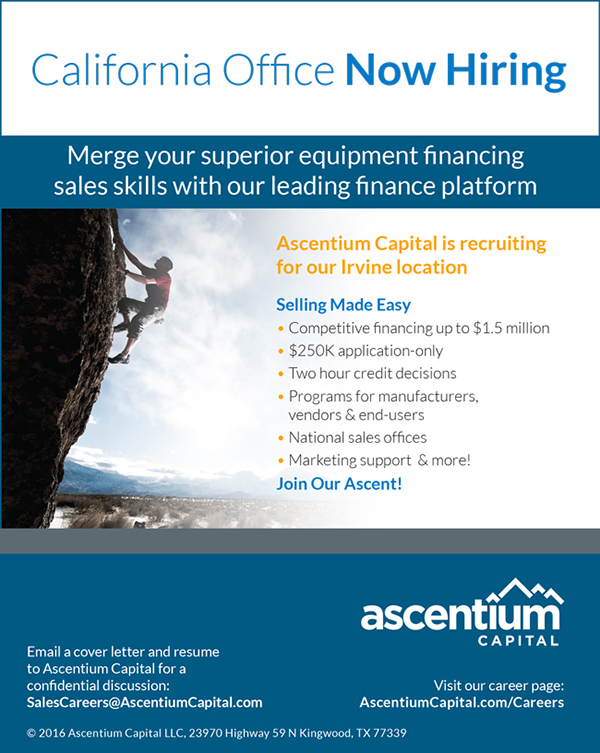 Nationwide Sales Positions Available
Medical, Commercial and Industrial
Transportation, FF&E, Technology

Superior pricing - Superior Buying window
- Superior back office - Superior stability
For more info click here

[headlines]
--------------------------------------------------------------
Long Time Tiny Community Bank Fails in Georgia
The Woodbury Banking Company, Woodbury, Georgia, was closed with United Bank, Zebulon, Georgia, to assume all of the deposits. The Woodbury Banking Company is the fourth FDIC-insured institution to fail in the nation this year and the first in Georgia. The small, local bank was established October 1, 1902. As of March 31, the bank had 9 full time employees. Total Capital ratio as of June 30, 2016: 2.8635%
(in millions, unless otherwise)
| | |
| --- | --- |
| Net Equity | |
| | |
| 2006 | $2.1 |
| 2007 | $2.2 |
| 2008 | $2.4 |
| 2009 | $2.4 |
| 2010 | $1.8 |
| 2011 | $1.75 |
| 2012 | $1.5 |
| 2013 | $1.4 |
| 2014 | $1.4 |
| 2015 | $1.3 |
| M-16 | $671,000 |
| J- 16 | $221,000 |
| | |
| Profit | |
| | |
| 2006 | $115,000 |
| 2007 | $164,000 |
| 2008 | $168,000 |
| 2009 | $60,000 |
| 2010 | -$678,000 |
| 2011 | $80,000 |
| 2012 | -$246,000 |
| 2013 | $100,000 |
| 2014 | -$125,000 |
| 2015 | -$151,000 |
| M-16 | -$42,000 |
| J-16 | -$499,000 |
William M Barnes was 71.4% security stock holder, President, Secretary, and Director of the bank
https://www.frbatlanta.org/-/media/Documents/FRY6Docs/Woodbury_Bshrs_1085853_2011.pdf\
Haynes Barnes was listed as farmer and Director of the bank; Manager, Barnes Pearson Farms & Carrol Farms. William Barnes is related to the co-founder and Haynes Barnes is the grandson of Thomas Hynes Carol.
On July 12, 2011, the FDIC issued a Consent order to retain a qualified management Chief Executive Officer, Senior Lending Officer, and Chief Operations Officer. This followed a nearly a $700,000 charge off the previous year which resulted in $678,000 loss to the bank with an equity in that year of $1.8 million.
https://www.fdic.gov/bank/individual/enforcement/2011-07-006.pdf
In 2014, Bank of Ozarks prevailed in an over $1,000,000 judgement against Bank Director Hynes Barnes in another matter.
https://www.pacermonitor.com/public/case/3709364
/Bank_of_the_Ozarks_v_Barnes_et_al
June, 2015:
Georgia's Department of Banking and Finance entered into a Consent Removal and Prohibition Order with Walter Hynes Barnes, a director and loan officer who approved loans that violated legal lending limits, and thereby engaged in unsafe and unsound practices in connection with the bank.
https://www.fdic.gov/bank/individual/enforcement/2011-07-006.pdf
Mr. Barnes shall be permanently removed from the Board of Directors and any position of employment with the Bank.
Mr. Barnes' voting securities shall be considered authorized but unissued for purposes of a shareholders' vote conducted by Woodbury Bancshares, Inc. ("Holding Company").
Mr. Barnes shall be prohibited from acquiring an interest in any securities issued by the Bank or Holding Company.
Mr. Barnes shall be prohibited from serving on the Board of Directors or being employed by any entity regulated by the Department.
https://dbf.georgia.gov/press-releases/2015-06-22/department-enters-consent-removal-and-prohibition-order-Walter-Hynes-Barnes
(in millions, unless otherwise)
Non-Current Loans
2006
$132,000
2007
$202,000
2008
$463,000
2009
$998,000
2010
$542,000
2011
$891,000
2012
$527,000
2013
$309,000
2014
$1.6
2015
$1.5
M-16
$1.0
The failure of the bank can be seen in the type of loans that caused
the non-current loan status as well as loan charge offs (note: loans
to individuals).
Charge Offs
2006: $1,000 ($1,000 loans to individuals)
2007: $8,000 ($8,000 loans to individuals)
2008: $120,000 ($120,000 loans to individuals)
2009: $22,000 ($22,000 loans to individuals)
2010: $696,000 ($499,000 nonfarm/nonresidential, $122,000 loans to individuals, $26,000 1-4 family residential)
2011: $41,000 ($53,000 loans to individual, -$12,000 loans to individuals)
2012: $272,000 ($244,000 commercial/industrial loans, $25,000 1-4 family, $4,000 individual, -$1,000 individual)
2013: -$6,000 (-$6,000 loans to individuals)
2014: $11,000 ($11,000 loans to individuals)
2015: $350,000 ($359,000 other loans, -$9,000 loans to individuals)
M-16: $139,000 ($133,000 nonfarm/non industrial, $6,000 loans to individuals)
Construction and Land, 1-4 family multiple residential, Multiple Family Residential, Non-Farm Non-Residential loans (non-owner occupied).
The non-current loans from the financial statement are obviously from residential real estate. In viewing homes for sale in Woodbury, they sell anywhere from $5,000 to an average of $125,000, with a few in the $400,000 range at Realtor.com:
http://www.realtor.com/realestateandhomes-search/Woodbury_GA/pg-2
Zillow lists 52 homes for sale, noting foreclosures.
www.zillow.com/woodbury-ga
Woodbury is located an hour south of Atlanta, where the population of the town was estimated to be 909 in 2015; in 2000, the population was 1,184 with 454 households, 302 families, according to Wikipedia. "The median income for a household in the city was $26,339, and the median income for a family was $31,389... About 24.8% of families and 25.4% of the population were below the poverty line, including 33.2% of those under age 18 and 24.9% of those ages 65 or over."
It should be noted in 1910, the population was 917 around the time the bank started.
The town's claim to fame, according to Wikipedia: "Woodbury is featured prominently in 'The Walking Dead" franchise as a fortified survivor settlement run by a leader called the Governor during a zombie apocalypse. However, in the television series of the same name, the Woodbury scenes are filmed in Senoia, Georgia."
As of June 30, 2016, The Woodbury Banking Company had approximately $21.4 million in total assets and $21.1 million in total deposits. In addition to assuming all of the deposits of the failed bank, United Bank agreed to purchase approximately $17.8 million of the failed bank's assets. The FDIC will retain the remaining assets for later disposition.
The FDIC estimates that the cost to the Deposit Insurance Fund (DIF) will be $5.2 million.
FDIC Press Release:
https://www.fdic.gov/news/news/press/2016/pr16069.html
List of Bank Failures:
http://www.fdic.gov/bank/individual/failed/banklist.html

Leasing News Bank Beat:
http://www.leasingnews.org/Conscious-Top%20Stories/Bank_Beat.htm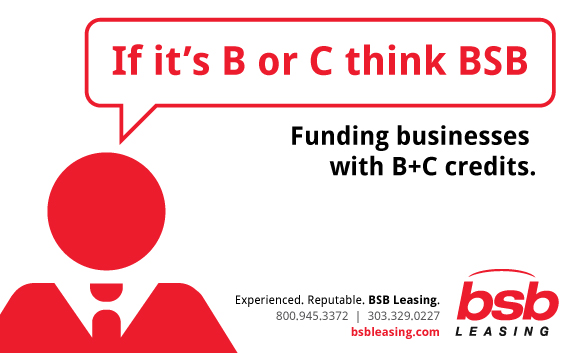 [headlines]
--------------------------------------------------------------
"Have Not Heard Anything in Two Weeks"
Career Crossroad---By Emily Fitzpatrick/RII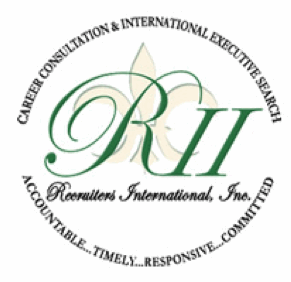 I have been waiting (anticipating) an offer; however, I have not heard anything in over two weeks. Should I continue my search?
Waiting to hear back from an employer is tough; 90% of the time you will not get a direct answer from a Hiring Manager, whether it is a positive or negative outcome. If you are not receiving an offer, the Hiring Manager most likely will not reveal this to you. More often than not, an HR Representative, Internal Recruiter or Third Party Recruiter will reach out and provide feedback.

Here are some tips to look for:
We need to interview other Candidates:
This is a reality; many companies MUST interview a certain number of Candidates before making their selection. If you are a top Candidate, the decision maker will divulge this to you or your Recruiter, so they do not lose you.
We will keep your resume on file:
This is a pretty clear indication that you are not a fit for this role or company.
The job is on hold | We are not filling the position now:
This is an actual scenario and often occurs and has nothing to do with you. Most likely, the budget for the position has been put on hold or the company is going through changes. The truth is you will never really know the basis for this decision. You might still have a chance at the position down the road, but continue in your search.
We are moving forward with stronger Candidates | We are going in a different direction:
This is a pretty clear indication that you are not a fit for the position due to qualifications and/or personality.
We are not sure this job is the best fit for you:
Good news, there is a chance to recoup if you can convince the employer you are a good fit. You may need some assistance in this (work with a Coach or Recruiter), but continue your search.
We have filled the position internally:
This does occur, particularly with companies that have many layers and divisions.
If you want the job, there are a few things you can try to change the Hiring Manager's mind, but the reality is that a majority of the time, the Hiring Manager has already hired someone or pinpointed their top Candidates. As such, continue your search and find a company that will choose your skill set and expertise.
Feel free to reapply for a position that you see re-posted/-listed. However, if you have accepted a new role and leave after less than a year, wait; you do not want to build a reputation as a "jumper." Reconsider in a few years (2-3) and then reapply.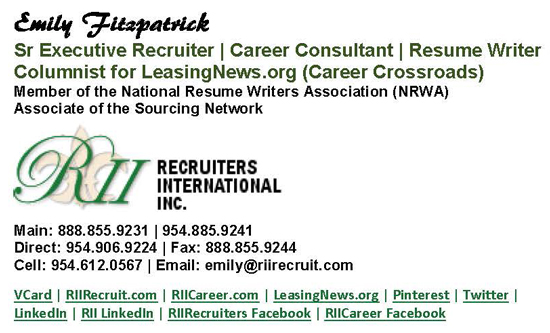 Career Crossroads Previous Columns
http://www.leasingnews.org/Conscious-Top%20Stories/crossroad.html

(Leasing News provides this ad as a trade for appraisals
and equipment valuations provided by Ed Castagna)

[headlines]
--------------------------------------------------------------
Holding Leases
In an effort to maximize income or to get a better buy rate, many Lessors have a line of credit at a local bank where they draw down the money required to fund a lease and take it off the street. Then, when the opportunity presents itself they sell it off to a funding Lessor. This can also allow a Lessor time to bundle a series of transactions that create a larger dollar sale and lower funding rates. The question becomes how the legal and tax consequences are impacted by the purchase and sale of the goods.
When you fund a True Lease and pay the vendor for the equipment, you become its owner for both Federal, and State income tax purposes and its legal owner for Uniform Commercial Code purposes. If you fund "a lease intended as a security," such as a "money over money" transaction or a "conditional sales lease," or any lease with a bargain purchase option, then it is said that you are only holding the ownership in "trust" until the lease has been paid in full. Therefore, what you are selling off is the right to collect the rents and a security interest in the equipment which requires you to assign the UCC-1 that you filed. In addition, there is the State sales tax and other assessed taxes for which you become responsible until you pass title or the security to the funding institution.
Regardless of the type of lease, when you fund the transaction, you must have a sales tax permit from each state each piece of equipment resides in. Then the sales tax must be collected and remitted to the proper jurisdiction for any standard payments you receive. Then, you must send the additional prepayments such as the last payment plus the sales tax to the funder. When you initially pay for the equipment, it also requires you to provide a resale certificate number to avoid sales tax on the purchase price. You must send a resale certificate to each vendor of the equipment under lease. Then, forms must be completed for sales tax receipts and sent to the State; in the beginning usually monthly and then later on in a quarterly time frame.
When you proceed to sell off a bargain option transaction, the difference between your outstanding balance and the purchase price will be your profit but it must be clearly recorded as to equipment cost and mark up. When selling a true lease, the time you have held it determines its book value to you. If you have passed a quarterly Federal Income Tax reporting period, then having taken the first part of the MACRS depreciation, the purchase price will be affected by the tax consequences. Your sale may be the difference between the undepreciated value and the discounted rent price ,presenting you with both recovery of ordinary corporate income tax and a capital gains tax. In addition, you will have to deal with your State's income tax.
You must always remember that to pass title or ownership for UCC purposes, the new owner/lessor must obtain a "bill of sale" and take "possession." Usually possession is handled in the original lease by making the Lessee the Lessor's agent to accept the equipment from the vendor. When the new Lessor takes ownership, the Lessee's acknowledgement of the assignment should carry a statement that they are also acting as the new Lessor's agent for possession purposes.
Holding leases is a tricky business with a lot of costs and proper bookkeeping. Be sure you have separated each type of lease and know the consequences at the time of funding so you handle all the sales and income tax issues properly. Also, if the funding occurs over the end of the year then property tax can also be a problem.
Previous #102 Columns:
http://www.leasingnews.org/Conscious-Top%20Stories/Leasing_102/Index.htm
[headlines]
--------------------------------------------------------------
Why I Became a CLFP

Terey Jennings, CLFP
Executive Vice President
Financial Pacific Leasing, Inc.,
a subsidiary of Umpqua Bank
Terey joined Financial Pacific Leasing 30 years ago, in 1986, and has held various positions within the sales and marketing area, before being appointed Executive Vice President. He is active in a number of equipment leasing associations and is a past President of the United Association of Equipment Leasing, now National Equipment Finance Association (NEFA). He serves on the Pierce County Board of Directors of Junior Achievement of Washington. He earned a degree in Business Administration from Pacific Lutheran University.
He was one of the first two employees at Financial Pacific to receive a CLFP designation of which there are now 19 CLPs in good-standing there. The following is an excerpt of an interview regarding his experience with the CFLP program, and background on why Financial Pacific so strongly supports the designation.
"Financial Pacific has sponsored 30 employees who have obtained their CLP designation," he said. "This is a very proud accomplishment for us. As a company, we include the CLP program in our training strategies and employees who meet the minimum requirements for the CLP designation strive for this goal. When they see their peers successfully navigate through the process, it takes away some of the fear associated with the exam, and provides a comfort level as being an achievable goal. We also have mentors available to provide support. We've been fortunate to have UAEL now NEFA provide 'Institute for Leasing Professionals' annually in our area and are thankful for that convenience.
"I've always felt that the process I went through to prepare for the exam has benefited me over the years in many ways. Because it was such a wide range of relevant information, I not only learned some new and interesting things but it also reinforced things I already knew. I've had many opportunities to refer back to the material over the years, and it's been a rewarding experience to teach classes for new CLFP candidates."
"I've always believed the process of studying and preparing for this is exam is valuable to anyone in our industry. It doesn't matter what anyone's job responsibilities are - the information is so broad. I sometimes think, 'If everyone in our company went through the process, would it make us a better company?' The answer is always 'yes'."
Why I Became a CLP series:
http://www.leasingnews.org/CLP/Index.htm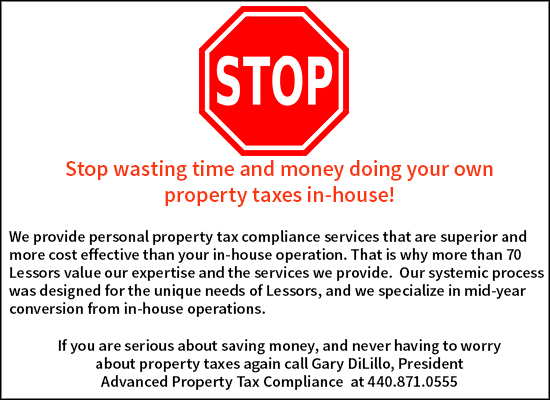 [headlines]
--------------------------------------------------------------
CLFP Day August 25, 2016 - Thursday
CLFP Academy for Lease and Finance Professionals
Did you know that Certified Leasing and Finance Professionals are gathering across the nation this Thursday, 8/25/16, to Network and celebrate being a CLFP? It's true! Register today on the foundation website and take advantage of this opportunity to meet and network with fellow CLFP's in your area.
https://www.facebook.com/CLFPFoundation/?fref=nf
Two Academy for Lease & Finance Professionals (ALFP) programs are
available this year. This three day event is designed to fully prepare an individual to sit for the CLFP exam assuming that the candidate has read The Certified Lease & Finance Professionals' Handbook prior to attending. All of the mandatory sections of the exam, as well as three of the elective sections, are covered in-depth during the first two days. On the third day, the exam is offered, but is not mandatory.
http://www.clfpfoundation.org/alfp.php
Academy for Lease & Finance Professionals - Denver Area
Thu, November 03, 2016 8:00 AM (PDT) • Littleton, CO

Academy for Lease & Finance Professionals - St. Cloud, MN
Thu, February 23, 2017 8:00 AM (PST) • St. Cloud, MN
Mentor Programs are Available!
To register for any ALFP, please contact: Reid Raykovich, CLFP: reid@clfpfoundation.org or (206) 535-6281
[headlines]
--------------------------------------------------------------
Why You Should Check Your Internet Speed Connection
on Your Computer and Your Smartphone
There are many free programs that check your internet speed. It is a very good idea to do often to learn the wired and wireless speed of the computer or device you are using.
www.speedtest.net

First, you learn if you are getting the speed you are paying for. It is important to understand that higher usage (Peak Times) of those in your "node" will slow down your speed. Thus, if at a hotel and you are paying for premium, you may not be receiving it and the only way to find out and have internet provider improve your speed is to check the actual speed you are receiving. I always do this when traveling as I have found the provider's techs always try to be helpful.
A side benefit, if you are using the network connection at home, you may learn the better peak times during weeknights and weekdays.
Second, you learn the difference of wireless speed connections, especially realizing you can change your wireless signal provider, depending on your location. You also can get your internet provider to increase your speed by realizing what you are receiving.
Third, you can consider if it is time to improve your connection speed by going to the next tier or considering moving to a new provider.
Fourth, it may not be the carrier that is slowing down the speed, but the settings on your computer or hand held device. Often an IT person can discover and correct these settings, which can be other programs running, actual drive connections, or a hardware such as modem or route or processor or another software problem or improvement.
Consulting a professional may be very beneficial for faster connections, better graphics, as well as better overall performance. This can be done at a computer store, your location, and there are "on line" services that can do this remotely.
There are many free programs to check speed. Many will give you the connection location to choose. I always choose the closest. I think that gives you the true numbers. The further the location, the slower the connection will be. Remember this, so you don't compare going to San Francisco time as the same time as going to Denver or Chicago. Also, when speaking to the internet provider tech, you know the speed and city, so it is not just an opinion, it is a fact.
The main thing is by testing your speed often you were learn more about how to improve your computer or hand held device performance.
[headlines]
--------------------------------------------------------------
Screen Resolutions Affects the Size You View
Your Pixel Size May Be Set Too Small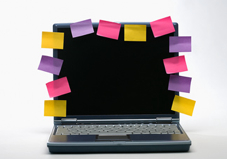 Most readers do not realize the resolution size they have their monitor set for will change the size of what is sent; meaning you may not be viewing the original size.
To properly measure size on the internet often the "pixel" size is utilized. Inches and meters don't work, nor do "pica" as for printed newspapers.
As a rule of thumb, the lower the number, the larger the graphics, including fonts will appear, but are not as sharp as the higher the number. In fact, the higher the number, the clearer and perhaps brighter the picture will appear on your screen. A video card makes a big difference, and there are other programs, such as Liquid View and Pivot that can change the appearance.

To view where you are among users, please go here:

marketshare
http://marketshare.hitslink.com/report.aspx?qprid=17

[headlines]
--------------------------------------------------------------
Havanese/Poodle (Miniature) Mix
Federal Way, Washington Adopt-a-Dog
Ben
Male
Color: White-with Tan, Yellow or Fawn
Age: 1-2 years
Weight: 25 lbs.
Listed: Aug 10, 2016
Ben - Sweet and social's Info...
"I am already neutered, housetrained, up to date with shots, good with kids, good with dogs, and good with cats."
Ben - Sweet and social's Story...
"Still waiting! Cute little Ben is waiting for his forever home! He is young, approx. 1-2 yrs. old. Ben is great with other dogs and cats. He weighs about 16 lbs. He is eager to please and loves to play. Ben is not high energy but he would love to go for leisurely walks on his leash with you daily, and be your little adventure buddy. He would prefer to sleep on the bed with you each night however he does well in a crate if needed. This affectionate and loving little boy will make you so happy and be an easy joy to make part of your family! He is neutered, vaccinated, microchipped.
His adopt fee is $350
Please fill out an adoption application here:
https://goo.gl/forms/kc8XFUd4RoKyQD6s2
Rescue Group: R.A.I.N. Rescuing Animals in Need
Contact: Denise Bettge
E-mail: rescuinganimals@gmail.com
Website: http://www.rescuinganimalsinneed-wa.org
Address: Federal Way, WA 98023

Adopt a Pet
http://www.adoptapet.com/
[headlines]
--------------------------------------------------------------
Accounting / Aircraft / Appraisals
Appraisals: Boston, MA
Nationwide appraisals, remarketing, audits, inspections and more! Over 15-years industry experience and dedicated to deliver personal, prompt, professional services.
Call Chris @ 508-785-1277.
Email:
chris@dovermanagementgroup.com

Appraisals: National Equipment Appraisal prepares Certified Machinery and Equipment Appraisals. IRS qualified, USPAP Compliant. Nationwide - fast turnaround.
Visit
nationalequipmentappraisal.com or
call 714-282-1525.
Accounting: Dallas, TX
Provide cost effective Sales and Use Tax and Property Tax consulting and administration Services to the leasing industry. Many leasing industry referrals available.
E-mail: mattm@osgsolutions.com

Accounting: National Property Tax Compliance Services to the leasing industry. Over 80 years experience and 70 Lessors as clients. References and free quotes available


440.871.0555


E-mail gary@avptc.com

Aircraft Delivery: Seattle, WA
Global Aircraft Delivery ferries all types of aircraft all over the world. We are a unique ferry company moving your aircraft with our expert turnkey operation.
www.globalaircraftdelivery.com
E-mail:
info@globalaircraftdelivery.com
Asset Management: Canada
Cease Bailiff Services Incorporated:
Asset Investigation/Tracing; Asset Recoveries; Asset Protection/Security
Asset Liquidations/Sales; Ottawa, Canada;www.ceasebailiff.ca dave@ceasebailiff.ca
Phone

613 898 7376


Fax 613 225 2452

Asset/Recovery & Collections:
Charlotte, NC
IRTC Continencies: Commercial Collections-Skip Trace- Repossessions-judgment enforcement-Investigations- Asset Re-marketing& No Cost Warehousing East Coast USA. Call 336-877-3077 ask for Robert or
E-mail to Robert@mbsfinancial.com

Nationwide Seasoned anfair priced workforce is at your service for all lease collections, repossessions, and asset liquidations, appraisals. Call Nassau Asset Management 800-462-7728 dcastagna@nasset.com

Asset/Recovery: NorthWest
Sequent provides collateral recovery, remarketing, and storage services to lenders with assets located in the greater Pacific Northwest. Professional services at reasonable pricing. Contact
rossr@sequentam.com
Asset Marketing/Recovery: Remarking solutions for big rigs assets and trucking related companies including collections, recovery, repair and re-sales. North South Leasing cell #

586-909-8797

bob@nsleasing.com
Appraisals/Asset Recovery
Melville, New York
Auctions, Appraisals, National Repossessions. ALL asset classes. 20+ year team works for you. Spend less, Net More… Fast!
Ed Castagna

516-229-1968

ecastagna@inplaceauction.com

Appraisals/Inspections – Construction & Mining Heavy Equipment, Transport, Agriculture and Manufacturing. We provide Certified Appraisal Reports, (USPAP Compliant), Inventory Inspections, Collateral Valuation, VIN and Serial Number Verification with Detailed Photos, Lessee and Vendor Site Inspections including Customized Inspections. In a Hurry? Try our Kwik-Kwote
Emailwww.MobileEquipAppraisals.com
(Leasing News provides this ad as a trade for investigative
reporting provided by John Kenny)

[headlines]
--------------------------------------------------------------

News Briefs---
Can Technology Be More Than Automation?
By: Srividya Kalyanaraman deBanked.com
http://debanked.com/2016/08/can-technology-be-more-than-automation/

[headlines]
--------------------------------------------------------------


--You May Have Missed It
The electric Mercedes-Maybach is the 6-meter-long car of your dreams
http://www.sfgate.com/cars/article/The-electric-Mercedes-Maybach-is-the-6-meter-long-9173499.php
[headlines]
--------------------------------------------------------------
Baseball Poem
The game was tied in the bottom of nine
A runner on third and two out
In the dead still air a mosquito's whine
Was all you could hear, then a shout
"Do something Ben, murder the ball,
For crying out loud get a hit."
Ben strode to the plate to answer the call
The now restless fans knew this was it
He dug in his right foot then positioned his left
And tapped the plate twice with his bat
Then he pulled it back slowly as to measure its heft
And tensed his whole frame like a cat
The pitcher glared in, the Ump hunkered down
Then the ball on its way like a shot
Ben pulled the trigger, his body unwound
And the ball hit the bat with a "Thock"
This is the sum that the game's all about
This instant is not just a dream
The split second physics, a hit or an out?
Each player and fan poised to scream

John W. Knight

[headlines]
--------------------------------------------------------------
Sports Briefs----
US men's basketball team wins final Rio gold
Round Up of Other Events
http://www.sacbee.com/sports/olympics/article96999097.html
Breaking down what some countries pay Olympians for earning medals
http://www.usatoday.com/story/sports/olympics/rio-2016/2016/08/21/gold-medal-team-usa-simone-biles-michael-phelps-katie-ledecky/89055568/
Watch Oakland Raiders player ask Aly Raisman
out on a date in San Jose
https://www.yahoo.com/news/m/95e62ad9-4d06-3adc-805f-44fbcdd084e4/ss_watch-oakland-raiders-player.html
49ers-Broncos recap: 3 winners, 1 loser among offensive starters
http://www.ninersnation.com/2016/8/20/12571732/49ers-broncos-recap-3-winners-1-loser-blaine-gabbert-vance-mcdonald-trent-brown
Mark Sanchez: 'Squandered' shot to win Denver QB job
http://www.theredzone.org/BlogDescription/tabid/61/EntryId/58101/Mark-Sanchez---Squandered--shot-to-win-Denver-QB-job/Default.aspx
Chiefs-Rams final score: Some good, some bad
from Kansas City's 21-20 loss
http://www.arrowheadpride.com/2016/8/20/12571542/chiefs-rams-final-score-some-good-some-bad-from-kansas-city-s-21-20-loss
We saw a smarter Andrew Luck on Saturday
http://www.usatoday.com/story/sports/columnists/gregg-doyel/2016/08/20/doyel-we-saw-smarter-andrew-luck-saturday/88997120/

(Leasing News provides this ad "gratis" as a means
to help support the growth of Lease Police)
[headlines]
--------------------------------------------------------------


California Nuts Briefs---
Lower Lake staggered by Lake County's endless bout with wildfire
http://www.pressdemocrat.com/news/5993032-181/lower-lake-staggered-by-lake?artslide=0
Apple co-founder lists Carmel Valley ranch
with airstrip and private lake for $45 million
http://www.sfgate.com/realestate/article/Rana-Creek-Ranch-Carmel-Valley-Markkula-Apple-9172028.php
[headlines]
--------------------------------------------------------------



"Gimme that Wine"

http://www.youtube.com/watch?v=EJnQoi8DSE8


In the competitive wine world,
labels can make all the difference
http://www.pressdemocrat.com/business/5978284-181/in-the-competitive-wine-world?artslide=0
Hebrew U to offer Israel's first master's in wine cultivation
http://www.jpost.com/Business-and-Innovation/Health-and-Science/Hebrew-U-to-offer-Israels-first-masters-in-wine-cultivation-464501
Washington Gets in the Harvest Swing
http://www.wine-searcher.com/m/2016/08/washington-gets-in-the-harvest-swing
How To Never See Wine The Same Way Again:
See It As A Blind Person Would
http://www.forbes.com/sites/cathyhuyghe/2016/08/18/how-to-never-see-wine-the-same-way-again-see-it-as-a-blind-person-would/#35b8898c3522
Free Mobile Wine Program
http://leasingnews.org/archives/Feb2010/2_26.htm#mobile
Wine Prices by vintage
http://www.winezap.com
http://www.wine-searcher.com/
US/International Wine Events
http://www.localwineevents.com/
Leasing News Wine & Spirits Page
http://two.leasingnews.org/Recommendations/wnensprts.htm

[headlines]
----------------------------------------------------------------
This Day in American History
1494 - Columbus returned to Hispaniola. He had confirmed that Jamaica was an island and that he had failed to find a mainland.
1619 - The first Black slaves brought by the Dutch to the colony of Jamestown. The colonists desperately needed workers for the tobacco crop. Europe was becoming "addicted to snuff and smoking tobacco in a pipe, inhaling." The Indians had introduced the colonies to tobacco, who were learning to grow and dry it. Europe was "mad" for the smoke and snuff for gentlemen. John Rolfe writes in his diary, "About the last of August came in a Dutch man of warre that sold us twenty negars." By the time of the American Revolution, the English importers alone had brought some 3 million captive Africans to the Americas. After the war, as slave labor was not a crucial element of the Northern economy, most Northern states passed legislation to abolish slavery. However, in the South, the invention of the cotton gin in 1793 sharply increased the need for slave labor, and tension arose between the North and the South as the slave or free status of new states was debated. In 1807, with a self-sustaining population of over four million slaves in the South, some Southern congressmen joined with the North in voting to abolish the African slave trade effective 01 January 1808. Nevertheless, the widespread trade of slaves within the South was not prohibited, and illegal trade of African slaves to Brazil and Cuba continued until the 1860s. By 1865, over twelve million Africans had been shipped across the Atlantic Ocean to the Americas, and some one million of these individuals had died from mistreatment during the voyage. In addition, an estimated three million died in Africa in slave wars and forced marches directly resulting from the Western Hemisphere's demand for African slaves.
http://www.tobacco.org/History/Jamestown.html#aaBlacks
http://www.apva.org/history/
http://www.nps.gov/colo/Jthanout/AFRICANS.html
1704 - The first underground sewer in Boston was constructed by Francis Thrasher, at his own expense. The move led to municipal regulations governing disposal of refuse and garbage. By 1710, the selectmen of Boston were giving licenses to private citizens for digging up streets for sewer construction. Now you may not think this is a big deal, but think how waste was removed in this time, most often it was just thrown raw into the streets.
1741 - Danish navigator Vitus Jonas Bering, commissioned by Peter the Great of Russia to find land connecting Asia and North America, discovers Alaska as well as the Pacific Coast of America.
1775 – Tucson, AZ is established by Spanish missionaries as Presidio San Augustin del Tucson
1785 - Oliver Hazard Perry (d. 1819), American naval hero, born at South Kingston, RI. Best remembered is his announcement of victory at the Battle of Lake Erie, September 10, 1824: "We have met the enemy, and they are ours."
http://www.publicbookshelf.com/public_html/
The_Great_Republic_By_the_Master_Historians_Vol_III/Commodore_c.html
1788 - A small but powerful hurricane inflicted great havoc upon forests along a narrow track from New Jersey to Maine. A similar storm track today would cause extreme disaster in the now populated area.
1794 - Major General "Mad" Anthony Wayne routs Indians at Fallen Timbers, Ohio
http://www.heidelberg.edu/FallenTimbers/FTCommemorate.html
1830 - African-American Richard Allen chairs the first National Negro Convention in Philadelphia. In 1799, Allen was ordained as the first black Methodist minister by Bishop Francis Asbury. In 1816, Allen united four African-American congregations of the Methodist Church in Philadelphia: Philadelphia, New Jersey, Delaware and Maryland. Together they founded the independent denomination of the African Methodist Episcopal Church (AME), the first fully independent black denomination in the United States and the oldest and largest formal institution in black America. On April 10, 1816, the other ministers elected Allen as their first bishop. This gathering was a civic meeting, the first on such a scale organized by African-American leaders. Allen presided over the meeting, which addressed both regional and national topics. The convention occurred after the 1826 and 1829 riots in Cincinnati, when whites had attacked blacks and destroyed their businesses. After the 1829 rioting, 1200 blacks had left the city to go to Canada. As a result, the Negro Convention addressed organizing aid to such settlements in Canada, among other issues. The 1830 meeting was the beginning of an organizational effort known as the Negro Convention Movement, part of 19th-century institution building in the black community. http://www.triadntr.net/~rdavis/allen.htm
1845 - Wilberforce University established in Ohio, 1856
1846 - The United States annexed New Mexico.
1848 - Melville Elijah Stone (d. 1929) was born in Hudson, IL. A newspaper publisher, he founded the Chicago Daily News and was the general manager of the reorganized Associated Press.
1851 - The First America's Cup was held. Thought to be the oldest international sporting trophy to be still awarded today the cup's name was changed from Hundred Guinea Cup to America's Cup after the name of the yacht that won the first race on this day. Led by Commodore John Cox Stevens, America participated in a 53 nautical mile race around the Isle of Wight in England.
1866 – President Andrew Johnson officially declares the end to the Civil War.
1866 - The newly organized National Labor Union called on Congress to mandate an eight-hour workday. http://memory.loc.gov/ammem/today/aug20.html
1867 - Anson Mills, brevet lieutenant colonel in the Army, Fort Bridger, UT, was granted a patent for a new cartridge belt. Moisture had previously affected cartridge belts. Mills invented a woven cartridge belt, and the machinery for making it, which was adopted by both the Army and Navy.
1886 - The town of Indianola, TX, was completely destroyed by a hurricane and never rebuilt.
1888 - Longest US men's single tournament match: Palmer Presbrey defeats T S Tailer, 19-21, 8-6, 6-1, 6-4, in an 80-game 1st-round contest.
1893 – Dorothy Parker (d. 1967) was born Dorothy Rothschild in Long Branch, NJ. Poet, short story writer, critic, and satirist, she was best known for her wit, wisecracks and eye for 20th-century urban foibles…typical Jersey Girl before there was one! She rose to acclaim, both for her literary output in publications such as "The New Yorker" and as a founding member of the Algonquin Round Table. Following the breakup of the circle, Parker traveled to Hollywood to pursue screen writing. Her successes there included two Academy Award nominations, (with Robert Carlson and then-husband Alan Campbell, she wrote the script for the 1937 film "A Star is Born" for Best Writing—Screenplay; with Frank Cavett, for 1947's "Smash-Up, the Story of a Woman"). She wrote additional dialogue for "The Little Foxes" in 1941. Her career was curtailed when her involvement in left-wing politics led to a place on the Hollywood blacklist.
1896 – The rotary dial telephone was invented.
1902 - President Theodore Roosevelt became the first United States chief executive to ride in an automobile in public.
1910 - The big blow up of forest fires finally came to an end in Idaho. A record dry August fueled 1736 fires which burned three million acres, destroying six billion board feet of timber. The fires claimed the lives of 85 persons, 78 of which were fire fighters, and consumed the entire town of Wallace. The smoke spread a third of the way around the world producing some dark days in the U.S. and Canada. The forest fires prompted federal fire protection laws.
1911 - "This message sent around the world," sent at 7pm from the New York Times and received back at 7:16:30pm, traveling over 28,613 miles via 16 relay stations to become the first telegraph message sent around the world. It was the front page headline and quite an event for its era.
1912 - After the Japanese beetle invaded the East Coast and other diseases were affecting agriculture, Congress passed a quarantine law for plants, directed against dangerous plant diseases and injurious insect pests, "new to or not theretofore widely prevalent or distributed within and through the United States." Plants that could transmit white-pin, blister rust or potato wart, and plants that might harbor the Mediterranean fruit fly, were immediately affected. Other species before the turn of the century had been affected, such as the "mighty American chestnut oak" that dominated the Northeast, were basically extinct by this date.
http://ncnatural.com/NCNatural/trees/chestnut.html
1915 – Chicago White Sox obtain Shoeless Joe Jackson from the Cleveland Indians in exchange for Robert Roth, Larry Chappell, Ed Klepfer and $31,500.
1920 – The first radio station to be licensed was 8MK, owned by the Detroit News, which instituted daily service with the program, "Tonight's Dinner." The call letters were changed later to WWJ.
1920 – The game between the Red Sox and Indians was postponed to allow Indian players to attend Ray Chapman's funeral in Cleveland. Chapman is the only player in Major League history to die from being hit by a pitch. Three days earlier, Chapman was beaned by Carl Mays of the Yankees, a fierce side-arming fireballer. Chapman's death led to the practice of umpires replacing dirty baseballs during the game and accelerated the pressure to have batters wear helmets. The latter was not enacted until 1950.
1920 – Professional football is born. Seven men, including legendary Jim Thorpe and the owners of four Ohio League teams--the Akron Pros, Canton Bulldogs, Cleveland Indians and Dayton Triangles, meet to organize a professional football league at the Jordan and Hupmobile Auto Showroom in Canton, OH. The meeting led to the creation of the American Professional Football Conference (APFC), the forerunner to National Football League. Jim Thorpe was nominated as president of the new league, as it was hoped Thorpe's fame would help the league to be taken seriously. On September 17, the league met again, changing its short-lived name to the American Professional Football Association (APFA) and officially electing Jim Thorpe as the league's first president.
The APFA began play on September 26, with the Rock Island Independents defeating a team from outside the league, the St. Paul Ideals, 48-0. A week later, Dayton beat Columbus 14-0 in the first game between two teams from the APFA.
1920 – Denton Cooley, heart surgeon famous for performing the first implantation of a total artificial heart, was born in Houston, TX.
1925 – Honor Blackman was born in London, England. An accomplished actress in British plays and television, she gained lasting fame as the second Bond girl, Pussy Galore in "Goldfinger."
1930 - DuMont broadcast its first television program for homes in New York City.
1934 – Gen. Norman Schwarzkopf, Jr. (d. 2012) was born in Trenton, NJ. The senior Schwarzkopf was the first Superintendent of the New Jersey State Police after he worked as a lead investigator on the 1932 Lindbergh baby kidnapping and murder investigation. The junior Schwarzkopf graduated from the US Military Academy at West Point, after which he served in the Vietnam War as a task force adviser to the Army of the Republic of Vietnam Airborne Division. He was promoted to major shortly after arriving in Vietnam. In command of the 173d Airborne Brigade, they arrived and broke the siege, ending the Battle of Duc Co after which General William Westmoreland later arrived to review the incident and congratulate Schwarzkopf. For his leadership in the battle, Schwarzkopf was awarded the Silver Star. In November 1988, Schwarzkopf was named commander of US Central Command (CENTCOM), over a more popular choice because commanders considered him an accomplished strategic thinker who had experience both in combat and with diplomacy, and who had great knowledge of the Middle East from his childhood experiences there. He assumed command of CENTCOM and was promoted to general. Schwarzkopf began planning the operations to defend Saudi Arabia. Schwarzkopf remained at his command in Riyadh through December, making frequent frontline visits to the troops. On December 29, 1990, he received a warning order from The Pentagon to be ready to attack into Iraq and Kuwait by January 17, 1991 and the air campaign began on that day. On March 3, after only six weeks during which the enemy was completely subdued, he arrived in Kuwait City to survey the aftermath of the Iraqi occupation and negotiate a ceasefire with Iraqi military leaders and work out the return of prisoners of war on both sides. For his services during the war, he was welcomed back to America with a large parade down Broadway in New York, along with other honors. Schwarzkopf led a highly publicized homecoming parade in Washington, D.C., on June 8, 1991, where he was greeted by President Bush amid thousands of onlookers.
1936 – Dale Hawkins (d. 2010) was born in Gold Mine, LA. A pioneer rock singer, songwriter, and rhythm guitarist, he was often called the architect of swamp rock boogie. In 1957, Hawkins blended the uniquely heavy blues sound of black Louisiana artists for his recording of his swamp-rock classic, "Susie Q," a top-30 hit chosen as one of The Rock and Roll Hall of Fame's 500 Songs that Shaped Rock and Roll.
1936 – Werner Stengel was born in Bochum, Germany. Stengel first worked on amusement park rides in collaboration with Anton Schwarzkopf in 1963. He established his own company, Stengel Engineering, in 1965. His collaboration with Schwarzkopf was responsible for many innovations in roller coaster design, including, in 1976, the first modern looping coaster, Revolution, at Six Flags Magic Mountain in California. His clothoid loop is now standard on many roller coasters as it produces less intense forces on the human body than a circular vertical loop. In 1976, Stengel and Schwarzkopf established the first horizontal launch "Shuttle Loop." He was also noted as being a pioneer in heartlining, the principle of having the track twist/rotate around the rider's heart line, rather than the track rotating around its own center.
1938 – Lou Gehrig hits his last grand slam, his 23d, which was the Major League record until Alex Rodriguez broke it 75 years later.
1939 – Valerie Harper was born in Suffern, NY. She is best known for her roles as Rhoda Morgenstern in the 1970s TV series "The Mary Tyler Moore Show" and its spin-off, "Rhoda." She is a four-time Primetime Emmy Award winner.
1939 – Yaz was born in Southampton, NY. Carl Yastrzemski, the Red Sox left fielder who succeeded Ted Williams, was named to Baseball's Hall of Fame in 1989 following a 23-year career, an 18-time All-Star, seven Gold Gloves, a member of the 3,000 hit club, and the first American League player in that club to also accumulate over 400 home runs. He is second on the all-time list for games played, and third for total at-bats. He is the Red Sox' all-time leader in career RBIs, runs, hits, singles, doubles, total bases, and games played, and is third on the team's list for home runs behind David Ortiz and Ted Williams. In 1967, he won the Triple Crown and AL MVP.
1940 - Radar is used for the first time, by the British during the Battle of Britain. Also on this day, in a radio broadcast, Winston Churchill makes his famous homage to the Royal Air Force: "Never in the field of human conflict was so much owed by so many to so few."
1942 - University of Chicago scientist Glen Seaborg and his colleagues first weighed plutonium, the first man made element.
1944 - HAWK, JOHN D., Medal of Honor.
Rank and organization: Sergeant, U.S. Army, Company E, 359th Infantry, 90th Infantry Division. Place and date: Near Chambois, France, 20 August 1944. Entered service at: Bremerton, Wash. Birth: San Francisco, Calif. G.O. No.: 55, 13 July 1945. Citation: He manned a light machinegun on 20 August 1944, near Chambois, France, a key point in the encirclement which created the False Pocket. During an enemy counterattack, his position was menaced by a strong force of tanks and infantry. His fire forced the infantry to withdraw, but an artillery shell knocked out his gun and wounded him in the right thigh. Securing a bazooka, he and another man stalked the tanks and forced them to retire to a wooded section. In the lull which followed, Sgt. Hawk reorganized 2 machinegun squads and, in the face of intense enemy fire, directed the assembly of 1 workable weapon from 2 damaged guns. When another enemy assault developed, he was forced to pull back from the pressure of spearheading armor. Two of our tank destroyers were brought up. Their shots were ineffective because of the terrain until Sgt. Hawk, despite his wound, boldly climbed to an exposed position on a knoll where, unmoved by fusillades from the enemy, he became a human aiming stake for the destroyers. Realizing that his shouted fire directions could not be heard above the noise of battle, he ran back to the destroyers through a concentration of bullets and shrapnel to correct the range. He returned to his exposed position, repeating this performance until 2 of the tanks were knocked out and a third driven off. Still at great risk, he continued to direct the destroyers' fire into the Germans' wooded position until the enemy came out and surrendered. Sgt. Hawk's fearless initiative and heroic conduct, even while suffering from a painful wound, was in large measure responsible for crushing 2 desperate attempts of the enemy to escape from the False Picket and for taking more than 500 prisoners.
1945 - Woody Herman Band records "Bijou."
1945 - Dodger Tommy Brown becomes the youngest player (17 years, 8 months and 14 days) in major league history to hit a home run. 'Buckshot', who started his career as a 16-year-old high school student, connects off 30-year old Pirates' southpaw Preacher Roe. The Phillies are rained out for an unprecedented tenth consecutive time.
1946 - Prior to the start of the game against the Senators in Washington, using the U.S. Army's Sky Screen Chronograph, Bob Feller's fastball is clocked at 98.6 miles-per-hour, breaking Yankees' hurler Atlee Donald's 1939 speed record of 94.7 mph.
1946 - Grover Cleveland Alexander is reached for nine straight hits and six runs as the Cubs defeat Phillies, 10-4.
1948 - The largest crowd (78,382) ever to attend a night game sees Satchel Paige become the fourth consecutive Indian to throw a shutout. The ageless wonder joins Gene Bearden, Sam Zoldak and Bob Lemon in blanking the opposition.
1955 - Top Hits
"Rock Around the Clock" - Bill Haley & His Comets
"Hard to Get" - Gisele MacKenzie
"The Yellow Rose of Texas" - Mitch Miller
"I Don't Care" - Webb Pierce
1958 – The Cubs use left-handed 1B Dale Long behind the plate, the first left-handed catcher in the Majors since 1906.
1960 - Connie Francis began work on her first movie, "Where the Boys Are" in Ft. Lauderdale, Florida. This is considered the first college teen comedy to really explore the sex lives of its characters and it has served as the inspiration for countless "spring break" movies, as well as the homage/parody "Grease."
1962 – NS Savannah, the world's first nuclear-powered civilian ship, embarks on its maiden voyage.
1963 - Top Hits
"Fingertips - Pt 2" - Little Stevie Wonder
"Blowin' in the Wind" - Peter, Paul & Mary
"Judy's Turn to Cry" - Lesley Gore
"Ring of Fire" - Johnny Cash
1964 – Shirley Bassey records the theme from the James Bond flick, "Goldfinger."
1964 - US President Lyndon B. Johnson signs the anti-poverty Economic Opportunity Act (totaling nearly $1 billion)
1964 – The Harmonica Incident: Yankees' Phil Linz, after a loss, plays his harmonica on the bus to the airport. Yankees manager Yogi Berra yells at him from the front to knock it off. When Linz asked teammate Mickey Mantle what Yogi said, Mantle, ever the kibitzer, said, "He said to play it louder." When Linz did, Berra came back and smacked it out of his hands. At the time, the Yankees were languishing in the standings but many cite this incident as a spark that got them to the AL Championship and into the World Series against the Cardinals. Linz scored a contract promoting harmonicas and Berra was fired after the World Series.
1965 – Rolling Stones' "I Can't Get No Satisfaction" is released in the UK. It was a #1 hit in the US.
1966 - The thoroughbred Buckpasser, owned by Ogden Phipps, won the Travers Stakes at Saratoga to become the first 3-year-old to pass the $1 million mark in career earnings.
1966 - The Temptations' "Beauty Is Only Skin Deep" is released.
1967 - The New York Times reported on a new noise-reduction system for album and tape recording developed by R. and D.W. Dolby. First used by a subsidiary of Elektra Records, the Dolby noise reduction system became the industry standard.
1968 - LAMBERS, PAUL RONALD, Medal of Honor.
Rank and organization: Staff Sergeant, U.S. Army, Company A, 2d Battalion, 27th Infantry, 25th Infantry Division. place and date: Tay Ninh province, Republic of Vietnam, 20 August 1968. Entered service at: Holland, Mich. Born: 25 June 1942, Holland, Mich. Citation: For conspicuous gallantry and intrepidity in action at the risk of his life above and beyond the call of duty. S/Sgt. (then Sgt.) Lambers distinguished himself in action while serving with the 3d platoon, Company A. The unit had established a night defensive position astride a suspected enemy infiltration route, when it was attacked by an estimated Viet Cong battalion. During the initial enemy onslaught, the platoon leader fell seriously wounded and S/Sgt. Lambers assumed command of the platoon. Disregarding the intense enemy fire, S/Sgt. Lambers left his covered position, secured the platoon radio and moved to the command post to direct the defense. When his radio became inoperative due to enemy action, S/Sgt. Lambers crossed the fire swept position to secure the 90mm recoilless rifle crew's radio in order to re-establish communications. Upon discovering that the 90mm recoilless rifle was not functioning, S/Sgt. Lambers assisted in the repair of the weapon and directed canister fire at point-blank range against the attacking enemy who had breached the defensive wire of the position. When the weapon was knocked out by enemy fire, he single-handedly repulsed a penetration of the position by detonating claymore mines and throwing grenades into the midst of the attackers, killing 4 more of the Viet Cong with well-aimed hand grenades. S/Sgt. Lambers maintained command of the platoon elements by moving from position to position under the hail of enemy fire, providing assistance where the assault was the heaviest and by his outstanding example inspiring his men to the utmost efforts of courage. He displayed great skill and valor throughout the 5-hour battle by personally directing artillery and helicopter fire, placing them at times within 5 meters of the defensive position. He repeatedly exposed himself to hostile fire at great risk to his own life in order to redistribute ammunition and to care for seriously wounded comrades and to move them to sheltered positions. S/Sgt. Lambers' superb leadership, professional skill and magnificent courage saved the lives of his comrades, resulted in the virtual annihilation of a vastly superior enemy force and were largely instrumental in thwarting an enemy offensive against Tay Ninh City. His gallantry at the risk of his life is in keeping with the highest traditions of the military service and reflects great credit upon himself, his unit, and the U.S. Army.
1968 - Bobby Darin, still traumatized by the recent assassination of his good friend, Senator Robert Kennedy, sells off his music publishing and production company, TM Music, for one million dollars.
1969 - The four members of the Beatles gather in the Abbey Road studios in London for the last time as they complete work on "I Want You (She's So Heavy)" and ostensibly finalize the track order and mastering of their last recorded album, "Abbey Road." (Three of the Beatles would later be present in the studio to overdub salvaged tracks from the Let It Be sessions.)
1969 - 'Never say die' Camille let loose a cloudburst in Virginia resulting in flash floods and landslides which killed 151 persons and cause $140 million damage. Massies Hill, VA received 27 inches of rain.
1969 - Andy Williams received a gold record for the album "Happy Heart" on Columbia Records.
1969 – Comedian, actor Billy Gardell, "Mike and Molly," born in Pittsburgh.
1970 - Credence Clearwater Revival's LP "Cosmo's Factory" hits #1
1971 - Top Hits
"How Can You Mend a Broken Heart" - The Bee Gees
"Mr. Big Stuff" - Jean Knight
"Take Me Home, Country Roads" - John Denver
"I'm Just Me" - Charley Pride
1971 - Texas Instruments, Dallas, Texas introduced the first electronic pocket calculator. It weighed about 2.5 pounds and cost $149. It could add, subtract, multiply, and divide, displaying the results in an LED (light-emitting diode) window.
1973 - The Rolling Stones release "Angie."
1974 - House of Representatives votes 412-3 to recommend three articles of impeachment against President Richard M. Nixon. The first charges him with taking part in a criminal conspiracy to obstruct justice in the Watergate cover-up; the second charges he "repeatedly" failed to carry out his constitutional oath in a series of alleged abuses of power; and the third accuses him of unconstitutional defiance of committee subpoenas.
1974 - No. 1 Billboard Pop Hit: "(You're) Having My Baby,'' Paul Anka with Odia Coates. Anka's last No. 1 hit was "Lonely Boy'' in 1959, marking the longest gap between top singles.
1974 – Actress Amy Adams' birthday in Italy. Her breakthrough role came with the 2005 independent film "Junebug" for which she received critical acclaim and her first of five Academy Award nominations for Best Supporting Actress. She has since had a string of successes such as "Enchanted," "Charlie Wilson's War," "Doubt," "Night at the Museum 2," "Trouble with the Curve," "American Hustle" and "Big Eyes."
1975 – NASA launched the Viking I probe of Mars.
1976 - Gordon Lightfoot's "The Wreck of the Edmund Fitzgerald," about an ore carrier which sank on Lake Superior, was released as a single. The song, from the album "Summertime Dream," made it to number two on the Billboard Hot 100
1977 - The song "Best of My Love", by the Emotions, topped the pop charts. It had a number one run of four weeks. http://www.70disco.com/emotions.htm
http://www.grooveentertainmentinc.com/emo.htm
1978 - After 37 consecutive years, the Stan Kenton Band folds. "Peanut Vendor."
http://www.gemlimited.com/kenton.htm
1979 - Top Hits
"Good Times" - Chic
"My Sharona" - The Knack
"The Main Event/Fight" - Barbra Streisand
"Coca Cola Cowboy" - Mel Tillis
1985 - No. 1 Billboard Pop Hit: "Power of Love,'' Huey Lewis & the News. The million-selling single, which is featured in the hit film, "Back to the Future,'' is the band's first No. 1 song.
1986 - U.S. Census Bureau officials reported that the U.S. population stood at 240,468,000 and the median age reached an all-time high of 31-1/2 years.
1986 - The temperature at San Antonio, TX, soared to an all-time record high of 108 degrees.
1987 - Top Hits
"I Still Haven't Found What I'm Looking For" - U2
"Who's That Girl" - Madonna
"Luka" - Suzanne Vega
"A Long Line of Love" - Michael Martin Murphey.
1987 - Half a dozen cities in the Central Plains Region reported record high temperatures for the date, including Pueblo, CO with a reading of 102 degrees, and Goodland, KS with a high of 104 degrees. Hill City, KS reached 106 degrees.
1987 - Lindsey Buckingham, who had helped turn Fleetwood Mac into one of the biggest-selling groups of the Seventies, leaves the group after refusing to tour behind its latest album, "Tango in the Night."
1987 - Alabama dedicates a section of its Interstate 65 highway as the Hank Williams Memorial Lost Highway, a reference to one of his best-known songs. The fifty-mile stretch begins near his hometown of Georgiana and runs north to Montgomery, where he is buried.
1988 - Raleigh, NC reported a record hot temperature reading of 103 degrees. Afternoon thunderstorms in Oklahoma produced wind gusts to 75 mph in southern Pittsburgh County. Thunderstorms in Indiana produced 4.50 inches of rain at Morgantown.
1989 - Early morning thunderstorms deluged southeastern Delaware with six to ten inches of rain in four to six hours, with local reports of 13 to 20 inches of rain. Twenty-six major roads were closed or damaged, and fourteen bridges were washed out. Flooding caused nearly $4 million damage to local businesses.
1989 - About 20,000 people ended a week-long 20th anniversary celebration of the Woodstock Festival at the festival's original site near Bethel, New York. They left behind a mountain of mud and empty beer cans. The unsanctioned gathering had only one serious incident - a stabbing. Folksinger Melanie [she was in my high school English class in Long Branch HS, NJ, 1960-61. Ralph Mango] was the only Woodstock veteran to show up. She performed from a makeshift stage.
1992 – Demi Lovato birthday.
1993 - Top Hits
"Can't Help Falling In Love" (From "Sliver")- UB40
"Whoomp! (There It Is)"- Tag Team
"I'm Gonna Be (500 Miles)"- The Proclaimers
Slam-Onyx
1994 - DNA testing linked O. J. Simpson to the murders of Nicole Simpson and Ron Goldman.
1996 - Just ten days after Microsoft shipped its first Web browser, Netscape released a letter they had sent to the Justice Department earlier in the month alleging that Microsoft had sought to gain an unfair advantage by offering computer makers and Internet service providers improper payments and other incentives to use Internet Explorer instead of Netscape Navigator. Microsoft denied the allegations, but the question of Microsoft's tactics in promoting Internet Explorer came under heavy scrutiny in the Justice Department's 1998 antitrust suit against Microsoft.
1996 - Carlos Santana receives a star on Hollywood's Walk of Fame.
1998 - At Shea Stadium, Cardinal first baseman Mark McGwire becomes the first player in major league history to hit 50 home runs in three consecutive seasons. Mac's seventh inning solo shot helps to defeat the Mets, 2-0.
1998 - US launches cruise missile attacks against alleged al-Qaeda camps in Afghanistan and a suspected chemical plant in Sudan in retaliation for the August 7 bombings of American embassies in Kenya and Tanzania.
2000 - Tiger Woods won the 82nd PGA Championship in Louisville, Kentucky. Woods birdied the last two holes in regulation and won the championship in a playoff over Bob May, becoming the first player since Ben Hogan in 1953 to win three majors (Masters, U.S. Open, British Open) in one year. He was the first player to win back-to-back PGA championships since Denny Shute in 1936 and 1937.
2000 - The winningest pitcher in franchise history is honored by the Yankees during Whitey Ford Day ceremonies at Yankee Stadium. At his retirement, the crafty lefty, known as "The Chairman of the Board," held the team records for victories (236), innings pitched (3,170 1/3), strikeouts (1,956) and shutouts (45). Among pitchers with at least 300 career decisions, Ford ranks first with a winning percentage of .690, the all-time highest percentage in modern baseball history. His career ERA is among the five lowest in the era since 1920. For his career, Ford had 10 World Series victories, more than any other pitcher, and he also leads all starters in World Series losses (8) and starts (22), as well as innings, hits, walks, and strikeouts. In 1961, the same year Roger Maris broke Babe Ruth's home run record, Ford broke Ruth's World Series record of 29⅔ consecutive scoreless innings, eventually reaching 33⅔, still the World Series record. His number 16 was retired by the Yankees in 1974, shortly after his election to the Baseball Hall of Fame.
2002 - A judge issues a temporary restraining order preventing the sale of Barry Bonds' 600th career home run ball hit into the Pacific Bell Park stands on August 9. Jay Arsenault, who allegedly promised friends after being given a game ticket to split any monetary gains if he caught the historic baseball, has been ordered to appear in court for hearing on September 5 along with the prized souvenir. Doubt it is worth much today.
2002 - Top Hits
"Dilemma"- Nelly Featuring Kelly Rowland
"Hot In Here"- Nelly
"Complicated"- Avril Lavigne
"Just A Friend" - Mario
2005 - Using the equivalent of a 98-miles-per-hour major league fastball, 12-year old Kalen Pimentel ties a Little League World Series record for strikeouts in a six-inning game. The 12-year old from Rancho Buena Vista strikes out 18 Owensboro batters (all of the recorded outs) as his team coasts to 7-2 victory in the pool play of the tournament.
2008 - Umpires sign an agreement which will allow Major League Baseball to start using instant replay to help determine boundary calls, such as determining fair or foul fly balls and difficult home run rulings. The use of replay has expanded with managers having limits to such requests. Now officials are concerned that the average game time exceeds 3 hours!
2012 - The official first-day-of-issue dedication ceremony for the Major League Baseball All-Stars Forever stamps takes place at the National Baseball Hall of Fame and Museum in Cooperstown, NY. The very popular philatelic series based on historic photographs honors Yankee Joe DiMaggio; Larry Doby of the Indians; Willie Stargell of the Pirates and Red Sox legend Ted Williams.
2014 - 17-year-old Katie Ledecky, Bethedsa, MD, the current world record holder for fastest 400-meter freestyle, breaks her own record at the Pan Pacific championships. Ledecky, as a member of the 2016 US Olympic team competing in Brazil, has won four gold medals and one silver. She is a five-time Olympic gold medalist, and nine-time world champion. She is the current world-record holder in the women's 400-, 800-, and 1,500-meter freestyle (long course). She also holds the fastest times in the 500-, 800-, 1000-, and 1,650-yard freestyle events.
-------------------------------------------------------------

SuDoku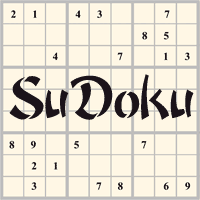 The object is to insert the numbers in the boxes to satisfy only one condition: each row, column and 3x3 box must contain the digits 1 through 9 exactly once. What could be simpler?
http://leasingnews.org/Soduku/soduko-main.htm
--------------------------------------------------------------

Daily Puzzle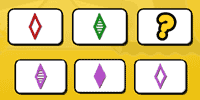 How to play:
http://www.setgame.com/set/puzzle_frame.htm
Refresh for current date:
http://www.setgame.com/set/puzzle_frame.htm
--------------------------------------------------------------


http://www.gasbuddy.com/
http://www.gasbuddy.com/GB_Map_Gas_Prices.aspx
http://www.gasbuddy.com/GB_Mobile_Instructions.aspx
--------------------------------------------------------------

Weather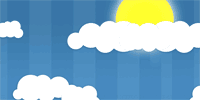 See USA map, click to specific area, no commercials
--------------------------------------------------------------

Traffic Live---
Real Time Traffic Information
You can save up to 20 different routes and check them out with one click,
or type in a new route to learn the traffic live
--------------------------------