Channel Partners Capital was formed in 2009 by a group of leasing professionals to work exclusively in the equipment finance market helping brokers/lessors gain access to working capital solutions for their customers. As a direct lender we provide small business loans that range in size from $10,000 to $250,000.

• Inc. Magazine 500/5000 fastest growing private companies for 4 consecutive years
• 100 Best Companies to Work for in Minnesota by Minnesota Business Magazine


BE A PART OF OUR GROWING TEAM

National Sales Representative
This position will be responsible for volume growth through existing and new third party relationships (TPRs). The NSR is the primary contact with TPRs actively managing customer contact, expectations, new product/program development and the sales pipeline. Nationwide scope with travel required from 25-50% of time.
More

Inside Sales Representative
This position is responsible for volume growth through existing and new third party relationships (TPRs). The ISR, supports assigned TPRs actively managing customer contact, expectations, new product/program development and the sales pipeline.
More

Please email cover letter and resume to: careers@channelpartnersllc.com
Wednesday, July 6, 2016


Today's Equipment Leasing Headlines

Dan Lee Passes Away
Long Time Aircraft Leasing Executive
Service Today for Broker/Lessor "Bob" New
Well Known to NAELB/NEFA Members
Position Wanted – Credit
Work Remotely or Relocate for Right Opportunity
Top Stories: June 27 - June 29
(Opened Most by Readers)
IMCA Capital Changes Operations to Currency
Becomes Aggregate Funding Source
Leasing Industry Ads---Help Wanted
Positions Available for the Right Person
Method of Billing Lease Payments
Leasing 102 by Mr. Terry Winders, CLFP
Madison Capital eDoc Experience
by Allan Levine, President/COO
FDIC Receiver for Bank Given Coverage on Banker's
Blanket Bond for Forged Lease Schedules
By Tom McCurnin, Leasing News Legal Editor
"May I leave certain employers and jobs off my resume? "
Career Crossroad---By Emily Fitzpatrick/RII
Apple Changing Direction to Expand Services
as Customers Hold onto iPhones Longer
Fora Financial Reaches Landmark and Customer Funding
$500 Million Working Capital/10,000 Customers
$10,000 Available Education Grants in August
Chris Walker Education Fund
Boxer/Siberian Husky Mix, Female
Bend, Oregon Adopt-a-Dog
Online Newspapers
Listing
News Briefs---
U.S. has more untapped oil than Saudi Arabia or Russia
"Incredible 264 billion barrels of oil reserves"
American Express to Offer Loans
Does Merchant Advance/Now Working Capital Credit Advance
Why UK asset management jobs could start heading to the U.S.
May Not Be Overnight, Most Jobs Can Be Done Anywhere
Dan Gilbert and other Yahoo suitors will offer their next round
of bids this week for the faded internet giant

Broker/Funder/Industry Lists | Features (writer's columns)
Top Ten Stories Chosen by Readers | Top Stories last six months
www.leasingcomplaints.com (Be Careful of Doing Business)
www.evergreenleasingnews.org
Leasing News Icon for Android Mobile Device
You May have Missed---
SparkPeople--Live Healthier and Longer
Winter Poem
Sports Briefs---
California Nuts Brief---
"Gimme that Wine"
This Day in American History
SuDoku
Daily Puzzle
GasBuddy
Weather, USA or specific area
Traffic Live----
######## surrounding the article denotes it is a "press release" and was not written by Leasing News nor information verified, but from the source noted. When an article is signed by the writer, it is considered a "by line." It reflects the opinion and research of the writer.




[headlines]
--------------------------------------------------------------
Dan Lee Passes Away
Long-Time Aircraft Leasing Executive
Reportedly Dan Lee was well-known to those who attended conferences of the National Association of Equipment Leasing Brokers and Western Association of Equipment Lessors, where he was on the board (as the United Association of Equipment Leasing, now the National Equipment Finance Association). Mr. Lee was involved in airplane leasing/financing for many years. He was very active in the National Aircraft Finance Association, National Business Aircraft Association, and Experimental Aircraft Association.
His work history included President of Horizon Leasing (June, 1981-1999), Aircraft Financial Partner, Executive Capital Partners, (August 1999-February, 2015); most recently, Senior Vice President, Aircraft Lending, Bank of the Cascades, Bend, Oregon.
An obituary was not available at press time.
[headlines]
--------------------------------------------------------------
Service Today for Broker/Lessor "Bob" New
Well Known to NAELB/NEFA Members
"James Robert New, also known as: Bob New, born on August 10, 1921, in Clovis, California, passed away June 25, 2016. He was 94 years old. He resided in Los Angeles, California at the time of his passing. Arrangements are under the direction of Forest Lawn, Glendale, California."
FUNERAL SERVICE
Wednesday, July 06
1:00 PM
Forest Lawn - Glendale - Wee Kirk o' the Heather
1712 S. Glendale Avenue Glendale, CA 91205

Ran His Company 56 Years While Blind
http://leasingnews.org/archives/Jun2016/06_29.htm#bob
[headlines]
--------------------------------------------------------------
Position Wanted – Credit
Work Remotely or Relocate for Right Opportunity
Each Week Leasing News is pleased, as a service to its readership, to offer completely free ads placed by candidates for jobs in the industry. These ads also can be accessed directly on the website at:
http://www.leasingnews.org/Classified/Jwanted/Jwanted.htm
Each ad is limited to (100) words and ads repeat for up to 6 months unless the candidate tells us to stop. Your submissions should be received here by the end of each week.

Please encourage friends and colleagues to take advantage of this service, including recent graduates and others interested in leasing and related careers.
Will relocate for the right opportunity and can work remotely. I have (25+) years in making credit decisions, as well as helping sales team and third party originators close more transactions via understanding their applicant's financial abilities. I can create alternative or additional opportunities (and income) by knowing which type of loan is best for the borrower
aaacorrespondent@gmail.com


Chicago, Illinois
Highly knowledgeable and analytical Equipment Leasing Executive; leveraging 25 years in Portfolio Management, Operations, Credit, and Collections within Banking environment and Commercial Equipment Leasing Industry; proven track record, developing/ implementing strategies, sound operational excellence and process improvement, while maximizing revenues and positioning organizations for greater success.wgriffith61@yahoo.com
Resume:
http://leasingnews.org/items/BGriffithResume2015.pdf


Orlando, Florida
As a Commercial Credit Analyst/Underwriter, I have evaluated transactions from sole proprietorships to listed companies, across a broad spectrum of industries, embracing a multitude of asset types. Sound understanding of balance sheet, income statement and cash flow dynamics which impact credit decisions. Strong appreciation for credit/asset risk.
rpsteiner21@aol.com


407 430-3917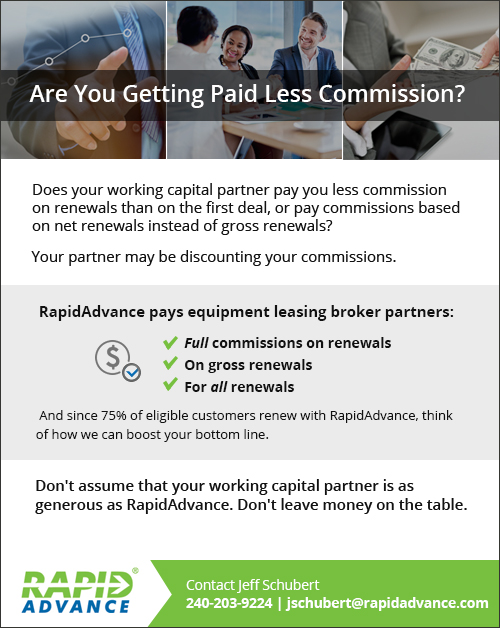 [headlines]
--------------------------------------------------------------
Top Stories: June 27 - June 29
(Opened Most by Readers)
(1) Axis Capital Subject to Possible Receivership
By Tom McCurnin, Leasing News Legal Editor
http://leasingnews.org/archives/Jun2016/06_27.htm#axis
(2) Bob New Passes Away
Ran His Company 56 Years While Blind
http://leasingnews.org/archives/Jun2016/06_29.htm#bob
(3) "New Incentive Plan"
Cartoon
http://leasingnews.org/archives/Jun2016/06_29.htm#cartoon
(Tie)(4) U.S. Finance/Leasing Executive Reactions
British Exit (or Better Known as "Brexit")
http://leasingnews.org/archives/Jun2016/06_29.htm#british
(Tie) (4) Time to Pay for the $400 Million Ponzi, Receiver Says
City National Bank, Sr. VP, Branch Manager Sued
http://www.courthousenews.com/2016/06/24/time-to-pay-for-the-ponzi-receiver-says.htm
(Tie) (6) Landlord/Mortgage Waivers Today
Leasing #102 by Mr. Terry Winders, LFP
http://leasingnews.org/archives/Jun2016/06_27.htm#landlord
(Tie) (6) New Hires---Promotions in the Leasing Business
and Related Industries
http://leasingnews.org/archives/Jun2016/06_29.htm#hires
(8) Northern Leasing Case Cleared for Class Action
By Tom McCurnin, Leasing News Legal Editor
http://leasingnews.org/archives/Jun2016/06_29.htm#northern
(9) How do I Handle Illegal Interview Questions?
Career Crossroad---By Emily Fitzpatrick/RII
http://leasingnews.org/archives/Jun2016/06_27.htm#crossroad
(10) Lending Club plans layoffs,
discloses loans to former CEO and family members
http://www.latimes.com/business/la-fi-lending-club-layoffs-20160628-snap-story.html
(11) Sales Make it Happen by Steve Chriest
Today's Lease Salesman Must Read Financial Statements
http://leasingnews.org/archives/Jun2016/06_29.htm#read
(12) Sample of Usury Laws in United States
Interest Limits per State (see above, Banks not immune on purchase)
http://leasingnews.org/archives/Sep2014/9_22.htm#sample

(Leasing News provides this ad as a trade for appraisals and equipment valuations provided by Ed Castagna)
[headlines]
--------------------------------------------------------------
IMCA Capital Changes Operations to Currency
Becomes Aggregate Funding Source
An Aggregate Funding Source connects lessees, lessors, and vendors,
as well as working with third party originators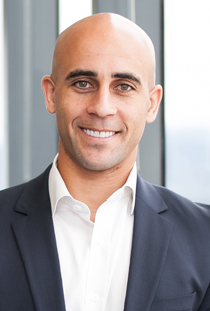 Former President of IMCA Capital, Charles Anderson, says, "Think of it as a discounter/aggregate lending site. Not a pass through super-broker...Same company. Rebranded. 8 month process. We hired an elite branding firm (they did Tesla, Victoria's Secret, Apple, etc.)."
www.imcacapital.com goes to a business credit card program'
www.enverto.com doesn't open
New website: www.currencycap.com
Aggregate Funding Sources
http://www.leasingnews.org/Pages/funding_sources2015.html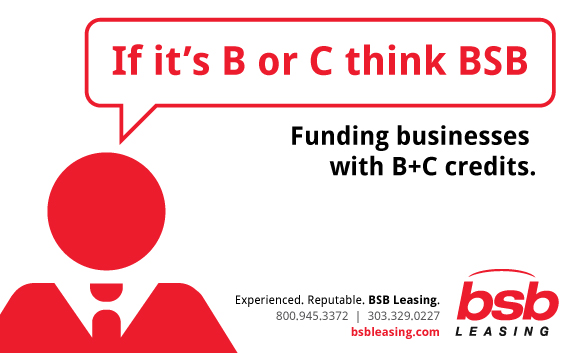 [headlines]
--------------------------------------------------------------
Leasing Industry Ads---Help Wanted
Positions Available for the Right Person


Channel Partners Capital was formed in 2009 by a group of leasing professionals to work exclusively in the equipment finance market helping brokers/lessors gain access to working capital solutions for their customers. As a direct lender we provide small business loans that range in size from $10,000 to $250,000.

• Inc. Magazine 500/5000 fastest growing private companies for 4 consecutive years
• 100 Best Companies to Work for in Minnesota by Minnesota Business Magazine


BE A PART OF OUR GROWING TEAM

National Sales Representative
This position will be responsible for volume growth through existing and new third party relationships (TPRs). The NSR is the primary contact with TPRs actively managing customer contact, expectations, new product/program development and the sales pipeline. Nationwide scope with travel required from 25-50% of time.
More

Inside Sales Representative
This position is responsible for volume growth through existing and new third party relationships (TPRs). The ISR, supports assigned TPRs actively managing customer contact, expectations, new product/program development and the sales pipeline.
More

Please email cover letter and resume to: careers@channelpartnersllc.com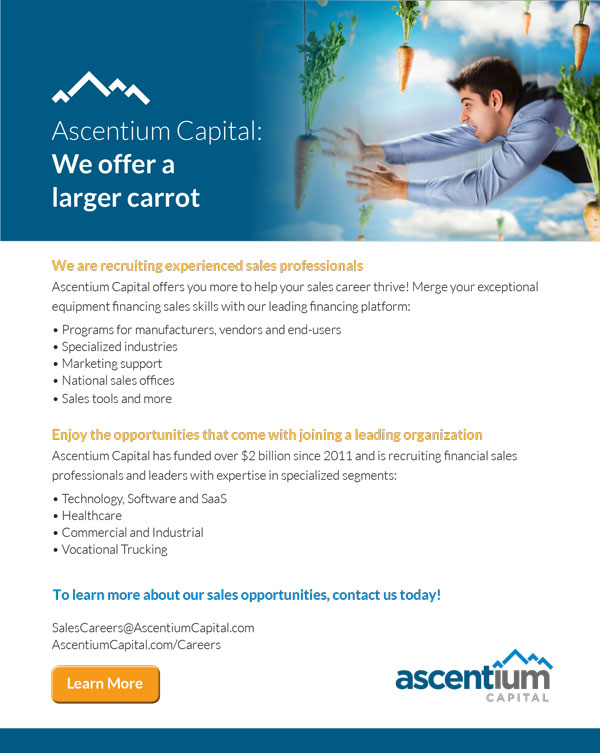 Senior Credit Analyst

- Minimum 5 years of small ticket/high volume equipment finance underwriting experience preferred
- Relocation benefits available for the right candidate
- For a complete job description, please click here

Senior Credit Analyst - Transportation

- Minimum 5 years of small ticket/high volume equipment finance underwriting experience preferred
- Relocation benefits available for the right candidate
- For a complete job description, please click here
www.pawneeleasing.com
Established in 1982, Pawnee Leasing Corporation located in Fort Collins, CO specializes in commercial equipment leasing and financing up to $150,000 to smaller, closely-held business enterprises. Pawnee Leasing is a U.S. subsidiary of Chesswood Group Limited, a publicly-held specialty financial services company based in Toronto, Canada (TSX:CHW).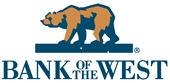 Inside Sales Manager
San Francisco
We are currently seeking qualified talent to be primarily responsible for overseeing the Inside Sales Department within the Vendor business group of the Equipment Finance Division, while developing and improving policies and procedures to properly support high production volume.
For more information
click here
[headlines]
--------------------------------------------------------------
Method of Billing Lease Payments
For many years we have as an industry sent invoices to the lessees for payment. Usually the leasing software programs send the invoice at least twenty days in advance so there would be ample time for the lessee to receive it and return payment. However many first past due payments were a result of the invoice not reaching the appropriate person in time, resulting in angry phone calls and waived late charges. Some of this was a result of not asking for the proper location or person to whom to direct the invoice.
Some lessor's tried coupon books, which was common in the 1960's.
Most were financed with 25% down fifty years ago and the borrower could choose the first payment to be due either on the first or fifteenth of the month. It was also common for the late charge period to be 30 days, not 10 days. There was no interim rent, although it was common to get an assignment of life (and/or disability insurance) for a small company, or charge them for a policy for the dollar amount borrowed).
In leasing, there was the issue of personal property tax due each year, collecting an "interim rent" as the lessor chose the payment starting date, and changing late payments after ten days. Late payment fees increased from 1½% to 5% and even 10% of the payment due. So coupon books are not used in the leasing industry anymore, especially when there are "Evergreen clauses."
To avoid legal issues of non-receipt of the payment invoice, you should have a statement in your lease that addresses this problem. Example "This is a net lease. All rent and other sums payable by Lessee in connection herewith, if any, shall be paid promptly when due without notice or demand of any character." In addition it should say in raise print to be conspicuous.
"LESSEE'S OBLIGATION FOR THE PAYMENT OF RENT IS AND SHALL BE ABSOLUTE AND UNCONDITIONAL AND SHALL NOT BE SUBJECT TO ANY REDUCTION, OFFSET, COUNTER-CLAIM, ABATEMENT, SUSPENSION, and DEFERMENT OR DIMINUTION FOR ANY REASON WHATSOEVER." Now the payment is due regardless of a notice or receipt of the invoice. Then some lessors discovered internet invoicing to cut time and postage expense. It provided a log of when the invoice was sent and who received it, but with personnel changes and failure to notify changes in email addresses, it created just as many problems as it solved.
Currently the most popular billing system is the Electronic Funds Transfer Authorization Agreement for Pre-Arranged Payments (Debits), commonly called (ACH) that automatically takes the payment from the lessee's demand account. Problems still revolve around proper payment due to lack of funds and the need for notice of additional charges for changes in sales taxes and the addition of property taxes. However it seems to be the best system. There are companies who still do the billing, as they view the late charge as extra income, and that does not occur very much in ACH.
As many companies abuse Evergreen Clause notification, just continue to tap the lessee bank account, which often is not aware the original lease contract has ended. The Leasing News Complaint Bulletin Board has many of these instances documented.

Regardless of how you bill the lessee, it is hard to eliminate personnel for customer service to work out the consistent problems that come from payment receipts. However, we are clearly moving to a cashless society and a mobile wallet society.
Previous #102 Columns:
http://www.leasingnews.org/Conscious-Top%20Stories/Leasing_102/Index.htm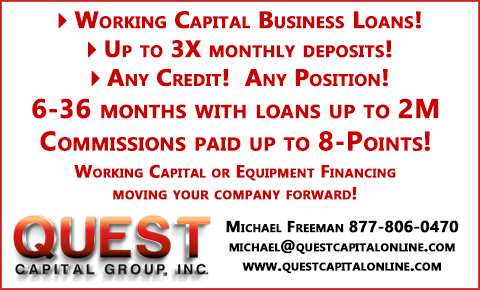 [headlines]
--------------------------------------------------------------
Madison Capital eDoc Experience
by Allan Levine, President/COO
Almost 10 years ago, Madison needed, with greater efficiency, to speed up doc processing in order to support a nationwide footprint. Madison wanted to streamline the business process. In order to satisfy a growing and larger customer base, with increased document flow, a quicker process was needed. With that, we wanted to try an on line signature process.
In the beginning, there were problems and glitches with consistent product performance. However, our selected product provider eSignature, a relatively new company, was there to walk us through our new document environment. We did not switch to eDoc for all clients, but started with the smaller equipment leases of under 100K for equipment, but a bit larger for vehicles as most auto transactions were/are multi-unit transactions.
Processing efficiency was achieved while enhancing relationships with vendors and clients. Transactions went from days to hours. In addition, automatic vaulting of documents provided a paperless secure record of transactions.
As time went on, we wanted to feel comfortable with security levels for the online signing process for lager transactions. ESignature and Docusign then provided us with the ability to generate a security questions. For added security, Madison would generate a security question for the client to use when signing. For more added security, the option to have a security question generated from public information about the signor is also available. This process is great for the largest transactions.
Throughout the continuing relationship, there was available personal do discuss, handle, and teach personnel about the process or handling problems or glitches. However, I must say, the issues were infrequent and always handled quickly; and, that included support for all upgrades that transpired. Upgrades, like all software changes, tend to make the process work smoother and faster; and, that was the case for us.
With our repeat clients, most request eDoc rather than the "print to sign process." As for process, once the client signs, notification is immediately sent to our administrators email. From there, the eDoc file moves quickly to the next person for final signing. Signing from a train, plane, iPad, or office computer makes "the paperless process" fast and efficient.
In short, instant email signature notifications helped manage the workflow process and provided detail when all docs are signed. The electronic vault features and capabilities ensure documents are legally admissible, enforceable, and negotiable as required by law. Madison enjoys a digital environment to expedite and simplify the lease/loan origination process.

The Result of EDoc:
We cut overall process time by an estimated 30% while reducing errors and omissions due to doc electronic flow. Leases are finalized in minutes and hours, not days. Closing rates are up and completed faster. Documents are never lost or misplaced. Vendors and brokers are paid faster as in minutes and hours and not days. Reactions from end users, vendors, and brokers are an overwhelming "yes."
In close to ten years, Madison has never had an issue raised about an electronic signature. eDoc changed our business - for the good.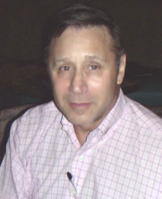 Allan Levine
MADI$ON CAPITAL
President and COO
443.796.7337
alevine@madisoncapital.com
Equipment and Vehicle Leasing Solutions
www.madisoncapital.com


[headlines]
--------------------------------------------------------------
FDIC Receiver for Bank Given Coverage on Banker's
Blanket Bond for Forged Lease Schedules
By Tom McCurnin
Leasing News Legal Editor
Federal Deposit Insurance Corporation v. RLI Insurance Company, 2014 WL 2598736 (N.D. Ill. 2014)
Debra Devassy Babu, Askounis & Darcy, P.C., Chicago, IL, Sharon L. Petty, Douglas A. Black, Mary L. Wolff, Wolff Ardis, P.C., Memphis, TN, for Plaintiff.
Christopher M. Kahler, Regina A. Ripley, Sara H. Gronkiewicz, Scott L. Schmookler, Gordon Rees LLP, Chicago, IL, for Defendant.
Park National Bank, Chicago, Illinois was requested to fund two sizeable ($2.9 million and $1.1 million) lease assignments by its customer, Rockwell Financial Group, Centennial, Colorado, the assignee of the two leases between Sysix Financial, Oak Brook, Illinois, and Moody Bible Institute of Chicago. Sysix leased equipment to the Bible Institute, and assigned the leases to Rockwell, which, in turn, assigned the leases to Park National Bank as collateral for a loan.
The lease schedules were purportedly signed by Sysix President John Sheaffer and by Moody's Vice President and General Counsel Robert L. Gunter, but Sheaffer had forged Gunter's signature and fabricated the entire leasing transaction, pocketing the money. Indeed, the Bible Institute never received any of the equipment described in the leases.
Park National Bank made a claim against its insurer, RLI Insurance, under its Banker's Blanket Bond.
RLI Insurance defended, making four claims.
First, the Bond insures against forgeries as to certificated securities, documents of title, and security agreements. A "lease schedule" is none of those enumerated documents.
Second, the Bank must possess the original document to be covered. The Bank possessed the two schedules but not the original Master Lease Agreement.
Third, the Bank was negligent in failing to investigate the employment of Gunter.
Finally the Bond's provisions require the loss to be "directly attributable" to the forgery. There are some surety cases out there which suggest that the loss must be attributable to a "forgery" as opposed to a loss attributable to a "forged document."
The Federal Court ruled against RLI Insurance on all defenses.
First, the court held that a lease under the Uniform Commercial Code are in fact security agreements, as they grant the right of possession, pledge an interest in the personal property, and have default provisions. Second, the court held that the Bank did possess the actual forged lease schedule. Third, the Bank relied upon the genuineness of the lease schedules for part of the loan (it made recoveries against the assignor Rockwell for the bulk of the claim) and acted in good faith. RLI was required to present evidence which suggests more than inattention on the part of the Bank, by ignoring red flags obvious on the face of documents.
Consequently, the court ruled in favor of the Bank (through the FDIC) and against the surety.
What are the lessons here for the equipment lessor?
First, I am always amazed at the lack of signature verification by financial institutions. I once prosecuted a very large, 7 figure lease, and we discovered early on that one of the guarantor's signatures was forged. When I questioned how this happened, the lessor simply stated that the sales department was "too busy" to conduct a formal closing. I was baffled by the failure of Rockwell to verify the signatures.
Second, the Bank probably did exercise "good faith," and while casting stones upon poor credit decisions is easy for the insurer, the standard for good faith is fairly low (pure of heart and empty of head).
Third, unlike the Highland Bank decision I wrote about earlier this year, the credit decision of Park National Bank was made exclusively on the signatures on the security agreement. The credit decision was made with Rockwell, not the Bible Institute.
The bottom line to this case is that a lease is probably a security agreement for purposes of the blanket bond's terms. Such bonds are awfully good vehicles for insuring against routine forgeries, but as suggested in the Highland Bank case, may not be used as credit insurance.
FDIC as Receiver for Park National Bank (14 pages)
http://www.leasingnews.org/PDF/FDIC_Park%20National%20Bank.pdf
Tom McCurnin is a partner at Barton, Klugman & Oetting
in Los Angeles, California.
Tom McCurnin
Barton, Klugman & Oetting
350 South Grand Ave.
Suite 2200
Los Angeles, CA 90071
Direct Phone: (213) 617-6129
Cell (213) 268-8291
Email: tmccurnin@bkolaw.com
Visit our web site at www.bkolaw.com
Previous Tom McCurnin Articles:
http://www.leasingnews.org
Previous Tom McCurnin Articles:
http://www.leasingnews.org/Conscious-Top%20Stories/leasing_cases.html
[headlines]
--------------------------------------------------------------
"May I leave certain employers and jobs off my resume? "
Career Crossroad---By Emily Fitzpatrick/RII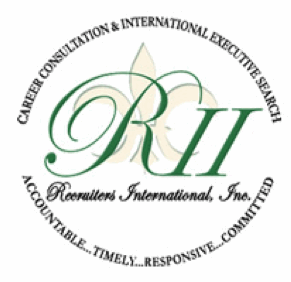 A resume is an overview of your career history and you do not have to include everything that you ever did on it. If you have a lot of work history, just the last 10-15 years is suggested. However, if over 15, I recommend listing the company and title of all employers IF the role is related to the position for which you are applying. You may list under Other Experience or Previous Employment.
Note that there are no employment laws which dictate that you must include all work experience whether short (three months or less) or long term. However, on the formal application, they will require a listing of all your experience, including short-term roles. If you fail to do so, the employer might assume you were holding back information when they go to conduct a background check.
When the interviewer compares the resume to the application, be prepared to explain why you have not included short-term experience on the resume.
How to Handle Leaving...off your Resume:
1. Short Term Jobs: it will be easier to discuss during the interview, e.g. not relevant to your current goals. Include a short sentence a brief explanation (if you do it for one position you must do this for all as consistency is important in any resume)
2. Long Term Jobs: just don't, you do not want to have any gaps in your resume (if you left on bad terms, then you need additional advice, see previous articles).
It is my strong recommendation to include all employers and positions over three months in length. Use techniques in structuring your resume to de-emphasize these short stints and keep the focus on more compelling experiences.
If you leave a job off your resume (I recommend against this), and asked about it, explain that you did not feel the position was relevant to the position, or maybe you took the position to generate income until you found the right opportunity.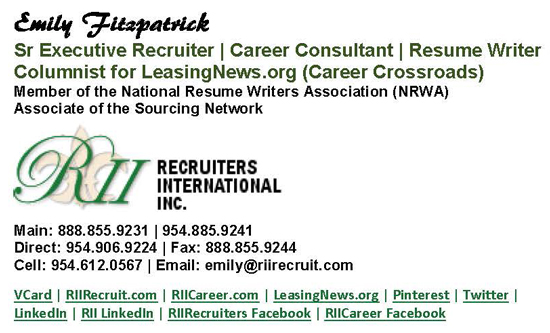 Career Crossroads Previous Columns
http://www.leasingnews.org/Conscious-Top%20Stories/crossroad.html
[headlines]
--------------------------------------------------------------
[headlines]
--------------------------------------------------------------
Boxer/Siberian Husky Mix, Female
Bend, Oregon Adopt-a-Dog


Animal ID 31993305
Breed: Boxer/Siberian Husky
Age: 4 years 6 months 10 days
Sex: Female
Size: Large
Color: White/Black
Declawed: No
Housetrained: Yes
Site: Humane Society of Central Oregon
Location: Dog Kennels
Intake Date: 6/24/2016
"I cannot wait to find my forever home! I am a Boxer/Husky mix around 4.5yrs old. Sadly I was brought to HSCO after my owners moved and were unable to take me along. In my previous home I lived with children, other dogs and learned some minimal training. Staff at HSCO have learned since my arrival that I could be adopted to a home with cats and children as well as other dogs with a meet-and-greet prior to adoption. Once adopted there is a possibility that strangers coming to our house will scare me so an understanding home with time for positive training would be ideal. I walk well on leash and cannot wait to find my perfect match in life. Won't you come adopt me today?
Adopt and enroll this pet in a Trial of Insurance (accident coverage).
Call 1-866-600-2584 to learn more today!
Humane Society of Central Oregon
61170 S.E. 27th St., Bend
541/382-3537
Open M-F 10am-5:30pm
Saturday 10am-5pm
Closed Sundays & major holidays
Adopt a Pet
http://www.adoptapet.com/
[headlines]
--------------------------------------------------------------
Online Newspapers
http://www.leasingnews.org/Newspapers.htm

((Please click on ad to learn more))
(Leasing News provides this ad "gratis" as a means
to help support the growth of Lease Police)
[headlines]
--------------------------------------------------------------

News Briefs---
U.S. has more untapped oil than Saudi Arabia or Russia
"incredible 264 billion barrels of oil reserves"
http://money.cnn.com/2016/07/05/investing/us-untapped-oil/index.html
American Express to Offer Loans
Does Merchant Advance/Now Working Capital Credit Advance
https://merchantfinancing.americanexpress.com/
merchantfinancing/index.htm
Why UK asset management jobs could start heading to the U.S.
May Not Be Overnight, Most Jobs Can Be Done Anywhere
http://news.efinancialcareers.com/uk-en/248856/the-buy-side-responding-to-brexit
Dan Gilbert and other Yahoo suitors will offer their next round
of bids this week for the faded internet giant
http://www.crainscleveland.com/article/20160705/BLOGS03/160709928/dan-gilbert-and-other-yahoo-suitors-will-offer-their-next-round-of

Senior Credit Analyst

- Minimum 5 years of small ticket/high volume equipment finance underwriting experience preferred
- Relocation benefits available for the right candidate
- For a complete job description, please click here

Senior Credit Analyst - Transportation

- Minimum 5 years of small ticket/high volume equipment finance underwriting experience preferred
- Relocation benefits available for the right candidate
- For a complete job description, please click here
www.pawneeleasing.com
Established in 1982, Pawnee Leasing Corporation located in Fort Collins, CO specializes in commercial equipment leasing and financing up to $150,000 to smaller, closely-held business enterprises. Pawnee Leasing is a U.S. subsidiary of Chesswood Group Limited, a publicly-held specialty financial services company based in Toronto, Canada (TSX:CHW).

[headlines]
--------------------------------------------------------------


--You May Have Missed It
Enterprise Rent-A-Car Founder Passes Away
Largest Buyer/Seller of Cars/Trucks in the World
http://www.nytimes.com/2016/07/03/business/jack-taylor-founder-of-enterprise-rent-a-car-dies-at-94.html

[headlines]
--------------------------------------------------------------
SparkPeople--Live Healthier and Longer

Frozen Melon Kabobs
https://recipes.sparkpeople.com/recipe-detail.asp?recipe=2690362
[headlines]
--------------------------------------------------------------
"Voices of the Game"
by J. Kyle
You see fans holding their radios here and over there,
Intently watching the game, yet listening with care.
Some think us strange that we bring our transistorized friend,
Then they sit too close, and try to listen in.
So many, many voices of baseball present and past,
A very select few can make you feel that home run blast.
The team in the booth at times is the best,
The fans can hope for along with the rest.
Some of these voices have now faded away,
Going, going, gone to their final play.
The restless nights they talked us to sleep,
Just waiting for someone to take one deep.
Harry was the greatest Cub there ever could be,
There will never be another like him at ol' Wrigley.
Vin Scully still bleeds that Dodger blue,
While Scooter will always be a Yankee too.
Nuxhall and Brennaman are my favorite radio men,
They have been a duo since way back when.
I was a boy when I first heard that familiar winning call,
"This one belongs to the Reds" now has its own place in the Hall.
So the next time you search for the game on TV,
Turn the volume way down, grab a radio, and you will soon see.
The voices of the game do much more than that old screen,
They bring you the nation's game in a fashion unseen
(also recommended for Football games, too.)

[headlines]
--------------------------------------------------------------
Sports Briefs----
Kevin Durant makes Warriors most hated team in league
Golden State no longer cute; they are now the villains
http://www.eastbaytimes.com/marcus-thompson/ci_30089628/thompson-kevin-durant-makes-warriors-most-hated-team
[headlines]
--------------------------------------------------------------


California Nuts Briefs---
California Superior Courts Get 9 New Judges
http://www.courthousenews.com/2016/07/05/california-superior-courts-get-9-new-judges.htm
SF Bay Area Suburbs Ranked as Safest Places to Live
http://www.sfgate.com/local/article/Safest-Bay-Area-cities-ranked-8339223.php
Mom and pop doughnut shops are busy with loyal customers
http://photos.mercurynews.com/2016/07/05/mom-and-pop-donut-shops-are-busy-with-loyal-customers/#1
[headlines]
--------------------------------------------------------------



"Gimme that Wine"

http://www.youtube.com/watch?v=EJnQoi8DSE8

Wine Spectator Grand Awards Class of 2016
https://restaurants.winespectator.com/index/grand_awards_2016
Paul Draper of Ridge Vineyards to Retire
http://www.nytimes.com/2016/06/29/dining/winemaker-ridge-vineyards-paul-draper-retire.html?_r=2
V. Sattui Winery celebrates 40 Years in the Napa Valley
http://napavalleyregister.com/wine/v-sattui-winery-celebrates-years-in-the-napa-valley/article_afe7a536-54c3-539e-a6c3-8f23c3111624.html
Wine from Drew Bledsoe? Ex-athletes keep up competition at vineyards
http://www.si.com/nfl/2016/07/01/rick-mirer-drew-bledsoe-wine-patriots-retired-athletes
Ohio wineries face challenging conditions
http://napavalleyregister.com/wine/ohio-wineries-face-challenging-conditions/article_8bb69da4-0574-5798-8b46-7567ccd6009d.html
A Wine of One's Own? They'll Drink to That
http://www.nytimes.com/2016/07/03/business/a-wine-called-duke-of-juice-theyll-drink-to-that.html?ref=business
Pete Downs named acting president of
Family Winemakers of California
http://www.northbaybusinessjournal.com/industrynews/wineindustry/
5815673-181/pete-downs-family-winemakers-california?artslide=0
These Trump Wine Reviews On Amazon Will Make America Great Again
http://www.bustle.com/articles/147374-these-trump-wine-reviews-on-amazon-will-make-america-great-agai
Sparkling/Rose/Cabernet Sauvignon-Trump Winery
http://www.trumpwinery.com/


Free Mobile Wine Program
http://leasingnews.org/archives/Feb2010/2_26.htm#mobile
Wine Prices by vintage
http://www.winezap.com
http://www.wine-searcher.com/
US/International Wine Events
http://www.localwineevents.com/
Leasing News Wine & Spirits Page
http://two.leasingnews.org/Recommendations/wnensprts.htm

[headlines]
----------------------------------------------------------------
This Day in American History
1526 - The first European settlement, San Miguel de Guadalupe, in what is now South Carolina, was established by Lucas Vazsquez de Ayllon, who led some 500 or 600 settlers from Hispaniola to this coast location. The site of the settlement was thought to be just north of the Peedee River. Many of the settlers died of fever. After Ayllon succumbed himself on October 18, the approximately 150 surviving settlers returned to Hispaniola. The Spanish were the first group interested in this part of the Americas: Juan Ponce de Leon discovering Florida, claiming it for the King of Spain. Members of his expedition reached the Mississippi River, and Juan Rodriquez Cabrillo not only went as far as Mexico, but in 1542, also landed near what is now Ballast Point, San Diego. He then discovered Santa Catalina Island, San Pedro Bay, the Santa Barbara Channel, and other West Coast landmarks, which bear the names he gave them today.
1699 – The pirate, Captain William Kidd, was captured in Boston
1747 - American naval officer, John Paul Jones (1747-92), was born at Kirkcudbrightsire, Scotland. Remembered for his victory in the battle of his ship, the Bonhomme Richard, with the British frigate Serapis, on Sept 23, 1779. When Jones was queried: "Do you ask for quarter?" he made his famous reply: "I have not yet begun to fight!" Jones was victorious, but the Bonhomme Richard, badly damaged, sank two days later.
1757 - Birthday of William McKendree (1757-1835) in King William County, VA. Colonial American church leader. In 1808, he was ordained the first American-born bishop of the Methodist Episcopal Church.
1775 - Congress issued the "Declaration of the Causes & Necessity of Taking up Arms," listing grievances but denying intent to be independent.
1776 - The Pennsylvania Evening Post of Philadelphia was the first newspaper to publish the Declaration of Independence.
1785 - Congress unanimously resolved that US currency be named "dollar" and adopted decimal coinage
1847 - Birthday of Ellen Martin Henrotin (d. 1922), Portland, ME. Wealthy U.S. widow who used her money to make the 1893 Chicago World's Fair the national focal point for feminist activity. Most importantly, she led a committee that forced the closing of hundreds of brothels in Chicago and brought about the downfall of the flourishing "white slavery" trade in which women were kidnapped into prostitution.
1866 - Birthday of Mina Miller (1866-1947), the seventh of eleven children. She met Thomas Edison at the home of a mutual friend of her father and Edison, the inventor Ezra Gilliland. Her future husband claims he taught her Morse code so that they could converse in secret, even while the family watched. This is how Edison claims he proposed marriage and how she responded "yes." The two married on February 24, 1886 and moved into Glenmont, the Edisons' new home, after their honeymoon in Florida. At age twenty, the new Mrs. Edison became a stepmother to first wife Mary's three children. It was not an easy task. She was less than ten years older than stepdaughter Marion. Although Mina tried to nurture her new family, Marion later described Mina as "too young to be a mother but too old to be a chum." Her role as Mrs. Thomas Edison was also difficult: Edison frequently stayed late at the laboratory and forgot anniversaries and birthdays. Yet he seemed to love his "Billie." A note found in one of Mina's gardening books reads, "Mina Miller Edison is the sweetest little woman who ever bestowed love on a miserable homely good for nothing male (sic)." As Thomas Edison supervised his "muckers" down the hill (at his laboratory), Mina hired and supervised a staff of maids, a cook, a nanny and a gardening staff. She even called herself the "home executive." After 1891, she, not her husband, owned the house. (This protected the house from being seized to pay Edison's debts if he went bankrupt). Four years after Edison died, Mina married childhood sweetheart Edward Everett Hughes. The two lived in Glenmont until Hughes died in 1940, when she once again adopted the name of Mrs. Edison.
1858 - Lyman Reed Blake (1835-83) of Abington, MA, obtained patents for the McKay stitching machine, which revolutionized shoe manufacturing, creating a new industry for New England, providing inexpensive and well-made footwear. The upper was lasted upon the insole by means of tacks driven through the insole and clinched against the steel bottom of the last. The outsole was then attached to the insole and upper by the McKay sewing machine, which made a chain stitch through and through to the inside of the shoe. The surface of the insole was then covered by a lining. The machine was first put in use by William Potter and Sons, Lynn, MA, in 1861. It was probably foot powered.
1899 - Birthday of Mignon G. Eberhart (1899-1996) in Lincoln, NE. U.S. mystery writer whose writing career spanned 57 years (1929-1988) and included 59 books. She commonly used brave, plucky women in exotic locations. Many of her books became Hollywood movies.
http://www.mignoneberhart.com/
1871 - The first baseball game between an all-white team and an all-African American team was played in Chicago, IL. The African-American Uniques beat the Alerts by a score of 17-16.
1912 – Construction began on Ebbets Field in Brooklyn with the laying of the cornerstone. Club owner Charles Ebbets had acquired the property over several years, starting in 1908, by buying parcels of land until he owned the entire block. This land included the site of a garbage dump called Pigtown, because of the pigs that once ate the fill there and the stench that filled the air.
1921 - Birthday of Nancy Davis Reagan (d. 2016), former First Lady, wife of the late Ronald Reagan, 40th president of the US, was born Anne Frances Robbins in New York, NY.
1925 - Birthday of TV host, singer, entertainer, business executive Merv Griffin (1925-2007), was born in San Mateo, Ca. He got his first start here in San Francisco on my old alma mater KRFC on the Old Don Lee Network. As much as perhaps anyone in television history, Merv contributed in a variety of ways. Perhaps the most enduring are his game shows that include "Wheel of Fortune" and "Jeopardy", both of which are still going strong.
1928 - At Potter, NE, severe thunderstorm drops huge hailstones. One measured 5.5 inches in diameter, with a circumference of 17 inches and weighed 1.5 pounds!
1932 - Cubs shortstop Bill Jurges was shot twice in a Chicago hotel room by a spurned girlfriend, Violet Popovich Valli.
1932 - Singer Della Reese was born Delloreese Patricia Early in Detroit, MI. She started her career in the 1950s as a gospel, pop and jazz singer, scoring a hit with her 1959 single "Don't You Know". In the late 1960s, she had hosted her own talk show, "Della", which ran for 197 episodes. Through four decades of acting, she is best known for playing Tess, the lead role on the 1994–2003 television show "Touched by An Angel". In more recent times, she became an ordained New Thought minister in the Understanding Principles for Better Living Church in Los Angeles, California.
1933 - Major League Baseball Holds First All-Star Game: The first midsummer All-Star Game was held at Comiskey Park, Chicago, IL. Babe Ruth led the American League and became the first to hit a home run in an All-Star game. The AL defeated the National League 4-2. Prior to the summer of 1933, All-Star contests consisted of pre-and postseason exhibitions that often found teams made up of a few stars playing beside journeymen and even minor leaguers.
1936 - 114ø F (46ø C), Moorhead, Minnesota (state record)
1936 - 121ø F (49ø C), Steele, North Dakota (state record)
1936 - During an All-Star break exhibition game against the St. Louis Cardinals' Gas House Gang, after the first batter was thrown out trying to bunt, a 17-year old farm boy from Van Meter, Iowa named Bob Feller struck out 8 consecutive batters. It is the rookie's first appearance in a Major League uniform.
1941 - A center field monument dedicated to Lou Gehrig, the first of the current six, was unveiled by the Yankees. The memorial is a tribute by his teammates of their beloved captain who died last month of amyotrophic lateral sclerosis.
1946 - "43," George W. Bush, 43rd President, former governor of Texas, was born in New Haven, CT.
1946 - Birthday of Sylvester Stallone, actor, director, in New York, NY.
1947 - Top Hits
"Peg o' My Heart" - The Harmonicats
"I Wonder, I Wonder, I Wonder" - Eddy Howard
"Chi-Baba, Chi-Baba" - Perry Como
"It's a Sin" - Eddy Arnold
1947 - Allen Funt (1914-99) debuted with "The Candid Microphone" on ABC Radio. Later, on August 10, 1948, "Candid Camera" became a smash TV hit and made Funt a star. Funt also produced the film "What Do You Say to a Naked Lady?" using his hidden camera concept.
1949 – "The Quiz Kids" premiered and my good friend Ken Kelly of Goodwill and the Salvation Army was one of the winners. This show began on radio and continued on TV with the original host, Joe Kelly, and later with Clifton Fadiman. The format was a panel of five child prodigies who answered questions sent in by viewers. Four were regulars, staying for weeks or months, while the fifth was a "guest child." The ages of the panelists varied from 6 to 16.
1953 - "Name That Tune" was a musical identification show that appeared in different formats in the 50's and the 70's. Red Benson was the host for the NBC series and Bill Cullen (and later George DeWitt) was the CBS host. Two contestants listened while an orchestra played a musical selection, and the first contestant who could identify it raced across the stage to ring a bell. The winner of the round then tried to identify a number of tunes within a specific time period. After 11 years, the show was brought back with Richard Hayes as host. In 1974, new network and syndicated versions appeared.
1955 - Top Hits
"Rock Around the Clock" - Bill Haley & His Comets
"Cherry Pink and Apple Blossom White" - Perez Prado
"Learnin' the Blues" - Frank Sinatra
"Live Fast, Love Hard, Die Young" - Faron Young
1955 - Governor William Grant Stratton of Illinois signed into law a state requirement that all automobiles be equipped with frame holes to which seat belts could be fastened, the first state to mandate this requirement. The law also required that no new motor vehicle could be registered unless equipped with seat belt attachments conforming to the specifications of the Society of Automotive Engineers.
1955 - "Baby Let's Play House" becomes Elvis' first single to place on the national charts and hits #10 on the Country & Western charts.
1955 - A landmark in music history is established on July 9th, when Bill Haley's "Rock Around the Clock" reaches number one on the Billboard chart. Many music historians will eventually acknowledge the song as a dividing line, separating Rock and Roll from everything that preceded it.
1957 - Althea Gibson of the US became the first black person to win any Wimbledon title when she beat Darlene Hard, also of the US, 6-3, 6-2 to win the women's singles championship.
http://memory.loc.gov/ammem/today/jul06.html
1957 - Paul McCartney met John Lennon for the first time when Lennon's band, The Quarrymen were playing at a church social. In the church basement between sets, 15-year-old McCartney teaches a 16-year-old Lennon to play and sing Eddie Cochran's, "Twenty Flight Rock" and Gene Vincent's "Be-Bop-A-Lula". Lennon would later say that he was impressed with McCartney's ability to tune a guitar.
1961 - The Count Basie and Duke Ellington Bands record together for the first time.
http://www.amazon.com/exec/obidos/tg/detail/-/B00000IMYM/104-4730229-5095117?v=glance
1963 - Two weeks after being released, The Surfaris' classic tune "Wipe Out" cracks the Billboard Hot 100 on its way to number two. The song was recorded as a "filler" in just two takes, but would stay in the Top 40 for ten weeks.
1963 - Three members of The United States Marine Corps at Camp LeJeune, North Carolina, who called themselves The Essex, had the number one song on Billboard's chart with "Easier Said Than Done." It was a tune that the group would later confess none of them really liked. In the studio, they rushed through the recording, intending the track to be the "B" side of their first single.
1963 - James Brown went to #2 on the US album chart with "Live at the Apollo." The LP spent a total of 33 weeks on the chart.
1971 - Top Hits
"It's Too Late/I Feel the Earth Move" - Carole King
"Indian Reservation" - Raiders
"Treat Her Like a Lady" - Cornelius Brothers & Sister Rose
"When You're Hot, You're Hot" - Jerry Reed
1961 - Cecil Francis Poole became the first black US state's attorney when he was sworn in as US attorney for the Northern District of California. He served until his retirement on Feb 3, 1970.
1963 - Top Hits
Sukiyaki - Kyu Sakamoto
Blue on Blue - Bobby Vinton
Easier Said Than Done - The Essex
Act Naturally - Buck Owens
1970 - California became the first state to adopt a "no fault" divorce law. It allowed divorces in cases of incurable insanity and irreconcilable differences. The divorce rate of more than 1 million a year was reached in 1975, when 1,036,000 divorces were granted.
1974 - The Hues Corporation had the top tune in the US with "Rock the Boat".
1977 - Peak of 10 day heat wave with 100 in Washington, D.C.
1979 - Top Hits
"Ring My Bell" - Anita Ward
"Bad Girls" - Donna Summer
"Chuck E.'s in Love" - Rickie Lee Jones
"Amanda" - Waylon Jennings
1981 - The DuPont Company of Wilmington, Delaware announced their intent to purchase Conoco, Inc. (Continental Oil Co.) for seven billion dollars. For that time, the merger was the largest in corporate history. Until a final sum of $7.7 billion closed the deal, the bargaining continued. The result of the merger was the creation of the seventh largest industrial company in the United States.
1986 - Pocatello, ID sets new record with 35, coldest for July
1987 - Top Hits
I Wanna Dance with Somebody (Who Loves Me) - Whitney Houston
Alone - Heart
Shakedown - Bob Seger
That was a Close One - Earl Thomas Conley
1989 - Despite retiring May 29, Phillies' 3B Mike Schmidt was elected to start the All-Star game.
1990 - After pitching a no-hitter and losing, NY Yankee Andy Hawkins pitched a complete 12 inning game and lost, 2-0.
1994 - Top Hits
"I Swear" - All-4-One
"Regulate (From 'Above The Rim')" - Warren G
"Any Time, Any Place/And On And On" - Janet Jackson
"Don t Turn Around" - Ace Of Base
1994 - "Forrest Gump", starring Tom Hanks, Robin Wright, and Gary Sinise, is released
1996 – The Yankees' closer, John Wetteland, set a record of 20 consecutive saves en route to 24. At season's end, Wetteland was traded to the Texas Rangers, opening the closer role for Mariano Rivera.
1998 - Se Ri Pak, of Korea, rolled in an 18-foot birdie putt to defeat amateur Jenny Chuasiriporn on the second hole of sudden death and win the 1998 US Women's Open at Blackwolf Run GC in Kholer, WI. The two golfers had finished the regulation 72 holes tied at six-over-par and had battled evenly at two-over— through an 18-hole playoff. Both parred the first extra hole, the first sudden-death hold in the history of the tournament. By winning, Pak became the youngest Open champ in history at 20, and only the second golf on the LPGA tour to win two major championships in her rookie year. Her earlier victory had come in the McDonald's LPGA Classic.
2000 - The American Sportscasters Association named Dodgers legend Vin Scully as the No. 1 sportscaster of the 20th century, ahead of Howard Cosell, followed by Mel Allen and Red Barber. The Dodgers veteran broadcaster's then 51-year career included play-by-play of 25 World Series and 12 All-Star Games. Scully announced that 2016 will be his final year behind the mike, all for the Dodgers.
2001 - Playing in the 101st different park since 1876, the Cubs beat the Tigers in Comerica Park, 15-8. The Cubs win for the first time in Detroit in 56 years dating back to Game 3 of the 1945 World Series when Claude Passeau threw a 3-0 shutout in Briggs Stadium.
2002 - Daryle Ward becomes the first player in the brief history of
Pittsburgh's PNC Park to hit the Allegheny River on the fly. His fifth inning towering grand slam, which is estimated to travel 479 feet, help the Astros to rout the Pirates, 10-2.
2013 - 3 people are killed and 181 are injured after a Boeing 777 crash lands at San Francisco Airport.
2014 - The state of Washington legalizes recreational marijuana, becoming the second U.S. state to do so after Colorado.

-------------------------------------------------------------

SuDoku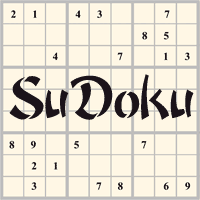 The object is to insert the numbers in the boxes to satisfy only one condition: each row, column and 3x3 box must contain the digits 1 through 9 exactly once. What could be simpler?
http://leasingnews.org/Soduku/soduko-main.htm
--------------------------------------------------------------

Daily Puzzle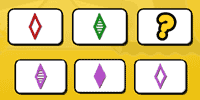 How to play:
http://www.setgame.com/set/puzzle_frame.htm
Refresh for current date:
http://www.setgame.com/set/puzzle_frame.htm
--------------------------------------------------------------


http://www.gasbuddy.com/
http://www.gasbuddy.com/GB_Map_Gas_Prices.aspx
http://www.gasbuddy.com/GB_Mobile_Instructions.aspx
--------------------------------------------------------------

Weather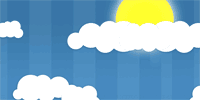 See USA map, click to specific area, no commercials
--------------------------------------------------------------

Traffic Live---
Real Time Traffic Information
You can save up to 20 different routes and check them out with one click,
or type in a new route to learn the traffic live
--------------------------------