[headlines]
--------------------------------------------------------------

Classified Ads---Senior Management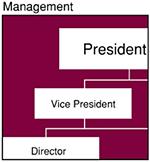 (These ads are "free" to those seeking employment
or looking to improve their position)
Europe
25+ yrs exper. management roles Chase, AT&T Capital, Heller Financial, SFS. Develop biz from "scratch to success". Looking for challenging & pioneering job.
Email: frans@alliedproperty.net
NY, NJ, PA, DE
Proven abilities in Client Management, Business Development, Operational Efficiency, and Asset Management. Results-oriented, develops strategies to build and strengthen business, improve customer experience.
cedenicola15@yahoo.com/ resume
Philadelphia, PA
27 yrs. exp. sales, ops., credit, strategy, P&L mngmet. Most recently created & executed the biz plans for 2 highly successful Bank-owned small ticket leasing subsidiaries.
email: mccarthy2020@comcast.net
Southern CA
20 years exp. as hands-on leasing CFO, managing accounting, treasury, FP&A, including securitizations, Great Plains/FRx, budgets, risk management. MBA. Also available as interim Controller/CFO, consultant.
Email: leasecfo@gmail.com
Free Posting for those seeking employment in Leasing:
http://www.leasingnews.org/Classified/Jwanted/Jwanted-post.htm

All "free" categories "job wanted" ads:
http://www.leasingnews.org/Classified/Jwanted/Jwanted.htm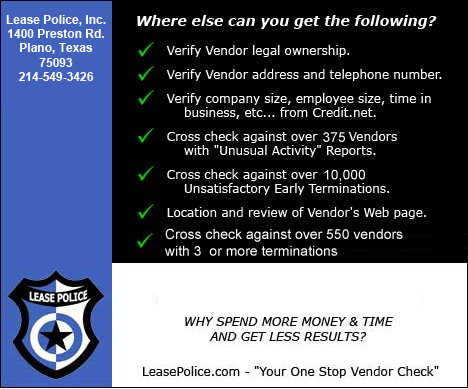 (Leasing News provides this ad "gratis" as a means
to help support the growth of Lease Police)

[headlines]
--------------------------------------------------------------

Reaction to Charles K. Schwartz Sentencing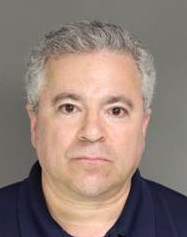 Charles K. Schwartz
CEO Allied Health Care Services
Born: September 18, 1953
Weight: 185 Pounds
Hair Color: Gray
Eye Color: Brown
Complexion: Light
(mug shot: Essex County Corrections Facility)
Tuesday morning the news of the sentencing was sent out using Constant Contact to subscriber, plus was added to our web site News Edition: Allied Health Care Service Founder and President Charles K. Schwartz, age 57, sentenced 16 years and three months in prison; ordered Schwartz to pay $80 million in restitution. He and his company are in bankruptcy. We haven't heard from the IRS regarding the fraudulent tax returns and escaped income on accelerated and straight line depreciation for non-existent equipment.
Jacob T. Elberg, Assistant United States Attorney, United States Attorney's Office, District of New Jersey, lead attorney, and his staff did an excellent job, speedy fashion, and they deserve great credit.
Compare it with the Equipment Acquisition Resources or HL Leasing, and maybe even Operation Lease Fleece, going on for years.
As for reaction, I can't print them, as the language is pretty strong and suggestions for what he should do, definitely "X-rated." Many different suggestions.
As for the reality, Schwartz will undoubtedly get 50% for time served (including before trial) and an extra 15% if he contributes extra work while in prison ( working in the library), so he could get out in 1/3 the time sentenced.
Bruce Donner, owner of Donner Medical Marketing, Inc. pleaded guilty to one count of mail fraud before U.S. District Judge Susan D. Wigenton in Newark federal court. Sentencing is scheduled for Jan. 11, 2012.
Leasing Companies and banks are out $80 million.
Kit Menkin, editor

Bloomberg Story on Sentencing:
http://www.bloomberg.com/news/2011-11-22/allied-health-care-founder-charles-schwartz-gets-16-years-in-leasing-fraud.html?cmpid=yhoo#
Previous Stories:
http://www.leasingnews.org/Conscious-Top%20Stories/allied_health.html


-----------------------------------------
Please send Leasing News to a colleague and ask them to subscribe.
No charge---We are Free!!!


New Business Volume Continues Up!
by Kit Menkin



MLFI-25 New Business Volume (Year Over Year Comparison)

click to make larger
(ELFA chart)
Despite the large drop from September, 2011 $7.1 billion new business volume, in comparing October with the third quarter, there is not much difference. As important, comparing the previous fourth quarters, and despite Congress trying to kill the economy to elect a new president, I am going to be bold to say the trend continues up, and the fourth quarter of 2011 will be the best in the last four years.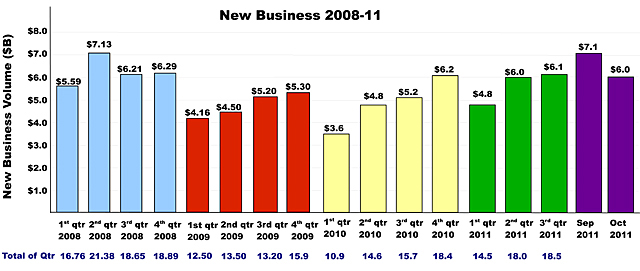 (Leasing News chart)
View the following charts where aging of receives has improved as well as and note credit approvals are steady as well as average losses, credit approval are steady.
From an employee's viewpoint, the employee numbers are down, but from a management employer view, automation, software, internet applications, just plain efficiency has greatly improved to have so many positive numbers with fewer employees.

ELFA Charts

Aging of Receivables:


click to make larger
Average Losses (Charge-offs) as a % of net receivables
(Year Over Year Comparison)


click image to make larger

Credit Approval Ratios As % of all Decisions Submitted
(Year Over Year Comparison)


click image to make larger
Total Number of Employees
(Year Over Year Comparison)
click image to make larger
The ELFA press release quotes Jim McGrane, President, EverBank Commercial Finance, a company grown from Tygris and its acquisitions the last few years.


Jim McGrane, President
"We were pleased to see healthy year over year new business volume growth in October coming off a strong quarter end. Portfolio performance continues to stand out with delinquencies and charge-offs hovering near historical lows—a comforting trend in this uncertain economic environment. Continued growth in investment in equipment and software along with a substantive increase in the Monthly Confidence Index causes us to have confidence in future industry performance."

The November monthly Equipment Leasing and Finance Foundation reported the confidence level had risen from the October index of 50.7 to 57.4.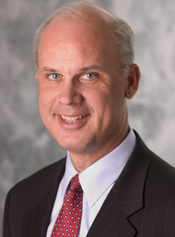 Thomas Jaschik, President, BB&T Equipment Finance
When asked about the outlook for the future, survey respondent Thomas Jaschik, President, BB&T Equipment Finance, said, "For 2011 the industry is doing surprisingly well given the lackluster U.S. economy. The strong 2011 results for the industry can be attributed to historically low interest rates and the availability of 100 percent bonus depreciation."


Valerie Hayes Jester, President, Brandywine Capital Associates, Inc.
"The industry seems to be faring better than most segments of the commercial lending markets. We are beginning to see activity of business expansion for some of our clients. We are also experiencing some level of a stronger cycle of equipment replacement underway. Although there is still much uncertainty, small businesses that are profitable are beginning to move forward at a more aggressive pace than we have seen in the past six months."



Russell Nelson, President, Farm Credit Leasing Services Corporation
"Cautious optimism on current economic conditions improving modestly over the next 6-18 months, continued pent-up demand/need to replace equipment in the near term, and a favorable interest rate climate should drive continued increases in equipment finance volume."
Executive, Large Ticket, Bank
"Business activity remains steady despite the headline news about a potential double dip and economic head winds."
ELFA MLFI-25 Participants
ADP Credit
BancorpSouth Equipment Finance
Bank of America
Bank of the West
BB&T Bank
BMO Harris Equipment Finance Company
Canon Financial Services
Caterpillar Financial Services
CIT
De Lage Landen Financial Services
Dell Financial Services
EverBank Commercial Finance
Fifth Third Bank
First American Equipment Finance
GreatAmerica
Hitachi Credit America
HP Financial Services
Huntington Equipment Finance
John Deere Financial
Key Equipment Finance
M&T Bank
Marlin Leasing
Merchants Capital
PNC Equipment Finance
RBS Asset Finance
SG Equipment Finance
Siemens Financial Services
Stearns Bank
Suntrust
Susquehanna Commercial Finance
US Bancorp Equipment Finance
Verizon Capital
Volvo Financial Services
Wells Fargo Equipment Finance
[headlines]
--------------------------------------------------------------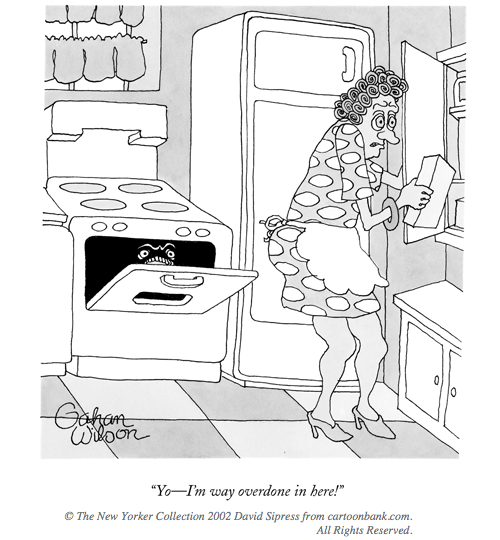 [headlines]
--------------------------------------------------------------
Please send Leasing News and ask them to subscribe. We are Free!
----------------------------------------------------------------

Leasing News Advisors/Contributors:
Celebrating Thanksgiving
From advisors and contributors, in chronological order as asked for their Thanksgiving plans.

Emily Fitzpatrick, Recruiters International

"Spending time with family in Thanksgiving in Sunny South Florida.

"Recruiters International contributed to local Broward County Homeless Shelter for Thanksgiving meals - a little contribution can mean so much to a few families!"
Terry Winders, CLP
"We have a family gathering at our home in Louisville, Kentucky---and we also invite 6-7 single people that have no relatives."
Ed Castagna, InPlace Auction
"My parents live in Westbury, Nassau County, New York. Around the corner (within walking distance from our house) my sister Denise will be there as well as my dad, and the rest of the family. I've been finding some great Spanish wines lately (under $20) and will bring some. Try to find the 2009 Can Blau blend from Mont Sant. $19. It's really good!
Ken Greene, Hamrick & Evans

"I will be staying home in Westlake Village, Southern California, with my family and our neurotic dogs. Doing nothing really, but in fact looking forward to doing nothing, something I have had far too little of lately. A few days of eating, napping, playing some music, and watching the raindrops, is more than I could ask for.
"Happy Thanksgiving to you, your family, the Board and theirs, and the LN readers."
Ken
Bruce Kropschot, The Alta Group

"We are having good friends from Philadelphia visit us in The Villages, Florida, for the Thanksgiving holiday. As usual, we will eat too much and promise to start dieting on Friday!
"Happy Thanksgiving to my Leasing News friends."
Bruce Kropschot
Tom McCurnin, Barton, Klugman & Oetting

"We had a washer hose break on our washer located on the second floor, and generate about 1,000 gals of water through our home, taking with it 4 ceilings and three floors, including our basement and our two furnaces.
"We will probably spend ThanksGiv huddled around our fireplace in the dark."
Tom
(Lives near USC, Los Angeles, California)

Don Myerson, BSB Leasing

"Tomorrow 11/22 I will hop on a plane from Denver and head to the beautiful island of Kauai to spend Thanksgiving with my beautiful wife and kids who left me stranded all alone for the past 10 days in the cold. I'll arrive just in time to cook up a traditional Thanksgiving meal for my family of 6 and 15-20 waifs and orphans that don't have anything or anyplace better to go. My wife cooks 362 days a year. Me? Thanksgiving, Christmas and Easter!
"While all my friends and co-workers freeze their crescent rolls off in Colorado, the family and I will be stuffing ourselves with all the traditional Thanksgiving fare including Macadamia Nut stuffing, Maui Sweet Potatoes' Soufle', Turkey and Kailua Pork, my sister's favorite Sagaponick Corn Pudding.
"After dinner we'll stroll down to Kit's favorite beach, Shipwreck beach to body board and work off dinner in the waves ( okay, I'll probably take a nap on the beach ! ) All this while giving thanks to God for all the blessings he has bestowed on me and my family.
"Have nothing to do? Please stop by. There is always room for one more."
Don

Rosanne Wilson, CLP, B.P.B, 1st Independent Leasing
"My husband told me that we are going to break all traditions this year. He said 'I won't let you slave at the stove for days and have you fussing over the kids and grandkids and getting yourself all worn out like you do every year.' Instead, he is taking me to Spirit Mountain Casino, Grand Ronde, Oregon * to enjoy the wonderful Thanksgiving buffet with over 100 items to choose from.
"Thanksgiving has always been in our home so I had to gently tell the kids we won't be home for Thanksgiving this year. They actually took the news well and told us to have a wonderful time. It was easier than I thought! Maybe you folks ought to try it some time. After we finish our buffet, I hope to try my luck on the slot machines and the Blackjack table. I'm feeling lucky!
"Happy Thanksgiving everyone."
Rosanne
Allan Levine, Madison Capital

"My wife and I are headed from Baltimore, Maryland to Westchester, New York, to spend the Holiday with one of my three children, her husband, and 2 of my 6 grandchildren. My son-in-law is a gourmet cook and will slave to get Turkey day food ready for 14 guests. While working away, he and I will analyze the economy, and anything else in the world that needs "FIXIN". In theory, we will solve most of the world problems (or, maybe the vodka will). I will play with the kids, then sit back and watch some football. My wife will charge her batteries and rest up for Black Friday NY shopping. No jealousy here."

"And, for this snap shot in time, I will give thanks for my family's health and happiness.
Best wishes and be safe. "
Allan
Phil Dushey, Global Financial Services

"Usually every year for the last 15 years or so, my wife and I have gone away for the holiday. Sometimes alone or with friends or even one of my children. This year we have decided to have an old fashioned Thanksgiving dinner. We are going to one of my daughters home in Manhattan, only twenty minutes from home, and all of my children and grandchildren are getting together to celebrate. Everyone is cooking and bringing food and I am sure to gain at least five pounds. We should have about twenty of us.
"This has been a challenging year for me as well as for most of the people I know. I am sixty seven years old and have never seen the world in such an unstable position as we have now and the future is very unsure. For me the only thing that is real is the family I have built and Thanksgiving is a time to reflect and get in touch with the true happiness that surrounds us. This Thanksgiving give everyone in your family extra hugs and kisses. Put any problems you have in life on the side and truly be happy. This is a great time of the year so take a little time out and "ENJOY WHAT IS REALLY IMPORTANT."
Happy Thanksgiving Phil Dushey

Andrew Lea, NetSol
"My wife Susan and I will be joining with other family members at the home of her sister and brother-in-law. Their place (where Susan and I were married 3-1/2 years ago) is in Inverness, California, on the western edge of Marin County, just north of San Francisco. It overlooks the Point Reyes National Seashore, adjacent to the Pacific. And -- in keeping with local custom -- the meal will be a crab feed -- and a celebration of the opening of the new crab season here in the Bay Area."
Happy Thanksgiving to all,
Andrew
Hugh Swandel, the Alta Group
"The Canadian Thanksgiving was October 10th this year. I plan to avoid all airports and spend some time at home with my family."
Hugh Swandel
Fernando Croce, Motion Picture Critic/Reviewer

"I will be visiting my parents and brothers in Southern California for a big turkey dinner, and hopefully catch up with the platter of Oscar hopefuls opening this weekend."
"Have a marvelous Turkey Day!"
Fernando
Cupertino, California
Shawn Halladay, The Alta Group

"I am returning to SLC (via a day in Toronto) after visiting my son in Auburn, California I will meet my daughter in the airport, as she is flying in from Oregon for the holiday. We will then swing by home and pick up my wife, Karen, and drive to Great Falls, Montana to spend Thanksgiving with her sister and family. Nothing traditional with them, other than good food and fun, but we always stop at Smittie's Pancake House in Idaho Falls on the way and can pretty much count on a blizzard or crazy road conditions between Butte and Helena. No special wine, but we are bringing the Yukon Gold spuds!"
Shawn
Bernie Boettigheimer, CLP, Lease Police

"Three generations of the Boettigheimer family, with the exception of one grandson who will be sorely missed, will congregate at our house in Dallas on Thursday. We have much to be thankful for this year and our mid –day turkey and trimmings will be in celebration that we still live in the greatest country in the world. After the good food, fine wine and lively conversations about all current events we'll settle down at 3:15 PM to watch the Cowboys play. GO COWBOYS!"
Bernie

Ginny Young, retired Leasing

"My husband and I will be spending Thanksgiving at our second home in Lake Arrowhead, CA. My sister Linda from Three Rivers, CA will join us. Another sister, Loni and 4 of her adult sons and her 17 year old daughter will be with us too. They all live in Lake Elsinore, CA.
We will eat a lot of great food (Linda is a chef), play poker and various board games, and sit in front of the fire and drink very fine California Cabernet. I am still rehabbing from knee replacement surgery, so I don't have to do anything except open the front door and let everyone in. I will be spoiled this long weekend.
"The Happiest of Thanksgivings to all of you."
Ginny
John Kenny, Receivables Management

"We'll be cooking up a traditional New England Thanksgiving Feast.
(John lives on a farm in Mohawk, New York, upper state, and his barn holds his office. editor)
"The turkey will be soaking in apple cider and sage starting tonight. It ought to be nice and juicy and flavorful after roasting in our wood-fired brick oven. Homemade cornbread for the stuffing.
"The squash, potatoes, onions and herbs will all be home-grown (though there will not be much more than mashed potatoes, gravy and turkey on my plate). We even make the cranberry sauce from scratch.
"Since family will be out of town, we don't have to leave the house and we don't have to entertain, except for one very special friend. I'll be thankful for that. Oh, and I get the couch after dinner.
"Happy Thanksgiving, to you, your family and everyone reading this."
John Kenny
Rick Jones, webmaster
After three years in California, I will be back in Florida with family. For the first time in about 10 years all my brothers and sisters will be celebrating Thanksgiving toghether. Needless to say my mom and dad are very happy.
All told we will have 17 people eating a traditonal Thanksigiving dinner, including a turkey and a ham. My mom will bake three or four pies for the grand feast. The women will do the cooking and the men will watch football....I guess we are stuck in the 60's!
Best of wishes to all on Thanksgiving and thank you for reading Leasing News.
Rick Jones
Kit Menkin

"Thanksgiving is often just the two of us as the kids go to their inlaws. Christmas is the big holiday here, the night before with a traditional fresh San Francisco Dungeness crab dinner, the morning with great Frittata, and evening dinner with roast beef, Yorkshire pudding, garlic mashed potatoes, stuffing, and pumpkin and lemon meringue pie. I can't wait.
"Sue's youngest daughter, single, who is an on line chef at a 1 star Los Gatos restaurant, will make Thanksgiving this year, and has invited a very close friend who's father died of cancer last year, and a friend from New York, who's family is back east. It will be Gourmet and haven't decided the wine, perhaps 2001 Paraduxx from Duckhorn Vineyards and French or California Beaujolais Nouveau (the French 2011 didn't get good reviews, plus the California has more fruit—I'll buy Wednesday). And yes, beer with Thanksgiving. I let people choose. I like having the young people for dinner as they laugh at my jokes and humor (everyone else has heard the stories or viewpoint before, I am told)."

Happy Thanksgiving
Kit and Family


* Spirit Mountain, Grand Ronde, Oregon is about a one hour drive from where I live & very close to the Oregon Coast. It is owned and operated by the Confederated Tribe of the Grand Ronde Indians. Oregon is big Indian country and has many different tribes here. They are allowed to open Casinos, but private companies cannot. I've visited several of the Casinos in Oregon and they are all fabulous. They have great entertainment shows as good as Las Vegas. The buffet at Spirit Mountain is unbelievable.
http://spiritmountain.com/casino
Rosanne Wilson, CLP

[headlines]
--------------------------------------------------------------
BancLease Acceptance Corporation Joins
Companies who notify lessee in advance of lease expiration
and require their discounter to also notify lessee in advance


Banclease Acceptance Corporation
8200 Springwood Dr., Ste 240
Irving, TX 75063

"The 10% residuals we write are PUT's which the lessee has to pay/ contractual payment w/ no payment continuation if they miss the date. They are just required to pay the PUT. The pure FMV's leases we write are just that: pay the then FMV, return the equipment or re-lease for a reduced amount agreed upon by both parties/ not evergreen/ no automatic payment continuation. Most of the FMV leases we write are $1MM+ w/ negative stream rates to large hospitals for tier one medical equipment, who typically return the equipment @ the end of term.

"We are always fair with our lessees & try to notify them on all $1.00 out; however if they miss the day we still honor the $1.00 out. Executing/ enforcing an evergreen clause on a $1.00 out lease in our opinion is just wrong/ unfair."

Ron Mitchell, SVP
(click on name to go to their statement)
Full List:
http://www.leasingnews.org/Pages/lease_expiration.html


Gary DiLillo, President 216-658-5618 or gary@avptc.com

Comprehensive personal property tax outsourcing services.
Click here to see what our clients say about us.
The object is to insert the numbers in the boxes to satisfy only one condition: each row, column and 3x3 box must contain the digits 1 through 9 exactly once. What could be simpler?