Red Socks versus Redbirds
World Series opens at Fenway on Saturday; Sox face St. Louis
Friday, October 22,2004
Headlines---
Classified Ads---Asset Management
Pictures from the Past—December, 1978-Fred Shieman
The 30 Year History of UAEL---Part IV
IPA Names Nation's Best-Managed Accounting Firms
Cyence Solutions Offer Electronic Signature
Online Invoicing Services from IDS and Avolent
Golden West Financial Services
Changing of the Guard at Bank of the West
Preferred Capital/American Lease Insurance
########  surrounding the article denotes it is a "press release"
-------------------------------------------------------------------------------
Classified Ads---Asset Management
Austin, TX.
20+ years exper. lease/finance. P & L responsibility, strong credit & collection management, re- marketing& accounting. Computers, construction, auto & transportation. Both commercial/ consumer portfolios.
Email: kmalone@austin.rr.com
Bloomfield Township, MI.
15+ yrs experience asset management and credit analyst. Leadership and training skills. Audited returns, max residual, lease end and resale negotiator. 
E-mail: cmcozzolino@msn.com
Chicago, IL.
MBA, 15+ years exp. Long history of success in maximizing residual position through outstanding negotiation skills & lease contract management. Third party re-marketing, forecasting etc...
Email: jgambla@aol.com
Oxnard-Hollywood Beach, CA.
19 Years w/Equity Analysis/Placement and Residual Forecasting of Computer Assets. Portfolio Manager for Two Major Lessors and Strong Analyst Background w/Leading Information Services Firm.
Email: GregoryMLorenz@aol.com
Princeton, NJ.
Asset management/credit/collection
20+ years experience in equipment financing. Last five years in Asset Management including remarketing, end of lease negotiations, equipment and market evaluations
E-mail: bgaffrey@earthlink.net
  92 "Job Wanted" ads at:
http://64.125.68.90/LeasingNews/JobPostings.htm
-------------------------------------------------------------------------------
Pictures from the Past—December, 1978-Fred Shieman
"Western Association of Equipment Lessors elected a new slate
of officers for 1979 at the Maui Conference.  The income president is Fred Shieman of California Group Services in San Francisco. Shieman has been active in WAEL since its early formative days, and served the association as vice president for 1978 and earlier as secretary treasurer.
"WAEL's new president started his firm, a real estate financing development operation, in 1971. IN the early years the firm concentrated in construction equipment, leasing and conditional sales contracts.  They developed some combination types of financing of real estate and equipment along with concurrent equipment leasing, and later provided some leasing services for manufacturers and equipment vendors.
"Fred graduated from the University of California, Berkeley, and reports he has one wife, two children.  They live in Walnut Creek, and Fred is still not used to the commute to San Francisco where he opened offices a year ago.  His hobbies include flying, sailing and working."
While flying by himself, Shieman's plane crashed due to bad weather conditions.  According to Duane Russell, CLP, who submitted the above poem for the February, 1990 UAEL Newsline, "Fred died doing what he loved.  He loved flying."
High Flight
A poem by John Gillespie Magee, Jr.
Oh, I have slipped the surly bonds of earth
And danced the skies on laughter-silvered wings;
Sunward I've climbed and joined the tumbling mirth
Of sun-split clouds—and done a hundred things
You have not dreamed of—wheeled and soared and swung
High in the sunlit silence, hov'ring there,
I've chased the shouting wind along and flung
My eager craft through footless halls of air
Up, up the long, delirious, burning blue
I've topped the windswept heights with easy grace
Where never lark or even eagle flew.
And, while with silent, lifting mind I've trod
The high, un-trespassed sanctity of space,
Put out my hand and touched the face of God.
At the time of his departure, Fred D. Shieman was chairman of the board, Matsco Financial Corp., Walnut Creek, California. His son Matt assumed his father's position, including becoming more active in several leasing associations and community organizations; grew the company into a national entity via the securitization market, then sold it to Greater Bay Bank, a conglomeration of San Francisco Bay Area banks, originally in San Mateo and Santa Clara County, now growing into other counties. He continues as the leader of the Matsco Companies.  Through rough weather, Matt Shieman continued to pilot the direction, growing the Matsco Companies into "... the leader of professional practice lending for the dental community since 1983. Working with the veterinary community since 1999, Matsco has already established itself as the premier specialty lender in
that market."
• Practice acquisition & start-ups
• Expansion and improvement projects
• Equipment purchases
• Commercial real estate purchases
• Business refinancing & lines of credit
"Matsco is the only practice financing company endorsed by American Dental Association Member Advantage."
Fred would be very proud of his son Matt and the solid company
he has built to carry on the Shieman tradition of leadership
and personal involvement in the industry and society.
-------------------------------------------------------------------------------
The 30 Year History of UAEL---Part IV
by Kit Menkin
"UAEL ANNOUNCEMENT
Date: December 29, 2000
To: Members of UAEL
This announcement is made with great pleasure; Joan Dalton is appointed Managing Director of United Association of Equipment Leasing, effective January 1, 2001.
Travis Foxx, Merchant Capital, with United Association of
Equipment Leasing's always effervescent Joanie Dalton.
"In assuming this new assignment, Joanie replaces Dr. Raymond Williams, Ph.D., CAE whose resignation was announced in October.
While Joanie's assignment will embrace many functions, her greatest contribution will come from these three areas:
a.. Involvement - Getting our members active on committees
b.. Networking - Bringing members together through regional events,
   conferences and online
c.. Education - Providing current and timely topics Joanie is a native of San Francisco and continues to live in the City with her husband and two daughters.
UAEL - United Association of Equipment Leasing
IT'S ALL ABOUT SUCCESS: Involvement * Networking * Education"


### Press Release ######################
November 20,2001
Ex-WAEL Prez to Be New Chief Executive Officer
Joe Woodley, CLP,  is the new full-time  United Association of Equipment Leasing  ( UAEL )Chief Executive Officer.  He will continue at Westover Financial.  Steve Jones is the president of Westover. He was president of the organization in 1987, when it was the Western Association of Equipment Lessors
( WAEL )..
Joanie Dalton,  former executive  former meeting planner, executive director, has been elevated to Chief Operating Officer.
" This is a very, very positive move for our association, " Joanie Dalton said." It is also both very positive for me personally and professionally…to have a mentor such as Joe Woodley is perfect.  We can provide more benefits to our members. 2002 will be an exciting year for UAEL."
Bill Grohe, who was president of the organization in 1991 when it was WAEL, remains as
membership director.
Since the departure of long time executive vice-president Dr. Raymond Williams, CAE,  Joanie Dalton along with the executive committee, utilized "outsourcing" to keep the budget in line.
 2001 president Chuck Brazier, CLP, Centerpoint Financial,
says it is " time to get the executive committee out of running the office and to spend more time with members, listening to them, providing solutions, and being more active.
"This will provide consistent leadership, giving Joanie more time to run the office, work on conferences.  It will give management more time to work with members, plus give time to the executive committee to meet with committees, make committees work, and bring balance back to our organization."
Brazier said  the 2001 UAEL board meeting along with the 2001 UAEL
Board UAEL board meeting in Hilton Head, South Carolina produced many positive changes....
" We need to get the executive board and board back to member services, " he said. " Joe is doing this job out of the love for the association, as Bill Grohe is doing…not for the money."
### Press Release ##############
RE: Appointment of Joe Woodley, CLP as CEO
TO: Kit Menkin
FROM: President Chuck Brazier, CLP.
Vice-President Bob Fisher, CLP
Secretary-Treasurer Bette Kerhoulas, CLP
Immediate Past President Bob Rodi, CLP
2002 Secretary-Treasurer Elect Jim Coston
The UAEL Board of Director's selection of Joe Woodley, CLP is part of UAEL's continued thrust to provide its membership with the best possible leadership and is but one piece of a full revitalization of UAEL beginning during the end of 2000.
At the end of 2000, we empowered a search committee to find a Managing Director. Joanie Dalton stepped up and won the support of the committee as well as support of the Board of Director's. Now we have the opportunity to tap the experience of a long-time member and Past President in the newly appointed position of CEO to further develop not only the UAEL focus but also the staff.
Joe Woodley, CLP has the full support of the staff and the Board of Directors. The members who know him personally know he will do the job successfully. He will make a tremendous difference in 2002. Also, this will allow the Board of Directors more time to communicate with and be involved in the
membership needs.
As incoming President, Bob Fisher, CLP said in Leasing News; "Challenges are met with action and not fear of the future." While he was not writing about this subject, his statement clearly explains the fundamentals of why we chose a person with such rich leasing experience as Joe Woodley, CLP.
During my tenure, we worked diligently to build a more stable UAEL foundation. Now, with Bob Fisher, CLP as President, Joe Woodley, CLP as Chief Executive Officer, Joanie Dalton as Chief Operating Officer and Bill Grohe as Director of Membership, the members will reap the rewards of the experience and history they each have to offer.
UAEL has been very successful offering the best education, the development of the CLP Program, and providing a forum where each member firm has the right to vote on issues. UAEL will continue this success because of the strong foundation that has been established which allows the Executive Committee and Board of Directors more time to develop new and exciting educational events, networking opportunities and ways for members to get involved. Remember, "It's All About Success: Education, Networking and Involvement".
### Press Release ############
1986 Western Association of Equipment Lessors President Ted Parker, Charter Equipment Leasing (left) admonishes 1987 President-elect Joe Woodley, Westover Financial, IN. to " talk softly and carry a big stick" as he passes the gavel.
Joe Woodley turns gavel over to Ben Millerbus,1998 President
November, 1987 WAEL Newsline
December, 1985 WAEL Newsline introduced 1986 officers: "WAEL
Vice-President Joe Woodley, is president of Westover Financial, Inc., San Clemente, CA.  He served as WAEL's 1985 Secretary/Treasurer and a member of the Executive Committee.
  "Joe has been active in the leasing industry for 15 years, starting with a position with the Burroughs Corporation after his graduation from the University of Albuquerque. He was involved in private leasing in 1972 and 1975-77, spending the interim years with St. Paul Leasing.  He was Vice President/Marketing at Colonial Pacific Leasing Company from 1977-85.
  " Joe has been on the WAEL Board of Directors since 1982, and was Program Chairman for the Spring Conference in 1985.  He served as Board Liaison to the Brokers Committee in 1983, and the Membership
Committee in 1984, and was Chairman of the Management Review Committee and Government Affairs Task Force.
"His special responsibility for 1986 will be the WAEL Local Meetings, for which he will supervise and assist the 11 Regional Chairpersons in program planning and development."
June 26,2002 Joan Dalton "leaves"
" United Association of Equipment Leasing Executive Committee, Bob Fisher, CLP President; Bette Kerhoulas, CLP Vice President; James Coston, Secretary/Treasurer and Chick Brazier, CLP Immediate Past President, along with Joe Woodley, CEO of UAEL announced today that Joanie Dalton, COO of UAEL has submitted her resignation effective July 3rd, 2002.
Joanie has been with UAEL since March of 1999.  Mrs. Dalton has decided to pursue another opportunity outside the non-profit Association arena.
The Officers, Board of Directors and Staff of UAEL wish her success in her new endeavor."
Bob Fisher, CLP
CEO
UAEL Elects First Female President
Oren Hall, emeritus member, former president of the United Association of Equipment Leasing (UAEL), made the motion from the floor, and President Bob Fisher, CLP, made the announcement, " In the first 26 years of our association, we  now have a female president, Bette Kerhoulas, CLP.
2000
Bette Kerhoulas, CLP
Pacifica Capital
("Winner of Closest to the Pin")
"As this years UAEL President I am genuinely excited about the entire 2003 Board and its composition, " then UAEL President Bob. Fisher, CLP added in the announcement. ".  Bette heads into 2003 with a solid board with a broad cross section of UAEL member's interests represented.  I have know Bette since the mid 1980's and have found her to be a true leader within our industry and a successful business owner with a pulse on the industry as well as a solid, professional reputation."
The choice of the Oakland office came from former executive director Jon Bednerik, who lived on a boat in the marina near Jack London Square in Oakland, California.  With Joan Dalton gone, Joe Woodley commuting from Southern California, the best prerogative was to
change the location.
"The move of the UAEL office was determined to be feasible when the Landlord agreed to allow UAEL to terminate its lease.  The Landlord found a new tenant to occupy the facility without any penalty to UAEL.  The savings to UAEL will be substantial; the new lease is 2/3's per month less than the old lease.  The phones were to have been live, Azin is to handle incoming calls. Bill Grohe is settled in his home office ( in San Francisco )and continues to handle business.
 "The economic benefit to the membership should be immediate!"
Bob Fisher, CLP
CEO
Jim McCommon, CLP, UAEL Media Representative, issued a press release on behalf of the board of directors that the move would be made by December 1,2002.
(I had planned to up-date from the 30th Anniversary Conference, but due  to a family illness all plans were changed, so I was not able to attend the October 21-24 Monterey Conference to conclude this series.  Hopefully this section will be up-dated next week. editor.)
In the interim, here are:
UAEL 2005 Board of Directors Nominating Committee
Chair: Bette Kerhoulas, CLP—Past President—Pacifica Capital
Chris Jupka, CLP—Montana Commercial Credit, LLC
Stephanie Manganaro—LeaseTeam, Inc.
Mohammed Ahsan—Quail Capital, Corp.
2004 Board of Directors
President Jim Coston, CLP
Coston, Fioretti & Lichtman
407 S. Dearborn #600
Chicago, IL 60605
Phone: 312-427-1930
Fax: 312-427-7356
Email: jcoston@costonlaw.com
Immediate
Past President Bette Kerhoulas, CLP
Pacifica Capital
8105 Irvine Center Drive
Irvine, CA 92618
Phone: 949-727-3711 x227
Fax: 949-727-3722
Email: bettek@pacifica-capital.com
Vice President Terey Jennings, CLP
Financial Pacific Leasing, LLC
3455 S. 344th Way
Federal Way, WA 98001
Phone: 888-239-8338
Fax: 800-447-7106
Email: tereyj@finpac.com
Secretary/Treasurer Victor Harris
Law Offices of Victor Harris
1050 Northgate Drive, #360
San Rafael, CA 94903
Phone: 415-479-8000
Fax: 415-479-8111
Email: vhlaw@prodigy.net
Board Members Bob Baker, CLP
Wildwood Financial Group, Ltd.
16292 Westwoods Business Park
Ellisville, MO 63021
Phone: 800-373-3581
Fax: 877-235-0808
Email: baker@wildwoodfinancial.com
John Donohue
Direct Capital Corporation
215 Commerce Way
Portsmouth, NH 03801
Phone: 603-431-3335
Fax: 603-430-9701
Email: jdonohue@directcapital.com
Randy Haug
LeaseTeam, Inc.
11510 Blondo Street, Suite 200
Omaha, NE 68116
Phone: 402-493-3445
Fax: 402-493-3433
Email: randy@leaseteam.com
Marci Kimball-Slagle, CLP
Jim Lahti, CLP
Heritage Affiliated Corporate Services, LLC
401 East Corporate Drive, Suite 250
Lewisville, TX 75057
Phone: 972-221-7335
Fax: 972-221-7336
Email: jrl@acsitx.com
Ron Lear
PFF Bank & Trust
6731 Brentwood Drive
Huntington Beach, CA 92648
Phone: 714-960-7837
Fax: 714-960-6427
Email: learlease@aol.com
Jim McCommon, CLP
McCommon Leasing Company
2800 Northup Way, Suite 205
Bellevue, WA 98004
Phone: 425-827-7345
Fax: 425-827-6386
Email: jim@2lease.com
Paul Menzel, CLP
Santa Barbara Bank & Trust
PO Box 60607
Santa Barbara, CA 93160-0607
Phone: 800-653-2737 x1650
Fax: 800-350-1600
Email: paulm@sbbt.com
Tom Mulally
Szabo, Spencer & Mulally
14156 Magnolia Boulevard
Sherman Oaks, CA 91423
Phone: 818-784-8700
Fax: 818-784-5406
Email: tom@ssmlaw.com
Brad Peterson
Manifest Funding Services
1450 Channel Parkway
Marshall, MN 56258
Phone: 507-532-7194
Fax: 800-433-6185
Email: jb.peterson@themanifestgroup.com
Rudy Trebels, CLP
IFC Credit Corp.
8700 Waukegan Rd, Suite 100
Morton Grove, IL 60053
Phone: 847-663-6710
Fax: 847-663-6704
Email: rtrebels@ifccredit.com
UAEL Staff Joe Woodley, CLP
Executive Director
78120 Call Estado, Suite 201
La Quinta, CA 92253
Phone: 760-564-2227
Fax: 760-564-2206
Email: jwoodley@uael.org
Bill Grohe
Director of Marketing
189 Galewood Circle
San Francisco, CA 94131
Phone: 415-681-2234
Fax: 415-681-0113
Email: bill@uael.org
Mike Wood
General Manager
78120 Calle Estado, Suite 201
La Quinta, CA 92253
Phone: 760-564-2227
Fax: 760-564-2206
Email: mike@uael.org
-------------------------------------------------------------------------------------------------------- 
IPA Names Nation's Best-Managed Accounting Firms
AccountingWEB.com -- INSIDE Public Accounting named 25 public accounting firms from across the country as the nation's best-managed accounting firms for 2004, based on fiscal and management performance. (See list below.)
The firms, featured in the October 2004 issue of INSIDE Public Accounting, range in size from $267 million to less than $2 million in net revenue. They cover diverse geographic locations, stretching from New England to the Pacific coast. Size and geographic location are not criteria for inclusion on the list.
IPA's best-managed accounting firms are selected from the hundreds of firms that participate in the publication's annual survey of accounting firms. The selections are based on more than 30 criteria that serve as commonly accepted indicators of great management of accounting firms. They include (but aren't limited to) revenue growth, profitability and profitability growth, human resources and staff issues, management of resources and rewards to owners.
IPA selects the nation's 25 best-managed accounting firms annually and refers to them as IPA's "Best of the Best." The publication also selected 25 firms as "Best Of The Best Honorable Mentions," which serve as runners-up and complete IPA's 2004 list of the 50 best managed firms in the nation. The full list of IPA's "Best of the Best" can be found at www.hudsonsawyer.com.
"We use a rigorous process for selecting the 25 best-managed accounting firms. This designation is one of the most elite honors an accounting firm can receive, because it's based entirely on fiscal and operational performance," said Julie Lindy, editor of INSIDE Public Accounting. Added Martha Sawyer, publisher of INSIDE Public Accounting, "The management standards and performance of these 25 firms are second to none among accounting firms nationwide. It's our pleasure to bestow this distinctive and prestigious honor on each of them. They truly represent the best of the best in the realm of accounting firm management."
2004 Best of The Best
America's Best Firms Based on Fiscal and Management Performance
http://leasingnews.org/PDF/IPA_names2.pdf
2004 Best of The Best Honorable Mentions
America's Best Firms Based on Fiscal and Management Performance
http://leasingnews.org/PDF/IPA_names3.pdf
Classified Ads---Help Wanted
Brokers

Brokers. We get deals done! We can help you make more money. We are on top of the changing marketplace with more sources due to our volume. Must have 4 years of leasing experience w/ strong client base. 70% Commission, 70% Residual. Barbara Griffith bgriffith@socalleasing.com or 714-573-9804
About the company: SCL has been in business for 12 years. We are contracted with multiple funding sources which enables us to provide more competitive rates and flexible terms and conditions.
Funding/Loan Processor

Funding/Loan Processor: Irvine, CA. Experienced Lease/Loan Processor to join growing operations staff. Must be organized and very detail oriented. Leasing experience helpful but not main determinant.
Vendor Sales Specialist: Experienced in developing relationships & vendor programs. Will need to establish/head our new vendor division. Must be knowledgeable in all aspects of leasing from the broker lessor perspective.
Please E-mail resume to: elang@nationwidefunding.com
About the Company: Nationwide Funding, with its prime location in Southern California and offices in Chicago, has been able to secure specialized credit facilities and create funding partnerships with a wide variety of financial institutions. This diversity allows us to be a complete funding partner for your business.
Dealer Credit Finance Analyst / Dealer Credit Finance Services Supervisor
National Account Manager

National Accounts Mgr: Truck/Trailer Industry. Must generate minimum of $500K/month. Click here for detailed description & resume submission info.
Trinity Capital, a subsidiary of Bank of the West, is a national leader in the equipment financing industry with a consistent presence and superior reputation.
Vendor Account Executive

Vendor Account Executive: Troy, MI, Proven sales exp in developing vendor relationships. Must be knowledgeable in all aspects of leasing. Strong communication skills. Send email to resume@leasecorp.com
About the Company: Lease Corporation of America is a well established, 16 year old, national equipment leasing company.
----------------------------------------------------------------------------
### Press Release ##############################
Dan Stone receives 'Ebby' for service to leasing industry and The OVLA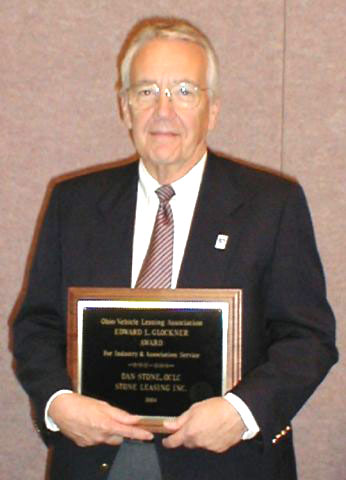 COLUMBUS – A former president of The Ohio Vehicle Leasing Association and long-time leasing activist was awarded The OVLA's Edward L. Glockner Award or "Ebby" at the Association's 48th year Fall Leasing Conference here Thursday, Oct. 21.
Dana H. (Dan) Stone, OCLC, the owner-president of Stone Leasing Inc., Columbus, received the award in recognition of his years of service to the vehicle leasing industry and The OVLA.
Stone joined The OVLA in 1977 and after holding several offices served as president of the largest and oldest state association representing the vehicle leasing industry in the nation in 1997 through 1998. He currently is the Association's secretary-treasurer.
He earned his Ohio Certified Lease Consultant or OCLC designation with the first class in 1997. The 16-hour education program was initiated ". . . to provide a cadre of well-trained lease consultants who can, together with their employers, prosper, while separating the professional from the ordinary through the attainment of knowledge and a high standard of conduct."
Stone and his wife Jane reside in the Columbus suburb of Upper Arlington and have two daughters and two grandsons.
Nominations from members are sought by The OVLA for the "The Ebby" which was created by the Board of Directors in 1994 to recognize individual effort and is named for Edward L. (Ebby) Glockner, the retired owner of Quality Car & Truck Leasing Inc. and Glockner dealerships, Portsmouth.
Glockner served CATRALA of Ohio Inc., the parent organization of The OVLA, and the Car Renting and Leasing Conference of Ohio, a predecessor to The OVLA in a number of capacities from 1977-89.
One of Glockner's last jobs was to assist with the transformation of Car Conference into The OVLA in 1989. He attended the 48th year Fall Conference Thursday as well as the 48th year Convention last May.
Previous Glockner Award Winners:
1994 – Louis N. Vitale and Gary Huff of Bank One Acceptance Corp., Columbus
1995 – Robert L. Geier of CalCorpCo, Solon
1996 – Jeffrey S. Larger of NFS-QAL Sales & Leasing Services, Columbus
1997 – Mark VanNest of MotorWerks Inc., Dayton
Contact: Dick Lightner  at 1.800.369.5633    or
   ovla @uautolease.com
### Press Release #######################
Repo Trends Vary By Industry, Business Quarter
ROSLYN HEIGHTS, NY., —Nassau Asset Management's NasTrac Quarterly Index (NQI) indicates that repossessions of tractor-trailer trucks declined 70 percent in the third quarter (Q3) compared with the same time frame in 2003--welcome news for lenders and truckers following an upswing in repos mid-year.
"This summer truck repossessions climbed 33 percent between first and second quarter, when truckers were battling rising fuel and insurance costs," says Edward Castagna, senior executive vice president of Nassau. "What we saw in Q3 was in line with the overall decline in equipment repossessions that began in 2003."
Repossessions of machine tools, a closely watched barometer of economic activity, dropped 72 percent in Q3. This finding correlates with other indicators within the manufacturing industry. In August, U.S. machine tool consumption to date in 2004 was up 38.4 percent compared with 2003, according to the Association for Manufacturing Technology and the American Machine Tool Distributors Association.
Repossessions of medical devices in Q3 declined by 15 percent, a nominal change, according to Castagna. However, other sectors experienced significant fluctuations over the summer:
 Repossessions of printing presses were up 88 percent compared with Q3 2003, plus have risen consistently over all three quarters of 2004. Castagna says this trend may be partly due to consolidation taking place within the industry, as noted in the National Association for Printing Leadership's November 2003 report, "Economic Recovery No Cure-All."
Repossessions of construction equipment increased by 57 percent compared with Q3 2003.  Castagna says this is the first time in 2004 that construction repos have risen compared with 2003. When comparing each of the three quarters to date in 2004, in fact, construction repos have actually declined or flattened .  Other economic indicators show that construction spending in 2004 as of August was up 9.4 percent over 2003, according to the U.S. Commerce Department's Census Bureau.  Nassau is watching the construction sector closely to determine if the Q3 increase was due to greater front-end volume or an early indication that construction businesses are responding to economic pressure.
The current NQI reports on the top five repossessed capital assets in Q3 2004, which include trucks/trailers, printing presses, medical devices, machine tools and construction equipment, according to Nassau's internal records on liquidations. Readers should keep in mind that results must be viewed over several quarters to establish long-term trends since all industries experience cyclical changes.  
Nassau also tracks many other equipment types as a function of its nationwide remarketing operation, which liquidates all types of assets. Finance companies and industry analysts can contract with Nassau to dig deeper into the numbers, determining the root causes for trends and researching specific equipment types.  Companies can use their private reports to help mitigate risk in portfolios and/or provide useful economic indicators to their own clients.
About Nassau
Nassau Asset Management of Roslyn Heights, NY, has been providing full-service asset management, including large-scale end-of-term fleet liquidations, full plant liquidations, asset recovery, collections, remarketing, and appraisals for more than 25 years to the equipment leasing and finance industry.
For more information, please visit
www.nasset.com or call
1-800-4.NASSAU.
### Press Release #######################
Cyence Solutions Offer Electronic Signature
No more faxing, overnight couriers, and imaging systems
St. Petersburg, FL,—Cyence International customers have yet another way to reduce transaction time and cost in loan and lease processing.   Electronic signature capability is now available in the ExpressOS™ and Express CS™ solutions, thanks to the company's new alliance with Seattle-based DocuSign Inc.  
"DocuSign Express™ software gives Cyence ExpressOS™ and Express CS™ users a simple, secure service for document signing," says Cyence COO Greg McIntosh.  "Documents can be delivered for certified delivery or electronic signatures to anyone who has email and a browser.  No hardware is required at the point of signature, and identities can be easily verified."
"DocuSign's patented technology is like a digital overnight express envelope," says Court Lorenzini, CEO of DocuSign.  "Our architecture is designed for the seamless delivery and signing of any document from any application, so it easily integrates with current business processes." The recipient only needs email and a browser to securely sign online.
According to Lorenzini, senders simply print documents into a DocuSign Express™ "Instant Envelope." From there, they place Stick-eTabs™ wherever the recipient's signature or initials are needed.  When the document is sent, its contents are encrypted and stored in a secure repository on a central server. Recipients then receive email invitations to authenticate, review, and sign the documents using a unique DocuSign Electronic Signature, which the system creates and secures for each signer.
DocuSign Express fully complies with all requirements of the Electronic Signatures in Global and National (ESIGN) Commerce Act of 2000, federal legislation mandating that online signing provides the same legal effect as paper-based signatures, and is a fully legal alternative to traditional pen-and-ink signatures.
 "Electronic signature is not only many times more efficient than the traditional use of paper and costly delivery services," says McIntosh.   "It also enables the rapid completion of contracts for our customers—bringing faster deployment, healthier margins, and potentially higher revenues.  We look forward to providing the many benefits of the e-signature service as part of the Cyence collaborative solution sets."
About Cyence International Inc.:
Cyence International Inc. is a leading provider of Web Services software solutions for the world's banking, manufacturing, and equipment finance markets. Its software solutions, ExpressOS™ and ExpressCS™, imbed industry best practices and enable real-time, online collaboration in the end-to-end
finance process.
From Origination to Credit Adjudication, Document Management to Auditing, Funding, and Booking, the Cyence solution has everything needed to streamline financial transactions and achieve operational excellence. For more information,
visit www.cyence.com.
About DocuSign Inc.
DocuSign Inc. was founded in 2003 with the fundamental goal of enabling any document to be sent for electronic signature as easily as it could be printed.  During 2003, DocuSign acquired the assets of DocuTouch, a pioneer in electronic signature technology since 1998 that had already invested more than $10 million in development of the internal processes used to secure, encrypt, and distribute electronic documents.  DocuSign has leveraged these technology assets and associated patents into a unique, user-friendly, web-based service that simplifies and speeds up the process of sending, signing, and storing legal documents.  For more information on the DocuSign Express™ service, visit the DocuSign web site at www.docusign.com.
### Press Release ##########################
Lessors Can Now Offer Online Invoicing Services with
Integrated Solutions from IDS and Avolent
Equipment finance companies using IDS lease/loan accounting solutions can now reduce administrative costs with online invoice distribution, reconciliation, and payment.
SAN FRANCISCO, / -- Avolent, Inc., the leading provider of Financial Relationship Management (FRM) software, has announced the ability to integrate its BizCast solution with lease/loan solutions from International Decision Systems, Inc. (IDS), the global leader in comprehensive software and services for the equipment finance industry.  Seamless integration with Avolent's BizCast enables IDS clients using InfoLease or ProFinia to increase online customer self-service functionality without making any changes to their existing systems.
As competition continues to increase in the leasing environment, lessors are demanding new ways to improve service to their customers and differentiate their offerings from those of lower-cost providers.  When integrated with BizCast, IDS solutions enable lessees to view, pay, and manage invoices through a secure online portal. Sophisticated reports from BizCast provide advanced analytics, including insight into which assets are coming off lease, upcoming payments, and which accounts are past due.  Lessors who provide this level of control to lessees will greatly improve customer satisfaction and lower the overall costs of managing customer relationships.
"We are always looking for new and innovative ways to help our clients build complete solutions," said Gary Rose, Product Marketing Manager at IDS. "With Avolent's BizCast, we help companies using ProFinia and InfoLease by allowing greater automation and enabling better efficiencies.  Simplifying the leasing process for lessees is crucial to their success.  We are excited about partnering with Avolent because it helps our clients compete more effectively."
Using web applications provides flexibility to the leasing process. BizCast allows dynamic grouping and consolidation of charges by asset or sub- account, tools to easily design custom invoicing templates for private labeling and the most demanding customers, and the ability to initiate and resolve disputes and adjustments associated with individual assets or line items.  This level of detail and flexibility is a first in the industry. The ability to integrate BizCast seamlessly with InfoLease and ProFinia allows IDS clients to introduce this advanced level of self-service quickly and cost effectively.
"We are thrilled to be working with IDS to provide self-service capabilities across the entire lease lifecycle," states Scott Dunlap, VP of Marketing at Avolent.  "Lessors can now differentiate themselves through exceptional customer service while also reducing their costs of operations."
About International Decision Systems 
International Decision Systems (IDS) is the global leader in developing lease/loan accounting and portfolio management systems and services. Headquartered in Minneapolis, Minnesota, IDS has offices in London, Sydney, and Singapore. The company offers the largest and most experienced global consulting, implementation, and technical support teams in the leasing industry. For additional information about IDS, visit www.idsgrp.com
About Avolent 
Avolent is the leading provider of enterprise application software for Financial Relationship Management (FRM) to simplify and enhance the financial interactions between customers, employees, and partners. Avolent's award- winning FRM solutions encompass electronic invoice presentment and payment (EIPP), online account management and customer self-service, process management and workflow, enterprise employee access, and decision support. Founded in 1995, Avolent's customers and partners include some of the largest financial, manufacturing, distribution and healthcare insurance companies in the world.
For more information call
800-553-5505 or visit
### Press Release ########################
CVB Financial Corp. and Granite State Bank Jointly Announce Merger
(  Golden West Financial Services )
ONTARIO, Calif.----D. Linn Wiley, president and chief executive officer of CVB Financial Corp. (NASDAQ:CVBF) and its principal subsidiary, Citizens Business Bank, and William B. Waddell, president and chief executive officer of Granite State Bank, jointly announced today that the two financial institutions have executed a definitive merger agreement. This agreement provides for Granite State
Bank to merge with and into Citizens Business Bank. Citizens Business Bank will represent the
continuing operation.
 The definitive agreement provides that Citizens Business Bank will acquire Granite State for an aggregate purchase price of $19 per share, or approximately $27 million including costs associated with the cancellation of stock options. The total purchase price will be paid half in CVB Common Stock and half in cash in a cash/stock election merger. The transaction will be handled under purchase accounting. The transaction is subject to shareholder and regulatory approval and other customary conditions. It is expected to be completed during the first quarter of 2005.
 "We are delighted to have this opportunity to associate with Granite State Bank, and to expand our presence in the San Gabriel Valley. The Bank is a good complement to our existing franchise and our business and professional banking strategy," stated Wiley.
 "Our board of directors believes that this merger is in the best interests of our shareholders, employees and customers. We are pleased to join with Citizens Business Bank. They are a premier performing bank with an exceptional record of serving their customers. Citizens Business Bank will be an outstanding addition to our business community," commented Waddell.
 Granite State Bank was established in 1984. The bank has headquarters in Monrovia and has an office in South Pasadena. The bank had total assets of $112.7 million, total deposits of $101.9 million and total loans of $63.9 million as of Sept. 30, 2004.
 CVB Financial Corp. is the holding company for Citizens Business Bank. The bank is the largest financial institution with headquarters in the Inland Empire region of Southern California. It serves 30 cities with 37 business financial centers in the Inland Empire, Los Angeles County, Orange County and the Central Valley areas of California. Its subsidiary, Golden West Financial Services, provides vehicle leasing, equipment leasing and real estate loan services.
 Citizens Business Bank is one of the largest community banks in Southern California. They specialize in providing the full scope of financial services to business and professional clientele. CVB Financial Corp. is traded on the NASDAQ under the ticker symbol of CVBF.
CVB Financial Corp., Ontario D. Linn Wiley, 909-980-4030 or Granite State Bank, Monrovia William B. Waddell, 626-303-4661
#### Press Release ##########################
Changing of the Guard at Bank of the West
HONOLULU and SAN FRANCISCO, -- The Board of Directors of BancWest Corporation has formalized a series of executive and board changes in preparation for the upcoming retirement of Walter A. Dods, Jr. as Chief Executive Officer of BancWest Corporation and its First Hawaiian Bank subsidiary.
BancWest directors made the following appointments, effective January 1, 2005:
*  Don J. McGrath, 56, will become President and Chief Executive Officer  of BancWest.  McGrath will also become Chairman of the BancWest  board's Executive Committee.  He will also remain President and Chief  Executive Officer of Bank of the West, a BancWest subsidiary, a  position he has held since 1996.
*  Frank Bonetto and Donald G. Horner will become directors of BancWest.Bonetto is Vice Chairman, Regional Banking Group at Bank of the West.
Horner is President and Chief Operating Officer of First Hawaiian Bank 
and will succeed Dods as Chief Executive Officer of First Hawaiian on  January 1.
*  It was announced in April that Dods, 63, will retire as Chief 
Executive Officer of BancWest and First Hawaiian on December 31, 
ending a 36-year banking career.  The board today formally appointed 
him as non-executive Chairman of BancWest, effective January 1.
McGrath, a native of Springfield, Illinois, received a B.S. in Marketing from the University of Illinois in 1970 and an M.B.A., with honors, in Finance from Boston University in 1973.  After experience with Illinois National Bank in marketing and investment positions, McGrath joined the Bank of the West organization in 1975.
He was named Vice President and Treasurer of Bank of the West in 1980, and then served in various positions including Chief Financial Officer before being named as a Director and Senior Executive Vice President & Chief Operating Officer in 1988.  He was elected President of the bank in 1991, and became Chief Executive Officer in 1996.
On behalf of Bank of the west, he negotiated the 1998 merger with First Hawaiian Bank that created BancWest Corporation.  He has been President of BancWest since 1998.
Bonetto, 54, joined Bank of the West in 1992 as head of the bank's retail branch network.  He was previously a senior executive with Citibank and with American Savings Bank.  He was named Vice Chairman in 2002 of the bank's Regional Banking Group, which includes the retail branch system and business banking offices.
Horner, 54, is a 26-year employee at First Hawaiian Bank who has been the bank's President and Chief Operating Officer since 2003.  He previously served as President of its First Hawaiian Leasing and First Hawaiian Creditcorp subsidiaries and, from 1994-2003, was Vice Chairman and head of the Retail
Banking Group.
About BancWest: BancWest Corporation (www.bancwestcorp.com) is a financial holding company with assets of $41.4 billion.  It is a wholly owned subsidiary of Paris-based BNP Paribas.  BancWest is headquartered in Honolulu, Hawaii, with an administrative headquarters in San Francisco, California.  Its principal subsidiaries are Bank of the West (297 branches in California, Oregon, New Mexico, Nevada, Washington state and Idaho) and First Hawaiian Bank (61 branches in Hawaii, Guam and Saipan).
### Press Release #########################
ALI IS THE PREFERRED CHOICE FOR DEALS AND DOCUMENTATION.
BRECKSVILLE, OH – Preferred Capital (Preferred) has decreased the time it takes to fund leasing transactions by employing the American Lease Insurance (ALI) program. Jeff Eakin, senior vice president and chief credit officer remembers,  "Before we had ALI, we were managing our own insurance follow-ups – which added a lot of tension to the process. Our business is vendor-driven, and the vendor, of course, wants to make the sale. The customer wants the equipment. And we will not fund without an insurance certificate. We are sticklers for documentation. Insurance was the single biggest issue for us. Ultimately, of course, the deal would happen – but it might take a couple of weeks, and a whole lot of effort on our part. Since ALI coverage is effective at funding of each lease, we have eliminated all delays in booking due to missing insurance documentation."
Eakin selected the ALI program after talking to ALI clients who testified that the program worked as smoothly as promised. Rapid start-up was a factor, adds Eakin. "Bringing discipline to the insurance process was critical to an important relationship of ours. We needed to know we'd be up and running fast. And we were."
The ALI program is fully automated, and integrated with all major lease accounting software systems. The program provides comprehensive property and liability coverage on eligible leases for equipment valued up to $250,000 from the day they are signed. Lessees may choose to arrange their own insurance: the ALI program tracks alternate coverage to ensure that adequate coverage is maintained. Superior coverage, competitive pricing and meticulous follow-up have resulted in the highest acceptance rates in the industry. For Preferred, the benefits of the ALI program extend throughout the organization, and beyond. According to Eakin, "Our salespeople are happy. The vendors are happy. And my documentation specialist is happy, because she's doing what she's supposed to do, with better tools at her disposal."
Amy Beitzel is Preferred's legal documentation specialist, and regularly utilizes ALI's software interface when working with customers. "The software is very user-friendly," she notes, "and allows me to see just what's going on with each account, right down to contact notes from conversations with an ALI customer service representative. If our customer calls with questions, I can tell that customer exactly what's going on. It means a better experience for the customer, and it saves me a tremendous amount of time, because I don't even have to call ALI for the information."
American Lease Insurance was founded in 2000 by Steve Dinkelaker, a licensed insurance agent and broker who created, implemented, and managed lease insurance programs for almost all of the major small-ticket leasing companies. ALI, headquartered in Sunderland, Massachusetts, 45 minutes north of Hartford, Connecticut, is a member of the Equipment Leasing Association, the Eastern Association of Equipment Lessors, the United Association of Equipment Leasing, and the National Association of Equipment Leasing Brokers. ALI is the corporate sponsor of the Equipment Leasing and Financing Foundation's annual Industry Future Council. Preferred Capital, Inc. is a privately owned, national commercial equipment leasing and finance company founded in 1997. Preferred Capital currently services over 5,000 accounts in select markets with innovative funding solutions for many kinds of equipment, from small ticket leases to multi-million-dollar deals.
### Press Release #######################
-----------------------------------------------------------------
News Briefs---
Mortgage rates continue to fall
http://www.usatoday.com/money/perfi/housing/
2004-10-21-mortgage-rates_x.htm
CIT Announces Diluted EPS of $0.86 for the Quarter, Up 25% From Last Year
http://www.prnewswire.com/cgi-bin/micro_stories.pl?ACCT=683178&TICK
=CIT&STORY=/www/story/10-21-2004/0002290768&EDATE=Oct+21,+2004
Caterpillar Third-Quarter Profit Up 124 Percent
http://www.prnewswire.com/cgi-bin/stories.pl?ACCT=104&STORY=
/www/story/10-21-2004/0002291059&EDATE=
Microsoft: 1Q Earnings Up 11 Percent
http://www.washingtonpost.com/wp-dyn/articles/A52796-2004Oct21.html
The software vendor records a record profit as its server and desktop business remain the company's chief bread and butter.
http://www.internetnews.com/bus-news/
At Google, Earnings Soar, and Share Price Follows
http://www.nytimes.com/2004/10/22/technology/22google.html?oref=login
Google More Than Doubles Profits
http://www.clickz.com/news/article.php/3425251
Amazon's Profit Jumps, But It Eases Outlook
http://www.internetnews.com/bus-news/article.php/3425241
12 stranded hikers found safe
SIERRA SURVIVAL: 3 groups hunkered down, awaited help
http://www.sfgate.com/cgi-bin/article.cgi?file=/c/a/
Martha Stewart creating microwave recipes in prison
http://www.ajc.com/business/content/business/1004/21stewart.html
--------------------------------------------------------------------------------
Sports Briefs---
BRING ON THE RED SOX!
http://www.stltoday.com/stltoday/sports/stories.nsf/gordoszone/
story/6597B27146DC7E0786256F3500104B60?OpenDocument&
Headline=BRING+ON+THE+RED+SOX!
Cards reach Series for first time since 1987
http://www.ajc.com/sports/content/sports/1004/22nlcs.html
It's about time! Go crazy, Cardinal Nation
http://www.stltoday.com/stltoday/sports/columnists.nsf/jeffgordon/
story/2BB182EEC61B251386256F3500146971?OpenDocument&
Headline=It's+about+time!+Go+crazy,+Cardinal+Nation
  Where were you last night?
http://boards.boston.com/n/pfx/forum.aspx?webtag=
bc-redsox&nav=messages&tid=474&tsn=1
Lewis Fires 62 to Lead Funai Classic
http://www.nytimes.com/aponline/sports/AP-GLF-Funai-Classic.html
Former Dolphins' running back disagreed with league over drug test, wants to return
http://www.usatoday.com/sports/football/nfl/dolphins/
"Gimme that Wine"
Aussies fancy rich bouquet of U.S. wine market
http://www.usatoday.com/money/industries/food/
Robert Parker pops the corks on a dozen
100-point wines
http://www.sfgate.com/cgi-bin/article.cgi?f=/c/a/
California Cult Wine Classic October 29, San Francisco Ritz Carlton
http://www.cultwineclassic.com/
Trying to put a price on Mondavi key winery assets
http://www.napanews.com/templates/index.cfm?template=
story_full&id=6E2F84D3-30D1-4021-A84D-A38DF68430CF
Rain drenches Lompoc, California Wine
http://www.lompocrecord.com/articles/2004/10/20/news/news07.txt
Winery Index: Massachusetts
http://wine.about.com/library/wineries/bl_ma.htm
Medieval man
Sean Thackrey uses tips from ancient texts to craft unforgettable wines
http://www.sfgate.com/cgi-bin/article.cgi?f=/c/a/
This Day in American History
1721- Unofficial Birthday of  Peyton Randolph, first president of the Continental Congress, died 1775, October 22.
http://www.history.org/Almanack/people/bios/biorapey.htm
1812 -- American Mountain man Grizzly Adams born Medway, Massachusetts.
http://www.amazon.com/exec/obidos/ASIN/068816370X/
1836- Sam Houston inaugurated as  first elected president of Republic of Texas
http://www.tsha.utexas.edu/handbook/online/articles/view/HH/fho73.html
1844 -The "Great Disappointment" began when this latest date, set for the return of Christ by religious leader William Miller, passed without event. Over 100,000 disillusioned followers returned to their former churches, or abandoned the Christian faith altogether.
http://www.museumofhoaxes.com/disappointment.html
http://www.pbs.org/wgbh/pages/frontline/shows/apocalypse/
http://www.gospelcom.net/chi/DAILYF/2001/10/daily-10-22-2001.shtml
1875- Sons of the American Revolution organized.
1883-The Metropolitan Opera House opened in New York City with Charles Francois Gounod's  "Faust," sung in Italian.  Anjugusto Vianesi was the conductor.  Faust was sung by Italo Campanini, Mephistopheles by Franco Novara, Valentin by Giuseppe Del Pente, Wagner by Ludovico Contini, Siebel by sofia Scalchi, Marthe by Louise Lablache, and Marguerite by Christine Nilsson. Admission was priced at $6 for the orchestra stalls, $3 for the balcony, and 42 for the family circle.
http://memory.loc.gov/ammem/today/oct22.html
1898-Birthday of composer-pianist Ralph Yaw, Enosburg Valls, VT, arranged 40 originals for
Stan Kenton.
1903-Birthday of George Beadle, born on a farm near Wahoo, NE, Beadle began his pro­fessional career as a professor of genetics at Harvard, eventually becoming president of the University of Chicago. Dr. Beadle won many international prizes, including the Nobel Prize for Medicine in 1958 for his work in genetic research, as well as the National Award of the American Cancer Society in 1959 and the Kimber Genetica Award of the National Academy of Science in 1960. Beadle demonstrated how the genes control the basic chemistry of the living cell. Because of his work, he has been termed "the man who did most to put modern genetics on its chemical basis." Beadle died June 9,1989, at Pomona, CA.
1906- Race riot for four days in Atlanta, Georgia, ten blacks and two whites
were killed. Historians state racism prevailed until Rosa Parks and Dr. Martin Luther King, Jr. in the late 1950's (that is another story ).Lynchings of Americans was common, in the 20th century from seventy-five to one hundred per year, and it appears until the late 1920's, when it became less than 25 known lynchings per year. In 1922, an anti-lynching bill was filibustered in the US Senate.
http://www.wpba.org/jimcrow/01/crow.html
http://www.wpba.org/jimcrow/index.html
http://memory.loc.gov/ammem/aap/timelin3.html
1906 -- 3,000 blacks demonstrate and riot in Philadelphia to protest a theatrical presentation of Thomas Dixon's "The Clansman". D.W. Griffith "The Birth
of the Nation" is an adaptation of this novel turned into a play.
http://www.emedialive.com/Articles/ReadArticle.aspx?CategoryID=
1913 -- Action/war photographer Robert Capa ( real name Andre Friedmann) born Budapest, Austro-Hungary. Instrumental in forming photographer- owned outfit (Magnum) to aid photographers and distribute their work cooperatively. Capa took some of the most famous war photos ever, including anarchists and Republicans during the Spanish Revolution of 1936. Shortly after taking this photograph, Capa, who had taken numerous famous photos of D-Day in World War II, stepped on a land mine and was killed in Vietnam, May 24, 1954.
http://digitaljournalist.org/issue9711/req_images/Req02.jpg
http://www.photo-seminars.com/Fame/capa.htm
http://www.icp.org/chim/bio/caparobe.html
http://www.pbs.org/wnet/americanmasters/database/capa_r.html
1918 -- Flu epidemic strikes one fourth of all Americans, killing 200,000 in the month of October alone, killing 675,000 in the United States alone.
http://www.ninthday.com/spanish_flu.htm
http://www.stanford.edu/group/virus/uda/
http://www.pbs.org/wgbh/amex/influenza/
1922-The passage of the anti-protectionist Underwood-Simmons Act took a bite out of the nation's pocketbook. To compensate for the lost income, Congress passed the Revenue Act on, mandating the first tax on incomes over $3,000.
1928 -- President Herbert Hoover speaks of "American system of rugged individualism". "We in American today are nearer to the final triumph over poverty than ever before in the history of any land. The poorhouse is vanishing from among us. We have yet reached the goal, but, given a chance to go forward with the policies of the last eight years, we shall soon with the help of God be in sight of the day when poverty will be banished from this nation." In November he would be elected in a Republican landslide with 444 electoral votes to Alfred E. Smith 87: 21,392,190 votes to 15,016,433 for Smith.  In congressional elections the Republicans increased their majorities in both houses, leading in the Senate 56-39 with one seat going to a minor party, and controlling the House 267-167, with one seat held by a minor party.
1928-Birthday of 1928  Composer/pianist Clare Fisher Birthday
1934-Charles "Pretty Boy" Floyd is shot by FBI agents in a cornfield in East Liverpool, Ohio. Famed agent Melvin Purvis asked the dying man, "Are you Pretty Boy Floyd?" to which he replied, "I am Charles Arthur Floyd. You got me this time." Floyd, who had been a hotly pursued fugitive for four years, used his last breath to deny his involvement in the infamous Kansas City Massacre, in which four officers were shot to death at a train station. He died shortly thereafter. A folk hero to the people of Oklahoma who saw him as a "Sagebrush Robin Hood", stealing from rich banks to help the poor eat by buying them groceries and tearing up their mortgages during the robberies. Written into legend through song, in Woody Guthrie's "Pretty Boy" Floyd. He was never part of a gang, working with a few trusted accomplices. Boldly entering banks in broad daylight, never wearing a mask. A gentleman even in his crimes, always well groomed, immaculately dressed and courteous to his victims.
http://www.geocities.com/CapitolHill/Lobby/3935/
"Come gather 'round me children, a story I will tell
Of Pretty Boy Floyd, an outlaw, Oklahoma knew him well
Was in the town of Shawnee on a Saturday afternoon
His wife beside him in the wagon as into town they rode
A deputy sheriff approached them in a manner rather rude
Using vulgar words of language and his wife she overheard
Well, Pretty Boy grabbed a long chain, and the deputy grabbed a gun
and in the fight that followed, he laid that deputy down

Then he took to the trees and rivers to lead a life of shame
Every crime in Oklahoma was added to his name
Yes he took to the trees and timbers on the Canadian river shore
and the outlaw found a welcome at many a farmer's door
Yes, there's many a starving farmer, the same story told
How the outlaw paid their mortgage and saved their little home
Others tell about a stranger who came to beg a meal
and underneath the napkin left a thousand dollar bill

It was in Oklahoma City, it was on a Christmas day
Came a whole carload of groceries and a letter that did say
Well, you say that I'm an outlaw, and you say that I'm a thief
Here's a Christmas dinner for the families on relief
Well, as through the world I've rambled, I've seen lots of funny men
Some rob you with a six gun, some with a fountain pen
As through this world you ramble, as through this world you roam
You'll never see an outlaw drive a family from it's home
— Woody Guthrie
1936-First commercial flight from mainland to Hawaii. United Air Lines
that also  won the mail contract. It was over a fifteen hour trip from
the mainland.  In 1941, Hawaiian Airlines, now Aloha
Airlines, started a regular service to the mainland from Oakland, California.
1946, Aloha Airlines started regular travel.  In the early 1950's, it was
down to a twelve hour flight.
http://www.maui-activities.com/historyhawaiiairtravel.htm
1937- Benny Goodman records "Pop Corn Man," (V ).  A real rarity. Only 10 original 78's remain after a mysterious "recall"
1938- Chester Floyd Carlson, a research physicist from New York City, made the first electro photographic image on wax paper pressed against an electrostatically charged, sulfur-coat zinc plate dusted with fine dark powder.  He went on to develop Xerography, the process of making dry paper copies based on the principles of photoconductivity and electrostatics.  He patented it on October 6,1942, calling it xerography.  He failed to interest companies in producing copy machines until 1947, when the Haloid Company of Rochester, New York, licensed the process. The company, which later changed its name to Xerox, introduced its first copy machine in 1958.
1946-Top Hits
Five Minutes More - Tex Beneke
To Each His Own - Eddy Howard
South America, Take It Away - Bing Crosby and The Andrews Sisters
Divorce Me C.O.D. - Merle Travis
1950-Charles Cooper becomes one of the first Blacks to play in an NBA game
( for the Boston Celtics).
1952- The complete Jewish Torah was published in English for the first time. A collection of oral and written commentary (dating 200 BC to AD 500) on the first five books of the Old Testament, the Torah comprises the basic religious code of Judaism
1954—Top Hits
Hey There - Rosemary Clooney
I Need You Now - Eddie Fisher
If I Give My Heart to You - Doris Day
I Don't Hurt Anymore - Hank Snow
1955-The first post office manned by Blacks opens in Atlanta, GA.
1959- Under intense public pressure and the Massachusetts Committee Against Discrimination investigation, the Red Sox become the last club to integrate. Fourteen years after the club passes on Jackie Robinson despite a successful tryout in 1945, Elijah 'Pumpsie' Green pinch runs and plays shortstop to become the first black to play for the Red Sox.
1961-The Supremes become the first all-female group to score a No. 1 album, with Supremes a Go-Go. Members Diana Ross, Mary Wilson, and Florence Ballard met as teenagers in the housing projects of Detroit. When several male friends, including future Temptations members Eddie Kendricks and Paul Williams, formed a singing group called the Primes, the girls dubbed their own group the Primettes. The Primettes signed with Motown records in 1961. The label immediately changed the group's name to the Supremes. After several years of releasing flops, the Supremes scored their first hit in 1964 with "Where Did Our Love Go," which sold two million copies. They followed up with numerous other hits, including "Stop! In the Name of Love!" and "Back in My Arms Again." Their growing popularity corresponded with the rise of the civil rights movement, and the group came to symbolize strong, independent black women. They appeared regularly on major national TV shows such as The Ed Sullivan Show and The Tonight Show.
1961- Defensive back Erich Barnes of the New York Giants tied an NFL record by returning an intercepted pass 102 yards for a touchdown in the Giants' 17-16 loss to the Dallas Cowboys.
1962 -Pacific Science Center opens at Seattle Center
1962-President John F. Kennedy, in a nationwide television address Oct 22, 1962, demanded the removal from Cuba of Soviet mis­siles, launch equipment and bombers, and imposed a naval "quar­antine" to prevent further weaponry from reaching Cuba. Kennedy charged the Soviet Union with subterfuge and outright deception in what he referred to as a "clandestine, reckless, and provocative threat to world peace." He dismissed Soviet Foreign Minister Andrei Gromyko's claim that the weapons in Cuba were of a purely defensive nature as "false." Harking back to efforts to contain German, Italian, and Japanese aggression in the 1930s, Kennedy argued that war-like behavior, "if allowed to grow unchecked and unchallenged, ultimately leads to war." The president outlined a plan of action that called for a naval blockade to enforce a "strict quarantine on all offensive military equipment under shipment to Cuba." He also issued a warning to the Soviets that the United States would retaliate against them if there was a nuclear attack from Cuba, and placed the U.S. military in the Western Hemisphere on a heightened state of alert. On Oct 28, the USSR announced it would remove the weapons in ques­tion. In return, the US removed missiles from Turkey that were aimed at the USSR.
1962—Top Hits
Monster Mash - Bobby "Boris" Picket
Do You Love Me - The Contours
He's a Rebel - The Crystals
Mama Sang a Song - Bill Anderson
1965 - The temperature soared to 104 degrees at San Diego, CA. Southern California was in the midst of a late October heat wave that year. Los Angeles had ten consecutive days with afternoon highs reaching 100 degrees.
1966-The Beach Boys release "Good Vibrations" on Capitol. The song, featuring inspired use of the
sci-fi movie sound-effects instrument the theremin, is the most expensive production for a single
up to this time."
1969-Led Zeppelin II is released.
1970—Top Hits
I'll Be There - The Jackson 5
Green-Eyed Lady - Sugarloaf
All Right Now - Free
Sunday Morning Coming Down - Johnny Cash
1963-225,000 boycott Chicago schools to protest segregation
1971 - Folk singer Joan Baez received a gold record for her hit, "The Night They Drove Old Dixie Down". It turned out to be her biggest hit, peaking at #3 on the charts (October 2, 1971).
1972-- The A's win their first championship in 42 years as they defeat the Reds 3-2 in Game 7 of the Fall Classic. World Series MVP Gene Tenace, who had only hit five home runs in the regular season, connects for four round trippers in the seven games against Cincinnati.
1974 Two very well-known outfielders are traded for one another as the Giants send Bobby Bonds to the Yankees for Bobby Murcer. Considered to be the biggest one-for one trade in baseball history, the swap of the next 'Willie Mays' (Bonds) for the next 'Mickey Mantle (Murcer) marks the first time two $600,000 players have been exchanged.
1975-The World Football League, a 10-team enterprise, struggling through its second season, suspended operations and disbanded prior to the 12th week of a 20-week schedule.
1975 - Cincinnati Reds manager Sparky Anderson said, "We were the best team in baseball, but not by much." The World Series featured five one-run victories, two in extra innings and three on game-ending hits. In six of the seven victories, the winner trailed; four times the winning run came in the final inning. And 13 times, the score was either tied or the lead reversed. And in the seventh, played this day, a ninth-inning RBI single by Joe Morgan gave the Reds a 4-3 victory over the Boston Red Sox and the title. It was the first title for the Reds in 35 years.
1978---Top Hits
Kiss You All Over - Exile
Hot Child in the City - Nick Gilder
Reminiscing - Little River Band
Tear Time - Dave and Sugar
1985 - A guest on the top floor of a hotel in Seattle, WA, was seriously injured while talking on the phone when lightning struck. Several persons are killed each year when the electrical charge from a lightning bolt travels via telephone wiring.
1986 - U.S. President Ronald Reagan signed the Tax Reform Act of 1986 on this day, but wrote his last name first. The signing, however, remains legal.
1986 -- Jane Dornnacker WNBC-AM NYC helicopter traffic reporter dies doing a live traffic report as her copter crashes.
1986—Top Hits
When I Think of You - Janet Jackson
Typical Male - Tina Turner
True Colors - Cyndi Lauper
Just Another Love - Tanya Tucker 1987 - Yakutat, AK, surpassed their previous all-time yearly precipitation total of 190 inches. Monthly records were set in June with 17 inches, in September with 70 inches, and in October with more than 40 inches. (Sandra and TI Richard Sanders - 1987) Twenty-two cities in the eastern U.S., most of them in the southeast states, reported record low temperatures for the date. Morning lows of 30 degrees at Athens GA, 28 degrees at Birmingham AL, and 23 degrees at Pinson AL, were the coldest of record for so early in the season. (The National Weather Summary) Showers produced heavy rain in southern California, with amounts ranging up to five inches at Blue Jay. Flash flooding resulted in two deaths, ten injuries, and more than a million dollars damage.   
1988 - Phil Collins' remake of the Mindbenders' "Groovy Kind of Love" was the number one U.S. single. It was parked at the peak of the pops for two weeks.
1988 - A "nor'easter" swept across the coast of New England. Winds gusted to 75 mph, and large waves and high tides caused extensive shoreline flooding. A heavy wet snow blanketed much of eastern New York State, with a foot of snow reported in Lewis County
1991- General Motors announces nine month loss of $2.2 billion. This
was big news then, but nothing compared to the staggering losses of Enron, Worldcom, and others
in 2002.
1992-Members of Boyz II Men receive awards for having the longest running #1 song of the rock era. "End Of the Road" broke Elvis' record of 11 weeks, previously held by "Don't Be Cruel/Hound Dog".
Top Hits---1993
Dreamlover- Mariah Carey
Just Kickin It- Xscape
I d Do Anything For Love (But I Won t Do That)- Meat Loaf
All That She Wants- Ace Of Base
1996-Microsoft launched Expedia, an online travel service, on this day in 1996. The service allowed travelers to find the lowest listed airfares and make plane and hotel reservations. The company hoped to take advantage of the estimated $3 billion in online ticket sales expected to be spent yearly by 1999.
2000 -In Game 2, the Yankees extend their World Series winning streak to 14 consecutive games defeating the Mets, 6-5 in a game which is overshadowed by Roger Clemens throwing the barrel of a shattered bat Mike Piazza as the Met catcher runs to first. The eagerly awaited at bat, due to the Rocket's beaning of the Mets' superstar in July, results in the two players confronting one another and the emptying of both benches.
2002- Giant P.A. announcer Rene Brooks-Moon become the first woman to announce a World Series. Her scorecard from Game 4 is being sent the Hall of Fame.
2002— Top Hits
Dilemma- Nelly Featuring Kelly Rowland
Gangsta Lovin'- Eve Featuring Alicia Keys
Ruff Ryders | ALBUM CUT | Interscope
A Moment Like This- Kelly Clarkson
Hey Ma- Cam'ron Featuring Juelz Santana, Freekey Zekey and Toya
World Series Champions This Date
1972  Oakland Athletics
1975 Cincinnati Reds
Baseball Poem
THIS IS THE DAY
  by Tim Peeler
When every relationship and previously
Understood concept feels tenuous.
Albeit the gravity grows weak
And the voices that rise
Are not the sanguine few
You remember as wise, the coaches
 That actually "knew" something
 Beyond the roar of their anger-
Now your days on the field
 Are gone or have slipped
Into the churn and become
Sweet buttered memories,
 Not the indecisive hell
Of rounding second not knowing
Where the ball was and the
Third base coach hollering
At a player on the bench
While they trapped you in
A rundown.
You recall
The running outfield catches
Of a sunny childhood, not the
Dark liner lost in the lights till
It roared toward you
Like a car with one headlight.
Memory is the shaky tightrope
You wrap your dreams around;
And faith in the past, the balance
To get you through this day.
  From
"Waiting for Godot's First Pitch."
  with permission of the author