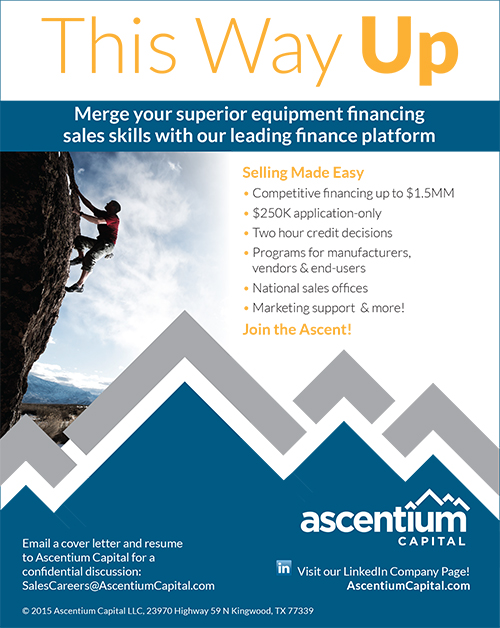 Friday, March 25, 2016


Today's Equipment Leasing Headlines

BSB Reports Fully Staffed Despite Snowstorm in Colorado
Same for Hawaii ---Photos
15th Annual Investors' Conference
By Bruce Kropschot, The Alta Group
New Hires---Promotions in the Leasing Business
and Related Industries
Leasing Industry Ads---Help Wanted
Ascentium Capital/TopMark
Top 8 Alternative Small Business Funders Chart
by debanked.com
ELFA Reports February Business Up 2%
Charts
Leasing Conferences---Exhibitors/Registration Cost
Attendees/Updated Information
Leasing Schools/Franchisors
Updated
Midnight Special/My Golden Days
Creed/The Peanuts Movie/A Bright summer Day
Film/Digital Reviews by Fernando Croce
Crowdfunding March/Adoption?
Update
Leasing News Classified Ads--Free
Post a Position Wanted
News Briefs---
GE CEO explains why he's moving headquarters to Boston
Promises to make this deal worth the investment
Four Texas Metro Areas Collectively Add More Than
400,000 People in the Last Year, Census Bureau Reports
Shareholders OK KeyCorp, First Niagara Financial Group merger
90% were in favor of the estimated $4.1 billion combination
Enterprise Security: The Easiest Hacks Are The Toughest
To Stop With Technology
Broker/Funder/Industry Lists | Features (writer's columns)
Top Ten Stories Chosen by Readers | Top Stories last six months
www.leasingcomplaints.com (Be Careful of Doing Business)
www.evergreenleasingnews.org
Leasing News Icon for Android Mobile Device
You May have Missed---
SparkPeople--Live Healthier and Longer
Winter Poem
Sports Briefs---
California Nuts Brief---
"Gimme that Wine"
This Day in American History
SuDoku
Daily Puzzle
GasBuddy
Weather, USA or specific area
Traffic Live----
######## surrounding the article denotes it is a "press release" and was not written by Leasing News nor information verified, but from the source noted. When an article is signed by the writer, it is considered a "by line." It reflects the opinion and research of the writer.

Email Leasing News to a colleague and recommend they subscribe.
It's easy. Have them email: kitmenkin@leasingnews.org
with "subscribe" in the subject line.

---

[headlines]
--------------------------------------------------------------
BSB Reports Fully Staffed Despite Snowstorm in Colorado
Same for Hawaii ---Photos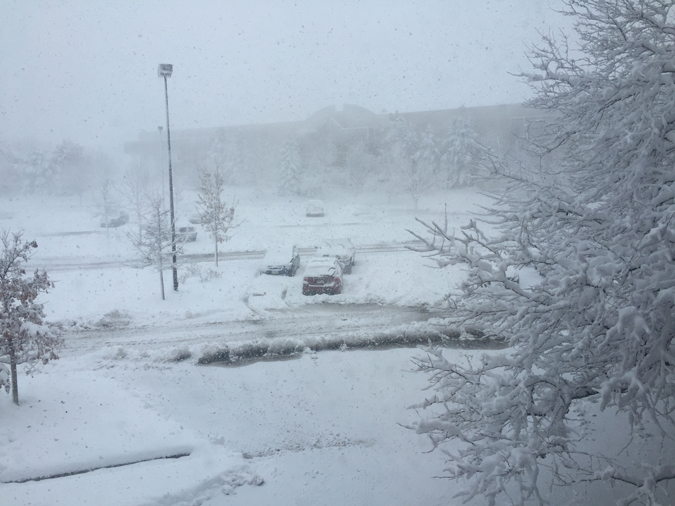 BSB Leasing, Littleton, Colorado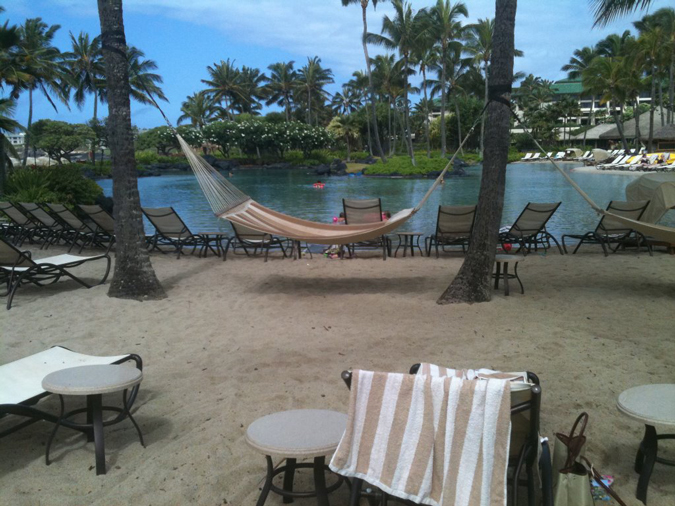 BSB Leasing, Poipu, Kauai, Hawaii
--compliments of Don Myerson
[headlines]
--------------------------------------------------------------
15th Annual Investors' Conference
By Bruce Kropschot, The Alta Group

"Be prepared for a lack of liquidity in the capital markets…"
The 15th annual Investors' Conference on Equipment Finance, organized by IMN in partnership with the Equipment Leasing and Finance Association, was held in New York City on March 22, 2016. This conference attracts senior executives of independent equipment leasing and finance companies, major funding sources for such companies, alternative financing sources, organizations such as private equity firms, hedge funds, and insurance companies that are interested in acquiring or investing in the equity or debt of equipment leasing and finance companies, and service providers to the industry, such as law firms, rating agencies, investment banks, and lease servicing companies. There were about 350 registered attendees this year, which was similar to last year's attendance.
This conference packs a lot into one day, beginning with the breakfast and registration at 8:00 a.m. and concluding with a reception lasting until 6:30 p.m. The opening session included comments from Andrea Petro of lead sponsor Wells Fargo Capital Finance; she warned of an increasing cost of funds during 2016. Next came a session presenting an overview of the equipment finance sector, moderated by ELFA President Ralph Petta who provided background on the activities of ELFA and the Equipment Leasing & Finance Foundation. He was followed by ELFA Chairman Bill Stephenson of DLL International who commented on the ELFA's forecast of the top 10 equipment acquisition trends for 2016. Du Trieu of Fitch Ratings indicated that his firm's equipment lease and loan ABS delinquency index was near historical lows and losses were comparable to pre-recession levels. Although Fitch's ratings outlook is positive for the sector, Mr. Trieu noted the following areas of concern: (1) the global economic outlook; (2) potentially stressed sectors, as evidenced by weakness in the oil/gas and energy sectors, low agricultural commodity prices, and declines in truck and construction equipment sales; and (3) strong competition.
The annual funding roundtable for lessors was moderated by Andrea Petro, and participants included senior executives from Blue Bridge Financial, Eastern Funding, North Mill Equipment Finance, Chesswood Group, and LEAF Commercial Capital who commented on their companies' funding strategies. Among the topics discussed were fixed vs. floating rate funding, securitizations, pricing for risk, diversification of equipment types, and the need to update systems. Ms. Petro reminded attendees to be prepared for a lack of liquidity in the capital markets such as occurred during the Great Recession. She stated that equipment finance companies with lower leverage then were much better able to take advantage of opportunities resulting from the financial crisis.
The next three time slots on the program enabled attendees to choose from two alternative programs. These included industry specific panels covering the aircraft finance market and new developments in the railcar, fleet and container finance markets. Another session entitled New Age of Lending focused on current trends, including the growth and variety of alternative financing sources.
A session on marketplace lending and its application to equipment finance drew an overflow crowd. The presenters were Alexander Ploch of DZ Bank, a lender to companies in the alternative finance space, and Albert Periu of marketplace lender Funding Circle. Mr. Ploch pointed out the risk that most alternative finance companies have not gone through a complete economic cycle so it is difficult to predict how high losses will be during an economic recession. Mr. Periu provided an interesting insight into Funding Circle's approach in the alternative finance market and compared its approach with that of other marketplace lenders.
Another session focused on the current state of regulation and how regulation affects equipment finance businesses. It was the consensus of the panelists that there will likely be more regulation affecting the industry. The CFPB believes that there is significant discrimination in marketplace lending and will continue to investigate industry practices. Dodd-Frank section 1071 will bring new underwriting requirements and will require banks to gather and maintain additional applicant information which will need to be segregated and not disclosed to anyone involved in rendering a credit decision. Issuers of asset backed securities will need to understand and assess the rules of Section 15G requiring issuers to retain at least 5% of the fair value of the issuance and the effect it may have on their advance rates. The expectation is that these new regulations will result in increased compliance costs to the industry.
A roundtable discussion on credit featured chief credit officers Michael Ziegelmann of First American Equipment Finance and Eric McGriff of Everbank, with Evan Wilkoff of Ascentium Capital serving as moderator. It was the consensus of the panelists that chief credit officers are currently enjoying relatively low delinquencies and solid portfolio performance. While there have been no known instances of significant fraud in the industry recently, they remain vigilant to protect against the possibility. Credit officers warned of the possibility that portfolios may contain hidden energy concentration through ancillary borrowers who may have customer concentrations to the industry. Credit officers are cautiously optimistic about the future and are closely monitoring the events in 2016 that might affect their portfolio performance, including the energy sector, recent acts of terrorism, and the upcoming presidential elections.
Theodore Koenig of Monroe Capital made a presentation on middle market lending, his company's focus. The formal programs then concluded with a session entitled Investors' Strategy – Pockets of Opportunity. Moderated by John Enyart of Portfolio Financial Servicing Company, the program featured panelists from Atalaya Capital Management, Solar Capital, Lovell Minnick Partners, 20 Gates Management, Rotunda Capital, and Wafra Capital Partners. These companies are all investors in equipment leasing and finance companies and/or assets, and the panelists' views on the industry challenges and opportunities were very interesting.
The greatest value for many of the attendees was the opportunity to network. Some attendees had pre-arranged meetings to discuss equity or debt investment opportunities. Other impromptu meetings occurred throughout the day in the service provider exhibit room. The conference enables parties interested in investing in the equipment finance sector to interact with executives of many of the leading independent equipment leasing and finance companies in one location. The conference concluded with a cocktail reception, and a relatively high percentage of attendees stayed in order to continue their networking. Many of the attendees are present at the Investors' Conference every year, attesting to the value of the program and the networking opportunities.

Bruce Kropschot, Senior Managing Director and
Merger & Acquisition Advisory Practice Leader
The Alta Group, LLC
7448 Treeline Drive
Naples, FL 34119
(239) 260-4405
www.thealtagroup.com
The Alta Group is the leading provider of consulting services to equipment leasing and financing companies worldwide. Kropschot Financial Services, the leading M&A advisory firm for equipment leasing and financing companies, became part of The Alta Group in 2008. Our combined organization has arranged over 200 mergers and acquisitions of specialty finance businesses representing both buyers and sellers, and we also sell equipment lease portfolios, perform business valuations, do acquisition due diligence and arrange debt and equity financing for our clients. We utilize The Alta Group's worldwide resources of more than 80 equipment leasing and financing experts to better serve our Merger & Acquisition Advisory Practice clients.


[headlines]
--------------------------------------------------------------
New Hires---Promotions in the Leasing Business
and Related Industries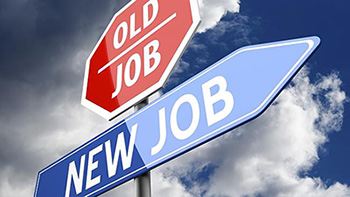 Jason Anish was named President & CEO, Austin Financial Services, Inc., Los Angeles, California. Previously, he was Senior Vice President, Western Regional Mgr. Summit Financial Resources (January, 1997 – February, 2016). He is a board member of the Commercial Finance Conference of California.
https://www.linkedin.com/in/jasonanish

Lee Bergeron is now President, Taunton Commercial Credit, Greater New York City area. Previously, he was Co-Founder/ President, Performance Advantage Consulting (2015 – February, 2016); President Leasing Division/Corporate Vice President Financial Services, MailFinance, an Affiliate Company of Neopost USA, Inc. (2010 – 2015); Co-Founder/ President, Performance Advantage Consulting (2009 – 2010); President/General Manager, GE Capital/GE Government Finance, Inc. (2007 – 2009); Managing Director, GE Federal Finance (2006 – 2007); Senior Vice President/Region Sales Manager, GE Commercial Equipment Finance (2001 – 2006);
Vice President/Senior Account Executive, GE Commercial Equipment Finance (1997 – 2001). Organizations: ELFA/Equipment Leasing Finance Organization, Starting April 1993. AGLF/Association for Government Leasing and Finance, Starting January 2006. Certifications: Six Sigma Green Belt, GE Capital, Starting March 2002.
https://www.linkedin.com/in/leebergeron

David Bromage was hired as Director - Healthcare Business Finance at Philips, Greater Boston Area. Previously, he was Vice President, Zone Finance, Siemens Healthcare (February, 2014 – February, 2016); VP, Business Development (Healthcare), Key Equipment Finance (2012–February 2014); Leader-Global Sales & Business Development (Boart Longyear Financial Services), Boart Longyear (2011–2012); Leader, Global Financial Services (Enterprise Networks), Nortel (2005–2007); Senior Consultant - Business Development (Innovation Unit), Akzo Nobel(2004–2005); MBA Consultant (Full Time MBA Program), Georgetown University (2002–2004); Leader - European Sales & Business Development (Mitel Financial Services), Mitel (2000–2002); Senior Manager - Business Development (Vendor Finance), CIT Group (1997–2000); Manager - Business Development (Asset & Vendor Finance), ING Nederland (1995–1997); Manager - Business Development (Asset Finance) First Asset Finance (1993–1995); Trainee Chartered Accountant (ICAEW), Ernst & Young (1992–1993). Education: Georgetown University - The McDonough School of Business, MBA, Corporate Strategy & Marketing (2002–2004). Georgetown University, The Walsh School of Foreign Service, Honors Certificate, International Business Diplomacy (2002–2004); London Business School, Certificate, Corporate Finance Evening Programme (1997–1998). University of Durham MA, European Politics & History (1988–1990). College of the Holy Cross, BA, History (1983–1987). Honors Certificate in International Business Diplomacy from Walsh School of Foreign Service at Georgetown University awarded in May 2004.
www.linkedin.com/in/dhbromage

Kira Dimon was hired as Senior Leasing Officer at Onset Financial, South Jordan, Utah. Previously, she was Sr. Leasing Officer Pacific Western Equipment Finance (January 2012 – February 2016).
https://www.linkedin.com/in/kira-dimond-9850a4b9

Adam Grupp is Founding Member, Go Get Grupp, LLC, Dover, New Hampshire. Previously, he was Finance Manager, Direct Capital Corporation (February, 2011 – January, 2016); Foreman, Piscataqua Landscaping Company (December, 2008 – December, 2010).
https://www.linkedin.com/in/adam-grupp-a6426034
Jarrod Hicks returns as Senior Vice President, Nations Equipment Finance, Naples, Florida; he is based out of Fort Myers, Florida. Previously, he was Director, Equipment Finance Originations, CIT (2014 – March, 2016); Vice President, Business Development, Nations Equipment Finance LLC (November, 2011 – March, 2014); Sr. Account Executive, Talmer Commercial Finance (March, 2014 – 2014); Senior Account Manager, First National Capital Corporation (March, 2005 – August, 2011); Account Manager, Equity Line Mortgage (January, 2003 – March, 2005). Education: Kent State University, Bachelors, Communication Studies (2001 – 2003); The Ohio State University, Undergraduate Studies (1999 – 2001). Activities and Societies: Theta Xi. Aurora High School, Aurora, Ohio, Graduate in the Class of 1998
https://www.linkedin.com/in/jarrod-hicks-58ba7611

Blake Jones was hired as Commercial Finance Officer at American Leasing & Financial, Portland, Oregon. Previously, he was Small Business Relationship Manager, KeyBank (February, 2013 – December, 2014); Major Accounts District Manager, ADP (April, 2012 – January, 2013); Business Specialist, US Bank (November, 2007 – April, 2012); Business Banking Specialist, Wells Fargo Bank (June, 2006 – November, 2007); Physician Marketing Consultant, Martin Fletcher (April, 2005 – February, 2006); Financial Representative, Northwestern Mutual (March, 2003 – April, 2005). Organizations: Oregon Association of Minority Entrepreneurs. North Northeast Business Association. Board of Directors and Membership Chair, Northeast Broadway Business Association (2014 – Present). Education: The University of Texas at Arlington, BS, Chemistry, Minor Math and Physics (1994 – 1998). Undergraduate research experience in the synthesis of cyclic and heterocyclic disulfides as potential anti-cyanide, anti-vesicant, poisoning drugs for a Department of Defense project.
https://www.linkedin.com/in/blake-jones-167a985

Rick Joyce was hired as Business Development Manager, Southern Region, Creekridge Capital, Edina, Minnesota; he is based out of Sarasota, Florida Area. Previously, he was Regional Vice President, Business Development, Healthcare, Toronto Dominion Bank, TD Equipment Finance (June, 2012 – November, 2015); Business Development Manager, Southeast Region, Atlanta, GA/Tampa, FL., Technology Finance, Macquarie Technology Services (January, 2008 – July, 2012); Healthcare Real Estate Advisor, Business Development, Medical Realty Advisors, LLC (September, 2004 – December, 2007); SE Regional VP of Healthcare Finance/Leasing, GE Capital, Healthcare Financial Services (August, 2001 – December, 2004); SE Regional VP of Sales/Business Development, Fleet-Boston Bank Healthcare, SE Regional VP of Sales/Business Development (March, 2000 – December, 2002); Senior Account Executive, Datascope Corporation (August, 1997 – March, 2000); National Account Manager, Atlanta, GA., Comdisco Healthcare (January, 1993 – October, 1997); Sales/Account Executive/National Account Manager/RSM, Medtronic/Johnson & Johnson (September, 1980 – January, 1993). Honors & Awards: Numerous Sales/Business Development awards including Salesman of the Year, Region of the Year, Brilliant Partners Award, Ring Club Member. Education: Robert Morris University, BA, Business Management (1976 – 1980).
https://www.linkedin.com/in/richard-rick-g-joyce-282bb05

Aline Lex was hired as Managing Director at ZRG Partners, LLC, Rochelle Park, New Jersey; she is based out of Sao Paulo Area, Brazil. Previously, she was Partner, Financial Services, Fesa Global Executive Search (2013 – 2016); Country Manager and Private Equity Executive Director, Veremonte Participações (2011 – 2013); Founder and Main Shareholder, Lex' Closet (2008 – 2012); Private Equity Vice President, Veremonte Participações (2011 – 2011); Associate M&A, BBVA (2009 – 2011); Associate M&A and ECM (CIB), Banco Santander (2007 – 2009); Relationship Manager, Citi (2003 – 2004); Management Associate Trainee Wholesale Bank, Citi (2003 – 2003); Intern, Treasury, Institutional Sales Desk, Banco Santander (2002 – 2002);
Intern, Treasury, Corporate Sales Desk, Deutsche Bank (2000 – 2001); President, Empresa Júnior, Fundação Getulio Vargas (January, 2000 – December, 2000). Languages: English, French, Portuguese, Spanish. Education: Pontifícia Universidade Católica do Rio de Janeiro, Master in Economics (2005 – 2007); Fundação Getulio Vargas, Bachelor of Business Administration (BBA) (1998 – 2002).
https://br.linkedin.com/in/aline-lex-4ab68b3a/en
Joe Mazzoni was hired as Senior Account Manager, Juniper Financial Services, Sacramento, California; he is based in Sunnyvale, California. Previously, he was Senior Account Manager, ePlus Inc. (December, 2014 – February, 2016); Regional Sales Manager, Key Equipment Finance (May, 2013 – November, 2014); Financial Area Manager, HP Financial Services (2009 – May, 2013); Owner, North American Funding (April, 1992 – April, 2009). Education: University of Oregon BS, Finance (1981 – 1984).
https://www.linkedin.com/in/joe-mazzoni-1822b38

Paul Stefunek was hired as Managing Director, ZRG Partners, Rochelle Park, New Jersey; based in the Cleveland/Akron, Ohio area; responsible for expanding ZRG Partners presence in the Midwest. Previously, Partner, DHR International (July, 2014 – March, 2016); Chairman & Founding Partner, Paul-Lawrence Associates (October, 2001 – June, 2014); Vice President & National Practice Leader, Stratford Group (1996 – 2001); Director, Christian & Timbers (1993 – 1996); Carrier Management Specialist, Pitney Bowes (1988 – 1993);
He also serves as Board of Advisors, MobileMediaOne (July, 2012 – Present). Board of Advisors, Responder Technology (April, 2006 – Present). Education: Pace University, BBA, Marketing & Management (1984 – 1988); Mahopac High School (1980 – 1983).
https://www.linkedin.com/in/paulstefunek

Joe Wright was hired as Senior Vice President at Wells Fargo, Commercial Distribution Finance, Greater New York City Area. Previously, he was Senior Vice President of Business Development, GE Commercial Distribution Finance (June, 2008 – February, 2016); Vice President, Business Development, GE Commercial Finance (February, 2006 – May, 2008); National Sales Manager, GE Healthcare Financial Services (May, 2005 – February, 2007); Vice President, Strategic Relationships, GE Commercial Finance (January, 1999 – May, 2005); District Leasing Manager, Eastman Kodak (1989 – 1995); Account Executive, Pitney Bowes Credit Corp. (1986 – 1988); Sales Team Manager, Pitney Bowes, Inc. (January, 1984 – 1986). Education: Alfred University, B.S., Criminal Justice Studies (1974 – 1978). Activities and Societies: Football 74 - 77 (Co-captain 75 - 77).
https://www.linkedin.com/in/timonman74
[headlines]
--------------------------------------------------------------
Leasing Industry Help Wanted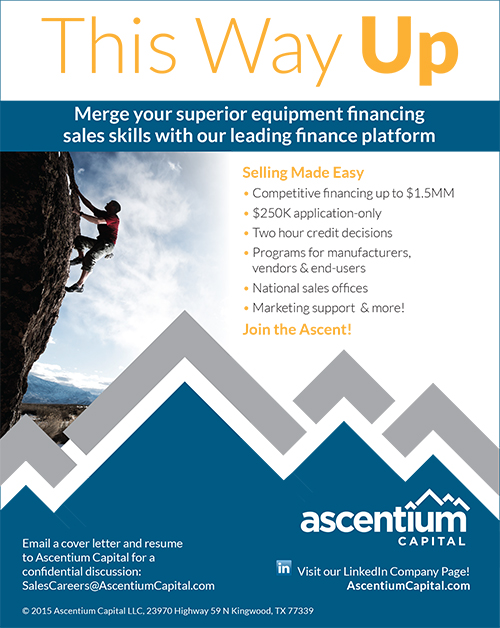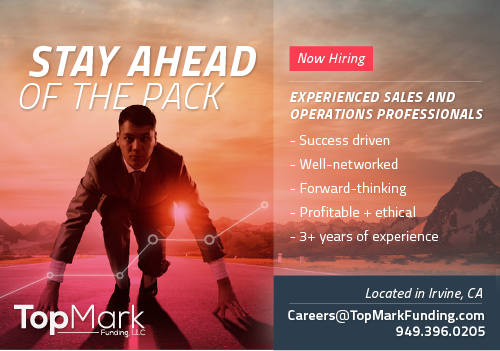 Please see our Job Wanted section for possible new employees.


[headlines]
--------------------------------------------------------------
[headlines]
--------------------------------------------------------------
ELFA Reports February Business Up 2%
Charts
The Equipment Leasing and Finance Association's (ELFA) Monthly Leasing
and Finance Index (MLFI-25) Charts:
MLFI-25 New Business Volume (Year Over Year Comparison)

click to make larger
Aging of Receivables:


click to make larger
Average Losses (Charge-offs) as a % of net receivables
(Year Over Year Comparison)


click image to make larger

Credit Approval Ratios As % of all Decisions Submitted
(Year Over Year Comparison)


click image to make larger
Total Number of Employees
(Year Over Year Comparison)
click image to make larger

(Leasing News provides this ad as a trade for appraisals and equipment valuations provided by Ed Castagna)
[headlines]
--------------------------------------------------------------

Leasing Conferences---Exhibitors/Registration Cost
Attendees/Updated Information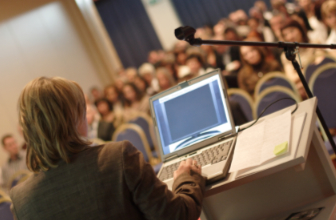 ---


LendIt USA 2016
April 11 – 12
San Francisco, California
Over 130+ Exhibitors. 4,000
decision-makers from over 20 countries
http://www.lendit.com/usa/2016
In 2016 LendIt USA will have two levels of delegate passes: an all access pass as well as an expo and workshop pass. The difference between the passes is explained below.
All-access Delegate Pass: The LendIt USA All-access Delegate Pass provides access to all LendIt USA Keynote presentations, breakout sessions, Company Demos, the Expo Hall, Food & Beverage breaks, and the Day 1 Cocktail Party.joy
Price: $2,495
Expo & Workshop Delegate Pass: The Expo & Workshop Delegate Pass provides access to the Expo Hall, Company Demos, breakout sessions, Food & Beverage breaks, and the Day 1 Cocktail Party. This ticket option does not include access to the LendIt USA Keynote presentations and panel sessions in the Golden Gate Ballroom.
Price: $1,795
---
April 19 - 21
28th Annual National Funding Conference
Siwssotel Chicago
Chicago, Illinois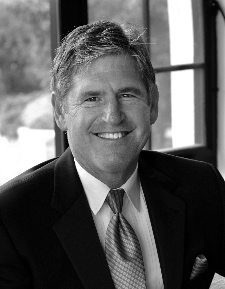 Paul J. Menzel, CLFP, President & CEO, Financial Pacific Leasing, Inc.,
a subsidiary of Umpqua Bank, will be reporting on the National Funding
Conference for Leasing News readers.
Pricing
1st Attendee - Member Company $795.00
Additional Attendee $745.00
NonMember Attendee $1590.00
Committee - Exhibiting Company $390.00
Committee - Attendee $390.00
All Funding Sources Sold Out:
Funding Sources as of 03/16/16:
36th Street Capital LLC
Acrecent Financial
Ascentium Capital LLC
ATEL Capital Group
Banc of America Leasing
Banc of California
Bank of the West
BB&T Equipment Finance
BMO Harris Equipment Finance Company
Boston Financial & Equity Corporation
Byline Financial Group
CapitalSource, Inc.
Channel Partners Capital
CIT
Citizens Asset Finance, Inc.
Equipment Leasing Group of America, LLC
EverBank Commercial Finance, Inc.
Fifth Third Equipment Finance Company
Financial Pacific Leasing, Inc., an Umpqua Bank Company
First American Equipment Finance, a City National Bank Company
First Bank of Highland Park
First Eagle Bank
Flagstar Bank
Fuyo General Lease (USA) Inc.
GE Capital Markets Group
Huntington Equipment Finance
J.P. Morgan Equipment Finance
Key Equipment Finance
LCA Financial LLC division of Lease Corporation of America
MB Equipment Finance
MB Financial Bank
Mintaka Financial, LLC
Mitsubishi UFJ Lease & Finance (U.S.A.) Inc.
NXT Capital
Origin Bank Equipment Finance
People's Capital and Leasing Corp.
PNC Equipment Finance, LLC
ProMED Healthcare Financing
Santander Bank Equipment Finance
SCG Capital Corporation
Securcor Financial Group
Signature Financial
Societe Generale Equipment Finance
Stearns Bank NA-Equipment Finance Division
Sterling National Bank Equipment Finance Division
Stonebriar Commercial Finance, LLC
Susquehanna Commercial Finance, Inc.
TCF Equipment Finance, a division of TCF National
Univest Capital, Inc.
VFI Corporate Finance
Wells Fargo Equipment Finance
Wintrust Commercial Finance
The Women in Leasing LinkedIn Group will be having a luncheon at the Signature Room at the 95th in Chicago, Illinois, on Thursday, April 21st from 1:00pm – 3:00pm just after the 28th Annual ELFA National Funding Conference. Cost is $45. Please email credit card information.
Shari Lipsky, CLFP
ECS Financial Services
slipski@ecsfinancial.com
P.S.
There are a few ladies that have already let me know that they can't make it on Thursday, so I am looking at putting a small group of 4-6 together for Tuesday at 1:00. If you would be interested in that lunch, please email me.
---


Transact 16
April 19 – 21
Las Vegas, Nevada
4,000 Attendees
http://electran.org/events/transact16/
Registration Rates:
http://electran.org/events/transact16/register/
---
April 28 – April 30, 2016
2016 Annual Conference
25th Anniversary
Tropicana Las Vegas
Las Vegas, NV

Dwight Galloway
SVP Broker Funding
RLC Funding
Columbia, South Carolina
Dwight Galloway will be covering the conference for
Leasing News with a report to follow for readers not attending.
Every week until the conference, NAELB will draw the name of a Broker registered to attend the conference to win a free airport transfer by limousine! Register now for your chance to win!!
Current Attendee List
http://www.naelb.org/NAELB_Docs/2016%2
0Annual%20Conference/NAELB%20Attendee%20List%203.18.16.pdf
Exhibitor Listing (as of 3/24/16)
360 Equipment Finance
Amerisource Funding
Axis Capital
Banc of California, N.A.
Bankers Capital
BlackRiver Business Capital, LLC
Bryn Mawr Funding
BSB Leasing
C.H. Brown Co., LLC
Capital Quality Leasing Co., Inc
Channel Partners Capital -
CLFP Foundation
Cobra Capital LLC
Commercial Funding Partners
Credibly
Dakota Financial, LLC
Eagle Business Credit LLC
Equipment Data Associates
Equipment Leasing Group of America, LLC
Financial Pacific Leasing, Inc.
First Federal Leasing
FirstLease, Inc.
Fora Financial, LLC
Funding Circle
Global Financial & Leasing Services
COVER
KS State Bank, Baystone Government Finance
LoanMe
Marlin Business Service Corp.
Maxim Commercial Capital
Navitas Lease Corp.
NCMIC Finance Corporation
NFS Leasing
North Mill Equipment Finance, LLC
OnDeck
Orange Commercial Credit
Pawnee Leasing Corporation
Pinnacle Specialty
SmartBiz Loans, LLC
Team Funding
Quiktrak Inc.
RapidAdvance, LLC
Tetra Financial Group
Full Conference Rates
Regular/Onsite
Broker - Member: $525
Broker - Non-Member: $625
Additional Broker – Member: $475
Additional Broker - Non-Member: $575
Funder/Associate – Member: $675
Funder/Associate - Non-Member: $775
Additional Funder/Associate – Member: $625
Additional Funder/Associate - Non-Member: $725
---
36th Annual AGLF Conference
Racing Toward Excellence in Public Finance
Wednesday, May 4 – Friday, May 6, 2016
Omni Charlotte Hotel, Charlotte, North Carolina


Conference Information
Message from the Chairman
Preliminary Agenda
Keynote Bio: Chris Taylor
Keynote Bio: Charlie Wittmack
Keynote Bio: Mark Vitner

Registration
Register Online Now!
Print Registration Form
Sponsorship
Sponsorship Opportunities
Thursday Night Event
Need for Speed Event at the NASCAR Hall of Fame
Sponsored by Capital One Public Funding, LLC
Late Night with AGLF - Drinks and Dessert at the Omni Charlotte Hotel

Hotel & Travel
Hotel Reservations
Travel Information
Things to do in Charlotte
---
September 16-17, 2016
2016 Eastern Regional Meeting
Cincinnati Airport Marriott
Hebron, KY
Conference Chair:
Rodny Blecha, Precision Leasing
---
---
Lend360
October 5 – 7
Chicago, Illinois
http://www.lend360.org/
---
October 23 -25th
2016 55th Annual Conference
Palm Desert Springs
Palm Desert, California


---



Money20/20
October 23 – 26
Las Vegas, Nevada
(75% of exhibit space/sponsorship booked)
http://www.money2020.com/
---
November 11-12, 2016
2016 Western Regional Meeting
Doubletree by Hilton Hotel Anaheim-Orange County
Orange, CA
[headlines]
--------------------------------------------------------------
[headlines]
--------------------------------------------------------------
Fernando's View
By Fernando F. Croce
New box-office releases include gripping sci-fi ("Midnight Special") and graceful comedy-drama ("My Golden Days"), while a rousing franchise entry ("Creed"), gentle animation ("The Peanuts Movie"), and a bona fide masterpiece ("A Bright Summer Day") come to DVD
In Theaters: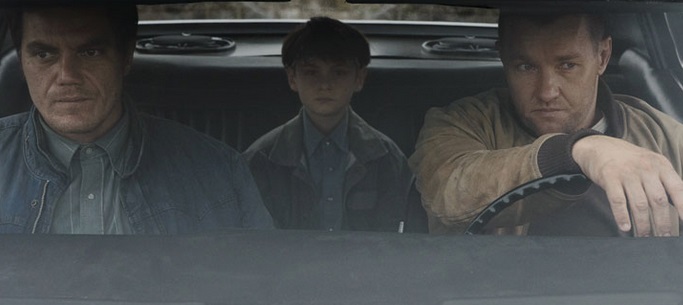 Midnight Special (Warner Bros.): Science-fiction is not a genre that promptly comes to mind when director Jeff Nichols ("Mud") is mentioned. Yet his brand of gritty naturalism embraces the otherworldly with surprising ease in this gripping, exceptionally confident thriller. Michael Shannon, Nichols' favorite leading man, turns in another impressive turn as Roy Tomlin, first seen kidnapping a boy who turns out to be his son Alton (Jaeden Liebeher), an 8-year-old who's been kept under surveillance due to his strange powers. Joined by his ex-wife Sarah (Kirsten Dunst), he continues to run from one hideout to another, all while being chased by government agents as well as members of a religious sect. Mixing Nichols' previous concerns about family with fantastic elements that have reminded several critics of early Steven Spielberg, the film is tense, evocative, and ultimately moving.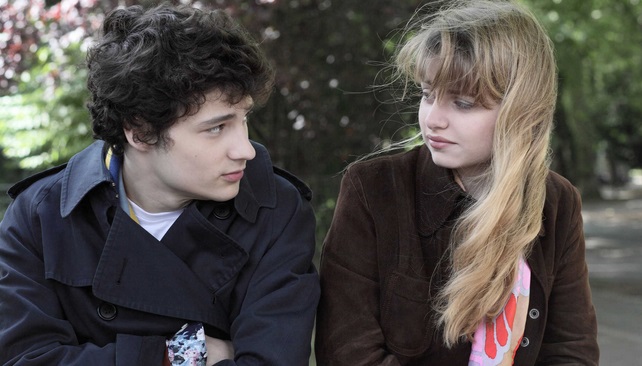 My Golden Days (Magnolia Pictures): A remarkably inventive and personal filmmaker, Arnaud Desplechin ("A Christmas Tale") gazes back at his own youth in this graceful comedy-drama, set in the French director's hometown of Roubaix. Unfolding in various decades and settings, the zigzagging story centers on Paul Dedalus (Mathieu Amalric, Desplechin's longtime leading actor), who recalls his teenager years in the midst of Cold War paranoia. There are bright and melancholy encounters with family and friends, but the pivotal character in his memories may be Esther (Lou Roy-Lecollinet, in a memorable debut), Paul's first love as he ventures into Paris. With reserves of humor and rue that evoke the days of the French New Wave, Desplechin creates a heartfelt, involving and emotionally ravishing constellation of privileged moments. With subtitles.

Netflix Tip: With "Midnight Special," director Jeff Nichols continues his emergence as a distinctive indie voice. So before checking out his latest, revisit his previous portraits of Southern life, which include the stark "Shotgun Stories" (2007), the harrowing "Take Shelter" (2011), and the moody "Mud" (2012).
On DVD:
Creed (Warner Bros.): One of the most iconic franchises of the 1980s, the "Rocky" films return to their gritty roots in this rousing, punchy crowd-pleaser. Rocky Balboa, the struggling palooka so famously portrayed by Sylvester Stallone, is actually a supporting character here, a guiding light for Adonis Johnson (Michael B. Jordan). The estranged son of Rocky's opponent turned friend Apollo Creed, Adonis tracks down Rocky and asks the retired boxing champ to help him train. A strong bond grows between them, but is their friendship stronger than the vicious boxers waiting for the young upstart in the ring? Director Ryan Coogler ("Fruitvale Station") brings a warm and emotional conviction to the story, lifting it out of its familiar underdog realm. Along with Stallone's lovingly etched, Oscar-nominated performance, this makes for a bracing cinematic knockout.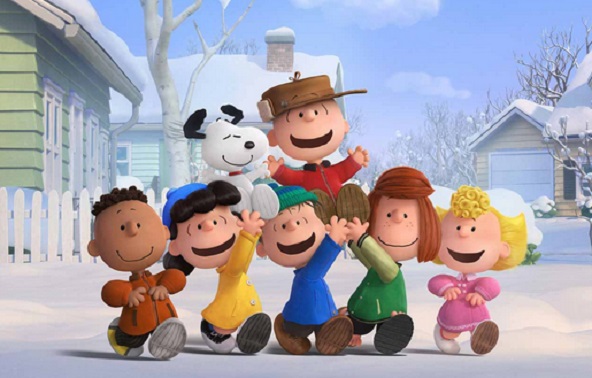 The Peanuts Movie (Fox): Perennial TV presences in practically every holiday, the beloved Peanuts Gang make their first big-screen appearance in years in this charming and poignant animated feature. Good ol' Charlie Brown (voiced by Noah Schnapp) continues his struggle with childhood, a struggle that grows even more serious when he develops a crush on the Little Red-Haired Girl who comes to live in his neighborhood. As he builds up courage to talk to her, such characters as Linus, Lucy, Peppermint Patty and of course Snoopy wander in and out of the story, adding their own distinctive notes. Though director Steve Martino last worked on one of the frantic "Ice Age" movies, he keeps things marvelously simple and low-key here, capturing the gentle spirit of Charles M. Schulz's original comic-strip.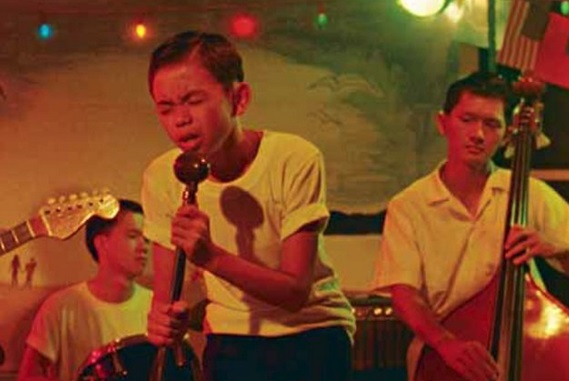 A Bright Summer Day (Criterion): This sprawling, emotionally rich 1991 drama from the late, great Taiwanese director Edward Yang ("Yi Yi") is finally available to viewers in an admirable Criterion release. Taking place in the early 1960s and expertly interweaving the stories of many characters, the story focuses on Xiao Si'r (Chang Chen), a teenage student who seeks release from strict school and home with a gang of street youths. While his immigrant parents deal with their own issues of dislocated identity, Xiao Si'r and his pals wander through the neighborhood in scrapes that grow more dangerous by the minute. With a simultaneously generous and analytical gaze that situates the characters in their specific milieu without succumbing to facile judgment, Yang's multigenerational saga is a must-see for movie lovers. With subtitles.
[headlines]
--------------------------------------------------------------
Crowdfunding March/Adoption?
Update
https://www.youcaring.com/march-a31015685-at-philly-acct-541603
Adopt a Pet
http://www.adoptapet.com/
[headlines]
--------------------------------------------------------------
Leasing News Classified Ads--Free
Post a Position Wanted
This is "free" to those looking for a new position. Each ad is limited to (100) words and ads repeat for up to 6 months unless the candidate tells us to stop. We encourage you to add a resume without your address and telephone number, as well as a photograph.
Please encourage friends and colleagues to take advantage of this service, including recent graduates and others interested in leasing and related careers.
Please send us an email to kitmenkin@leasingnews.org to post your ad.
[headlines]
--------------------------------------------------------------

News Briefs---
GE CEO explains why he's moving headquarters to Boston
Promises to make this deal worth the investment
http://www.bostonglobe.com/business/2016/03/24/ceo-tells-boston-business-leaders-why-moving-boston/1j6TiNUnzrnb3QWkEa5ZuM/story.html
Four Texas Metro Areas Collectively Add More Than
400,000 People in the Last Year, Census Bureau Reports
http://www.census.gov/newsroom/press-releases/2016/cb16-43.html
Shareholders OK KeyCorp, First Niagara Financial Group merger
http://www.crainscleveland.com/article/20160323/NEWS/160329916/
shareholders-approve-keycorp-first-niagara-financial-group-merger
Enterprise Security: The Easiest Hacks Are The Toughest
To Stop With Technology
http://www.siliconvalleywatcher.com/mt/
archives/2016/03/enterprise_security_t.php

[headlines]
--------------------------------------------------------------


--You May Have Missed It
Convoy Sees Itself as the Uber of Local Trucking
http://www.nytimes.com/2016/03/23/technology/convoy-sees-itself-as-the-uber-of-local-trucking.html?_r=0


[headlines]
--------------------------------------------------------------
SparkPeople--Live Healthier and Longer

7 Ways to Ice Injuries
http://www.sparkpeople.com/resource/fitness_articles.asp?id=71
[headlines]
--------------------------------------------------------------
Spring Poem
Spring Poem
10:47
breathe
10:47
words move in the air
your hands move
time moves
but not here
10:47
you are talking
but my ears stopped at 10:46
when your kind
caring executioner's eyes
met mine
and that word from your lips
cut like a scalpel through my breast.
Barry Marks


"Dividing by Zero" 108 Pages $15.26 Paperback
http://www.amazon.com/Dividing-Zero-Barry-Marks/dp/0942544919/ref=sr_1_1?s=books&ie=UTF8&qid=
1424283397&sr=1-1&keywords=marks+dividing

[headlines]
--------------------------------------------------------------
Sports Briefs----
Roger Goodell: No changes to Patriots' discipline
http://www.nfl.com/news/story/0ap3000000646950/article/roger-goodell-no-changes-to-patriots-discipline
In N.F.L., Deeply Flawed Concussion Research and Ties to Big Tobacco
http://www.nytimes.com/2016/03/25/sports/football/nfl-concussion-research-tobacco.html
Browns sign quarterback Robert Griffin III
http://www.crainscleveland.com/article/20160324/NEWS/160329853/browns-sign-quarterback-robert-griffin-iii
Those bad moves in Philly weren't Chip Kelly's fault, says Chip Kelly
http://sports.yahoo.com/news/those-bad-moves-in-philly-weren-t-chip-kelly-s-fault--says-chip-kelly-220104656.html
Chip Kelly's version of 49ers' Colin Kaepernick's fall is fantasy, not fact
http://www.pressdemocrat.com/sports/5421231-181/grant-cohn-chip-kellys-version
Chargers NFL stadium plan: Q & A
http://www.sandiegouniontribune.com/news/2016/mar/24/chargers-stadium-nfl-tax-hike-tourism/
Las Vegas Sands lays out plan for $1.3B NFL-grade stadium
http://www.sacbee.com/sports/nfl/oakland-raiders/article67947947.html

(Leasing News provides this ad "gratis" as a means
to help support the growth of Lease Police)
[headlines]
--------------------------------------------------------------


California Nuts Briefs---

Bay Area crab fishermen prepare for Saturday's long overdue season opener
http://www.contracostatimes.com/business-headlines/ci_29681034/bay-area-crab-fishermen-prepare-saturdays-long-overdue
Blue Note jazz club signs Napa Valley Opera House lease
http://www.northbaybusinessjournal.com/northbay/napacounty/5421655-181/blue-note-napa-valley-jazz-club
Ken Howard dies; star of TV's 'White Shadow'
http://www.insidebayarea.com/obituaries/ci_29678810/ken-howard-dies-star-tvs-white-shadow

(Leasing News provides this ad as a trade for investigative
reporting provided by John Kenny)
[headlines]
--------------------------------------------------------------


"Gimme that Wine"

http://www.youtube.com/watch?v=EJnQoi8DSE8

Henri Bonneau, Dean of Châteauneuf-du-Pape, Dies at 78
http://www.winespectator.com/webfeature/show/id/52896
Master Sommelier Catherine Fallis Launches Wine Review
https://primewomen.com/entertainment/food-wine/master-sommelier-catherine-fallis-launches-planet-grape-wine-review/
The Great Restaurant Deluge
http://modernluxury.com/san-francisco/story/the-great-restaurant-deluge
Free Mobile Wine Program
http://leasingnews.org/archives/Feb2010/2_26.htm#mobile
Wine Prices by vintage
http://www.winezap.com
http://www.wine-searcher.com/
US/International Wine Events
http://www.localwineevents.com/
Leasing News Wine & Spirits Page
http://two.leasingnews.org/Recommendations/wnensprts.htm

[headlines]
----------------------------------------------------------------
This Day in American History
31 – The first Easter celebration occurred, according calendar-maker Dionysius Exiguus. Dionysius is best known as the inventor of the Anno Domini era, which is used to number the years of both the Gregorian and Julian calendars. He used it to identify the several Easters in his Easter table of the future dates of Easter based in lunar projections. Dionysius' tables were quickly adopted at Rome, and from this time the arguments between Rome and Alexandria regarding the correct date for the celebration of Easter came to an end – both used identical tables and hence observed the feast on the same day.
1584 - Sir Walter Raleigh, English explorer, courtier, and writer, renewed Humphrey Gilbert's patent to explore North America. He went on to settle the Virginia colony on Roanoke Island, naming it after the virgin queen.
1609 - Henry Hudson embarked on an exploration for Dutch East India Co.
1634 - Lord Baltimore arrived in Maryland.
http://memory.loc.gov/ammem/today/mar25.html
1655 - Puritans jailed Governor Stone after a military victory over Catholic forces in the colony of Maryland.
1668 – The first horse race in America took place on a racecourse built over the Salisbury Plain in present-day Long Island, New York, just south of the New Hyde Park train station.
1751 - New Year's Day was celebrated in Great Britain and its North American colonies. This was the beginning of the New Year up through 1751, when, with the adoption of the Gregorian calendar, the beginning of the year was changed to Jan 1.
1775 - George Washington planted pecan trees (some of which still survive) at Mount Vernon. The trees were a gift to Washington from Thomas Jefferson, who had planted a few pecan trees from the southern US at Monticello, VA. The pecan, native to southern North America, is sometimes called "America's own nut." First cultivated by American Indians, it has been transplanted to other continents but has failed to achieve wide use or popularity outside the US.
1776 – Congress authorized a medal for George Washington.
1813 - The first U.S. flag flown in battle was on the frigate Essex in the Pacific. USS Essex takes Neryeda, first capture by U.S. Navy in Pacific. Early in 1813, the USS ESSEX, under the Command of Captain David Porter, USN, rounded Cape Horn and became the first Navy ship to carry the American flag into the Pacific Ocean. The ESSEX began operating in Pacific waters and captured a British commerce raider, several British merchantmen, and several large British whaling ships.
1843 - Seventeen Texans, who picked black beans from a jar otherwise filled with white beans, were executed by a Mexican firing squad. After months of raiding, captivity and escapes in Northern Mexico, Mexican president Antonio Lopez de Santa Anna ordered the execution of one tenth of the 176 Texas freebooters of the Mier Expedition.
1848 - News item in the "California Star" about the discovery of gold did not stir excitement in San Francisco.
1856 - A.E. Burnside patented the Burnside carbine.
1865 - Confederate General Robert E. Lee makes Fort Stedman his last attack of the war in a desperate attempt to break out of Petersburg, Virginia. The attack failed, and within a week, Lee was evacuating his positions around Petersburg. For nine months, Petersburg was under siege by the Army of the Potomac and the overall Union commander, General Ulysses S. Grant. The two great armies had fought a bloody campaign in the spring of 1864, and then settled into trenches that eventually stretched for fifty miles around Petersburg and the Confederate capital of Richmond. Lee could not win this war of attrition, but his men held out through the winter of 1864 into 1865. Now, Lee realized the growing Yankee army could overwhelm his diminishing force when the spring brought better weather for an assault. After a desperate battle, the rebels could not overrun the Union soldiers, who not only were in superior number, but were supported by continual reinforcements. The Rebels were unable to hold the captured ground, and they were driven back to their original position. The Union lost 1,000 men killed, wounded, and captured, while the Lee lost probably three times that number, including 1,500 captured during the retreat. Already outnumbered, these loses were more than Lee's army could bear. Lee wrote to Confederate President Jefferson Davis that it would be impossible to maintain the Petersburg line much longer. On March 29, Grant began his offensive, and Petersburg fell on April 3. Two weeks after the Battle of Fort Stedman, Lee surrendered to Grant at Appomattox Court House in Virginia.
1872 - Dr. Zabdiel Boylston inoculated his six year old son, Thomas, and two African-American servants with human smallpox pustules. He then went out to inoculate 247 individuals. The public acceptance in his area of acceptance of the inoculation was due in large measure to the efforts of Cotton Mather, the Boston minister and scientist, who persistently advocated it. Small pox as a dreaded disease around the world. In 1800, Dr. Edward Jenner of England introduced to Dr. Benjamin Waterhouse of Cambridge, MA, professor of theory and practice of medicine at Harvard University, who inoculated his son, Daniel, three children, and three servants, with smallpox using cowpox. It was not until this day in 1802, that a smallpox clinic was open and free distribution of the vaccine to the poor. This was started by Dr. James Smith in Baltimore, Maryland. This is a major event as small pox was the epidemic of the new world.
1880 - Birthday of Aline Bernstein (d. 1955), NYC. American stage and costume designer, author and unofficial agent for Thomas Wolfe. After doing costumes and scenery for the Henry Street Settlement for almost ten years, she applied for membership in the brotherhood of Painters, Decorator and Paperhangers of the AFL but was turned down until 1926 when she became the first female member of the union. For the next 20 years, she worked as resident designer for Eva Le Gallienne's Civic Repertory Theatre in New York. At age 71, she won the Tony for her costume designs for the opera "Regina" (1949). Following their well-known affair, Thomas Wolfe based the character of Esther Jack in two of his novels on her. She supported Wolfe who was 20 years younger, helped turn him into a novelist, found a publisher - and he left her.
http://www.us-israel.org/jsource/biography/abernstein.html
http://www.fau.edu/library/bro59.htm
http://www.sweetstar.com/book/080784117x
1894 - Coxey's Army of ragtag bums (Common-Wealth Army) heads for Washington DC, demanding economic reform. Coxey, a well-to-do businessman who was a Populist and quite untypical of his class in other ways, proposed a plan of federal work relief on public roads to be financed by an issue of Treasury notes--thus ending the depression of 1893 by means of monetary inflation and work relief for the unemployed. When Congress refused to pass this bill, Coxey stated, "We will send a petition to Washington with boots on." Thus Coxey's Army marched peacefully from Ohio to Washington, D.C. where they were cheered by crowds, but Coxey and his lieutenants were arrested by police and about 50 people were beaten or trampled. Library of Congress: John M. Blum et al, "The National Experience, Part Two: A History of the United States since 1865" (New York: Harcourt, Brace Jovanovich, 1981), p. 515.
1898 - Assist. SECNAV Theodore Roosevelt proposes Navy investigate military application of Samuel Langley's flying machine, beginning naval aviation. Langley had been experimenting for over a decade with steam powered flying machines and was attempting to adapt a working steam model to an internal combustion powered design.
1906 - Birthday of guitarist Curley Weaver (d. 1962), Covington, GA
http://www.io.com/~tbone1/blues/ECblz/curwea.html
1910 - The Chalmers Auto Company of Detroit agreed to award a new car to the player with the highest batting average at season's end. Ty Cobb won a disputed tile over Nap Lajoie in a controversial finish, but Chalmers awarded cars to both players in an effort to save face. At the start of the final day of the season, Cobb held a slim lead, just a few points ahead of the Lajoie. While Cobb did not play in the Tigers' final two games of the season, Lajoie played in two games on the last day of the season for the Cleveland Naps. Lajoie hit safely eight times in the Naps' doubleheader and finished the season with a .384 batting average. His final at-bat resulted in a wild throw which was scored as an error. The issue was brought to American League president Ban Johnson, who declared all batting averages official, and Cobb the champion (.385069 to .384095).
1911 - At about 4:30 PM, fire broke out at the Triangle Shirtwaist Company at New York, NY, minutes before the seamstresses were to go home. Some workers were fatally burned while others leaped to their deaths from the windows of the 10-story building. The fire lasted only 18 minutes but left 146 workers dead, most of them young immigrant women. It was found that some of the deaths were a direct result of workers being trapped on the ninth floor by a locked door. Labor law forbade locking factory doors while employees were at work, and owners of the company were indicted on charges of first- and second-degree manslaughter. The tragic fire became a turning point in labor history, bringing about reforms in health and safety laws.
http://www.csun.edu/~ghy7463/mw2.html
http://www.ilr.cornell.edu/trianglefire/
1913 - The Palace Theatre opened its doors in New York City. Ed Wynn was first on the vaudeville bill. Some 20 years later, Wynn would be named as radio's top entertainer. He later became popular on early television, as did his son, Keenan Wynne.
1914 - Society Hill, SC, was buried under 18 inches of snow, establishing a state record.
1916 - Ishi dies, last of his California-based Yahi Yana, his Native American tribe in Northern California. Captured in 1911, he had escaped from settlers who exterminated the rest of the Yahis, along with the elk they had hunted, only to spend his last years in captivity, studied by anthropologists as a freakish curiosity.
1917 - Birthday of drummer Armand "Jump" Jackson (d. 1985), New Orleans, LA
http://hubcap.clemson.edu/~campber/mallard.html
1918 - Howard Cosell (d. 1994), broadcaster, born at New York, NY. After earning a law degree, Cosell began his broadcasting career as the host of "Howard Cosell Speaking of Sports." He achieved national prominence and a great deal of notoriety for his support of Muhammad Ali's stand against the Vietnam War and then as co-host of ABC's Monday Night Football.
1931 - Scottsboro Boys arrested, Point Rock, Alabama. Nine black teenagers were accused of raping two white women on a train in 1931. The landmark set of legal cases from this incident dealt with racism and the right to a fair trial. The cases included a lynch mob before the suspects had been indicted, a frame-up, all-white juries, rushed trials, and disruptive mobs. It is frequently cited as an example of an overall miscarriage of justice in the US legal system. During the retrials, one of the alleged victims admitted fabricating the rape story and asserted that none of the Scottsboro Boys touched either of the white women. The jury found the defendants guilty, but the judge set aside the verdict and granted a new trial. The case was sent to the US Supreme Court on appeal. It ruled that African Americans had to be included on juries, and ordered retrials. Charges were finally dropped for four of the nine defendants. Sentences for the rest ranged from 75 years to death. All but two served prison sentences. One was shot in prison by a guard and permanently disabled. Two escaped, were later charged with other crimes, convicted, and sent back to prison. Clarence Norris, the oldest defendant and the only one sentenced to death, "jumped parole" in 1946 and went into hiding. He was found in 1976 and pardoned by Governor George Wallace, by which time the case had been thoroughly analyzed and shown to be an injustice. The last surviving defendant died in 1989. On November 21, 2013, Alabama's parole board voted to grant posthumous pardons to the three Scottsboro Boys who had not been pardoned or had their convictions overturned.
http://www.law.umkc.edu/faculty/projects/FTrials/scottsboro/scottsb.htm
1933 - Birthday of guitarist Clarence "Swamp Blues" Edwards (d. 1993), Lindsay, LA
http://www.rootsandrhythm.com/roots/BLUES%20&%20GOSPEL/
blues_e1.htm#CLARENCE%20EDWARDS
1934 - Horton Smith won the first Masters Golf tournament under the magnolia trees of Augusta National in Georgia.
1938 - Birthday of guitarist/songwriter/actor Hoyt Axton (d. 1999), Duncan, OK
http://www.sixcats.com/axton/hoyt2.htm
http://www.telusplanet.net/public/avert/hoytaxton/index.shtml
1942 - Singer Aretha Franklin was born Memphis, TN. Following her signing to Atlantic Records in 1967, Franklin achieved commercial acclaim and success with songs such as "Respect", "(You Make Me Feel Like) A Natural Woman" and "Think". These hits and more helped her to gain the title "The Queen of Soul" by the end of the1960s. Franklin eventually recorded a total of 112 charted singles on Billboard, including 77 Hot 100 entries, 17 top ten pop singles, 100 R&B entries and twenty number-one R&B singles, becoming the most charted female artist in the chart's history.
Mrs. Murphy: Help you two?
Elwood: Do you have any white bread ma'am?
Mrs. Murphy: Yeah.
Elwood: I'll have some toasted white bread please.
Mrs. Murphy: You want butter or jam on that, honey?
Elwood: No ma'am, dry.
Jake: Do you have any fried chicken ma'am?
Mrs. Murphy: Best damned chicken in the state.
Jake: Bring me four fried chickens and a Coke.
Mrs. Murphy: You want chicken wings or chicken legs?
Jake: Four fried chickens and a Coke.
Elwood: And some dry white toast please.
Mrs. Murphy: Ya'all want anything to drink with that?
Elwood: No ma'am.
Jake: A Coke.
Mrs. Murphy: Be right back.
Blues Brothers, 1980
1943 - A second great snowstorm hit the northeastern U.S. The storm produced snow from Maine all the way to the Gulf of Mexico. Natchez, MS received three inches of snow, and up to 15 inches buried eastern Tennessee. Coastal Maine received 204 inches of snow that winter.
1945 - After 35 days of bitter fighting, the amphibious assault on the rocky fortress of Iwo Jima finally appeared over. On the night of 25 March, however, a 300-man Japanese force launched a vicious final counterattack in the vicinity of Airfield Number 2. Army pilots, Seabees and Marines of the 5th Pioneer Battalion and 28th Marines fought the fanatical Japanese force till morning but suffered heavy casualties --more than 100 killed and another 200 American wounded. Nearly all of the Japanese force was killed in the battle.
1946 - The first "Jazz at the Philharmonic". One of the most influential solos of jazz alto saxophonist Charlie "Bird" Parker's career was his rendition of "Lady Be Good," performed at the Los Angeles Philharmonic Auditorium. Every aspect of the performance became part of the language of modern jazz. There are many albums of the various years produced by Norman Granz on Emarcy records.
1946 - Woody Herman band premiers Igor Stravinsky's Ebony Concerto at Carnegie Hall.
1947 - Singer/composer Sir Elton John was born Reginald Kenneth Dwight, Middlesex, England. In his five-decade career, John has sold more than 300 million records, making him one of the best-selling music artists in the world. He has more than fifty Tor 40 hits, including seven consecutive No. 1 US albums, 58 Billboard Top 40 singles, 27 Top 10, four No. 2 and nine No. 1. For 31 consecutive years (1970–2000) he had at least one song in the Billboard Hot 100. Having been named a Commander of the Order of the British Empire in 1996, John was made a Knight Bachelor by Queen Elizabeth II for "services to music and charitable services" in 1998.
www.eltonjohn.com
1948 - For the second time in less than a week airplanes were destroyed by a tornado at Tinker AFB in Oklahoma. A March 20th tornado destroyed fifty planes at Tinker AFB causing more than ten million dollars damage, and the March 25th tornado destroyed another thirty-five planes causing six million dollars damage. The first tornado struck without warning, and caused more damage than any previous tornado in the state of Oklahoma. The second tornado was predicted by Fawbush and Miller of the United States Air Force, and their accurate tornado forecast ushered in the modern era of severe weather forecasting
1952 - Bill Mosienko of the Chicago Blackhawks set an NHL record by scoring three goals in 21 minutes in a game against the New York Rangers. Mosienko scored at 6:09, 6:20 and 6:30 of the third period against goalie Lorne Anderson. Chicago won 7-6.
1954 - RCA manufactures the first COLOR television set.
1954 - 26th Annual Academy Awards, RKO Pantages Theater in Los Angeles. Actor/singer/dancer Donald O'Connor and actor Fredric March (in New York) kept the audience informed on who won what. "From Here to Eternity" (Buddy Adler, producer) won best picture of the year, also picking up the Oscar for Best Director for Fred Zinnemann, Best Supporting Actor for Frank Sinatra and Best Supporting Actress for Donna Reed, in addition to Best Writing/Screenplay (Daniel Taradash); Best Cinematography/Black-and-White (Burnett Guffey); Best Sound/ Recording (John P. Livadary, Columbia SSD); and Best Film Editing (William A. Lyon). The Best Actor award for the films of 1953 went to William Holden for "Stalag 17" while the Best Actress award went to Audrey Hepburn for "Roman Holiday". "Secret Love" from "Calamity Jane" was the Best Music/Song of the Year (Sammy Fain, music, Paul Francis Webster, lyrics). An interesting note: The Best Writing/ Story and Screenplay went to the 1953 version of "Titanic" (Charles Brackett, Walter Reisch, Richard L. Breen). Other memorable movies that year (some Oscar winners, some not): "The Robe", "Shane", "Mogambo", "The Moon is Blue" and "Hondo". ".
http://www.infoplease.com/ipa/A0148588.html .
1955 - Collector of Customs Chester McPhee confiscates 520 copies of a volume of poetry titled "Howl and Other Poems" by Allen Ginsberg with an introduction by William Carlos Williams. "The words and the sense of the writing is obscene," MacPhee declares "You wouldn't want your children to comer across it." It will then be published by City Lights publishers in San Francisco, leading to the arrest of publisher (and prominent poet) Lawrence Ferlinghetti. Customs also seized and destroyed another shipment of Ginsberg's poetry sent from Canada in the 60s.
1956 - Top Hits
"Lisbon Antigua" - Nelson Riddle
"The Poor People of Paris" - Les Baxter
"A Tear Fell" - Teresa Brewer
"Heartbreak Hotel" - Elvis Presley
1958 - Elvis Presley received the regulation short haircut from army barber James Peterson.
1959 – Frank Sinatra recorded "Here's That Rainy Day" for the Capitol album "No One Cares", arranged and conducted by Gordon Jenkins.
1961 - Elvis Presley appears in concert at a benefit for the U.S.S. Arizona memorial in Hawaii. Following his 17 song set, the King would not play another live date for the next eight years.
1964 - Top Hits
"She Loves You" - The Beatles
"Fun Fun Fun" - The Beach Boys
"Twist and Shout" - The Beatles
"Saginaw, Michigan" - Lefty Frizzell
1965 - Martin Luther King Jr., leads 25,000 into Montgomery, completing civil rights march begun in Selma. After a weeks-long struggle against local police, the civil rights march ends triumphantly with a 50,000 person demonstration in Montgomery.
http://i.timeinc.net/Life/mlk/mlk08.jpg
1966 - Poll taxes were declared unconstitutional by the Supreme Court on grounds that they represented an economic barrier to voting.
1967 - The Doors debut album, featuring "Light My Fire", enters the Billboard LP chart.
1967 - Although they had cracked the Top 40 on three previous occasions, The Turtles enjoyed their first and only Billboard number one hit with "Happy Together."
1969 - *DOANE, STEPHEN HOLDEN, Medal of Honor
Rank and organization: First Lieutenant, U.S. Army, Company B, 1st Battalion, 5th Infantry, 25th Infantry Division. Place and date: Hau Nghia Province, Republic of Vietnam, 25 March 1969. Entered service at: Albany, N.Y. Born: 13 October 1947, Beverley, Mass. Citation: For conspicuous gallantry and intrepidity in action at the risk of his life above and beyond the call of duty. First Lt. Doane was serving as a platoon leader when his company, engaged in a tactical operation, abruptly contacted an enemy force concealed in protected bunkers and trenches. Three of the leading soldiers were pinned down by enemy crossfire. One was seriously wounded. After efforts of 1 platoon to rescue these men had failed, it became obvious that only a small group could successfully move close enough to destroy the enemy position and rescue or relieve the trapped soldiers, 1st Lt. Doane, although fully aware of the danger of such an action, crawled to the nearest enemy bunker and silenced it. He was wounded but continued to advance to a second enemy bunker. As he prepared to throw a grenade, he was again wounded. Undaunted, he deliberately pulled the pin on the grenade and lunged with it into the enemy bunker, destroying this final obstacle. 1st Lt. Doane's supreme act enabled his company to rescue the trapped men without further casualties. The extraordinary courage and selflessness displayed by this officer were an inspiration to his men and are in the highest traditions of the U.S. Army.
1971 - Tom Jones went gold with his single, "She's a Lady," a million-selling hit song written by Paul Anka. It is Jones' highest-charting single in the U.S. to date, hitting #1 in Cash Box magazine for a week and spending one week at #2 on the Billboard Hot 100 chart.
1972 - The group, America, rode to the top of the pop music charts with their LP, "America", and the single (included on the LP), "A Horse with No Name," the group's only gold record and one of two number one songs (the other was "Sister Golden Hair", 6/14/75). America placed 11 tunes on the pop music charts between 1972 and 1983. The group formed in England in 1970 by multi-instrumentalists Dewey Bunnell, Dan Peek, and Gerry Beckley, sons of U.S. Air Force personnel stationed in London, where they began performing live.
1972 - Top Hits
"A Horse with No Name" - America
"Puppy Love" - Donny Osmond
"Mother and Child Reunion" - Paul Simon
"My Hang-Up is You" - Freddie Hart
1972 - Roberta Flack started a five-week run to the top of the Billboard album chart with "First Take".
1975 - The town of Sandberg reported a wind gust to 101 mph, a record for the state of California
1977 - After a decade of having only local success in the Michigan area, 33 year old Bob Seger gets his big break. His 7th album, "Night Moves" goes Platinum on the strength of three Top Forty hits: "Night Moves", "Mainstreet" and "Rock and Roll Never Forgets".
1980 - Top Hits
"Another Brick in the Wall" - Pink Floyd
"Working My Way Back to You/Forgive Me, Girl" - Spinners
"Him" - Rupert Holmes
"Why Don't You Spend the Night" - Ronnie Milsap
1982 - "9 to 5 " premiered on TV. This half-hour sitcom was based on the 1980 movie of the same name about three working women in dead-end jobs in a larger corporation. The three women were played by Rita Moreno, Valerie Curtin and Rachel Dennison (in the role her sister Dolly Parton had played in the movie."
1982 - "Cagney & Lacey" premiered on TV, breaking new ground as the first TV crime show in which the central characters were both female. The series was based on a made-for-TV movie that aired Oct 8, 1981, starring Loretta Swit and Tyne Daly. In the TV version, Meg Foster played Swit's character, Chris Cagney, but after one season she was replaced by Sharon Gless. Daly and Gless won six Emmys together for their roles. The last telecast aired on Aug 25, 1988.
http://timstvshowcase.com/cagney.html
1983 - Motown Records celebrates its 25 anniversary with a concert in Pasadena, featuring The Supremes, Stevie Wonder, The Temptations, The Four Tops, Martha Reeves, Jr. Walker, The Commodores, Marvin Gaye, Smokey Robinson and The Jackson 5.
1985 - 57th Academy awards, Dorothy Chandler Pavilion, Los Angeles, no less. Host for the big show was actor/director Jack Lemmon. The Best Picture of 1985 was "Amadeus", produced by Saul Zaentz. It also won Oscars for Best Director for Milos Forman and Best Actor for F. Murray Abraham. The film also won top honors for Best Writing/Screenplay Based on Material from Another Medium (Peter Shaffer); Best Costume Design (Theodor Pistek); Best Sound (Mark Berger, Thomas Scott II, Todd Boekelheide, Christopher Newman); and Best Makeup (Paul LeBlanc, Dick Smith). Sally Field was pronounced Best Actress for "Places in the Heart", Best Supporting Actor was Haing S. Ngor for "The Killing Fields", and the Best Supporting Actress Oscar was given to Peggy Ashcroft for "A Passage to India". Stevie Wonder's "I Just Called to Say I Love You" from "The Woman in Red" took the honors for Best Movie/Song. And the Academy gave an honorary Oscar to Jimmy Stewart in recognition of more than 70 films in his 50-year career. Stewart earned one Oscar for Best Actor in "Philadelphia Story" (1940), and nominations for Best Actor in "Mr. Smith Goes to ". Washington", "Harvey", "It's a Wonderful Life" and "Anatomy of a Murder".
http://www.infoplease.com/ipa/A0149613.html
1988 - Top Hits
"Never Gonna Give You Up" - Rick Astley
"I Get Weak" - Belinda Carlisle
"Man in the Mirror" - Michael Jackson
"Life Turned Her that Way" - Ricky Van Shelton
1988 - An early season heat wave prevailed in the southwestern U.S. The high of 93 degrees at Tucson, AZ was a new record for March. Windy conditions prevailed across the central and eastern U.S. Winds gusted to 60 mph at Minneapolis, MN, and reached 120 mph atop Rendezvous Peak, WY
1990 - Temperatures dipped below zero in the Northern Rocky Mountain Region. Hardin, MT was the cold spot in the nation with a morning low of 10 degrees below zero. Freezing drizzle was reported in the Southern Plains Region, with afternoon highs only in the 30s from the Southern High Plains to Missouri and Arkansas.
1991 - The World League of American Football, part of the marketing attempt by the National Football League to extend the game's popularity in Europe, made its debut as the London Monarchs defeated the Frankfurt Galaxy, 24-11.
1991 – 63rd Academy Awards Celebration, Dorothy Chandler Pavilion. Host was Billy Crystal, wearing an Armani tuxedo as did actors Jeff Goldblum, Tom Hanks, Dennis Hopper, Steve Martin and Denzel Washington. Also clad in Armani ... gowns ... were Oscar nominees Michelle Pfeiffer, Julia Roberts and Jessica Tandy, prompting "Women's Wear Daily" to refer to the occasion as the "Armani Awards". Best Picture of the year (1990) was "Dances with Wolves" (Jim Wilson, Kevin Costner, producers). Costner also won for his Best Direction of "Dances with Wolves". The Best Actor Oscar went to Jeremy Irons for "Reversal of Fortune". Best Actress was Kathy Bates for "Misery". The prize for Best Supporting Actor was claimed by Joe Pesci for "GoodFellas" and Best Supporting Actress was Whoopi Goldberg for "Ghost". The Best Music/Song was presented to Stephen Sondheim for "Sooner or Later (I Always Get My Man)" from "Dick Tracy".
http://www.infoplease.com/ipa/A0149801.html
1995 - Top Hits
"Take A Bow" - Madonna
"Candy Rain" - Soul For Real
"Creep" - TLC
"Red Light Special" – TLC
2000 - Top Hits
"Say My Name" – Destiny's Child
"Maria Maria" - Santana Featuring The Product G
"Breathe" - Faith Hill
"Amazed" - Lonestar
2001 - Steve Martin hosts the Academy Awards at the Shrine Auditorium, Los Angeles. "Gladiator" wins the best picture, Russell Crowe for "Gladiator," Julia Roberts for "Erin Brockovich," Benicio Del Toro, Best Supporting Actor for "Traffic," Best Supporting Actress Marcia Gay Harden
for "Pollock," Steven Soderbergh Best Director for "Traffic," Best Writer Stephen Gaghan for "Traffic," Bob Dylan wins the Best Original Song Oscar for "Things Have Changed" from the movie "Wonder Boys."
http://www.imdb.com/Sections/Years/2000/academy-awards
2014 - U.S. Girl Scout Katie Francis breaks the record for selling cookies for the organization's annual fundraiser, selling 18,107 boxes over a seven-week period.
NCAA Basketball Champions:
1948 - Kentucky
1957 - North Carolina
1963 - Loyola (IL)
1968 - UCLA
-------------------------------------------------------------

SuDoku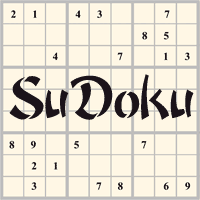 The object is to insert the numbers in the boxes to satisfy only one condition: each row, column and 3x3 box must contain the digits 1 through 9 exactly once. What could be simpler?
http://leasingnews.org/Soduku/soduko-main.htm
--------------------------------------------------------------

Daily Puzzle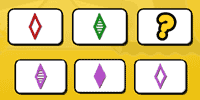 How to play:
http://www.setgame.com/set/puzzle_frame.htm
Refresh for current date:
http://www.setgame.com/set/puzzle_frame.htm
--------------------------------------------------------------


http://www.gasbuddy.com/
http://www.gasbuddy.com/GB_Map_Gas_Prices.aspx
http://www.gasbuddy.com/GB_Mobile_Instructions.aspx
--------------------------------------------------------------

Weather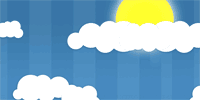 See USA map, click to specific area, no commercials
--------------------------------------------------------------

Traffic Live---
Real Time Traffic Information
You can save up to 20 different routes and check them out with one click,
or type in a new route to learn the traffic live
--------------------------------