4-2 Red Sox, But the Score Doesn't Tell the Whole Story of a very courageous team and a sullen NY crowd where riot police were on the field in the eighth inning, leaving the bottom of the ninth.
Restaurants and other retailers will be feeling it tonight as most eyes will be glued to the Seventh game to decide the Champions.
.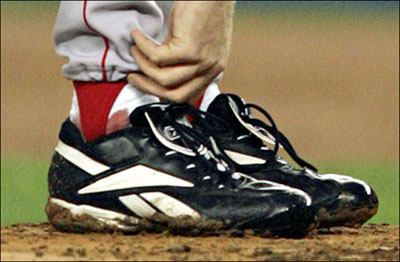 Schilling's ankle showed some wear and tear as the game progressed
Boston Globe
http://www.boston.com/dailynews/294/sports/
New York Times
http://www.nytimes.com/2004/10/20/sports/baseball/
USA Flash Photo's
http://www.usatoday.com/sports/gallery/2004/mlb-lcs/flash.htm

National Accounts Mgr: Truck/Trailer Industry. Must generate minimum of $500K/month. Click here for detailed description & resume submission info.
Trinity Capital, a subsidiary of Bank of the West, is a national leader in the equipment financing industry with a consistent presence and superior reputation.
Wednesday, October 20, 2004
Headlines---
Classified ads---Places to Advertise/Some for Free
Pictures from the Past---Schwartz/Dunham/McAfee/Head
Amex, Matsco, former Rep. Leasing of SC, Depping Buys Bank?
ELA Survey: Activity Down, But Profits Good
The 30 Year History of UAEL--- Part II
Marc Baert Joins The Alta Group
Scott Schauer Joins Key Equipment Finance
CitiCapital's Ellen Alemany cited as "Woman to Watch" in Banking
Baseball Poem--Mickey Mantle's Birthday
########  surrounding the article denotes it is a "press release"
Editor's Note:  Good News and Bad News.  First the bad news:
Northern California's first October winter storm knocked the power off
in our area in Saratoga, California, where I both write and
send out Leasing News.  In a short period, we received over
three inches of rain, more than any other city in the Bay Area.
Thus no edition yesterday.
Good News: Power is back on. The weather is also clearing up for the UAEL Conference in Monterey, California. Thursday is predicted: Sunny.

-------------------------------------------------------------------------------
Correction:  Here is a current picture of John Torbenson, more
current than the 1993 printed on Monday.
(and yes, he still likes to play a lot of golf.)
John Torbenson, President
Odyssey Equipment Financing Company
4130 N. Goldwater Blvd. Ste. 217
Scottsdale, AZ 85251
Toll-Free (888) 607-6800
(480) 607-6800 Fax (480) 607-6868
www.oefc.net
-------------------------------------------------------------------------------
Classified ads---
www.adams-inc.com
www.affinitysearch.com
www.bajobs.com
www.careerbank.com
www.careerpath.com
www.craigslist.org (available in many cities now, use scroll feature)
www.elaonline.com
www.goldenparachute.com
www.Headhunter.net
www.hotjobs.com
www.jobs.net
www.lessors.com
www.MarketingJobs.com
www.monitordaily.com
www.Postonce.com
www.RecruiterConnection.com
www.resumeblaster.com
www.vetjobs.com
www.worktree.com
Leasing News is dedicated to helping people find work,
a better job, advance in your career, and the best time
to start looking for a job is when you don't need one.
Interviews are very good practice to hone your skills
in talking about you, your skills, what you have accomplished.
Works at your job the best you can, make friends, learn
more, become more valuable to your employer, and
your reward will not only be recognized by others,
but will give you the security you can find a paying
job at any age.
Activity leads to activity.
---------------------------------------------------------------------
Pictures from the Past---
November,1999---Schwartz/Dunham/McAfee/Head
Founders Award presentation in celebration of the Association's
20th Anniversary (left to right) Art Schwartz, Steve Dunham, Harold
"Hal" McAfee, and Steve Head.
November, 1995 UAEL Regional Reporter
-------------------------------------------------------------------------------
Amex, Matsco, former Republic Leasing of SC, Depping Buys Bank?
    by Kit Menkin
The Wall Street Journal reports "Insiders say that Greater Bay Bancorp is soliciting potential buyers, though it is not clear what banks may be interested in the $1.5 billion-plus valued Greater Bay. The bank's assets total $7.6 billion and it has reported net income of $24.5 million for the second quarter; it operates under a number of names in the San Francisco area. Sandler O'Neill & Partners is said to be handling the sales process. Bank merger activity has slowed since this summer, but the financial industry is still the most active sector in global mergers and acquisitions, and 23 of the deals announced this year so far have been bigger than a Greater Bay deal would be. The California banking market is fairly consolidated already, observers note."
The Matsco Companies are part of Greater Bay Bank.
NetBank has been looking around to spin off various divisions, one of them reportedly to be the former Republic of South Carolina. Could
it be the many trips to Houston, Texas, were to see Thomas J.
Depping, as one person who knew him well said, "He most likely needs to get back in business because of his spending habits."
We do have an unconfirmed report, at this time, the Gazelle finally got his wish:  Reportedly he closed on the purchase of Main St. Bank in Kingwood, TX a suburb of Houston last week.  What's next?
You may have a chance to ask him as Thomas J. Depping is registered to attend the ELA Conference in San Diego with his former right hand Bob Quinn. Depping put down he is CEO/Chairman, Main Street Investment Partners, Inc., 2909 High Valley Drive, Kingwood, Texas 77345. He is not registered as a member (when we checked,) but first time attendees are allowed to attend as non-members.  Or as one
observer noted, "he is up to his old tricks again."
The mill is getting more active about American Express wanting to sell it's leasing division, some say just the portfolio. CIT has allegedly asked to look at their "book." American Express has a reputation
for taking care of their people.
Some very high sources say the rumor is true. One person, in the know. speculated that Rich Tambour, General Manager of American Express Business Finance, has put out feelers. It also could be he may stay for a few years in the sale and then retire; it depends on the buyer. One thing, he won't be working at Main Street Bank in
Kingwood, Texas.
Many American Express Business Finance employees tell Leasing News they think the buyer is GE Capital, and ask what do we know? Really, only what readers tell us, as the major corporations only talk to us via press releases. 
Leasing News has been told by several very high sources that the
word on the street that the division is up for sale is true; bidders
welcome. No doubt, GE Capital has the cash.
If you are attending the ELA Conference in San Diego,
you might find out what company wants to put in an offer.
Also let me know if Rob Yohe, who taught Bob Quinn all
about "Private Label" leasing at Denrich, goes back to
his old time boss, or better yet, if Oren Hall is coming out of retirement to work for Tom Depping.
Coda:

I did hear by e-mail from the former First Sierra/Sierra Cities President Thomas J. Depping. I did ask him by e-mail for an interview, to talk about what his plans, his new bank....He responded, "I will be in Monterey over the weekend. I would be happy to buy you a drink."
It will be very interesting as former First Sierra officers, managers, and
competitors will be there. I bet they all will get along, including
Oren Hall, Mark McQuitty...as Tom Depping is that good. He is the
Donald Trump of the Equipment Leasing Industry.

Thomas J. Depping in his Office drinking Diet Coca Cola
------------------------------------------------------------------------------
Classified Ads---Help Wanted
Brokers

Brokers. We get deals done! We can help you make more money. We are on top of the changing marketplace with more sources due to our volume. Must have 4 years of leasing experience w/ strong client base. 70% Commission, 70% Residual. Barbara Griffith bgriffith@socalleasing.com or 714-573-9804
About the company: SCL has been in business for 12 years. We are contracted with multiple funding sources which enables us to provide more competitive rates and flexible terms and conditions.
Funding/Loan Processor

Funding/Loan Processor: Irvine, CA. Experienced Lease/Loan Processor to join growing operations staff. Must be organized and very detail oriented. Leasing experience helpful but not main determinant.
Vendor Sales Specialist: Experienced in developing relationships & vendor programs. Will need to establish/head our new vendor division. Must be knowledgeable in all aspects of leasing from the broker lessor perspective.
Please E-mail resume to: elang@nationwidefunding.com
About the Company: Nationwide Funding, with its prime location in Southern California and offices in Chicago, has been able to secure specialized credit facilities and create funding partnerships with a wide variety of financial institutions. This diversity allows us to be a complete funding partner for your business.
Dealer Credit Finance Analyst / Dealer Credit Finance Services Supervisor
National Account Manager

National Accounts Mgr: Truck/Trailer Industry. Must generate minimum of $500K/month. Click here for detailed description & resume submission info.
Trinity Capital, a subsidiary of Bank of the West, is a national leader in the equipment financing industry with a consistent presence and superior reputation.
Vendor Account Executive

Vendor Account Executive: Troy, MI, Proven sales exp in developing vendor relationships. Must be knowledgeable in all aspects of leasing. Strong communication skills. Send email to resume@leasecorp.com
About the Company: Lease Corporation of America is a well established, 16 year old, national equipment leasing company.
  Our Classified Ads are the most economical
you can buy to reach 25,000 readers in the
leasing industry in every issue.
   $400.00 for four lines
   $50.00 per line the next four lines
   $25.00 per line thereafter
The lines do not include logo area, which is free,
 as well as the description about
your company, or any links to your
site or full job description. Artwork
is free.  Price is for ten newsletter issues
(the ad remains on the web site and is usage
is not counted if no newsletter issue.)
Start the ball rolling by e-mailing: maria@leasingnews.org
--------------------------------------------------------------------------
ELA Survey: Activity Down, But Profits Good
ELTnews
The Equipment Leasing Association 2004 Survey of Industry Activity reports volume down, but higher profitability for the equipment leasing and finance industry in 2003. Delinquencies and charge-offs dropped, too, indicating improved portfolio quality.
Another financial indicator is pre-tax spread. The data shows that 2003 pre-tax spread declined slightly when compared to the previous year. This decline can be attributed to a combination of factors: decrease in pre-tax yield & slight decrease in cost of funds.
The 2004 version of the annual Survey of Industry Activity reports on the leasing activity of 135 leasing and finance organizations. It is a ?must-have? for lessors interested in comparing their operations and performance to their industry peers, and a critical management tool for any business trying to compete in today's challenging leasing environment.
The 2004 Survey Report is available at from the ELA Store at http://www.elaonline.com/Store/ProductDetail.cfm?product_code=SIA2004.
Questions can be emailed to Bill Choi at Bchoi@elamail.com.
-------------------------------------------------------------------------------
  Please send to a colleague, as we are trying to build our
readership.  Subscription is free.
-------------------------------------------------------------------------
The latest books and instruction manuals on leasing
The 30 Year History of UAEL--- Part II
by Kit Menkin
 "Steve Dunham, WAEL's founder and first president, fixes his gaze on where we've been and where we're going, both as an industry and an association."
Fall 1996 United Association of Equipment Leasing Newsline
Dunham has 20-20 Vision
By James Veldez Geluz
He is a 30-year veteran of the equipment leasing industry. He founded its most dynamic asso­ciation. With these unique cre­dentials, Steve Dunham has a clear perspective of leasing's past, present,
and the future.
It's a perspective that offers valuable insight to everyone in leasing community. Dunham sees the develop­ment of both the industry and the association as one marked by a number of distinct, and paral­lel, stages.
Stage One:
The Early Years
At WAEL's inception in 1974, the leasing industry, in the midst of developing standards for pro­cedures and documentation, was in a largely formative stage. And, obviously, the association was as well.
The association, which was started to provide a means of exchanging information and building industry relationships, was an exciting entrepreneurial undertaking for Dunham. He saw a need and looked to meet it with WAEL.
Dunham, while eagerly tak­ing credit for WAEL's forma­tion, is modest about his role in making the association run ef­fectively. "All the credit goes to Art Schwartz," Dunham in­sists, noting the contributions of the association's original ex­ecutive vice president. "He took a wild idea of mine and made sense of it.-"
Dunham marks this early stage, as well as every subsequent stage, by associating it with WAEL's leaders at that time. The early presidents - Dunham, Harold "Hal" McAfee, Steve Head, and Fred Shieman - along with Schwartz, laid the foundation for the association. This task included determining the activity of the association, ranging from developing pro-grams to organizing meetings to attract and aid members, ac-cording to Dunham.
True to his entrepreneurial spirit, Dunham focused his en­ergies to generating excitement for the then-fledgling organiza­tion. "I had lots to do to get people interested in WAEL," Dunham recalls.
In addition to starting the association, Dunham's entrepre­neurial skills were tested with the formation of his present company, Leasing Associates of Cupertino, CA, in 1976. The lease brokerage was the latest step for Dunham, who has worked in the leasing industry since 1963, initially working for funding sources. But, "in 1967, I wanted to be a broker, and have been ever since, " Dunham said.
Stage Two:
A Coming of Age

The next stage for the associa­tion centered around the effort to build a solid membership base. Continuing his theme, Dunham connects this period to its leadership of the day. "The presidents - John Torbenson, Bob Jacobson, III - they were the go-go guys that tried to get membership up," Dunham re­flects.
Dunham sees the period led by Jim Possehl, CLP, Ronald Wagner, CLP, and Bill Grohe as the "coming of age" group, es­pecially in terms of assuming the management of WAEL. They were successful in coping with "the difficult time of moving from the association manage­ment organization [that ran WAEL] to creating a self-run­ning association," Dunham said. This included the hiring of Jon Bednerik.
During this stage, the in­dustry continued to evolve. Where once few companies wanted to deal with brokers, the leasing and lending companies increasingly turned to brokers. "Commissions went up; residu­als went up," according to Dunham. With excitement be­ing generated in leasing circles, more commercial lenders got into the act. "They'd do any-thing to fund deals," Dunham said.
Stage Three:
Transition

Transition describes the next period, not only for the associa­tion, but for the industry as well. For WAEL and Presidents Hal Horowitz, CLP, Gordon Rob­erts, and Peter Eaton, CLP, that meant a deliberate attempt to fine-tune its member services. Part of this refocusing included the bringing on board of Ray Williams, Ph.D., the current Executive Vice President. "Where Jon [Bednerik] was more of an administrator, Ray is much more of a front man, more geared to promoting the associa­tion," Dunham ascertains.
In relation to the industry, transition has meant the para­mount importance of the com­puter and advances such as credit-scoring systems for today's leasing operation. These changes become vital to keep up in the current economic climate.
Ways of moving ahead include the de­velopment of strategies to cope with downsizing and increased competition, ac-cording to Dunham. One of the ways to cope is to increase efficiency, whether through business practice innovation or technological means. The task remains problematic, however: "The smaller lessor or broker is pushed hard to make a profit," Dunham diagnoses.
Dunham has confidence in the association's current leadership in dealing with the transitional upheaval. "Jim Merrilees (CLP) is a great steadying force," Dunham notes. "Because of his personality as a bright, steady guy, he's ideal for man-aging UAEL through the transition."
The association which was started to provide means of exchanging information and building industry relationships, was an exciting entrepreneurial undertaking for Dunham. He saw a need and looked to meet it with WAEL.
The Next Stage
For the future, Dunham again projects con­fidence in UAEL's leadership. "Oren Hall (who is slated to assume the association presidency in 1996) is ideal for the times, given his experience in the industry," Dunham said. "He's the perfect guy to as­similate the changes in the industry."
But Dunham is careful to recommend a course of action for the association that he founded. UAEL should be instrumental in providing the means of learning - educa­tional programs, regional meetings, and as­sociation-wide conferences - that will help its members deal with the challenges of the future. With these resources, leasing firms will be "all the better to prepare for the fu­ture of changes" Dunham said. "UAEL can answer the questions like `How do we run our business more efficiently?' or `how do we increase business by maximizing the tele­phone or mail?"'
Given his longevity in the industry, it is obvious that Dunham has enjoyed a great deal of success. Instrumental in this suc­cess is his wife, Diane. "I couldn't have got-ten where I am today without her, " he re-calls. "She's certainly as responsible as any for our prosperity."
Another element includes association involvement, especially the networking op­portunities for our members. "Networking has always been an important part of the association, and is cost-effective," Dunham explains. By attending meetings, it provides an opportunity to meet people and not have to travel " to their offices.
"Regional events supply ideas, espe­cially ones that no one picks up on," Dunham continues. "90 percent of what people say, you've heard before, but then, somebody will say, `this is how we do this,' and I'd incorporate the idea."
Being part of this constant dialog has yielded much success for Dunham. Look­ing back over his career, he pays a consider-able complement: "WAEL has made me a lot of money."
For his next stage, Dunham will con­centrate on "the fun stuff," as he calls it - the marketing of Leasing Associates and generating more "wild ideas." From the man whose wild ideas have included forming WAEL, it's sure to be some fun stuff
--------
Today Steve Dunham oversees the operation from his New England office. The Santa Clara staff includes Betty Loya, a twenty year employee, as operations manager and his son Brad Dunham as sales manager. Jay Coles continues to operate the Pleasant Hill Office.
Brad Dunham
Sales Manager
Leasing Associates
3000 Scott Blvd. Suite 104, Santa Clara, CA 95054
Phone: (800) 544-3981 Ext. 103 Fax: (800) 700-7595
Email: ilease@yahoo.com
"Standing: 1996 United Association of Equipment Leasing President Elect Oren Hal. Insert: Saturday keynote speaker Art Schwartz,
( originally a management service provider, then the first executive secretary of the organization.)"
November, 1995 UAEL Regional Reporter
A recent "Whatever Happened to..." found Bob Jacobson:
Bob Jacobson Found Alive and Well!!!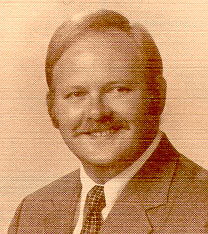 Leasing News has printed several "Pictures of the Past" regarding former equipment leasing industry Bob Jacobson. On February 12 of this year, we ran the above photograph, and wrote:

In 1983, Robert S. Jacobson, III, was the Western Association of Equipment Lessor vice-president. At the time he was vice-president, National Broker Division, Tri-Continental Leasing Corporation, a division of Bell Atlantic, a major telephone company. A WAEL Leasing Conference was not the same without him. He had served as vice present and member of the Executive Committee. In 1984 he would become president of the association now known as the United Association of Equipment Leasing.

He was recruited by Don Smith and Hy Bren of Interlease, San Francisco in 1974, from Union Bank. Don died of a heart attach while playing tennis in Tiburon, and his then partner Hy Bren went on to form his own company, finally joining Matsco, Emeryville, California, where he was a star salesman and sales personnel recruiter, retiring last year.

Bob learned from the great advertiser/promoter Don Smith at Perry's on Union Street about "discounting" to start his own leasing company in 1975, which was sold to a holding company where he remained president until forming Leasing Acceptance. where Ben Millerbus was the sales manager. They had a direct sales force. In the next downturn of the industry, 1978, the company split up: Millerbus left to start Pentek Leasing, San Jose, California. He later he sold it in 1982 to Alaska Pacific Bancorporation, which in turn was sold to a large Upstate New York bank. Millerbus didn't stay retired long, forming Pentech Financial Services in Campbell, California with the backing of John Otto, plus was co-founder of Silicon Valley Bank ( he has recently formed a group to start a commercial bank again ).

Jacobson, well-known for his late night poker games, set up a broker "private label" operation called Tri-Continental Leasing, then located in Mountain View, California. In one of the next economic down turns, the telephone company divested itself of this division, shutting down their branch operations. Bob then went to work for Amembal, Deane & Associates doing lease training across the country. From memory, he was here about a year before he left the leasing business to join Hewlett-Packard, reformed, reportedly doesn't gamble, and last heard was involved in managing an engineering department. He and his family live in the Half Moon Bay area, California, where he commutes to work (just like John McCue of McCue Systems, Inc.)

Attempts to reach Jacobson him for a statement of the industry have gone unanswered. He has been "annoyed" at Kit Menkin for several years for not attending his birthday party, and that's Bob.

The Good News ! ! !

Cheryl and Bob Jacobson are Alive and Well in Lake Tahoe

"Periodically, Jim Swander has forwarded to me tidbits from your newsletter that pertain to me. I thought I'd give you an update if you care to include in any future issue.

"As you all know, I had become passionate about technology during my final years in the leasing industry. After Bell Atlantic Tricon decided to close the broker division in the early 90's, I devoted about a year to building up a computer BBS (Bulletin Board System) out of my home. One of my users was a manager at HP Laboratories in Palo Alto. He made me a job offer to join HP as a temporary I.T. worker, installing computers at the labs. That progressed to a full time engineering job where I eventually became a department manager in charge of inventing disruptive technologies.

"After about 5 years, my natural core competency of B*S* took over, and I was sent into the field. I ended up being a Business Development Manager for Europe, and then Asia. My job was to negotiate the multi-million dollar alliance and partner relationships for HP overseas. After 300,000 miles of travel per year and 270 nights in hotels every year for a 4 year period, I finally had to get out

in 2002.

"Cheryl and I found ourselves in Lake Tahoe over a holiday, and fell in love with the area! We sold our home in Half Moon Bay, bought a house up here, and then tried to figure out what we wanted to do for work. I thought that maybe being a blackjack dealer would be a great change of pace! I was accepted into Harvey's black jack school, but when Cheryl found out, she told me absolutely not. She didn't want me in the smoke filled, booze filled, environment. I learned a long time ago that I wear the pants in the family, but she tells we what color and which leg to put in first. :-)

"So, Marriott opened up a timeshare resort in Heavenly about that time. I called up and they immediately took me on board. I've been selling vacation ownership here in Tahoe since May '03.

"I'm still sober, don't gamble anymore, and love living in Paradise!!

Attached is an updated picture they took at HP a couple of years ago.

"I think about all my friends in the Leasing Industry many times. I try to keep up with what's happening to all my old friends as much as I can. If anyone wants to email me, my email address is jacobson@overjoyed.com. And, Kit, you are totally forgiven for standing me up on my birthday dinner so many years ago. :-)

"Bob Jacobson"

April, 1981 WAEL Newsline

Irene Devine has joined the Western Association of Equipment Leasing staff as Associate Director. In addition to serving as Editor of Newsline, Irene will work with Executive Director Fran Schwartz and the Associate Director, Arthur Schwartz. Irene formerly worked with the California Escrow Association, and has a background in publications, public relations and marketing.
February 24,1984, it was announced Randy Bauler, CAE. would become the full time executive director.
Randy Bauler, CAE, formerly Executive Vice President of the Electric League of Arizona, joined the Western Association of Equipment Leasing executive staff in February.
" 'We are delighted to have someone of Randy's experience and enthusiasm join us,' said WAEL president Bob Jacobson. "WAEL has grown tremendously in the past few years and many new programs are planned for this year. Randy will be a real asset to the WAEL management team."
"Bauler will work with the WAEL Board and Long Range Planning Committee in developing a strategic plan for WAEL's next five years. Responsibilities for committee projects and other WAEL programs will be divided between Bauler and WAEL Executive Director Irene Devine.
"Public Relations, Member Services, Certification, Membership, Brokers and Federal Legislative Involvement Committees will be coordinated by Bauler. Devine will work with Education, Legislative Relations, Accounting, Tax, Legal and Standards Committees and will continue to edit
"Bauler started his career as an association executive with the Arizona Electric League in 1975. He received the Professional Performance award form the American Society of Association Executives in 1981 and his CAE ( Certified Association Executive) designation in 1983."
June, 1985, the new logo was approved:

 WAEL NEWS LINE December, 1988

    WAEL Selects New Executive Vice President
After Months of conducting an extensive nationwide search, the WAEL Management Selection Task Force recommended a twenty -year association executive, Jon C Bednerik; he was appointed by the WAEL Board of Directors to the position of Executive Vice President during a special meeting held in November.
Bednerik assumed his new post on December 5. That date marks the beginning of the transition from the long-term relationship with Management/Association Services, Inc. (MAS), which has been providing administrative support to WAEL for some fifteen years. WAEL will establish its own association headquarters staff in the Oakland/San Francisco Bay area. Plans call for the transition to be completed around mark of 1989.
Chosen from a field of more than 400 candidates, Bednerik has been Executive Director of the Western Independent Bankers (WIB) for over five years. WIB is a regional trade association of 300 independent banks and some 50 associate member firms in thirteen Western States.
Bednerik's association career includes serving as Director of Government Affairs for over six years with the National Association of Drilling Contractors, and five years with the National Society of Public Accountants, as well as two years with the National Association of Broadcasters. A registered lobbyist in Washington, D.C., his prior job experience was a newspaper reporter and in the advertising and publishing fields.
A graduate of Rollins College in Winter Park, FL with a bachelor's degree in philosophy and government, he also completed his course work for an LLB at Vanderbilt University School of Law in Nashville, TN.
Bednerik noted, "WAEL is extremely fortunate to have the benefit of outstanding volunteer member involvement and has enjoyed the services of one of the finest multi-association management firms in the country. Now WAEL has the opportunity to develop its own full time team. My goal is to continue to build on the strong foundation and to provide expanded membership services, to emphasize high quality seminars at reasonable costs, and to create higher public profile for professional lessors and the important role played by the leasing industry."
An avid sailor, he and his wife Darlene, live in Alameda. Their daughter Lydia attends the University of California at Santa Cruz.
Management of WAEL will be in the process of transition throughout the first few months of 1989, while the new office is being relocated. (See "President's Perspective" column for details on the Management Transition Task Force.) Watch your mail and future issues of Newsline for updates and details on all of the exciting changes currently happening in your association.
Executive Director
Jon Bednerik, CAE

Meeting Planner
Wendi Fong

Administrative Assistant
Esterlita Green

"The director of the
Association is West, young man. Go West."

"I've got a great idea for our next meeting-if only I could remember it."

""Good morning. This is WAEL.
Can you hold please?'

Artist
Andrew Kong Knight

Director of Publications
Julie McLean

Director of Administration
Sharon Slahucka

"I paint; therefore, I am."

"Not now! I'm right in the middle of a great magazine."

"Let's see... one plus one is two, two plus two is ..."-
" Jon Bednerik was a real "people person'. Bednerik had a lot of imagination... Events and creativity were the best. "
Ron Wagner
" Jon came to WAEL from the Independent Banker's Association after search committee interviewed more than 20 candidates and reviewed more than 100 resumes. Jon's strengths were his written communications and publications. If you remember the Newsline prior to Jon's tenure it was of much lower quality. Jon received a crash course in financial management during his first year at WAEL. To say we had some tough finance meetings before the BOD met is a gross understatement. The Executive Committee at the time; Ben Millerbis-Past President, Jim Possehl-President, Ron Wagner-VP and Bill Grohe-Sec-Tres held weekly conference calls and held Jon's hand as much as possible. Our Spring Conference at the Camelback was a success, but not without some significant good fortune. The Fall Seattle Conference was also successful but the chaos behind the scenes was serious hand wrenching. We were very fortunate to have hired excellent staff and the year was a positive one for WAEL but required four or five times the time and effort by the executive committee and a load of good luck."

Jim Possehl
Western Association of Equipment Leasing ( WAEL )
 Tomorrow---
          Part III
    On Dr. Ray William's watch:  WAEL becomes UAEL
----------------------------------------------------------------------
### Press release #########################
Secretary General of Leaseurope Joins The Alta Group
Marc Baert
LONDON --In anticipation of his 2007 retirement from his present role as secretary general of Leaseurope, Marc Baert has joined The Alta Group as an associate. The Alta Group, an international consulting firm specializing in the equipment leasing industry, serves Latin America, North America and Asia Pacific as well as Europe. Mr. Baert will serve Alta clients throughout Europe but will focus especially on emerging markets in Central and Eastern Europe.
Mr. Baert studied law at Leuven University and was admitted as a Barrister to the Brussels Bar in 1968. He entered the world of finance in 1972 and until 1984 was the director of sales and marketing at International Factors in Brussels. During that time he also earned an MBA at the University of Ghent.
From 1985 until the present time, Mr Baert has served as the Secretary General of both Leaseurope and Eurofinas in Brussels. These organisations are the central trade bodies of both leasing and consumer credit in Europe and are made up of the national associations. Their main purpose is to represent the views of the two industries in the European Community and within the European Commission.
Mr Baert has played a huge support role to the fledgling markets of the Central and Eastern European countries, both those who have recently joined the European Community and those still awaiting membership. He has given considerable assistance and advice as these countries have formulated their laws and practices to encourage the development of a leasing industry.
Derek Soper, Principal in the London Office, said "We are delighted to have Marc Baert join us, he has made a significant contribution to the development of the emerging leasing industry in Central and Eastern Europe and his expertise will help us to keep well ahead of our competitors."
About The Alta Group
Founded in 1992, The Alta Group (www.thealtagroup.com) is a leading source of corporate consulting and advisory services, education, and training to the global equipment leasing and finance industry. The Alta Group's European office, based in London since 1998, is now composed of eight members, all with extensive backgrounds in the $500 billion global equipment leasing and finance markets.  Globally the Group is composed of former CEOs, company founders, and industry organisation leaders-who collectively have more than 500 years of experience. For more information on The Alta Group and its
European operations,
visit www.thealtagroup.com or
call Derek Soper at +(44) 1444  891344.
### Press Release ######################
KEY EQUIPMENT FINANCE  NAMES SCOTT SCHAUER
VICE PRESIDENT, DIRECT LARGE TICKET ASSET MANAGEMENT
SUPERIOR, CO. –  – Key Equipment Finance, one of the nation's largest bank-affiliated equipment financing companies and an affiliate of KeyCorp (NYSE: KEY), has announced the appointment of Scott Schauer as vice president of direct large ticket asset management. His office is located at Key Equipment Finance's world headquarters outside Boulder, Colorado.
"Scott brings a wealth of knowledge to the CLS-Direct\Large Ticket Asset Management team," said Paul Frechette, president and chief operating officer for Key's commercial leasing services group. "He is not only experienced in a bank-owned lessor environment but also has passed all the exams required to be an ASA Certified Appraiser and has extensive knowledge in the equipment financing categories relevant to our business."
Prior to joining Key, Schauer was senior vice president and director of asset management for GMAC Commercial Finance in Atlanta, Georgia, where he directed and developed all aspects of asset management for the Equipment Finance Division. He has nearly 20 years of equipment financing and asset management experience gained through positions at SGI Solutions Finance, Mellon US Leasing, Maryland National Leasing Corporation and G.E. Capital Corporation. Schauer is a member of the American Society of Appraisers and the National Aircraft Finance Association.
KeyCorp affiliate Key Equipment Finance has announced that the company now manages an equipment portfolio in excess of $10 billion. "Reaching $10 billion in assets is an exciting milestone in our company's history," says Key Equipment Finance President and CEO Paul A. Larkins. "The real accolades go to all of our professionals who are dedicated to providing best-in-class products and services to our clients around the globe."
Key Equipment Finance is an affiliate of KeyCorp (NYSE: KEY) and provides business-to-business equipment financing solutions to businesses of many types and sizes. The company focuses on four distinct markets:
•       businesses of all sizes in the U.S. and Canada  (from small
         business to large corporate);
•       equipment manufacturers, distributors and value-added resellers
         worldwide;
•       federal, provincial, state and local governments as well as other
        public sector organizations; and
•       lease advisory services for manufacturers' captive leasing and
         finance companies.
Headquartered outside Boulder, Colorado, Key Equipment Finance has  annual originations of approximately $3.9 billion, and as noted earlier, manages a $10 billion equipment portfolio. The company has major management and operations bases in Toronto, Ontario; Albany, New York; London, England; and Sydney, Australia. The company, which operates in 24 countries and employs 675 people worldwide, has been in the equipment financing business for 30 years. Additional information regarding Key Equipment Finance, its products and services can be obtained online at KEFonline.com.
Cleveland-based KeyCorp (NYSE: KEY) is one of the nation's largest bank- based financial services companies, with assets of approximately $85 billion. Key companies provide investment management, retail and commercial banking, consumer finance, and investment banking products and services to individuals and companies throughout the United States and, for certain businesses, internationally. The company's businesses deliver their products and services through KeyCenters and offices; a network of nearly 2,200 ATMs; telephone banking centers (1.800.KEY2YOU); and a Web site, Key.com(R), that provides account access and financial products 24 hours a day.
### Press Release #########################
CitiCapital's Ellen Alemany cited as "Woman to Watch" in Banking
Ellen Alemany has been cited by U.S. Banker Magazine as the #8 "Woman to Watch" in banking. Alemany is President and CEO of CitiCapital, Citigroup's equipment leasing and finance business and EVP of Citigroup's Commercial Business Group, which offers banking and commercial real estate services for small business and middle market customers. She is also a member of the Citigroup Management Committee. Additionally, Alemany serves as Treasurer and Board of Trustee of the Equipment Leasing & Finance Foundation and is a member-elect of the ELA Board of Directors.
The annual ranking was based on U.S. Banker's review of 5,039 women in senior positions, considering financial performance, job complexity, experience, management style, ethics, community ties, education, and influence over a specific market among their criteria.
In its write-up, U.S. Banker notes, "In the last 21 months, [Alemany] built CitiCapital into the second largest U.S.-based leasing company, thanks to acquisition of Associates, Copelco, EAB and Schroeders. With a global portfolio of $20 billion plus, CitiCapital now boasts more than 575,000 customers and is a player in construction, material handling, transportation, healthcare and business technology finance.
Ajay Banga, EVP of Citigroup's Global Consumer Group credit's Alemany's "strategic vision" and "tremendous integrity" for her success. "She's very warm and emotive," he says. "And she makes everyone have a voice."
CONTACT:
Lisa Whitestone
CitiCapital
Phone Number: 914-899-7819
Fax Number: 914-899-7766
E-mail: lisa.t.whitestone@citigroup.com
### Press Release ##########################
News Briefs---
ABS East notches record attendance
http://www.absnet.net/include/showfreearticle.asp?file=/headlines/1.htm
First major storm of season pounds California
http://www.sfgate.com/cgi-bin/article.cgi?f=/news/archive/
2004/10/19/state0112EDT0192.DTL
California's job growth slow, steady
http://www.signonsandiego.com/news/business/
20041019-9999-1b19jobless.html
Greenspan: Household Debt Not Serious Threat
http://www.washingtonpost.com/wp-dyn/articles/A44761-2004Oct19.html
FCC Chair to Seek Net Telephone Oversight
http://news.yahoo.com/news?tmpl=story&cid=562&u=/ap/
20041019/ap_on_hi_te/powell_voice_over_net_2&printer=1
Assuming Someone Else's Lease: Point, Click, Wait
http://www.nytimes.com/2004/10/18/automobiles/
Google wins tech growth race
http://www.usatoday.com/money/industries/technology/
Redding, CONN: An Old Mill Gives Way to a Village
http://www.nytimes.com/2004/10/20/business/20real.html?pagewanted=all
-------------------------------------------------------------------------------
Sports Briefs---
Cards hope there's no place like home
http://www.stltoday.com/stltoday/sports/stories.nsf/cardinals/story/
0E6CFD9149FA1EB086256F330018CD71?OpenDocument&Headline=
Cards+hope+there's+no+place+like+home
The Oakland Raiders have traded Jerry Rice to the Seattle Seahawks. The trade will be final after Rice undergoes a physical and upon League approval. (from www.raiders.com)
    Seattle Seahawks Version of the Trade for Jerry Rice
http://seattletimes.nwsource.com/html/sports/2002066696_hawk19.html
     San Francisco Version of Rice Going to Seattle
http://www.sfgate.com/cgi-bin/article.cgi?f=/chronicle/archive/
   Chuck Gannon Won't Be Back This Year/Its Kerry Collins for
the Raiders, while all the fans yell, "Too-eee" "Too-eee" for
Marques Tuiasosopo, the third string QB—Looks like Rice
still knows what he is doing, just as Terrell Owens did
insisting on going to the Philadelphia Eagles.
http://www.contracostatimes.com/mld/cctimes/sports/football/nfl/
-------------------------------------------------------------------------------
California Nuts Briefs---
Schwarzenegger cracks jokes about his wife's politics:
"There was no sex for 14 days," he says after he endorsed Bush.
Governor bucks Bush on stem cell research
Schwarzenegger also supports plan for open primary
http://sfgate.com/cgi-bin/article.cgi?file=/c/a/2004/10/19/MNGVD9C5P01.DTL
---------------------------------------------------------------------------
"Gimme that Wine"
Mondavi receives price for entire winery, stock soars after this announcement
http://home.businesswire.com/portal/site/google/index.jsp?ndmViewId=
news_view&newsId=20041018006201&newsLang=en
Update 1: Constellation Makes Offer to Buy Mondavi
http://www.forbes.com/markets/feeds/ap/2004/10/19/ap1597151.html
Wineries benefit from tax suspension
http://www.fltimes.com/Main.asp?SectionID=38&SubSectionID=
No more free Russian River water
Fetzer, Ukiah balk at paying for first time in 50 years; District contends its a bargain
http://www1.pressdemocrat.com/apps/pbcs.dll/article?AID=/
20041016/NEWS/410160332/1033/NEWS01
Oregon Vintners toast, roast 2004 weather
http://oregonlive.com/metrosouthwest/oregonian/index.ssf?/base/
metro_southwest_news/1097927708288440.xml
Big and Beautiful: Lafite for 12/Imperial---Eric Asimov
http://www.nytimes.com/2004/10/20/dining/20POUR.html
--------------------------------------------------------------------------- 
This Day in American


1803-The Senate ratified the Louisiana Purchase Treaty by a vote of twenty-four to seven. Originally concerned that France would develop this territory, by the time the American delegation reached France, Napoleon was more concerned about England and to both stop England from gaining this territory, and to raise money, had offered $15 million for the property. The delegation accepted it without any authority as too good of an opportunity to turn down.  The ratification was more a legal formality.
http://memory.loc.gov/ammem/today/oct20.html
1818-A diplomatic convention signed between Britain and the U.S. gave fishing rights to American seamen off parts of Newfoundland and the coast of Labrador. The U.S. renounced such activity within three miles of any other British Territory. The boundary between Canada and the U.S.  between Lake of the Woods and  the crest of the Rocky Mts. was fixed at the 49th parallel. No boundary was decided upon farther west, and Oregon was declared open territory for ten years.
1827- Emily Howland, received an honorary doctorate by the University of the State of New York at age 99 for her services to educating black students which included helping establish or aiding more than 30 institutions of learning in the youth, and schools in New York and Virginia.
http://www.amazon.com/exec/obidos/tg/detail/-/1881539202/
102-3335791-6093721?v=glance
1847- Elizabeth Blackwell's application to medical school is accepted. Though she was refused admittance to 29 medical schools and publicly ridiculed for her attempts, Elizabeth Blackwell persisted. She studied privately for three years before being admitted to the Medical Institute of Geneva, NY, after the director had passed her application on to the students for approval.   Thinking it to be a joke, they agreed on October 20, 1847, that "...the application of Elizabeth Blackwell to become a member of our class meets our entire approval." Her arrival at the school was greeted with shock and hostility, however. She was cursed, spat upon, refused lodging at first, and barred from some classroom demonstrations.
1854-Until 1929, more than 150.000 homeless children and poor families were transported out of New York City, Boston and Chi­cago aboard trains accompanied by "agents." Agents for the New York Children's Aid Society arranged for Midwestern families to take the children under a contract agreement. Infants placed by the New York Foundling.
1858-Birthday of James Robert Dewey, American lawyer and legislator, born near Bloomington, IL, Republican member of Congress from Illinois from 1896 until his death, Nov 30, 1922, at Washington, DC. Mann was the author and sponsor of the "White Slave Traffic Act," also known as the "Mann Act," passed by Congress on June 25, 1910. The act prohibited, under heavy penalties, the interstate transportation of women for immoral purposes.
1859-Birthday of John Dewey, American psychologist, philosopher and educational reformer born at Burlington, VT. His philosophical views of education have been termed pragmatism, instrumentalism and experimentalism. Died at New York, NY, June 1, 1952    
1873 - Showman P.T. Barnum opened the Hippodrome in New York City to accommodate his "Greatest Show on Earth".    
1874 -- Modernist composer Charles Ives lives, Danbury, Ct.
http://www.schirmer.com/composers/ives_bio.html
http://www.charlesives.org/02bio.htm
1898-John Merrick organizes North Carolina Mutual Life Insurance Company.The nations oldest and largest black insurance company.
http://www.ncmutuallife.com/company.htmlhttp://docsouth.unc.edu/
nc/andrews/menu.html
http://www.durham-nc.com/stats/news_story_ideas/stories/nc_mutual.php
http://www.visitnc.com/hrt/hrt_related_pick.asp?propertyID=8990
1901-Birthday of singer Adelaide Hall, Brooklyn, NY.
http://www.xtrememusician.com/info/artists/profiles/1753.html
1910 - A cork centered baseball was used in a World Series game for the first time. The Philadelphia Athletics, managed by Connie Mack, and the Chicago Cubs, managed by P.K. Wrigley, were in competition for the championship.
1913-Trumpter Johnny Best born Shelby, NC. With Glenn Miller 1939-42.
1920-Trumpter Ray Linn born Chicago, Ill. With Herman, Shaw, Raeburn.
1923 -- Beat poet  Philip Whalen born Portland, Oregon.
http://www.rooknet.com/beatpage/writers/whalen.html
http://jacketmagazine.com/11/whalen-writing.html
1924-The first Negro World Series is played between the Kansas City Monarchs (Negro National League Champions) and the Hilldale Club (Eastern Colored League Champions).Kansas City wins the series championship
5 games to 4.
http://www.negroleaguebaseball.com/history101.html
1931-Mickey Mantle birthday, Baseball Hall of Famer, born at Spavinaw, OK. Mantle  replaced Joe DiMaggio in center field for the New York Yankees and grew to become the most beloved player of his era.  His battle with liver cancer raised awareness for organ donation and alcoholism.  Inducted into the Hall  of Fame in 1974.Died Aug 13, 1995, at Dallas, TX.
1932 -- Michael McClure born Marysville, Kansas.
http://www.thing.net/~grist/l&d/mcclure/mcclure.htm
http://www.mcclure-manzarek.com/mcclurebio.html
http://www.metroactive.com/papers/sonoma/12.14.00/mcclure-0050.html
1934-Birthday of tenor sax player Eddie Harris, Chicago, Il.Died 
November 8, 1966.
http://www.eddieharris.com/bio/bio_images/bio_r1_c3.jpg
http://www.cyberstars.com/jazz/les-mccann/eddie.html
http://centerstage.net/chicago/music/whoswho/EddieHarris.html
1944---Top Hits
I'll Walk Alone - Dinah Shore
Is You is or is You Ain't - Bing Crosby & The Andrews Sisters
It Had to Be You - Helen Forrest & Dick Haymes
Smoke on the Water - Red Foley 
1944- more than 100,000 American soldiers land on Leyte Island, in the Philippines, as preparation for the major invasion by Gen. Douglas MacArthur. The ensuing battles of Leyte Island proved among the bloodiest of the war in the Pacific and signaled the beginning of the end for the Japanese. The Japanese had held the Philippines since May 1942, when the awful defeat of American forces led to General MacArthur's departure and General Wainwright's capture. MacArthur was back, as he promised, but his invasion of Luzon required a softening up of the enemy. Thus, the amphibious landing of the American forces at Leyte and the concomitant goal of destroying the Japanese fleet in the gulf was undertaken. All told, the Japanese lost more than 55,000 soldiers during the two months of battle and approximately another 25,000 in mopping up operations in early 1945. The U.S. forces lost about 3,500-compared with the Japanese loss of 80,000 total. The sea battle of Leyte Gulf was the same story. The loss of ships and sailors was horrendous for both sides. The sinking of the American carrier Princeton resulted in the drowning deaths of 500 men. When the Japanese battleship Musashi was destroyed by a massive American aerial attack, more than 1,000 sailors died, including the captain who stood on his bridge and literally went down with his ship. Three days of sea battle saw the destruction of 36 Japanese warships-compared with America's three. It also saw the introduction of the Japanese kamikaze-"divine wind"--suicide bombers. The St. Lo, an American aircraft carrier, was one of the first casualties, when one kamikaze pilot drove his plane straight into its flight deck. More than 5,000 kamikaze pilots died in this gulf battle-taking down 34 ships. But when all was said and done, the Japanese had not been able to prevent the loss of their biggest and best warships, signaling the virtual end of the Japanese Imperial Fleet. The American victory on land and sea opened the door for General MacArthur's invasion and the recapture of the Philippines. The television series "Victory at Seas" captures much of this
major battle.
1952---Top Hits
You Belong to Me - Jo Stafford
Wish You Were Here - Eddie Fisher
I Went to Your Wedding - Patti Page
Jambalaya (On the Bayou) - Hank Williams
1953 - Science fiction writer Ray Bradbury's chilling futuristic anti-book novel, "Fahrenheit 451,"   was published on this date.
1955 - On Broadway, "No Time for Sergeants" opened,
starring Andy Griffith.
1955 - One of Harry Belafonte's hits was recorded for RCA Victor. It took "Day-O" over a year to hit the pop charts in January of 1957, after its name was changed to "The Banana Boat Song (Day-O)".
1956-Elvis Presley's "Love Me Tender," is now the first song to the pop chart at #2. It also makes it to the Country & Western chart, the R&B chart and the top One Hundred. 
1957 - Tonight Walter Cronkite began hosting a weekly documentary. Called "The 20th Century", the show reported on major events that shaped modern history. In 1967, the show switched its focus and its title to "The 21st Century". Until its last show on January 4, 1970. Cronkite was the only narrator of the program.
1960---Top Hits
Save the Last Dance for Me - The Drifters
My Heart Has a Mind of Its Own - Connie Francis
I Want to Be Wanted - Brenda Lee
Alabam - Cowboy Copas
1961- The Supreme Court upholds a Florida law which exempts women from jury duty, unless they volunteer. In all, 18 states allow the jury duty exemption while three state, Alabama, Mississippi, and South Carolina outright barred women from jury duty.   However, on 02-07-1966, a federal court rules that such laws should end on June 1, 1967 because such laws "deny to women the equal protection of the laws in violation of the 14th amendment."   In January of 1975 the Supreme Court says a Louisiana law forbidding women serving on juries is unconstitutional.   The first woman juror served in the State of New York in 1936. 
1962-The Four Seasons' "Big Girls Don't Cry" is released. 
1968---Top Hits
Hey Jude - The Beatles
Fire - The Crazy World of Arthur Brown
Little Green Apples - O.C. Smith
Then You Can Tell Me Goodbye - Eddy Arnold
1973-The White House announced at 8:24pm EDT, that President 'Richard M. Nixon had discharged Archibald Cox (Special Watergate Prosecutor) and William B. Ruckelhaus ( Deputy Attorney General)(, and that the Attorney General Elliot L. Richardson, had resigned.  Immediate and widespread demands for impeachment of the president ensued and were not settled until President Nixon resigned August 9, 1974.
1973-The Rolling Stones have their first Number One ballad, "Angie,"
a song that sparks rumor that it's a love song from Jagger to David Bowie's wife, Angela.
1973-" The Six Million Dollar Man" first pilot appeared "Wine, Women and War."This action-adventure series based on the novel "Cyborg" was a monthly feature on "The ABC Suspense Movie" before becoming a regular series in 1974. Lee Majors starred as astronaut Steve Austin, who after an accident, was "rebuilt" with bionic legs, arms and an eye.  He worked for the Office of Strategic Information (S) carrying out sensitive missions.  Also in the cast were Richard Anderson, Alan Oppenheimer and Martin E. Brooks. "The Bionic Woman, " staring g Lindsay Wagner, was a spin-off from his show and the two main characters were paired for several made-for-TV sequels.
http://www.pazsaz.com/million.htmlhttp://www.tvtome.com/tvtome/
servlet/ShowMainServlet/showid-591/The_Six_Million_Dollar_Man/ 
1976---Top Hits
Disco Duck (Part 1) - Rick Dees & His Cast of Idiots
Lowdown - Boz Scaggs
If You Leave Me Now -Chicago
You and Me - Tammy Wynette
1979 - The John F. Kennedy Library in Boston was dedicated.
1984---Top Hits
I Just Called to Say I Love You - Stevie Wonder
Caribbean Queen (No More Love on the Run) - Billy Ocean
Hard Habit to Break - Chicago
I Don't Know a Thing About Love (The Moon Song) - Conway Twitty 
1988-Top Hits
Groovy Kind Of Love- Phil Collins
Kokomo (From The "Cocktail" Soundtrack)- The Beach Boys
Wild, Wild West- The Escape Club
Red Red Wine- UB40 
1989 - Forty-nine cities reported record low temperatures for the date as readings dipped into the 20s and 30s across much of the south central and southeastern U.S. Lows of 32 degrees at Lake Charles LA and 42 degrees at Lakeland FL were records for October, and Little Rock AR reported their earliest freeze of record. Snow blanketed the higher elevations of Georgia and the Carolinas. Melbourne FL dipped to 47 degrees shortly before midnight to surpass the record low established that morning. Showers and thunderstorms brought heavy rain to parts of the northeastern U.S. Autumn leaves on the ground clogged drains and ditches causing flooding. Up to 4.10 inches of rain soaked southern Vermont in three days. Flood waters washed 600 feet of railroad track, resulting in a train derailment.
1991-  Oakland Hills fire, California
http://geo.arc.nasa.gov/sge/jskiles/fliers/all_flier_prose/oaklandfires
_brass/oaklandfires_brass.html
http://www.firewise.org/pubs/theOaklandBerkeleyHillsFire/
http://www.presol.com/~paulkienitz/px/gal-fire.html
October 20 Oakland Hills Fire
1991-  Oakland Hills fire, California
http://geo.arc.nasa.gov/sge/jskiles/fliers/all_flier_prose/
oaklandfires_brass/oaklandfires_brass.html
http://www.firewise.org/pubs/theOaklandBerkeleyHillsFire/
http://www.presol.com/~paulkienitz/px/gal-fire.html
1993-Top Hits
Dreamlover- Mariah Carey
Just Kickin It- Xscape
Id Do Anything For Love (But I Won t Do That)- Meat Loaf
All That She Wants- Ace Of Base
1995 - The clever black comedy, Get Shorty, starring John Travolta, Rene Russo, Gene Hackman, Danny DeVito, and Dennis Farina, opened across the country. The film did well at the box office, and once again affirmed Travolta's "come back" to films.
2000 -Toronto signs Carlos Delgado to a record four-year $68 million contract. The Blue Jay first baseman's average salary of $17 million is the most in major league history.
2001—Top Hits
Look of Love---Diana Krall
Silver Side Up-Nickeback
Pain is Love-Ja Rule
Songs in a Minor-Alicia Keys
2002- Twenty-year old Venezuelan right-hander Francisco Rodriguez becomes the youngest pitcher ever to win a World Series game. With just 15 days of major league experience, K- Rod throws 37 pitches retiring 9 consecutive batters in three innings to pick up the victory as the Angels out slug the Giants in Game 2, 11-10.  

World Series Champion This Date  
1982--- St. Louis Cardinals 
1988—Los Angeles Dodgers 
1990-Cincinnati Reds
Today is Mickey Mantle's birthday, so first,
a song made popular by Teresa Brewer, a top hit
in its day, sung along with the famous home run hitter.
I love Mickey
Mickey who? You know who...
The fella with the celebrated swing
I love Mickey
Mickey who? You know who...
The one who drives me batty ev'ry Spring
If I don't make a hit with him my heart will break in two
I wish that I could catch him and pitch a lttle woo oo
I love Mickey
Mickey who? Mickey you. Mickey me?
That's who oo oo oo oo oo oo oo
I love Mickey
Mickey who? You know who...
His muscles are a mighty sight to see
I love Mickey
Mickey who? You know who...
The one I want to steal right home with me
I'd sacrifice most anything to win his many charms
I'd like to be a fly ball and pop into his arms oo
I love Mickey
Mickey who? Mickey Mantle
Mm mm I love you
Who, me?
Mm mm I love you
Not Yogi Berra?
Mm mm I love you
Here are other "baseball hit" songs:
http://www.davesfunstuff.com/funnycity/aaabaseball.htm
Lyrics to Roy Clark's Rendition of
"Yesterday When I Was Young"
Performed at Mickey Mantle's Funeral, August 15, 1995 - Dallas, TX
(When Mickey heard Roy Clark sing the song, "Yesterday When I Was Young," he felt it summed up his life very well. He asked Roy if he would sing it at his funeral.)
Yesterday when I was young
The taste of life was sweet as rain upon my tongue
I teased at life as if it were a foolish game
The way the evening breeze may tease a candle flame
The thousand dreams I dreamed, the splendid things I planned
I always built, alas, on weak and shifting sand
I lived by night and shunned the naked light of day
And only now I see how the years ran away
Yesterday when I was young
So many drinking songs were waiting to be sung
So many wayward pleasures lay in store for me
And so much pain my dazzled eyes refused to see
I ran so fast that time and youth at last ran out
I never stopped to think what life was all about
And every conversation I can now recall
Concerned itself with me, and nothing else at all
Yesterday the moon was blue
And every crazy day brought something new to do
I used my magic age as if it were a wand
And never saw the waste and emptiness beyond
The game of love I played with arrogance and pride
And every flame I lit too quickly, quickly died
The friends I made all seemed somehow to drift away
And only I am left on stage to end the play
There are so many songs in me that won't be sung
I feel the bitter taste of tears upon my tongue
The time has come for me to pay for yesterday when I was young
---
"Yesterday When I Was Young"
Lyrics by Charles Aznavour
Translated into English by Herbert Kreutzer
Performed by Roy Clark, August 15, 1995, Dallas, Texas