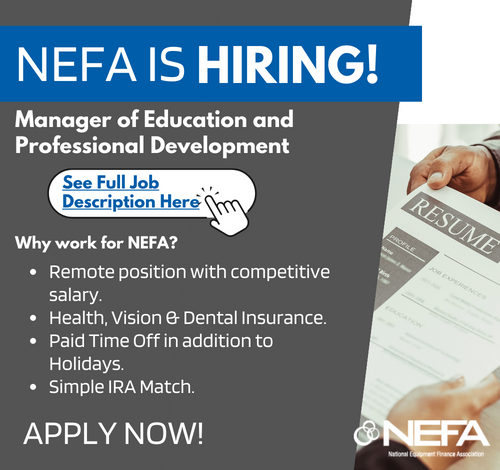 Monday, December 11, 2023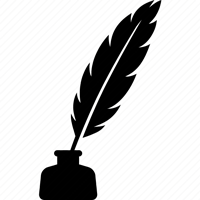 Today's Leasing News Headlines

New Hires/Promotions in the Leasing Business
and Related Industries
Lease Corporation of America and its affiliation
LCB Bank Corporation is rebranding to Milestone Bank
Help Wanted Finance and Leasing Industries
Balboa Capital, Top Mark, NEFA
The Impact of Company Culture
in Attracting Top Executive Talent
By Ken Lubin, ZRG Partners, Managing Director
Gender Pay Gap Widens with Education Levels
  Average Hourly Wages in US in 2022
By Felix Richter, Statista
An Interview with 2023 Clemens-Pender Award Recipient
National Vehicle Leasing Association
Top Ten Leasing News Read by Readers
December 4-December 8
Cream Labrador Retriever Mix
Phoenix, Arizona Adopt-a-Dog
Last Call! Broker Battle
deBanked connect Miami January 11, 2024

News Briefs ---
The US economy added 199,000 jobs in November
"The economy's still humming along"
Starbucks proposes restarting union talks,
reaching labor deals in major reversal
Bought as an N.B.A. Team, the Mavericks Are
Being Sold as Much More
Stolen Checks Are for Sale Online.
We Called Some of the Victims.
Toy magnets linked to 7 deaths
and 2,400 hospitalizations

You May Have Missed ---
This Mexico City eatery sells 40,000
     tacos a day — out of baskets
Broker/Funder/Industry Lists | Features (wrilter's columns)
Top Ten Stories Chosen by Readers | Top Stories last six months
Sales Make It Happen

Sports Briefs
California News
"Gimme that Wine"
This Day in History
SuDoku
Daily Puzzle
GasBuddy
Weather, USA or specific area
Traffic Live----
Wordle
######## surrounding the article denotes it is a press release, it was not written by Leasing News nor has the information been verified, but from the source noted. When an article is signed by the writer, it is considered a byline. It reflects the opinion and research of the writer.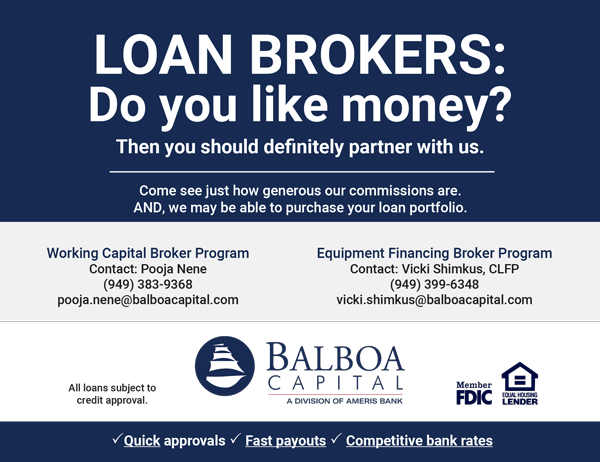 [headlines]
--------------------------------------------------------------
[headlines]
--------------------------------------------------------------
--------------------------------------------------------------
[headlines]
--------------------------------------------------------------
[headlines]
----------------------------------------------------------------
This Day in History
     1620 - The first child born of English parents in New England was Peregrine White (d. 1704), born aboard the Mayflower anchored in Cape Cod harbor. He was the son of Susanna and William White.  White was the second baby born abroad the Mayflower.  He married twice and had one son.
   1711 - The first Sperm whale captured at sea was cap­tured by a whaling vessel out of Nan­tucket, MA. This was the beginning of an in­dustry that numbered over 700 vessels by 1846.
    1715 – The first whaling expedition on record set sail from Nantucket, MA. Six sloops, of 30 to 40 tons burden each, returned with cargoes amounting to 600 barrels of oil and 11,000 pounds of bone, the total value of which was £1,100 sterling. There were whaling trips by single boats prior to this expedition.
    1726 - Birthday of Oliver Wolcott (d. 1979) at Windsor, CT. Signer of the Declaration of Independence, Doctor, sheriff, judge, soldier. Continental Congress (1776-1777); Lieutenant Governor of Connecticut (1786-1796); Governor (1797).
http://www.oliverwolcott.com/
    1775 - Forks of Tar River, North Carolina, changed its name to Washington in honor of General Washington.
    1776 - The Continental Congress authorized the building of the US
Navy first ship, America, which was to be commanded by John Paul Jones. On September 23, 1782, the America was presented to King Louis XVI of France in appreciation of his country's assistance during the Revolutionary War.
    1776 – The Hessians captured Ft. Lee, NJ…no word on how quickly they gave it back!
http://faculty.njcu.edu/ckarnoutsos/revolutionarywar.htm
http://www.patriotresource.com/battles/trenton/page1.html
http://www.njreporter.org/NJH200204/njr_trenton_princeton1.html
    1789 - New Jersey became the first state to ratify 10 of the 12 amendments to the US Constitution proposed by Congress. These 10 amendments came to be known as the "Bill of Rights."
http://www.magnacartaplus.org/usa-rights/#billofrights
    1817 – The First Seminole War began in Florida. After the American Revolution, Spain regained control of Florida from Britain as part of the Treaty of Paris. When the British evacuated Florida, Spanish colonists as well as settlers from the newly formed United States came pouring in. Many of these new residents were lured by favorable Spanish terms for acquiring property, called land grants. Even Seminoles were encouraged to set up farms, because they provided a buffer between Spanish Florida and the United States. Escaped slaves also entered Florida, trying to reach a place where their U.S. masters had no authority over them. Instead of becoming more Spanish, Florida increasingly became more "American." The British often incited Seminoles against American settlers who were migrating south into Seminole territory. These old conflicts, combined with the safe-haven Seminoles provided black slaves, caused the U.S. army to attack the tribe in the First Seminole War (1817-1818), which took place in Florida and southern Georgia. Forces under Gen. Andrew Jackson quickly defeated the Seminoles.
    1819 - The first ship sunk by a whale was the whaler Essex, which sailed from Nantucket, MA, on August 12, 1819, headed for the whaling grounds off the coast of Chile. According to the account of first mate Owen Chase, on November 20, 1820, the Essex was hunting sperm whales at latitude 0 degrees 40 minutes 5, lon­gitude 119 degrees W, when an enraged bull whale rammed the ship twice and capsized it. The crew escaped in open boats, but only five of them survived the 4,500-mile journey to Peru, which took 83 days. The story of the Essex was one of the inspirations for Herman Melville's novel "Moby Dick."
    1861 - Representatives from several counties met, calling themselves the "Convention of the People of Kentucky" and passed the ordinance.  They established a Confederate government of Kentucky with its capital in Bowling Green.
    1862 - Confederate army of Tennessee, organized under Gen. Braxton Bragg, operating between the Appalachians and the Mississippi River until the end of the war, participating in most of the significant battles in the Western Theater.  Nearly two years later, Union forces captured Brown's Ferry, which opened a supply route to Alabama.  A Confederate counterattack at Wauhatchie during the night of October 28–29 tried to recapture the ferry but failed.  Bragg, on November 5, sent Longstreet's corps and nearly all of his cavalry away to Knoxville, reducing his army's strength.  Bragg hoped that Grant would be forced to detach part of his own force to relieve the Union garrison at the city. The final Union attack on the Confederate army started November 24, when Hooker captured Lookout Mountain, threatening the Confederate left flank. The next day, William T. Sherman attacked the right flank on Missionary Ridge but was stalemated. To help Sherman and to draw Confederate units from the right, Grant ordered a demonstration against the Confederate center. This demonstration by Union Gen. Thomas turned into a full-fledged attack which broke though the Confederate line. Bragg retreated into north Georgia, regrouping around Dalton. His request to be relieved was accepted on December 1.
http://www.civilwarhome.com/braggbio.htm
http://www.ngeorgia.com/people/braggb.html
http://www.civilwarhome.com/CHMbraggbio.htm
http://users.aol.com/cinticwrt/bragg.html
    1864 - Nearly a week into the famous March to the Sea, the army of Union General William T. Sherman moves toward central Georgia, destroying property and routing small militia units in its path. Advanced units of the army skirmished with scattered Rebel forces at Clinton, Walnut Creek, East Macon, and Griswoldville, all in the vicinity of Macon. The march began on November 15 and ended on December 21, 1864. Sherman led 62,000 troops for 285 miles across Georgia and cut a path of destruction more than fifty miles wide. He divided his force into two columns and widened the swath of destruction. The Yankees cut away from their supply lines at Atlanta and generally lived off the land. What they did not consume, they destroyed. More than 13,000 cattle fell into Union hands, as well as 90,000 bales of cotton and numerous sawmills, foundries, cotton gins, and warehouses. The March to the Sea devastated Southern morale and earned Sherman the lasting hatred of many Southerners.
    1866 - Formation of Howard University.  Shortly after the end of the Civil War, members of The First Congregational Society of Washington considered establishing a theological seminary for the education of African-American clergymen. Within a few weeks, the project expanded to include a provision for establishing a university. Within two years, the University consisted of the Colleges of Liberal Arts and Medicine. The new institution was named for General Oliver Otis Howard, a Civil War hero, who was both the founder of the University and, at the time, Commissioner of the Freedman's Bureau. Howard later served as President of the university from 1869–74.  Congress chartered Howard on March 2, 1867, and much of its early funding came from endowment, private benefaction, and tuition. An annual congressional appropriation administered by the Department of Education funds Howard University and Howard University Hospital.  Howard is ranked among the nation's top 150 universities and second among historically black institutions.  It is the only HBCU ranked in the top 75 on the 2015 Bloomberg college rankings.  The Princeton Review ranked the school of business #1 in opportunities for minority students and in the top 5 for competitive students. The National Law Journal ranked the law school among the top 25 in the country.
http://memory.loc.gov/ammem/today/nov20.html
    1866 - The first bicycle with a rotary crank was patented by Pierre Lallemont. It was known as a "bone shaker." He rode on it from Ansonia, CT, to New Haven, CT.  The fore wheel was axed to the jaws of a depending bar, which was pivoted in the frame, and turned by a horizontal level bar, which was revolved by a treadle crank.
    1866 – Kenesaw Mountain Landis (d. 1944), the first Commissioner of Major League Baseball, was born in Millville, OH.  A federal judge (1905-22), he received national attention in 1907 when he fined Standard Oil of Indiana more than $29 million for violating federal laws forbidding rebates on railroad freight tariffs. Though Landis was reversed on appeal, he was seen as a judge determined to rein in big business. In 1920, Judge Landis was a leading candidate when American and National League team owners, embarrassed by the Black Sox scandal and other instances of players throwing games, sought someone to rule over baseball. Landis was given full power to act in the sport's best interest and used that power extensively over the next quarter-century. Landis was widely praised for cleaning up the game, although some of his decisions in the Black Sox matter remain controversial. Others blame Landis for, in their view, delaying the racial integration of the game. Landis was elected to the National Baseball Hall of Fame by a special vote shortly after he died in 1944.
    1884 – Norman Thomas (d. 1968) was born in Marion, OH.  He was a Presbyterian minister who achieved fame as a socialist, pacifist, and six-time presidential candidate for the Socialist Party of America.
    1889 - Birthday of Edwin Powell Hubble (d. 1953) at Marshfield, MO.  American astronomer whose discovery and development of the concept of an expanding universe has been described as the "most spectacular astronomical discovery" of the 20th century. As a tribute, the Hubble Space Telescope, deployed April 25, 1990, from US Space Shuttle Discovery, was named for him. The Hubble Space Telescope, with a 240-centimeter mirror, was to allow astronomers to see farther into space than they had ever seen from telescopes on Earth.
    1900 - A major tornado outbreak in Arkansas, Mississippi and Tennessee killed 77 people. Two F4 tornadoes accounted for most of the deaths.
    1900 – Chester Gould (d. 1985), the creator of the cartoon strip, "Dick Tracy," was born in Pawnee, OK.
    1907 – Fran Allison (d. 1989) was born in LaPorte City, IA.  She is best known for her starring role on the weekday NBC-TV puppet show "Kukla, Fran, and Ollie," which ran from 1947 to 1957, occasionally returning to the air until the mid-1980s. The trio also hosted "The CBS Children's Film Festival," introducing international children's films, from 1967 to 1977.
    1908 – Alistair Cooke (d. 2004) was born in Salford, England.  A British journalist, television personality and broadcaster, outside his journalistic output, which included "Letter from America" and "Alistair Cooke's America," he was well known in the United States as the host of PBS' "Masterpiece Theatre" from 1971 to 1992. After holding the job for 22 years, and having worked in television for 42 years, Cooke retired in 1992, although he continued to present "Letter from America" until shortly before his death.
    1914 - The high temperature of 28 degrees at Atlanta, GA, was their earliest daily high below the freezing mark.
    1917 - Robert Carlyle Byrd (d. 2010) was born Cornelius Calvin Sale, Jr. in N. Wilkesboro, NC.  He was the longest-serving US Senator and, at the time of his death, the longest-serving member in the history of the Congress.
    1919 - "Swede" Myerhofer landed his plane and christened the first airport owned by a city, Tucson Municipal Airport, located east of Tucson, Arizona.
    1920 - Birthday of trumpet player Joe Guy (d. 1982), Birmingham, AL.
    1921 – Jim Garrison (d. 1992) was born Earling Carothers Garrison in Denison, IA.  He was the District Attorney of Orleans Parish, LA, from 1962 to 1973. He is best known for his investigations into the assassination of President John F. Kennedy.
    1923 - African-American Garrett T Morgan patents the traffic signal.
Founder of the "Cleveland Call" newspaper, he became a wealthy man, and also holds many patents for many inventions.
http://education.dot.gov/aboutmorgan.html
http://www.enchantedlearning.com/inventors/page/m/morgan.shtml
    1925 - Birthday of Robert Kennedy (d. 1968), Brookline, MA.  He was the former Attorney General, US Senator and younger brother of President John F. Kennedy.  History shows him as the only US Senator to have had a brother who was President.   Robert Kennedy was killed in 1968 in Los Angeles by Sirhan Sirhan moments following his primary victory in California. When I worked at ABC-TV West Coast News, I covered the afternoon Sirhan trial, seated only a few feet from him. I had interviewed both Kennedy brothers as a newsman.
    1925 - June Christy (d. 1990) was born Shirley Luster, Springfield, IL.  Known for her work in the cool jazz genre and for her silky smooth vocals, her success as a singer began with The Stan Kenton Orchestra.
http://www.belten.freeserve.co.uk/misty/june.htm
    1931 - The American Telegraph and Telephone Company introduced the first teletype commercial service. Messages were typed on tape and transmitted automatically to a central office and retransmitted to their destinations. The charges were based on the time required to transmit each message rather than the number of words.
    1942 – President-elect Joe Biden was born in Scranton, PA.
    1943 - The US Marines landed during the night, attacking the Gilbert Islands, particularly the islets of Betio and Makin. The American invasion force to the Gilberts was the largest yet assembled for a single operation in the Pacific.  The Japanese had heavily fortified the Tarawa chain of atolls, especially Tarawa, with pillboxes, blockhouses and ferroconcrete bombproof structures. In the eight days it took the 5th Amphibious Corps, 2nd Marine Division and the 27th Infantry Division to take the Tarawa and Makin Islands, 1,000 US soldiers were killed and 2,311 wounded. The Japanese loss was tallied at 4,700 men killed, 17 wounded captured and 129 Koreans surrendered. The US public, who through censorship previously had been kept in the dark about the human cost of the war, was appalled by casualty figures and photographs from the battle offensive against Japan in the Central Pacific (Operation Galvanic).
     1943 - BORDELON, WILLIAM JAMES, Medal of Honor
Rank and organization: Staff Sergeant, U.S. Marine Corps. Born: 25 December 1920, San Antonio, Tex. Accredited to: Texas. Citation: For valorous and gallant conduct above and beyond the call of duty as a member of an assault engineer platoon of the 1st Battalion, 18th Marines, tactically attached to the 2d Marine Division, in action against the Japanese-held atoll of Tarawa in the Gilbert Islands on 20 November 1943. Landing in the assault waves under withering enemy fire which killed all but 4 of the men in his tractor, S/Sgt. Bordelon hurriedly made demolition charges and personally put 2 pillboxes out of action. Hit by enemy machinegun fire just as a charge exploded in his hand while assaulting a third position, he courageously remained in action and, although out of demolition, provided himself with a rifle and furnished fire coverage for a group of men scaling the seawall. Disregarding his own serious condition, he unhesitatingly went to the aid of one of his demolition men, wounded and calling for help in the water, rescuing this man and another who had been hit by enemy fire while attempting to make the rescue. Still refusing first aid for himself, he again made up demolition charges and single-handedly assaulted a fourth Japanese machinegun position but was instantly killed when caught in a final burst of fire from the enemy. S/Sgt. Bordelon's great personal valor during a critical phase of securing the limited beachhead was a contributing factor in the ultimate occupation of the island, and his heroic determination throughout 3 days of violent battle reflects the highest credit upon the U.S. Naval Service. He gallantly gave his life for his country.
    1944 - Les Brown, with Doris Day, records "Sentimental Journey."
    1944 - The first Japanese suicide submarine attack was at Ulithi Atoll, Carolines. A Japanese Kaiten attack sinks the US naval tanker Mississinewa. The kaiten was aptly described by Theodore Cook as "not so much a ship as an insertion of a human being into a very large torpedo." The gut of the beast was a standard Type-93 24" torpedo, with the mid-section elongated to create the pilot's space. He sat in a canvas chair practically on the deck of the kaiten, a crude periscope directly in front of him, and the necessary controls close to hand in the cockpit. Access to the kaiten was through hatches leading up from the sub and into the belly of the weapon. The nose assembly was packed with 3000+ pounds of high explosive; the tail section contained the propulsion unit.
    1945 - The International Military Tribunal begins trying German war criminals at Nuremberg. The trial, which lasted 78 days, attempted to hold Nazi and German military officials accountable for atrocities including the massacre of 30,000 Russians during the German invasion and the massacre of at least 50,000 people in the Warsaw Ghetto. Twenty-four defendants were tried, including Hermann Goering, the designated successor to Hitler, and Rudolf Hess, Hitler's personal secretary. All defendants pleaded not guilty to the charges. When one of the defendants demanded that an anti-Semitic lawyer represent him, an ex-Nazi was assigned to his defense. Because of the mountains of evidence and the many languages spoken by the defendants and prosecutors, the trial was beset with logistical problems. During the proceedings, Rudolf Hess feigned amnesia to escape responsibility. Though many expected the most excitement to arise from the cross-examination of Hermann Goering, his testimony was a letdown: he was even attacked by his fellow defendants for refusing to take responsibility for anything. Twenty-one defendants were convicted: 12 were sentenced to hang, and the rest were sent to prison. One man escaped the hanging by remaining at large while Goering escaped by committing suicide first. On October 16, 1946, 10 Nazi officials were hanged.
    1945 - BRILES, HERSCHEL F., Medal of Honor
Rank and organization: Staff Sergeant, U.S. Army, Co. C, 899th Tank Destroyer Battalion. Place and date: Near Scherpenseel, Germany, 20 November 1944. Entered service at: Fort Des Moines, lowa. Birth: Colfax, lowa. G.O. No.: 77, 10 September 1945. Citation: He was leading a platoon of destroyers across an exposed slope near Scherpenseel, Germany, on 20 November 1944, when they came under heavy enemy artillery fire. A direct hit was scored on 1 of the vehicles, killing 1 man, seriously wounding 2 others, and setting the destroyer afire. With a comrade, S/Sgt. Briles left the cover of his own armor and raced across ground raked by artillery and small-arms fire to the rescue of the men in the shattered destroyer. Without hesitation, he lowered himself into the burning turret, removed the wounded and then extinguished the fire. From a position he assumed the next morning, he observed hostile infantrymen advancing. With his machinegun, he poured such deadly fire into the enemy ranks that an entire pocket of 55 Germans surrendered, clearing the way for a junction between American units which had been held up for 2 days. Later that day, when another of his destroyers was hit by a concealed enemy tank, he again left protection to give assistance. With the help of another soldier, he evacuated two wounded under heavy fire and, returning to the burning vehicle, braved death from exploding ammunition to put out the flames. By his heroic initiative and complete disregard for personal safety, S/Sgt. Briles was largely responsible for causing heavy enemy casualties, forcing the surrender of 55 Germans, making possible the salvage of our vehicles, and saving the lives of wounded comrades.
    1945 – Rick Monday was born in Batesville, AR.  In the inaugural MLB First-Year Player Draft in 1965, Monday was selected with the first overall selection by the Kansas City A's.  Over a 19-year Major League career, he also played for the Chicago Cubs and the LA Dodgers.  On April 25, 1976, two protesters, William Thomas and his 11-year-old son, ran into left-center field and tried to set fire to an American flag after the start of the bottom of the 4th inning at Dodger Stadium.  After Steve Stone of the Cubs got Ted Sizemore to pop out, Monday dashed over and grabbed the flag to thunderous cheers. Monday ran through the infield with the flag and while walking towards the Dodgers' dugout, met and handed the flag over to Dodgers pitcher Doug Rau. The ballpark police officers arrested and escorted the two intruders off the field and afterwards the father of the boy was fined, charged with trespassing, and put on probation.
    1947 – Guitarist Joe Walsh, of The Eagles, was born in Wichita, KS.  
    1950 - U.S. troops push to the Yalu River, within five miles of Manchuria.
    1951 - Top Hits
"Because of You" - Tony Bennett
"Down Yonder" - Del Wood
"Slow Poke" - Pee Wee King
"Sin (It's No)" - Eddy Howard
    1952 - A struggling Frank Sinatra agrees to a screen test for a role in "From Here to Eternity," a film adaptation of the James Jones novel of the same name.  The movie won him an Academy Award for Best Supporting Actor and revived his flagging career. Sinatra was born in New Jersey in 1915. He formed a singing quartet in his teens; the group won a popular radio talent show in 1935 and began touring small nightclubs. In 1940, Sinatra joined the Tommy Dorsey Orchestra and began topping the charts. Sinatra soon became a popular screen actor, but after his vocal chords suffered damage in 1952 and his philandering became quite public, his career took a drastic downturn. His talent agency dropped him, and he had to plead with movie producers to cast him, agreeing to do screen tests despite the fact that he was already a well-known performer. He won the role in "From Here to Eternity" (1953) with help from girlfriend Ava Gardner but was paid only $8,000. However, the role and the Academy Award helped bring him back into the limelight, which he never relinquished, even after his retirement in 1973, until his death in 1998.   
    1955 - The Maryland National Guard is ordered desegregated.
    1955 - After telling Ed Sullivan that he would perform a song called "Sixteen Tons," Bo Diddley sings "Bo Diddley" live on CBS-TV's Ed Sullivan Show. He would never be invited back.
    1955 - RCA Victor buys Elvis Presley's contract from Sun Records for $40,000. The deal was inked at New York's Warwick Hotel and gives Elvis $13,500 for signing.
    1956 – Mary Cathleen Collins was born in Long Beach, CA.  She is better known as actress Bo Derek, star of the film "10" (1979).  For grins and giggles, what was the name of her role in the film?
    1959 - Top Hits
"Mr. Blue" - The Fleetwoods
"Don't You Know" - Della Reese
"Heartaches by the Number" - Guy Mitchell
"Country Girl" - Faron Young
    1961 - Billboard reports on the global Twist Craze: WOR-TV, New York, has shot a series of one and five minute "Twist Lessons" with Chubby Checker to be shown hourly every day. Checker had also been inked for a British-American film production; Joey Dee & the Starlighters, whose album, "Doin' the Twist at the Peppermint Lounge" was released this week, signed for the Paramount film, "Hey, Let's Twist;" Dion has signed to star in Columbia's "Twist Around the Clock;" and in France there are 45 different "Twist" records on the market.
    1962 - Lifting of the naval blockade of Cuba was announced by President Kennedy, following assurances by Premier Khrushchev that all Soviet jet bombers in Cuba would be removed within 30 days.
    1962 - An executive order prohibiting racial discrimination in housing built or purchased with federal funds was signed by President Kennedy.
    1962 - The Four Seasons' "Big Girls Don't Cry" is released on Vee Jay Records. It goes up to Number One, as does their first (and current) hit, "Sherry." Both songs feature lead singer Frankie Valli's falsetto.
    1965 - "I Hear A Symphony" becomes The Supremes' sixth US number one single. The trio had their streak of five chart toppers in a row interrupted by "Nothing But Heartaches," which stalled at number 11.
    1966 - "Cabaret" opened on Broadway for the first of 1,166 stellar performances. Joel Grey starred in the hugely successful musical that is an adaptation of both the play, "I Am a Camera" and the novel, "Goodbye to Berlin."
    1967 - U.S. census reports the population at 200 million.
    1967 - Top Hits
"To Sir with Love" - Lulu
"Soul Man" - Sam & Dave
"Incense and Peppermints" - Strawberry Alarm Clock
"It's the Little Things" - Sonny James
    1967 - LOZADA, CARLOS JAMES,  Medal of Honor
Rank and organization: Private First Class, U.S. Army, Company A, 2d Battalion, 503d Infantry, 173d Airborne Brigade. place and date: Dak To, Republic of Vietnam, 20 November 1967. Entered service at: New York, N.Y. Born: 6 September 1946, Caguas, Puerto Rico. Citation: For conspicuous gallantry and intrepidity in action at the risk of his life above and beyond the call of duty. Pfc. Lozada, U.S. Army, distinguished himself at the risk of his life above and beyond the call of duty in the battle of Dak To. While serving as a machine gunner with 1st platoon, Company A, Pfc. Lozada was part of a 4-man early warning outpost, located 35 meters from his company's lines. At 1400 hours a North Vietnamese Army company rapidly approached the outpost along a well-defined trail. Pfc. Lozada alerted his comrades and commenced firing at the enemy who were within 10 meters of the outpost. His heavy and accurate machine gun fire killed at least 20 North Vietnamese soldiers and completely disrupted their initial attack. Pfc. Lozada remained in an exposed position and continued to pour deadly fire upon the enemy despite the urgent pleas of his comrades to withdraw. The enemy continued their assault, attempting to envelop the outpost. At the same time enemy forces launched a heavy attack on the forward west flank of Company A with the intent to cut them off from their battalion. Company A was given the order to withdraw. Pfc. Lozada apparently realized that if he abandoned his position there would be nothing to hold back the surging North Vietnamese soldiers and that the entire company withdrawal would be jeopardized. He called for his comrades to move back and that he would stay and provide cover for them. He made this decision realizing that the enemy was converging on 3 sides of his position and only meters away, and a delay in withdrawal meant almost certain death. Pfc. Lozada continued to deliver a heavy, accurate volume of suppressive fire against the enemy until he was mortally wounded and had to be carried during the withdrawal. His heroic deed served as an example and an inspiration to his comrades throughout the ensuing 4-day battle. Pfc. Lozada's actions are in the highest traditions of the U.S. Army and reflect great credit upon himself, his unit, and the U.S. Army.
    1967 - 19-year-old Arlo Guthrie released an album called "Alice's Restaurant". When the eighteen-minute-long title song premiered at the Newport Folk Festival, it helped foster a new commitment among the '60s generation to social consciousness and activism. Arlo went on to star in the 1969 Hollywood film version of "Alice's Restaurant," directed by Arthur Penn.
    1968 - 78 miners were killed in an explosion at the Consolidated Coal Company's No. 9 mine in Farmington, WV.  The cause of the explosion was never determined, but the accident served as the catalyst for several new laws that were passed to protect miners.
    1969 - Seymour Hersh, an independent investigative journalist, files a second My Lai story based on interviews with Michael Terry and Michael Bernhardt, who served under 1st Lt. William Calley during the action that was later dubbed the My Lai massacre. Also on this day, the Cleveland Plain Dealer published explicit photos of the dead at My Lai. The American public was stunned. Hersh broke the story earlier in the month, describing how soldiers from the American Division, conducting a sweep of My Lai, indiscriminately shot people as they ran from their huts, and then systematically rounded up the survivors, allegedly leading them to a ditch where they were executed per Calley's orders.
Despite the fact that an Army board of inquiry found that 30 persons either participated in the atrocity or knew of it and failed to do anything, only 14 were charged with crimes. All eventually had their charges dismissed or were acquitted, except Calley, who was found guilty of murdering 22 civilians and was sentenced to life imprisonment. His sentence was reduced twice and he was paroled in November, 1974.
    1969 - American Indians seized and occupied Alcatraz Island in San Francisco Bay.  79 American Indians, including students, married couples and six children, landed on the island, despite an attempted Coast Guard blockade, and began their occupation which lasted for 19 months.
    1971 - Isaac Hayes hit number 1 in the US with the "Theme from Shaft," a mostly instrumental track used in the "Shaft" movie, starring Richard Roundtree. It was Hayes' only million-selling single, although he did place seven other songs in the US Top 40, only one of which cracked the top 20.
    1971 - "Inner City Blues" becomes the third R&B Number One single from Marvin Gaye's, "What's Goin' On" album. The others are the title track and "Mercy, Mercy Me." The LP represents the first time a major Motown artist has taken a public stand on controversial social issues.
    1974 - The Justice Department filed suit against AT&T that later leads to the breakup of AT&T and its Bell System in 1984.
    1975 - Top Hits
"Island Girl" - Elton John
"Who Loves You" - Four Seasons
"That's the Way (I like It)" - KC & The Sunshine Band
"Are You Sure Hank Done It This Way" - Waylon Jennings
    1976 - Woody Herman Band plus alumni play Carnegie Hall on their 40th anniversary (RCA BGL2-2203)
    1976 - Paul Simon hosts NBC's Saturday Night Live where he duets with George Harrison on "Here Comes The Sun" and "Homeward Bound." Paul McCartney and John Lennon are both in New York and watching the show on TV.
    1979 - The first transfusion of artificial blood took place at the University of Minnesota Hospital, Minneapolis, MN. The patient was a Jehovah's Witness who, on religious grounds, refused a transfusion of real blood. Dr. Robert Anderson injected the patient with Fluosol, an artificial blood substitute developed in Japan.
    1982 - The University of California football team defeated Stanford University, 25-20, on a most unusual last play. Stanford was ahead, 20-19, and had to kick off with only a few seconds left. The Cal players knew that if any of them were tackled, the game would be over. They began an unscripted series of five laterals that landed them in the end zone after they dodged all the Stanford players and the Stanford band which had rushed onto the field prematurely. The Stanford band today is quite unique and iconoclast, it is said, having contributed to the lost game because they came on the field too early in celebration of the "victory" and prevented the Stanford players from tackling the Bears running loose toward the end zone.
    1983 – The Washington Redskins' John Riggins sets an NFL record by rushing for a touchdown in his 12th straight game. The score is his record-tying 19th rushing touchdown of the year. The streak ended at 13 consecutive games while Riggins went on to establish an NFL record with 24 touchdowns for the year.
    1983 - Top Hits
"All Night Long (All Night)" - Lionel Richie
"Say Say Say" - Paul McCartney & Michael Jackson
"Uptown Girl" - Billy Joel
"One of a Kind Pair of Fools" - Barbara Mandrell
    1984 - The largest crowd to see the unveiling of a Hollywood Walk-of-Fame star turned out as Michael Jackson got his piece of the sidewalk right in front of Mann's Chinese Theatre in Los Angeles. 'The Gloved One' became star number 1,793 on the famed walk.
    1985 – Microsoft Windows 1.0 was released to the public.  Microsoft founder, Bill Gates, had worked with Apple Computer founder Steve Jobs to develop applications for Apple's January 1984 original Macintosh, the first mass-produced personal computer with a graphical user interface.  Windows 1.0 was released as the first version of the Windows line. It runs as a graphical, 16-bit, multi-tasking shell on top of an existing MS-DOS installation, providing an environment which can run graphical programs designed for Windows, as well as existing MS-DOS software. Gates was motivated after seeing a demo of a similar software suite known as Visi On at COMDEX.
    1988 - Thunderstorms developing ahead of a fast moving cold front produced severe weather in the Upper Ohio Valley and the Middle Atlantic Coast Region during the afternoon and early evening. Thunderstorm winds gusted to 69 mph at Kennedy Airport in New York City, and winds along the cold front itself gusted to 56 mph at Cincinnati, OH. The same storm produced snow in Kansas, Missouri and Illinois, with eight inches reported at Rolla, MO.
    1989 - An unusual out-of-season severe outbreak occurred across the northeast with 193 reports of damaging winds in New York, Pennsylvania and New Jersey. Winds gusted to 94 mph at Newburgh, NY, 86 at Harrisburg, PA and Hammonton, NJ. Tornadoes touched down at McAlveys, NY and Seaside Park, NJ
    1990 - Due to his unruly behavior toward the umpires in Game 4 of the ALCS, Roger 'the Rocket' Clemens is suspended for the first five games of the 1991 season and is fined $10,000.
    1991 - Top Hits
"Cream" - Prince & The N.P.G.
"Can't Stop This Thing We Started" - Bryan Adams
"When a Man Loves a Woman" - Michael Bolton
"Shameless" - Garth Brooks
    1993 - The Senate Ethics committee issued a stern censure of California senator Alan Cranston for his "dealings" with savings-and-loan executive Charles Keating.
    1997 - A.C. Green of the Dallas Mavericks set an NBA record for consecutive games played, 907, when he took the floor for the Mavericks' game against the Golden State Warriors. Green began his streak on November 19, 1986, when he played for the Los Angeles Lakers. It continued as he moved to the Phoenix Suns and then to the Mavericks.  His accomplishment was noted with an elaborate halftime ceremony that included appearances by Randy Smith, the man whose record Green broke, and baseball's iron man, Cal Ripken.
    2000 - The landmark 1915 Albert S. Samuels clock at 856 Market Street, San Francisco, was restored following a 10-year respite.
    2001 - Ichiro Suzuki becomes only the second player in Major League history to win the Most Valuable Player Award and Rookie of the Year in the same year. The 28-year-old Mariner outfielder joins Red Sox freshman outfielder Fred Lynn, who accomplished the feat in 1975, as the only other rookie to win the MVP.
    2008 - The 35-year reign of George Steinbrenner as the Yankees boss officially ends when the MLB owners unanimously approve of his son taking control of the franchise. Hal Steinbrenner was appointed co-chairmen of the team along with his brother Hank at the start of last season when it became evident their 78-year old dad was gradually reducing his role as the owner of the storied franchise. The Boss, in failing health, died in 2010.
    2008 - After critical failures in the US financial system began to build up after mid-September, the Dow reached its lowest level since 1997.  These were the first consequences of what would become the Great Recession, so-called only because The Great Depression already occurred in the 1930s.
    2008 – Ponzi scheme architect Bernie Madoff was arrested by the Federal Bureau of Investigation (FBI) on a criminal charge of securities fraud. According to the criminal complaint, the previous day he had told his sons that his business was "a giant Ponzi scheme."  Given the billions involved, they should rename the crime a Madoff scheme.  Federal Judge Chin sentenced Madoff to 150 years in prison, as recommended by the prosecution. Chin said he had not received any mitigating letters from friends or family testifying to Madoff's good deeds, saying that "the absence of such support is telling."
    2010 - NATO nations reached an agreement to begin handing over Afghanistan's security to the Afghanistan military by 2014.
    2014 - North Korea threatened nuclear tests, and activity has been detected at one of the nation's nuclear facilities; the threat was made after the U.N. recommended trying North Korean officials in the International Criminal Court for human rights crimes.
    2014 - President Barack Obama announced plans to delay deportation of about 4 million undocumented immigrants who have lived in the country for at least 5 years and have children who are legal residents or U.S. citizens.  In October, 2015, a federal appeals judge ruled this to be unconstitutional.
-------------------------------------------------------------
SuDoku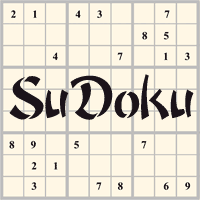 The object is to insert the numbers in the boxes to satisfy only one condition: each row, column and 3x3 box must contain the digits 1 through 9 exactly once. What could be simpler?
--------------------------------------------------------------

Daily Puzzle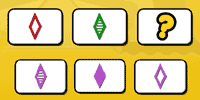 How to play:
http://www.setgame.com/set/puzzle_frame.htm
Refresh for current date:
http://www.setgame.com/set/puzzle_frame.htm
--------------------------------------------------------------


http://www.gasbuddy.com/
http://www.gasbuddy.com/GB_Map_Gas_Prices.aspx
http://www.gasbuddy.com/GB_Mobile_Instructions.aspx
--------------------------------------------------------------

Weather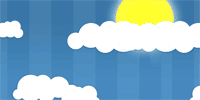 See USA map, click to specific area, no commercials
--------------------------------------------------------------

Traffic Live---
Real Time Traffic Information
You can save up to 20 different routes and check them out with one click,
or type in a new route to learn the traffic live
--------------------------------
Wordle
https://www.powerlanguage.co.uk/wordle/

How to Play
https://www.today.com/popculture/popculture/wordle-know-popular-online-word-game-rcna11056